Building a one-of-a-kind home or workspace usually requires three things: a great location, top-quality design, and stylish architectural features. Therefore, designers and contractors continually need to find great ideas and beautiful products to make their work stand. Consider upgrading your project by installing a beautiful custom railing system. When it comes to custom building, the difference is in the details. Installing a railing that's designed to be distinct will make a huge difference.
Luxury Railing Options
Vertical Mirror Cable Railing

Choosing an exceptional custom product like a vertical cable railing with a mirror-like finish is an easy way to give your project a great look. In addition to being a high-quality railing, the design enhances the property's architectural beauty and embellishes the homes' exterior. Without a doubt, a polished mirror deck railing will elevate the look and style of your outdoor space and is one of the best luxury railing ideas for high-end properties.

A gleaming mirror deck railing is perfect for well-located luxury properties. Highly polished cable railing sparkles with a jewel-like quality. The slim metal railing posts complete the look of architectural excellence and unquestionable decadence. The wood top rail salutes the lush verdant surrounding area and marries the home and environment together.

In certain circumstances, standard railing options are not a good alternative because they may diminish the majesty of the location or building. AGS experts strive to help you find the ultimate railing design and railing ideas to meet the unique needs of your project.

Horizontal Mirror Cable Railing

There are numerous options and ideas to consider when designing your railing system. For example, a highly polished metal top rail will add decorative flair to your railing system.

Additionally, baseplate covers are a high-end option and mark of distinction for a luxury railing system.

Rainier, a modern cable railing that's barely visible, creates the feel of unencumbered spaciousness. The custom mirror railing system is appropriate for any interior or exterior application. Mirror cable railing on decks, patios, and stairs create spaces where moments of magic can effortlessly unfold. An architectural railing system with a stylish mirror finish denotes the ultimate in absolute luxury.
Custom Railing Designs With a Mirror Finish
AGS specializes in designing and fabricating metal railings that are elegant and functional. Whether you are looking for luxury railings for staircases, patios, or decks, we can help you find the best railing ideas for your project. When an extra dimension of elegance is desired, a unique railing finish, such as a mirror or powder coat, is one of the first options to consider.
Custom-Fit Railings for Pony Walls, Stairs, and Balconies

Achieving a beautiful look when installing a nonstandard railing can be a tricky endeavor, especially when you're looking for custom-made railing products such as a half-wall railing or pony wall rail. Therefore, it's good to spend some time researching your options. Connecting with an industry expert can help you find the best custom-made railing systems for your unique project.

Cable and glass panel infill are top choices for half wall deck railing, balcony pony walls, and half-wall stair railing.

Curved, straight, or dogleg, there are numerous stair layout scenarios. Therefore, it's not surprising that sometimes finding the right railing system for a custom-stair layout can be challenging. Off-the-shelf products are rarely suitable for bespoke scenarios. AGS railing experts have extensive experience helping customers find the best railing products and manufacturing custom railing parts to give your stair railing project the wow factor.

Balcony Railing With Mirror Finish

A juliet balcony railing maximizes the property's indoor-outdoor flow by allowing the occupants of the building to open large doors or windows. Vertical cable railing is distinctive, but the addition of the mirror finish makes the project even more exceptional.

Vertical cable infill, mirror finish railing posts, and elegant baseplate covers differentiate this railing installation to achieve a look of gleaming sophistication.
A Mirrored Railing Provides Superior Corrosion Resistance
Selecting the best railing products for your project is not just about appearances. Depending on the environment, you may also need to choose a railing system with the highest possible resistance to corrosion. AGS manufactures all its railing products from marine-grade stainless steel. Railing systems with a mirror finish have been electro-polished to create a highly polished, reflective surface. As a result, the stainless steel becomes exceptionally smooth during the process, which coincidentally improves corrosion resistance.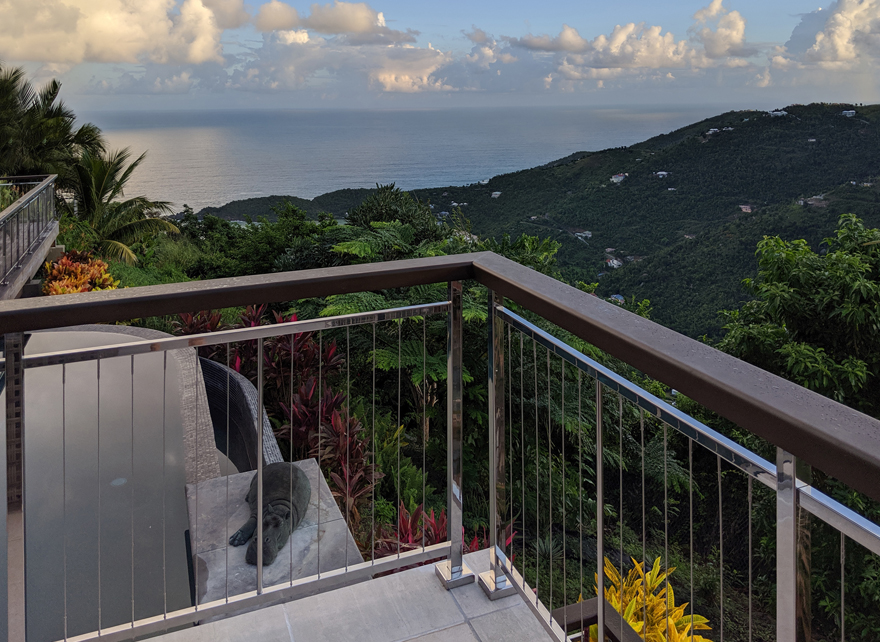 Highly polished stainless steel railing systems with a mirror finish are among the best railing options for corrosion resistance. Therefore, it's one of the best deck railing materials available for coastal settings.
To discuss custom options for your railing system, please request a FREE DESIGN CONSULTATION. Start by submitting a few simple measurements.
To begin your railing project and find top railing ideas, visit AGS' picture galleries to see hundreds of railing photos.
Additionally, visit these pages to see a selection of our favorite photos highlighting some of the best custom railing systems manufactured by AGS.