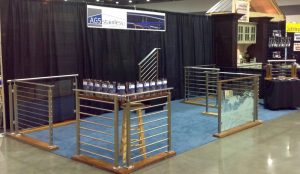 Last weekend, March 6-8, we made the short trip to the Tacoma Convention center for the
Tacoma Remodeling Expo.
There, we were able showcase our entire line of Clearview® Railing Systems, including our new Olympus line of Horizontal Bar Railings. We certainly enjoyed the feedback that you all provided us as well as hearing your plans to install our railing lines. In-person interaction with our future customers helps us gain a better understanding of what you are all looking for when it comes to your home improvement projects.
Our representatives, Lynne and Lenny, noticed that many of you were interested in purchasing our railing systems for your spring home renovation purposes. Many of you had noted that the weather was becoming clearer and warmer, ideal conditions to begin home upgrades. We were more than happy to discuss which railing components would fit your liking and taste, as well as how your home structure would benefit from installing Clearview®.
We enjoyed meeting you and look forward to working with you. If you expressed interest in some of our products this weekend, don't hesitate to give us a call 888-842-9492 or visit us at AGSStainless.com to submit a sketch or drawing of your intended renovation for a free estimate. We are eager to connect with you again to make your dream spring home improvement project come true.
About Tacoma Remodeling Expo:
Tacoma Remodeling Expo offers an unparalleled opportunity to speak directly with local and national experts and receive extremely valuable information– all in one place, all under one roof. Every aspect of the home is addressed. It's the ideal opportunity for you to connect with hundreds of remodeling and building companies and experts, and discover thousands of ideas to help turn your dream home into a reality!