Top 10 Hottest Interior Railing Design Trends

What is an Interior Railing?
An interior railing is a railing designed for an interior space. AGS Stainless designs and manufactures railing systems under the Clearview® brand, which include the Rainier cable railing system, the Glacier panel railing system, the Olympus bar railing system, and the Cascadia railing system.
Table of Contents
Schedule a FREE DESIGN CONSULTATION or continue reading to learn more about the hottest interior design trends, which include Traditional Interior Design, Contemporary Interior Design, Mid-Century Modern Interior Design, Scandinavian Interior Design, Minimalist Interior Design, Coastal Interior Design, Rustic Interior Design, Farmhouse Interior Design, and Southwest Interior Design.
1. Traditional Interior Design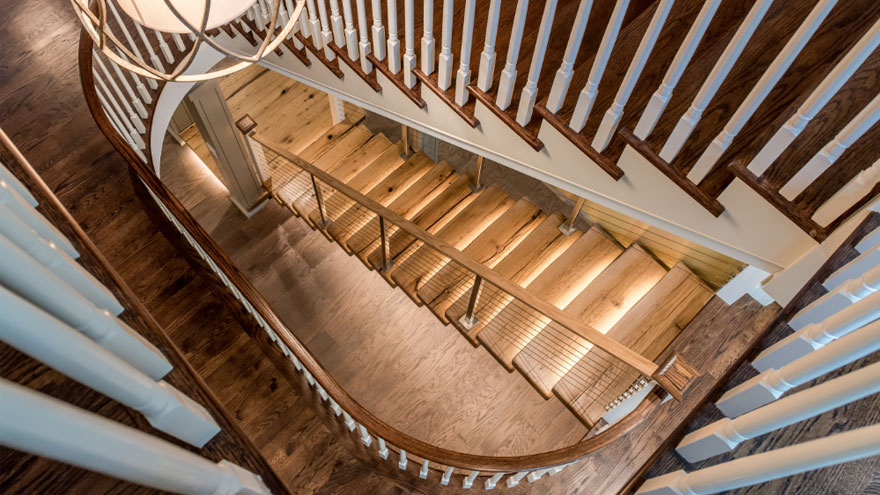 Traditional Interior Design is inspired by exquisite European decor in England and France from the 18th and 19th centuries. It often incorporates stunning art reminiscent of the Renaissance era and lavish furnishings fit for the aristocracy.
Europe was simultaneously undergoing dramatic reforms during that period as the Industrial Revolution was fully underway and already beginning to shape every aspect of the culture. Unprecedented advances in manufacturing technology characterized this major turning point in history. A transitional design that blends old and new can represent this. For example, a Rainier system with thin stainless steel cables could juxtapose with a sophisticated loft that features ornamental interior railing balusters that provide visual weight.
Balusters are vertical pillars that could make up the infill of indoor railing systems. Infill is the part of an indoor railing system between vertical posts and below a horizontal handrail.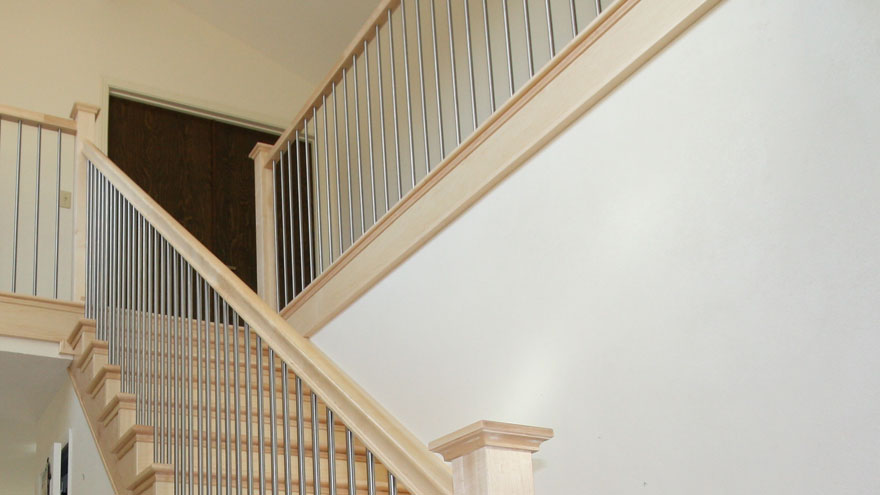 An Olympus railing with vertical stainless steel bars rather than interior railing spindles or balusters made of wood contributes to a sense of harmony and order. When symmetry is paramount, a vertical infill configuration that aligns with interior railing posts is ideal.
Warm tones define the color palette for this stair railing interior. One of the best Do-It-Yourself (DIY) interior railing ideas involves using a light stain on an interior banister railing.
Banister is the formal term for a horizontal wood handrail on a traditional staircase above intermediate infill and vertical supporting posts. Today, an indoor banister rail is commonly known as a handrail to distinguish it from a horizontal bottom rail that might support spindles.
2. Modern Interior Design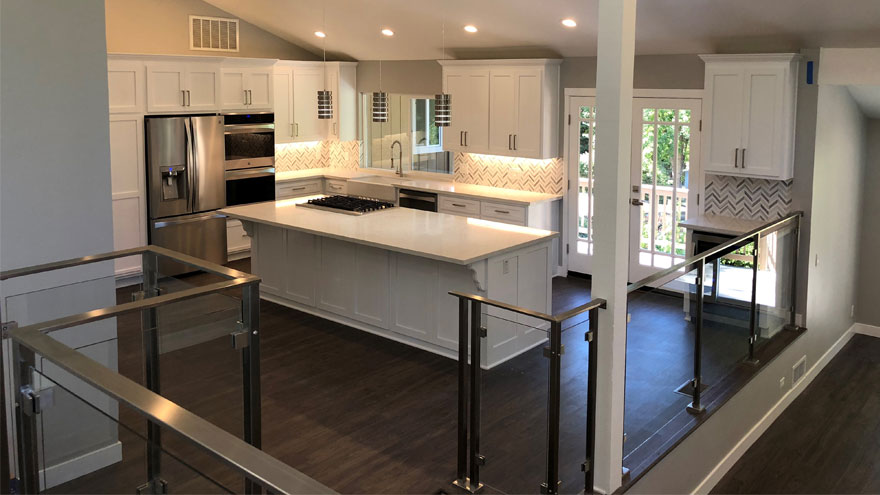 Modern Interior Design refers to a post-Industrial Revolution style from the early 20th century that was later popularized by mass media and science fiction films. Additionally, what was once an extravagant style that distinguished business executives and the metropolitan elite is back in vogue and more affordable than ever.
A sleek glass railing interior with stainless steel accents rightfully comes to mind. Modern interior railing materials include stainless steel and glass. Glacier is an interior glass railing that uses stainless steel clamps and glass panels as infill. Tempered glass panels are preferred for a modern indoor railing because they combine strength and beauty without sacrificing performance.
Interior glass railing systems have a variety of applications. For example, indoor glass railing systems on an open floor plan would allow for a seamless transition from a living room. They would also grant a completely unobstructed view of a brand-new kitchen with bright white cabinetry, beautiful granite countertops, and gleaming stainless steel appliances.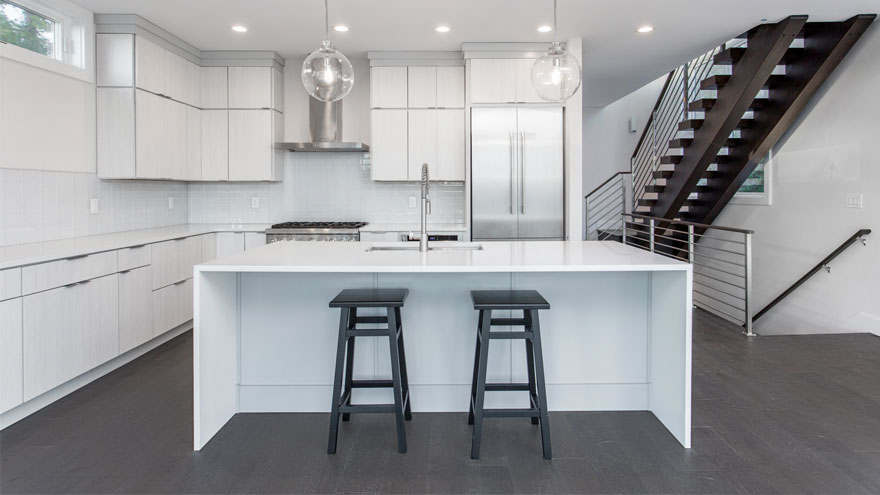 Counters are often centrally placed in modern kitchens to divide space and provide a visual definition. An Olympus horizontal railing interior uses stainless steel bars to create straight parallel lines. The bars for this modern interior stair railing are hollow and connected to stainless steel posts with plastic inserts. A monochromatic color scheme was used throughout the modern railing interior to reach a balanced look that isn't excessively bold.
Ambient pendant lighting is a recommended addition for an indoor stair railing installation. This simple touch can illuminate dazzling interior metal railing systems and add warmth to an otherwise plain interior.
3. Contemporary Interior Design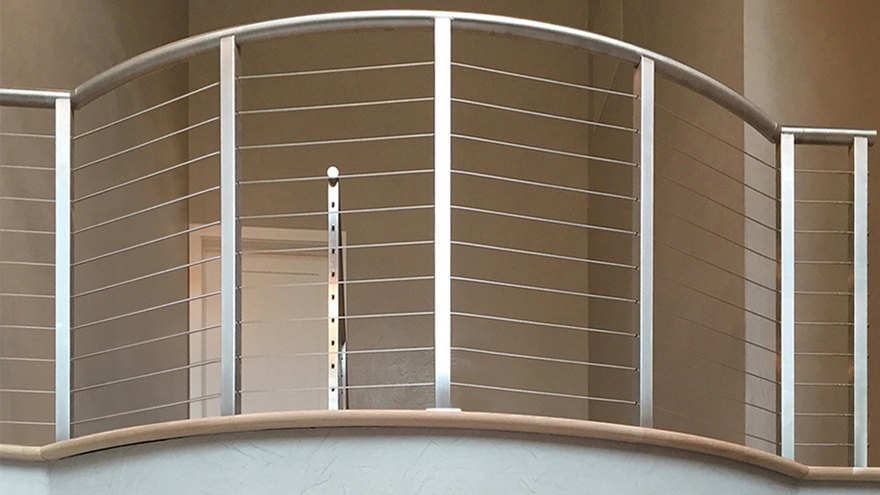 Contemporary Interior Design came out of the 20th century when there was a desire for comfort and livability. Although the style is continually evolving, it is most frequently associated with neutral colors and strong lines. A Rainier indoor balcony railing with cable infill adds horizontal lines that are visible up close but start to disappear as one moves farther away.
Consider how a picture window could frame spectacular scenery and let natural light shine throughout a balcony railing interior. Picture windows are stationary, rectangular windows that are much larger and more energy-efficient than windows that vent. Placing picture windows adjacent to one another or combining a single picture window with other types of windows on either side to construct a bay window allows interior balcony railing systems to shimmer as they bask in the sunlight.
Railing systems designed and manufactured by AGS Stainless are available with a height of 36 inches or 42 inches to comply with the interior balcony railing height Code. Regulations that determine indoor railing height are the International Building Code (IBC), the International Residential Code (IRC), the American Disabilities Act (ADA), and any local codes in your area.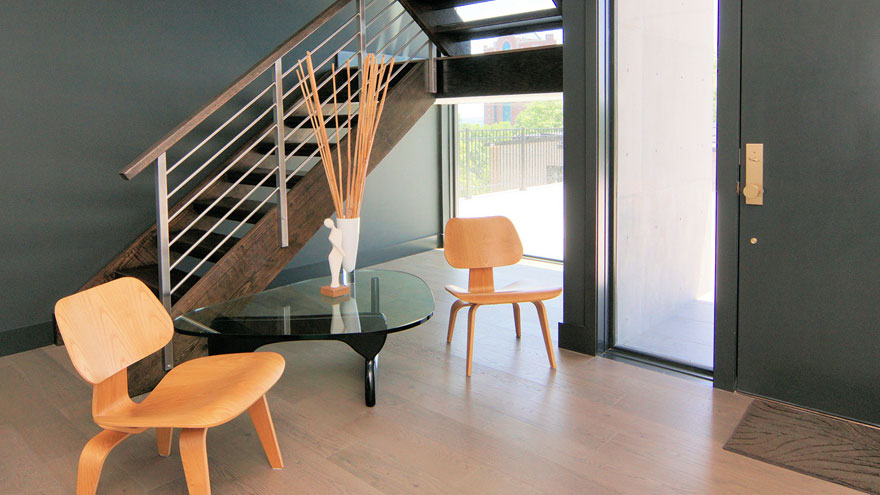 A metal railing for indoor applications must strike a delicate balance between form and function. An Olympus metal interior stair railing with bar infill embraces the concept that strong horizontal lines should be visible and unmistakable from a distance.
Several types of furniture complement a metal railing for stairs. A table brings curved lines to a room with an interior metal stair railing. Although unconventional, chairs could add a splash of color and flaunt vivid hues to make a room pop.
Furthermore, one of several Do-It-Yourself (DIY) indoor metal railing ideas involves choosing a chic stainless steel handrail. This particular DIY idea, among other indoor railing ideas, comes from the belief that every room needs a focal point like a flower vase to create a unique point of interest.
4. Mid-Century Modern Interior Design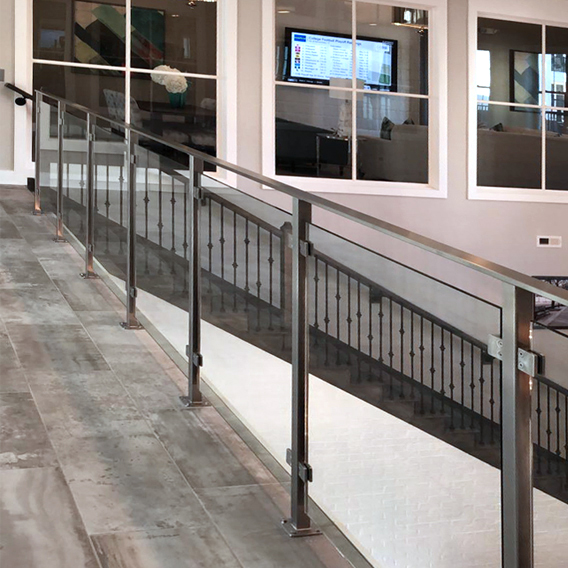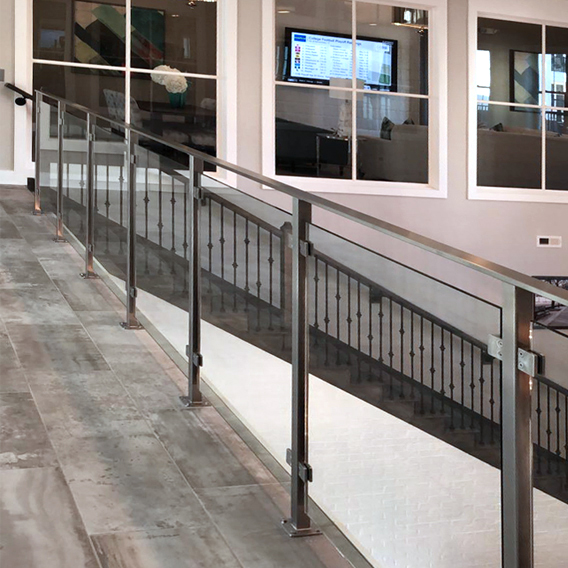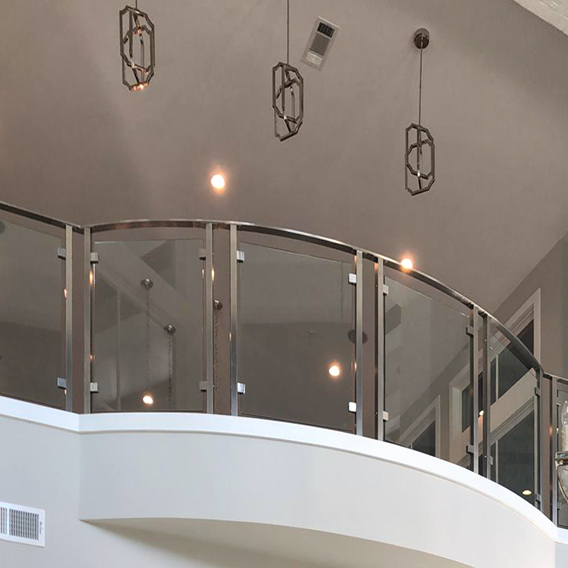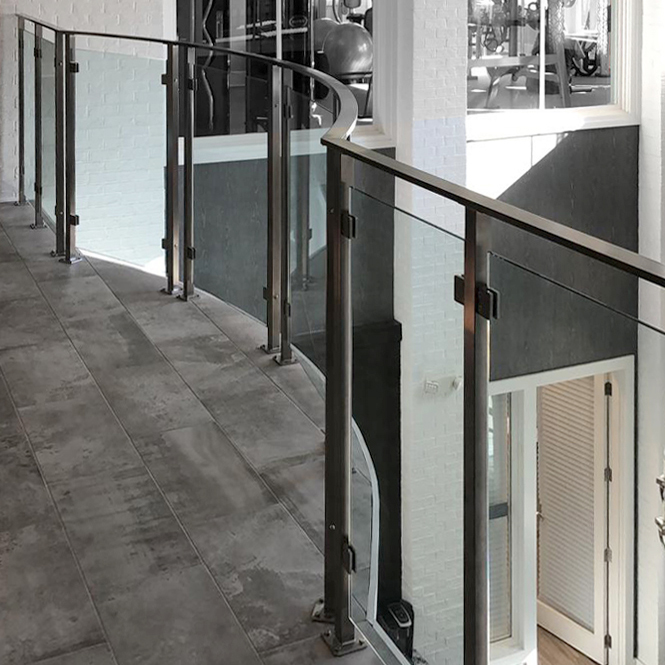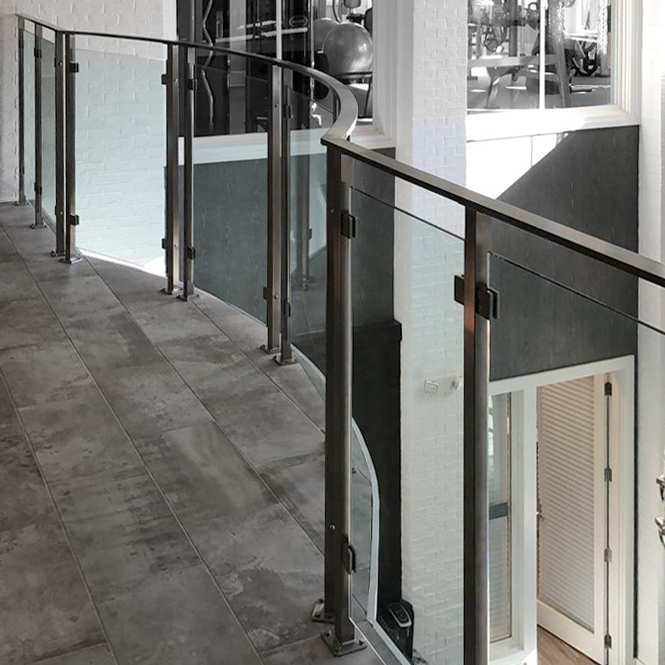 Mid-Century Modern Interior with a Glacier Panel Railing by AGS Stainless
Mid-Century Modern Interior Design showed up in the United States of America during the middle of the 20th century after World War II and is now ubiquitous in sitcoms and television dramas.
The U.S. economy was booming due to a strong manufacturing sector and significant government spending on infrastructure projects like interstate highways. This newfound prosperity along with the G.I. Bill that subsidized low-cost mortgages allowed returning soldiers to buy modest cookie-cutter homes with perfectly manicured lawns and white picket fences in the suburbs.
As the concept of an "American Dream" became more of a reality every day, the middle class had more disposable income to spend on consumer goods like automobiles, appliances, furniture, and affordable design elements like interior railing systems. New materials became available as mass production ramped up, and optimism permeated every aspect of the culture from entertainment to interior design.
This Glacier indoor loft railing with transparent glass panel infill overlooks a comfortable lounge and a welcoming dining room to satisfy an increasingly common yearning for 1950s nostalgia.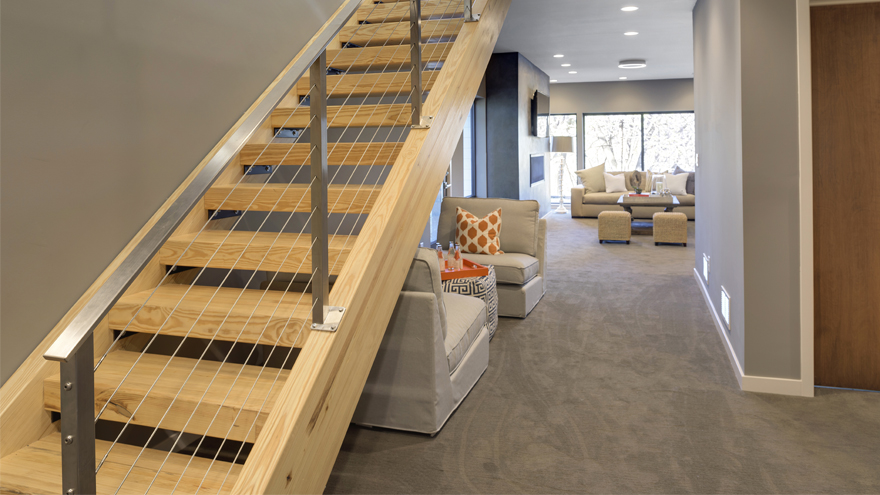 Form follows function, and that idea often manifests with practical design elements like Rainier interior cable railing systems. These colorful plush pillows hearken back to a radically different time and afford a rare glimpse of a gorgeous cable railing for interior stairs.
5. Scandinavian Interior Design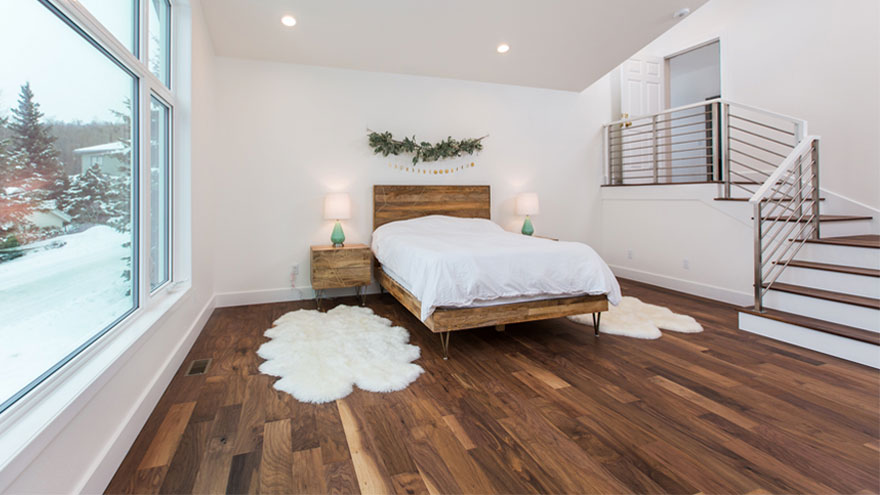 Scandinavian Interior Design emerged in Northern European countries, such as Norway, Denmark, and Sweden, throughout the 20th century. The modest and functional style is renowned for its lustrous white walls and the use of natural materials.
DIY interior metal railing kits are available with a variety of finish options. DIY interior stair railing parts above vertical posts and infill are known as handrails. Handrails for interior metal stair railing kits and systems can be powder-coated to achieve a fresh look. A stark white powder coating was applied to this Olympus interior stair railing in a guest bedroom to establish a contrast with the stained wooden treads and hardwood floors.
Stair treads are horizontal parts upon which people can walk and are often made of wood to promote a greater connection to the outdoors. Winder stairs possess steps less than 90 degrees, where a landing would generally be. A stair railing design for winder stairs might yield a softer and more elegant transition than one on straight stairs whenever there is a height disparity between rooms.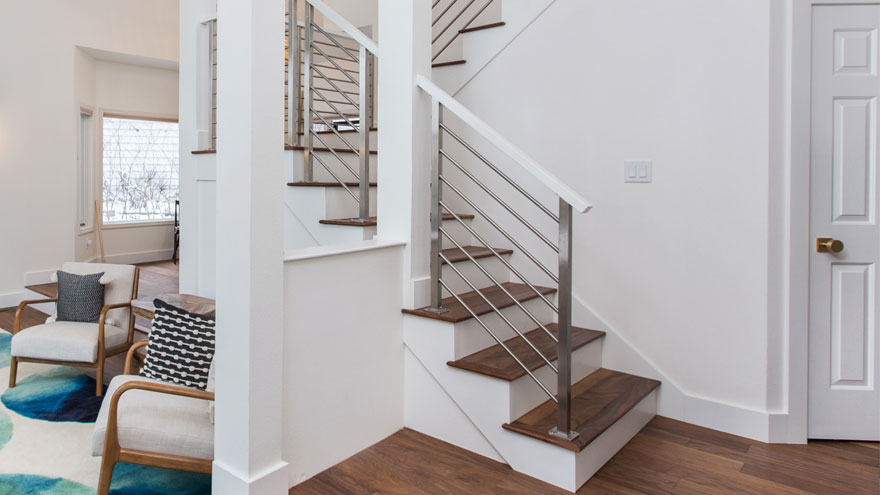 On the other hand, switchback stairs are an option for considerable height changes between floors. Switchback stairs are U-shaped and usually have a landing before a 180-degree turn that can affect interior stairs railing designs. Unlike dogleg stairs with a landing before a 90-degree turn, switchback stairs save space because the flights can stack on top of each other. For more stair railing pictures and ideas, check out the photo galleries for Rainier, Glacier, and Olympus.
This Olympus interior staircase railing with a powder-coated handrail serves as the centerpiece for an open floor plan. Towering columns were divided by a half wall to offer a degree of separation between the front hall and the living room. Then pillows with an interlaced black and white textile pattern were placed on chairs with matching upholstery to personalize the space.
6. Minimalist Interior Design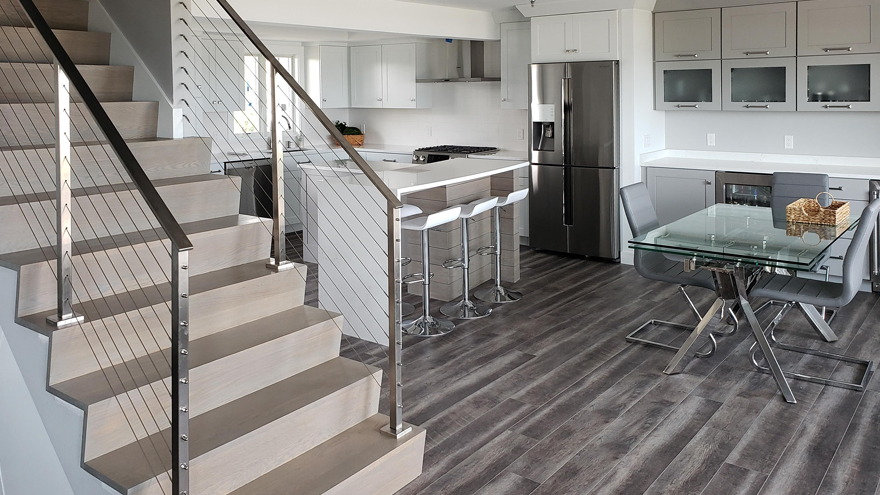 Minimalist Interior Design is a 21st-century reaction to other styles that are more decorative and streamlines the design process by eliminating unnecessary elements. This Rainier cable railing system on an indoor hallway showcases the notion that less is more.
All of the design elements in this kitchen add something without taking anything away. Breakfast stools provide a place to sit without taking up too much space and align with one of the countertop to produce clean lines. Those lines then continue with the cable railing on indoor stairs that protrude from a wall that partially encloses them.

Sometimes walls enclose stairs to make them slightly less visible and chaotic. They retain the allure of an interior stair cable railing without making it a focal point. Showing an entire set of stairs is unnecessary if it will completely dominate an interior space.
Uncluttered spaces improve mental health and wellbeing. Furthermore, cable railing systems can elevate your mood and reduce stress.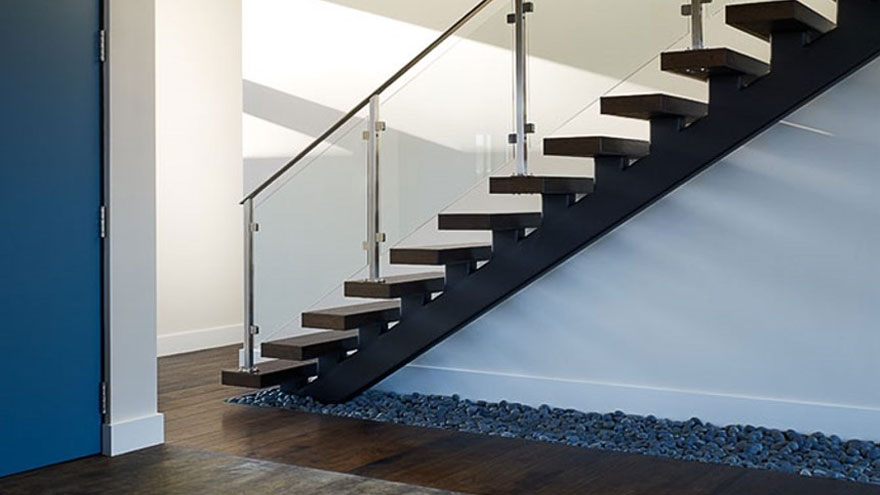 A minimalist glass railing system interior with straight stairs relies on the illusion that open riser treads are floating in midair. Risers refer to the vertical components or spaces between treads. Closed riser stairs have a riser between each tread. Conversely, open riser stairs have nothing but space where the risers would typically be, which means that they are only attached to the stringer. The stringer is a structural component for stairs that supports treads and risers.
Installing a glass railing indoors is now easier than ever with Glacier glass panel railing systems. They use stainless steel clamps to hold 1/4-in, 5/16-in, or 3/8-in glass panels.
7. Coastal Interior Design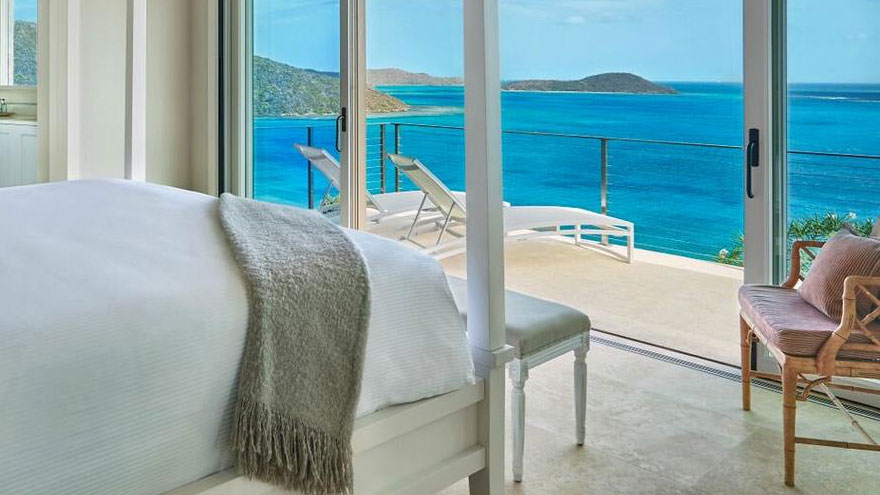 Coastal Interior Design is often used to distinguish beach houses or waterfront resorts as vacation destinations. Everything about this style is refreshing from the calm, cool colors to the airy and inviting atmosphere.
The mattress for this master bedroom layers textures with a soft cotton comforter and folded linen blanket to provide a cozy spot for observing a glorious vista characterized by tropical foliage, rippling blue water, and swirling white sand. An understated armchair was meticulously placed on the periphery to minimize obstruction. Solid vinyl flooring resembles a stone surface. It is water-resistant, easy to clean, and highly resistant to harsh abrasion from gritty sand that you might experience as a tactile sensation between your toes.
A delightful Rainier cable railing system with sliding French patio doors presents a clear sightline. French patio doors function like large moving windows because they maximize the glass area that allows natural light to shine through. They smoothly glide along raised horizontal tracks to save space and let in a mild soothing breeze infused with the distinct aroma of saltwater.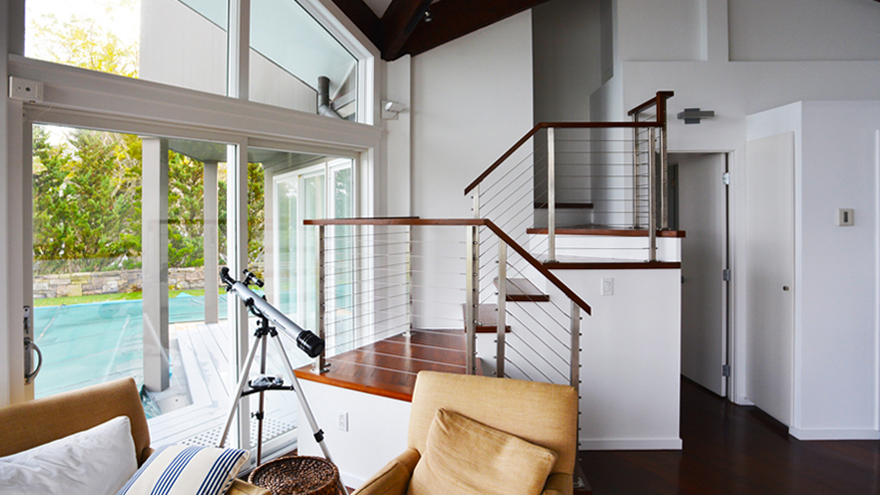 Furniture adorned with intricate fabrics harmoniously pulls everything together, while adroitly arranged pillows utilize achromatic shades, harmonious hues, and subdued pastels on prints that promote relaxation. Additionally, the nautical telescope on a tripod is an example of a subtle design element that introduces variety to a railing systems interior.
Exposed hip rafters bisect the corners to form striking angles, and triangular specialty windows add excitement to the room. Similarly, Rainier cable railing systems are proportional and establish visual flow.
One of many interior railing options is a horizontal handrail made out of reclaimed lumber with a distressed finish that emulates the grandeur of weathered driftwood without going overboard.
8. Rustic Interior Design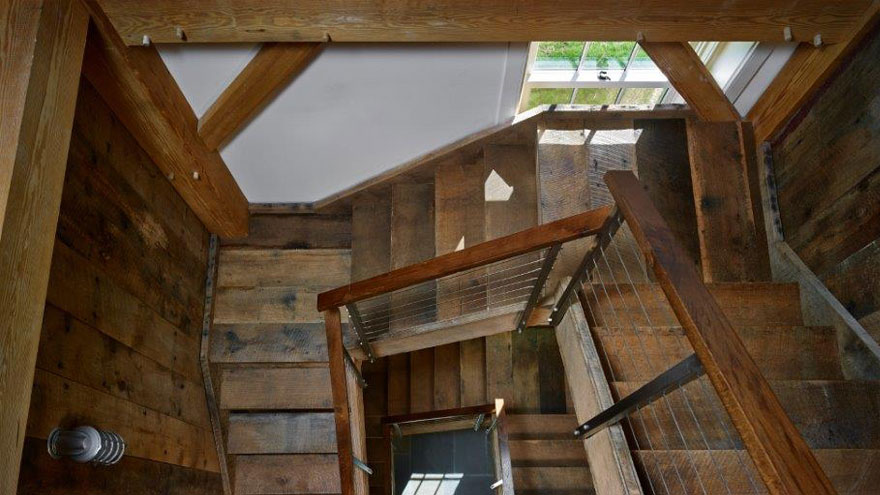 Rustic Interior Design uses coarse raw materials and natural, earthy elements to decorate dwellings in pristine settings. These include secluded log cabins in the woods or luxurious ski lodges atop snowy mountain peaks.
Wooden beams extend out from walls like tree branches to frame a stairwell with a Rainier wood indoor railing. Prefinished tongue and groove wood paneling join together to form bold accent walls that bring visual interest.
Observe how a vibrant stain can accentuate the magnificent beauty of the natural wood grain and create a lasting impression. A double-hung window promotes ventilation by allowing fresh air to flow through since the top and bottom sashes with glass panes can move up and down on a vertical track.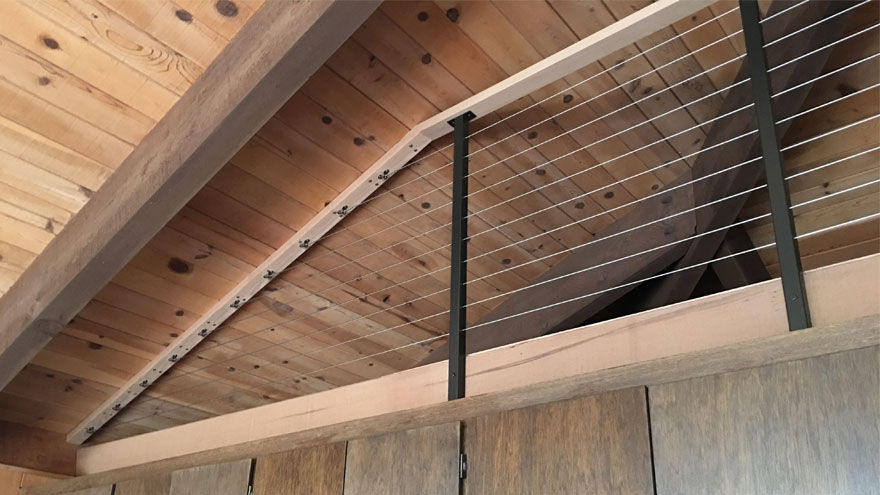 One of the most popular indoor wood stair railing designs uses a side mounting method. A side mount for a Rainier cable railing system with a wood handrail makes sense when a set of dogleg stairs has stringers on either side. In this case, the posts for an interior stair rail would mount on the sides of the stringers.
A black powder coat finish was applied to the stainless steel posts to add drama and emulate the industrial feel of wrought iron. Unlike a wrought iron interior railing, stainless steel is resistant to corrosion caused by exposure to moisture in the air.
Passivating stainless steel with an AGS - Stainless Steel Cleaning & Maintenance Kit is a best practice. An AGS - Stainless Steel Cleaner can then be applied as needed.
Slanted ceilings for lofts and attics make complying with the International Residential Code (IRC) more difficult. A knee wall is a short wall that extends from a floor to a roof. Unfortunately, it can be very obtrusive and limit the amount of usable space. On the other hand, Clearview® - Deck Toggles for indoor cable railing systems can preserve diagonal lines by attaching uncoated 1/8-in stainless steel Clearview® - Cables to a sloped wood mounting surface like a slanted ceiling.
Wooden planks with visible knots can add character to a ceiling. Dead branches break off from healthy living trees fairly frequently, and knots remain in the trunks. When trees are cut down, the trunks are taken to a sawmill to produce lumber, and the branches are often turned into wood chips. Since knots can cause structural problems if they become too large, common, or close together, lumber grades are necessary to measure their size, frequency, and spacing.
Consider appearance and safety when buying lumber for handrails on interior wood railing systems with cable infill. Look for the #1 grade because it is widely available and has only a few small, tight, evenly spaced knots. The #2 grade is cheaper and doesn't look perfect, but it is still acceptable for panels or visible planks that might adorn a wood railing interior.
9. Farmhouse Interior Design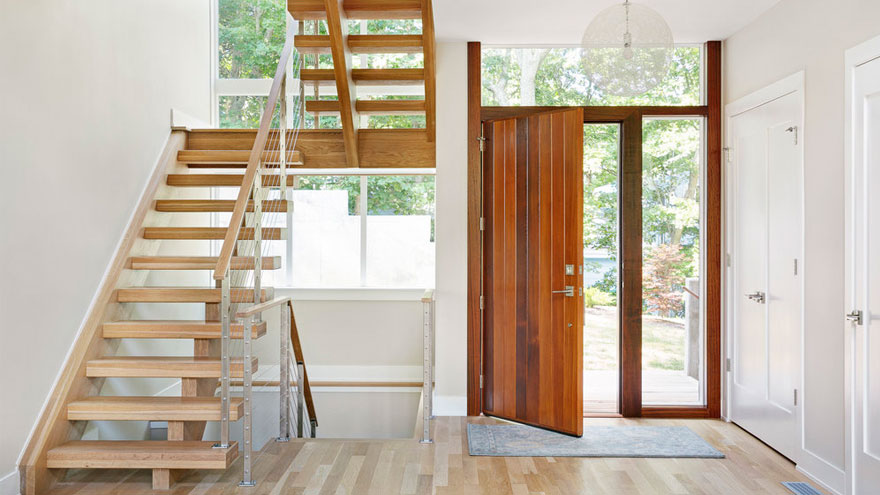 Farmhouse Interior Design is ideal for fostering a small-town vibe and increasingly serves as the backdrop for country music videos.
Homestead acts passed by the United States government throughout the 19th and 20th centuries granted free land to British and German settlers, who agreed to develop it for agricultural purposes. When forests were cleared for farming, wood became the most popular building material due to its affordability and availability in local communities. A Rainier interior wood stair railing maintains this classic ambiance, and the cable infill adds a hint of sophistication.
While functionality is essential to any style, it should be the first point of consideration for this one, and every design element should serve a purpose. Since many farmhouses were built before electrical grid infrastructure, natural light was crucial. These sliding windows maximize the glass area for allowing sunlight to shine through. The sashes with glass panes are easy to open because they glide in front of each other along a horizontal track to let in a refreshing breath of fresh air.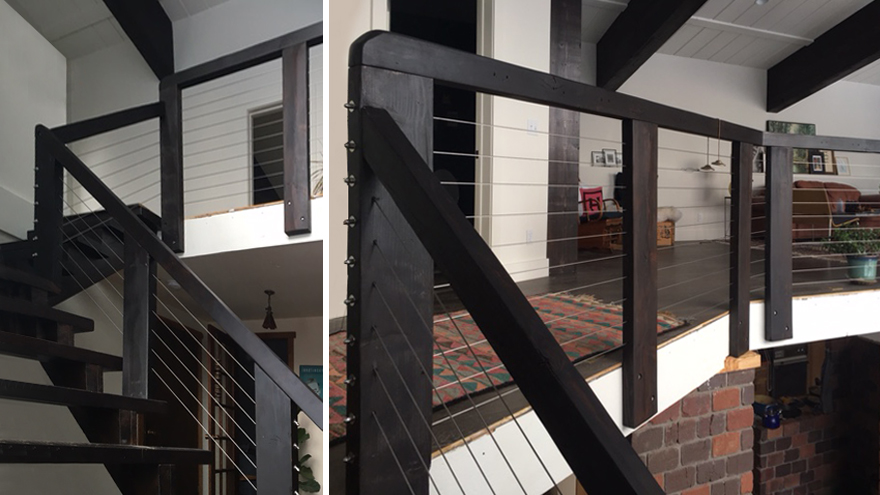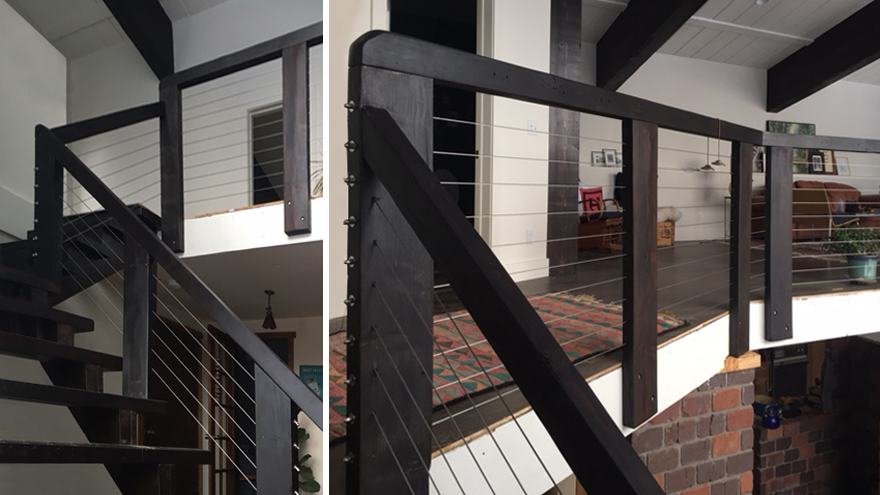 Rainier indoor wood railing systems can open up a view of a charming interior space. Conspicuous dark stains stand out next to plain white walls, and original brick for a chimney is discernible when staring through the cable infill on this wood interior railing.
Brick is a timeless and low-maintenance building material with an unequivocal texture. Clearview® - Masonry Terminals attach uncoated 1/8-in stainless steel Clearview® - Cables to brick, stone, or cement.
In the United States of America and Canada, brick is mainly used to build fireplaces, columns, and accent walls for decorating interiors. Both of these countries are experiencing severe skilled labor shortages in the trades.
Structural insulated panels (SIPs) are prefabricated wall panels that consist of a foam core for insulation purposes between two oriented strand boards (OSB). Since SIPs are manufactured off-site, they take much less skill and machinery to install than brick and concrete.
More residential general contractors benefit from choosing prefabricated building products like these. Unskilled subcontractors can install components for interior metal railing kits like Cascadia at a much lower cost. These interior railing kits are easier to install than SIPs because they come with detailed instruction manuals. After switching to prefab components, it will be hard to imagine how anyone could build indoor railing systems without them.
Large commercial builders still use concrete because urban structures that are several stories tall require heavier materials. In which case, Clearview® - Concrete Anchors become attractive for mounting indoor rail kits in everything from upscale lobbies to high-end parking garages.
10. Southwest Interior Design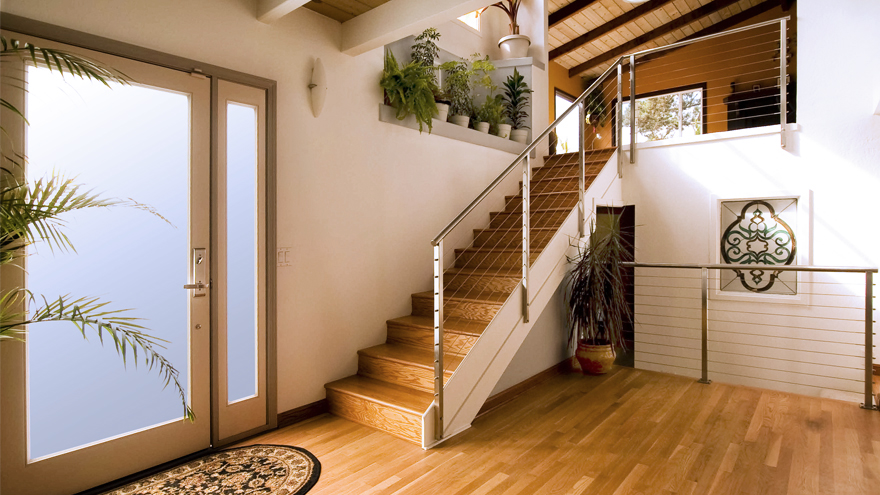 Southwest Interior Design is influenced by Spaniards, who settled the American Southwest in the 18th and 19th centuries, and Native Americans, who were indigenous to that region.
This style is often characterized by earthy brown accents that evoke the beauty and romance of desert landscapes. Terracotta and sandstone color schemes contribute to unmistakable vibrant energy and warmth with a welcoming aura.
Navajo white walls with textured stucco plaster are simple yet stylishly elegant without deviating from the American Southwest heritage and environment. A smooth hardwood floor and staircase break up these layers of texture.
Elaborate wrought iron metalwork is a common choice for design elements and all types of accessories. A stainless steel Rainier cable railing system avoids creating a space that feels one-dimensional.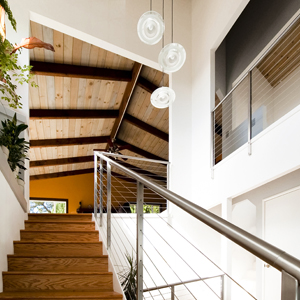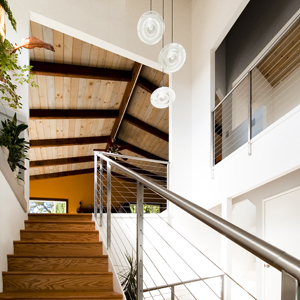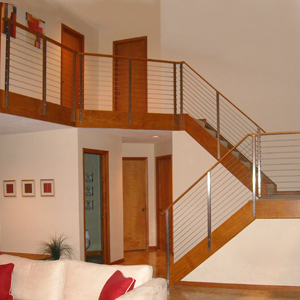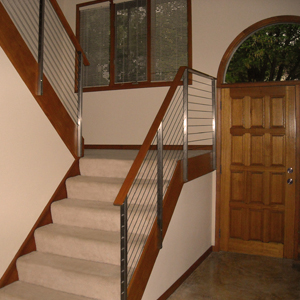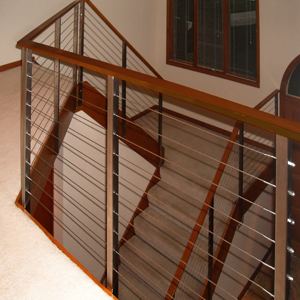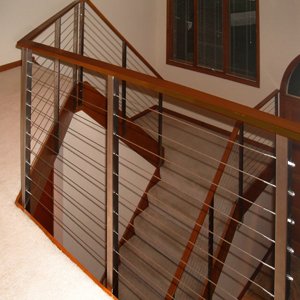 A wooden front door puts old world craftsmanship on display next to a cutting-edge Rainier cable railing system with a wood handrail. Arched specialty windows avoid harsh angles in favor of gentle curves that convey a visceral sense of place. Then nature was brought indoors with a variety of plants in artfully painted ceramic pots.
Exposed dark wooden beams that grace the high ceilings provide distinctive contrast and unique variety. Rugged was blended with refined by hanging framed tapestries on the walls and installing tinted French patio doors that let in just enough natural light. Finally, incorporating coarsely handwoven rugs with geometric tribal prints packs a bold, colorful punch.
Why Buy an Interior Railing from AGS Stainless?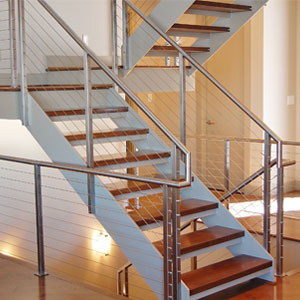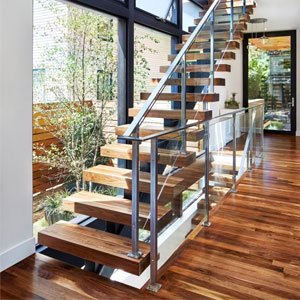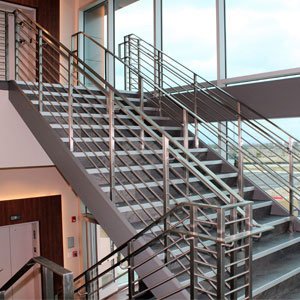 After you submit a simple drawing with basic measurements and any relevant photos, a dedicated design consultant will work with you or your contractor to discuss options, expectations, applications, budget, time frame, constraints, compliance, and maintenance. Design decisions determined at this point include measurements, handrail, infill, finish, mount, and any stair specifics. Then your design consultant develops a detailed cost estimate for your consideration at no cost to you.
Once you have approved the cost estimate for your railing system, a specially trained designer establishes a working relationship with you or your contractor to go over every detail. After that, your designer creates exact computer-aided design (CAD) drawings to ensure that you receive your desired look with a perfect on-site fit.
After you've approved your final CAD drawing, the fabrication process can begin. Meticulous planning allows the components to be fabricated off-site, which improves quality and simplifies the installation process. The fabrication team at the AGS factory brings expertise built on years of experience to perform fiber laser cutting, tungsten inert gas (TIG) welding, and finishing for the components before they are carefully packaged and shipped directly to you.
Schedule a FREE DESIGN CONSULTATION to get started.