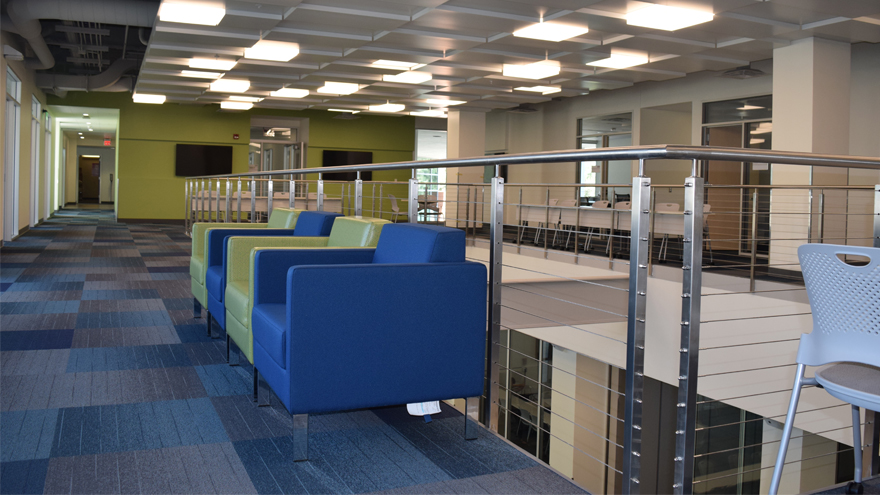 What is an Interior Railing System?
An interior railing system includes a top rail, infill, and posts that are used to decorate interiors. A railing system interior uses cable, glass panels, or metal bars as infill to create a distinct point of interest. Interior stainless steel railing systems are an upscale addition to any building project for a high-end, luxury market. When choosing an interior railing, one should consider things like the latest interior railing designs and interior railing styles, interior railing options offered by manufacturers, possible materials for interior railing posts, interior railing kits, interior railing height codes, and how to install an interior railing. AGS Stainless manufactures contemporary interior railing systems for lofts, balconies, staircases, and more.
1. Interior Cable Railings for Lofts
Cable Railings with Black Powder Coated Posts and Top Rails for Modern Lofts
Interior cable railings are a cutting-edge design trend that is becoming more popular every year. Modern interior railing systems use cables, which create an elegant wire railing interior look. Decorating a loft with blackened stainless steel is one of many cable interior railing design ideas if you desire a durable solution with a surface that isn't nearly as shiny. AGS Stainless manufactures custom interior railing systems from marine grade A316 stainless steel and offers a variety of powder coating options for posts and top rails. More people are featuring lavish interior cable railing systems like Rainier with black powder coatings to create unmatched modern interior railing designs that will last a lifetime.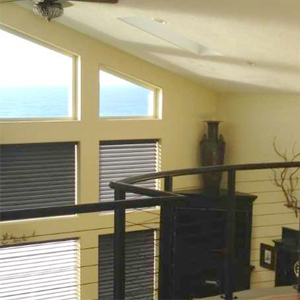 How to Install Interior Cable Railing Systems
Cable Railings with Wood Posts and Top Rails for Rustic Lofts
An interior steel cable railing is custom-designed for attaching to wood/plastic/composites, masonry, or concrete. For more interior hand railing ideas that use cables, go to our cable railing photo gallery. The good news is that interior hand railing kits have several design applications. A custom interior cable railing kit from AGS Stainless is ideal for lofts and other elevated areas. One-piece interior cable railing posts that are unique to AGS Stainless can be paired with a wide array of top rail options to deliver a fully-customized appearance. One of many interior railing ideas is to use interior wood railing posts with cables to create more of a rustic feel. If you're imagining a stainless steel cable railing interior with wood posts, AGS Stainless can make your dream a reality with a railing system that meets your specifications.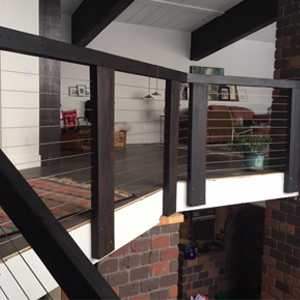 Cable Railing System Accessories to Light Up Any Interior
AGS Stainless also sells interior cable railing accessories like the StarLight solar-powered LED accent series to light up any interior space. You can find more interior railing parts, which are suitable for all types of interior steel railing systems, at our E-commerce store.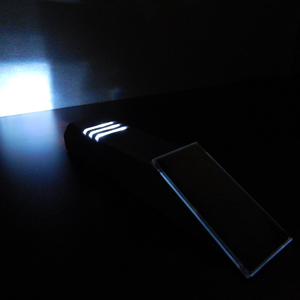 How to Install Interior Railing System Accessories
2. Interior Glass Railings for Balconies
Balcony Railings Can Use Glass Panels for Creating Unobstructed Views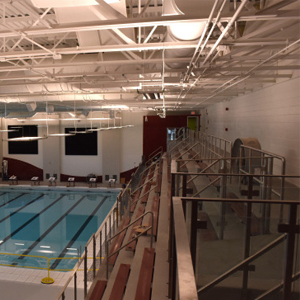 Interior glass railing systems always look better with a touch of stainless steel. Glass panel railings like Glacier provide a clean, contemporary look. Custom interior glass railing kits from AGS Stainless can be used to create unobstructed views of gorgeous interiors. Theaters and stadiums often have seats in balconies, which are above the rest of the audience. The right interior balcony railing installation will make going to a movie, a play, or a sporting event more enjoyable. In this case, glass panel infill is probably the best option to provide unobstructed views of any performance.
Balcony Railings with Frameless Glass Panels Are Becoming More Popular
A trendy interior balcony railing design features glass panels that are secured with stainless steel clamps rather than a metal frame. This type of design used in custom interior balcony railing kits from AGS Stainless lowers material costs and makes it seem like the glass panels are floating in midair. Overall, frameless glass panels are ideal for most interior balcony railing system applications. For more glass panel interior balcony railing ideas, visit our glass panel railing photo gallery.
How to Install Glass Panels for Interior Railing Systems
Glass Balcony Railing Height Considerations for Interiors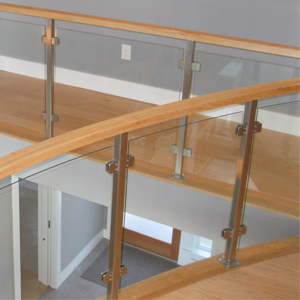 Interior railing height is very important to prevent people from falling while observing your incredible glass railing interior. All Clearview® interior railing systems by AGS Stainless are custom-designed to meet international standards for interior railing codes and comply with interior balcony railing height code in your area. AGS Stainless strives satisfy interior balcony railing height requirements for meeting international building code (IBC).
Etching Custom Designs on Glass Panels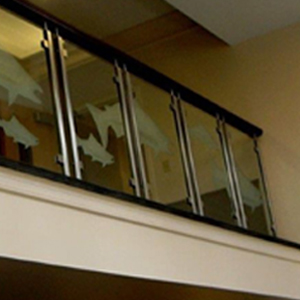 AGS Stainless can work with your glass artist or designer to create a glass railing system interior that features custom designs etched on glass panels for a sophisticated appeal.
How to Etch Custom Designs on Glass Panels for Interior Railings
3. Interior Metal Bar Railings for Staircases
Benefits of Vertical or Horizontal Stair Railing Bars
Interior metal railing systems like Olympus have horizontal or vertical bars that look absolutely spectacular. The hottest interior stair railing systems feature railings with horizontal metal bars. Although vertical bars have been the predominant method for residential interior railing applications, horizontal bars have been growing in popularity for commercial interior railing systems. For more interior stair railing images and interior stair railing ideas that utilize metal bars, check out our metal bar railing photo gallery.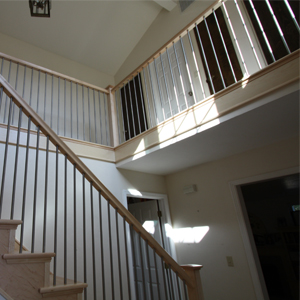 How to Install Horizontal Bar Railings for Interiors
Best Interior Stair Railing Materials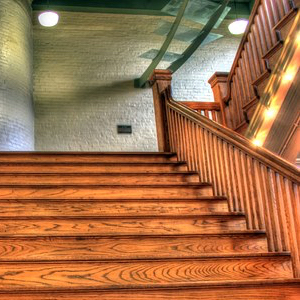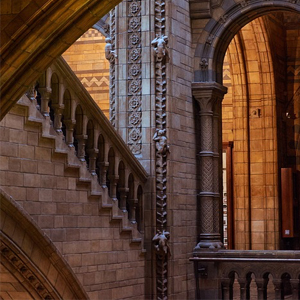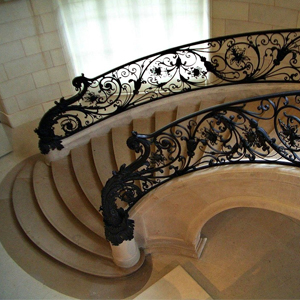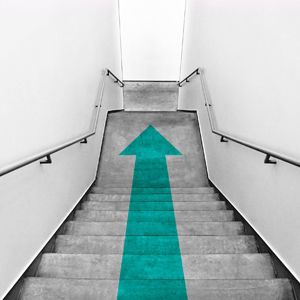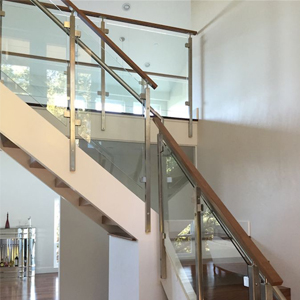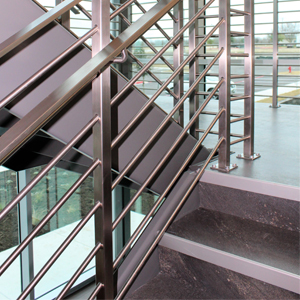 Wood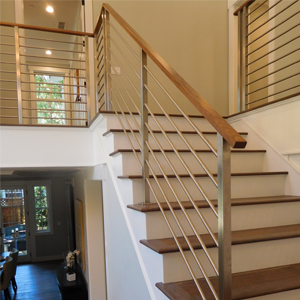 Interior wood railing systems are very difficult to disassemble after an installation has been made. If you think that you or a homeowner might want to make future modifications, then a stainless steel interior railing kit is an excellent alternative to traditional interior railing balusters. A hybrid of interior stair railing posts and bars made of stainless steel with a wood top rail might be better than interior metal stair railing kits if you want the beauty and flexibility of stainless steel components along with the charm of a natural wood railing interior.
Stone
Interior stone railings are fairly rare in many parts of the world unless you live in a castle. A major problem with stone railings is that they are very difficult to install. People didn't exactly have modern manufacturing technology like computer-aided design (CAD), 3-D rendering, and laser cutting in medieval times, so they had to make do with what was available.
Modern Manufacturing Technology for Interior Railing Systems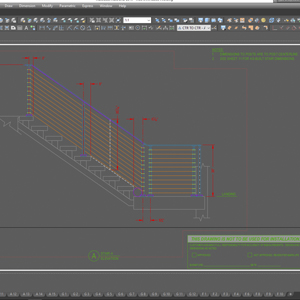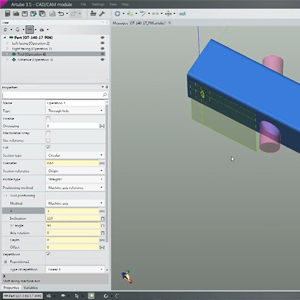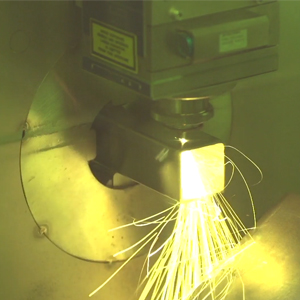 Wrought Iron
Interior wrought iron railings with a black powder coating are becoming much more widespread. However, using a powder coating on stainless steel is even better because it means that your interior stair railing will be much more resistant to corrosion. Depending on the humidity of your wrought iron railing interior, moisture in the air could have the potential to cause rust. That is why AGS Stainless recommends using black powder coated stainless steel for interior railing projects.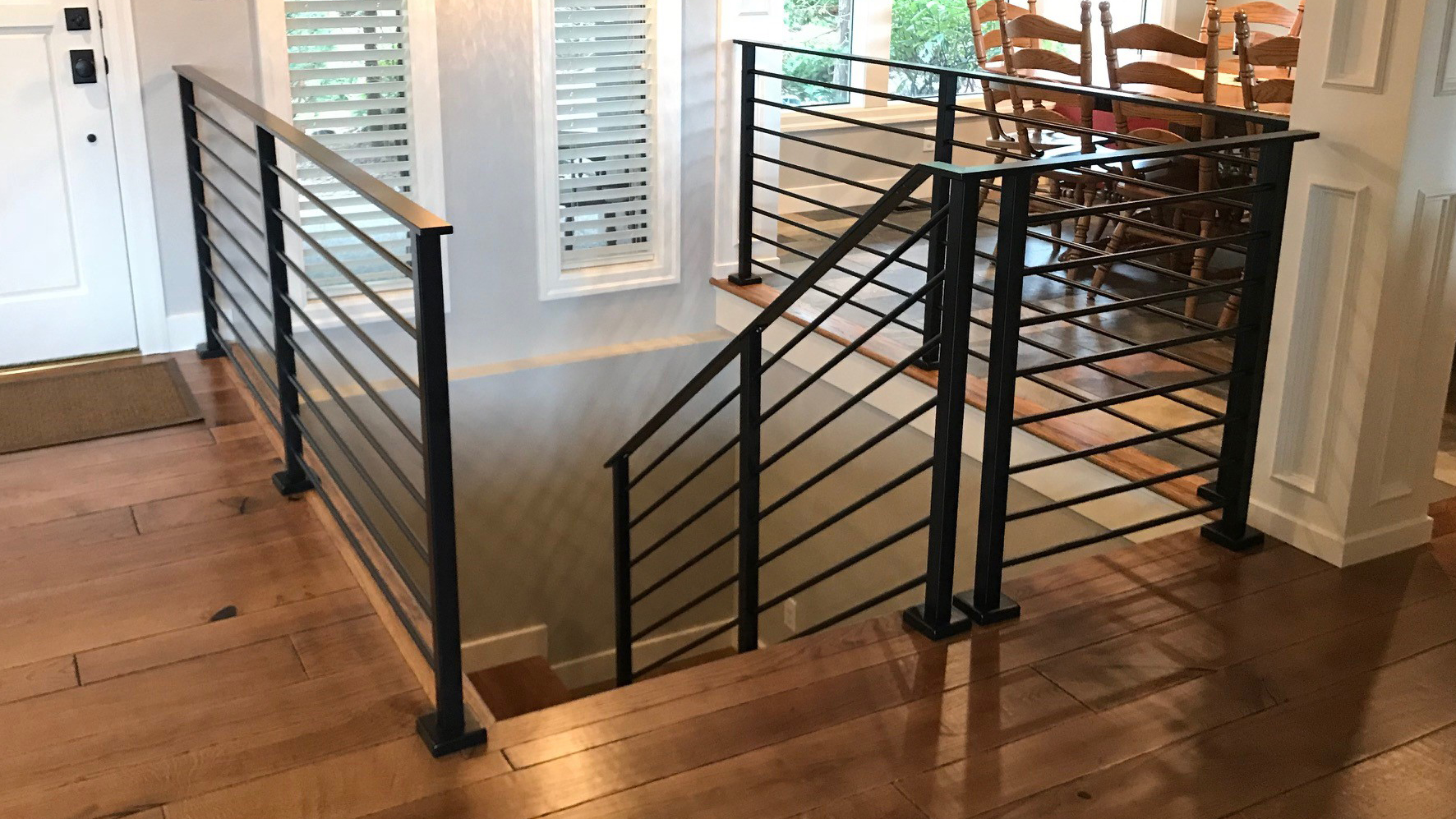 Aluminum
Interior metal stair railings that are made from stainless steel will outlast softer interior aluminum railings that can get dented and scratched up over time. Aluminum tends to be maintenance-free if the railings are just for show and you don't touch them. Stainless steel railing systems will definitely outlast aluminum interior railing systems if people are constantly climbing stairs and actually grabbing and banging onto the railings. In addition, stainless steel is much more functional since periodic maintenance can make it look brand-new.
How to Care for Your Stainless Steel Rail
Glass
Interior glass railing systems usually feature glass panels that are held by clamps or a stainless steel frame. You might be wondering why interior glass railings aren't entirely made out of glass. Glass is a very fragile material, so an interior glass railing usually needs to be reinforced by a stronger material like wood or metal. A stainless steel structure is the most common when displaying panels for a glass railing interior. AGS Stainless custom-designs several interior glass railing kits for an easy DIY (Do-It-Yourself) installation.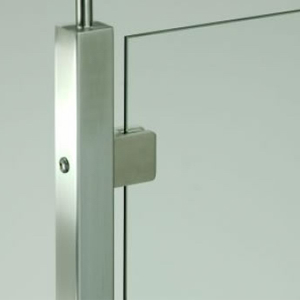 Stainless Steel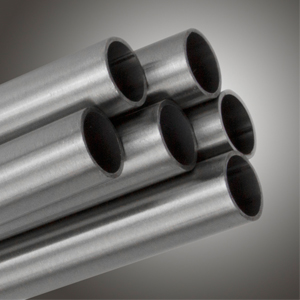 Stainless steel metal bar stair railings like Olympus combine sleek design with cutting-edge fabrication processes. An interior staircase railing made of marine grade A316 stainless steel is beautiful enough to complement your design and durable enough to last. Stainless steel railing kits by AGS Stainless don't require field modifications like cutting or welding. On the other hand, wood stair railing kits and wrought iron railing kits might require more work on-site.
Prefabrication Simplifies DIY Installation for Interior Stair Railing Systems
Installing an interior stair railing has never been easier since AGS Stainless provides step-by-step instructions and custom interior staircase railing kits for even the most ambitious DIY projects. Custom interior railing kits are custom-designed and prefabricated to keep your interior stair railing installation simple. More people are choosing prefabricated railing systems by AGS Stainless because they don't require cutting or welding on-site. All you need is a few simple hand tools to get the job done.
Skilled Labor Shortage Means That a DIY Interior Railing Installation Might Be Necessary
As the skilled trade shortage grows and interior stair railing contractors become harder to find, modern interior stair railing kits will play a major role in reducing labor costs associated with expensive training and unpredictable field modifications during future interior railing installations. The CAD design team has experience with solving complicated problems that you might face with creating a metal railing interior on your own.
Why Buy an Interior Railing System from AGS Stainless?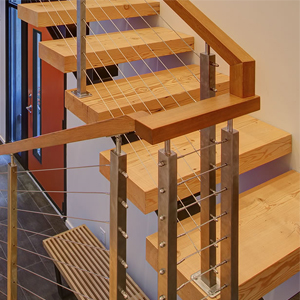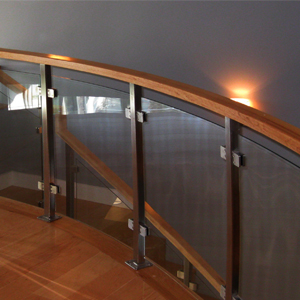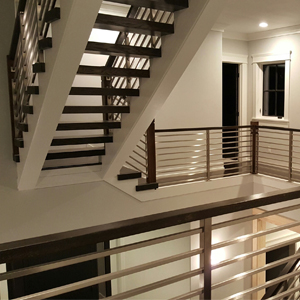 The CAD design team at AGS Stainless understands your unique challenges and can offer several solutions to solve complicated problems that you might face with creating a metal railing interior on your own. Fill out the following form or call us at (888) 842-9492 to schedule your free interior railing design consultation.