Congress enacted the Americans with Disabilities Act (ADA) in 1990. This act requires that all new construction of public places and commercial facilities, such as office buildings, be accessible to persons with disabilities. In short, this means that handrails need to be provided along both sides of walking surfaces, ramps and stairs.
AGS Stainless Inc. manufactures handrails that are compliant with all relevant ADA standards. And easy to install.
AGS Stainless handrails can be customized to fit just about any space.
The following excerpts are taken from the 2010 ADA Standards for Accessible Design. They are NOT intended to be referenced in lieu of the official document, which can be found here.
Height
Top of gripping surfaces of handrails shall be 34 inches (865 mm) minimum and 38 inches (965 mm) maximum vertically above walking surfaces, stair nosings, and ramp surfaces. Handrails shall be at a consistent height above walking surfaces, stair nosings, and ramp surfaces.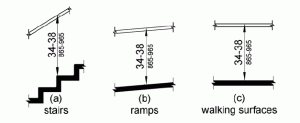 Continuity and Extensions
Handrails shall be continuous within the full length of each stair flight or ramp run. Inside handrails on switchback or dogleg stairs and ramps shall be continuous between flights or runs. Handrail gripping surfaces shall extend beyond and in the same direction of stair flights and ramp runs, providing additional support for mounting/dismounting the stair or ramp.
AGS works directly with clients to customize each handrail, ensuring the design meets the clients needs while maintaining compliance with ADA standards and applicable building codes.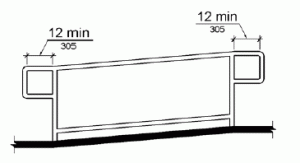 Gripping Surfaces
Handrails have to be within specific parameters to comply with ADA. Handrail gripping surfaces shall be continuous along their length and shall not be obstructed along their tops or sides. The bottoms of handrail gripping surfaces shall not be obstructed for more than 20 percent of their length. Where provided, horizontal projections shall occur 1 1/2 inches (38 mm) minimum below the bottom of the handrail gripping surface.
Handrail gripping surfaces with a circular cross section shall have an outside diameter of 1 1/4 inches (32 mm) minimum and 2 inches (51 mm) maximum (circular cross section)and Handrail gripping surfaces with a non-circular cross section shall have a perimeter dimension of 4 inches (100 mm) minimum and 6 1/4 inches (160 mm) maximum, and a cross-section dimension of 2 1/4 inches (57 mm) maximum (non-circular cross section).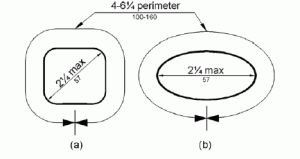 Handrail gripping surfaces and any surfaces adjacent to them shall be free of sharp or abrasive elements and shall have rounded edges and shall not rotate within their fittings.
Clearance
ADA recommends that the gripping for handrail systems have a 1.5 inch clearance from all adjacent surfaces.
AGS Clearview® Railing Systems offer a multitude of handrail options and our designers make every effort to work with clients to obtain dimensions for the areas and provide counsel, make recommendations, and tailor each project to assure ADA compliance.
Reference – ADA Requirements for New Construction
Reference – 2010 ADA Standards