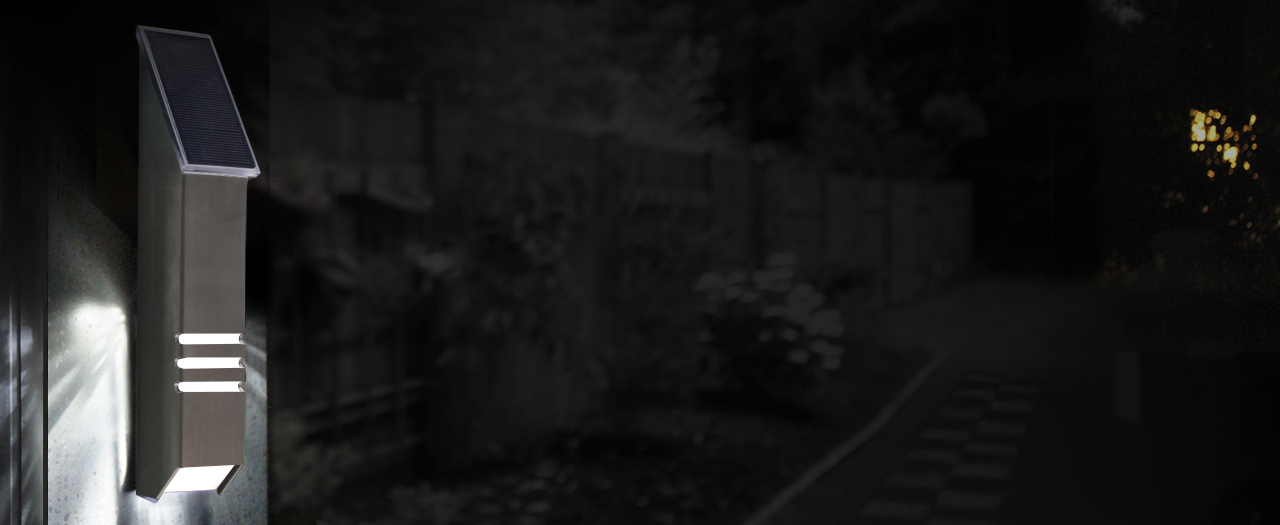 Stake and Surface Mounted
LED Accent Lights
"Let the sun light up your night!"
To add accent lighting to pathways, patios, and stairs, install StarLight solar-powered LEDs to railing posts and doorjambs, or use AGS Stainless ground stakes to position accent lighting virtually anywhere. This versatile and attractive accent light will add character and warmth to your landscape and transform deck and patio areas into beautiful, inviting, liveable spaces.
Choose From Four Beautiful StarLight Designs
All StarLight styles, including the classic, lantern, bubble, and orb designs, have an elegant brushed stainless finish. The classic design is also available with a chic black powder coat if desired.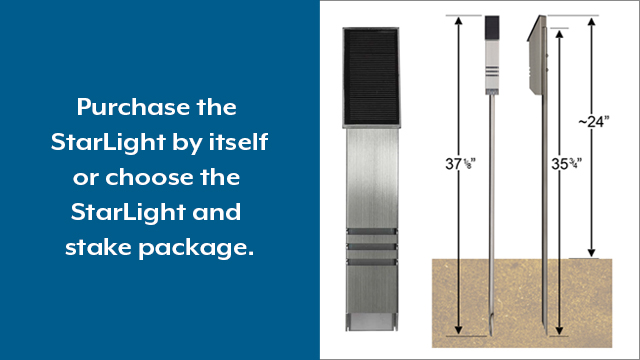 StarLight LED Accent Lights Are Available to Purchase With or Without the Stainless Steel Mounting Stake
Adding accent lighting to pathways, patios, and outside areas is easier than you might imagine. Versatile StarLight solar-powered LED accent lights can be surface mounted or easily installed using ground stakes. With no external wiring required, StarLights are a cost-effective way to install accent lighting on decks and an easy way to illuminate stairs or trip hazards.
Stake or surface mounted
Corrosion resistant
Produces 5 to 6 lumens of bright LED light for up to 10 hours
No Need to Hire a Pro! Stake Mounted StarLight LED Accent Lights Make It Easy to Illuminate Paths and Highlight Areas of Your Landscape
Light the way for family and friends by creating a welcoming entrance to your home. Place stake mounted StarLight accent lights along paths and driveways to guide visitors to your door and make a lasting impression. Try using accent lighting to add a touch of sparkle to a water feature, sculpture, or flower bed. StarLight accent LEDs provide the perfect way to infuse character and bring to life your after-dark landscape by accentuating unique decorative elements.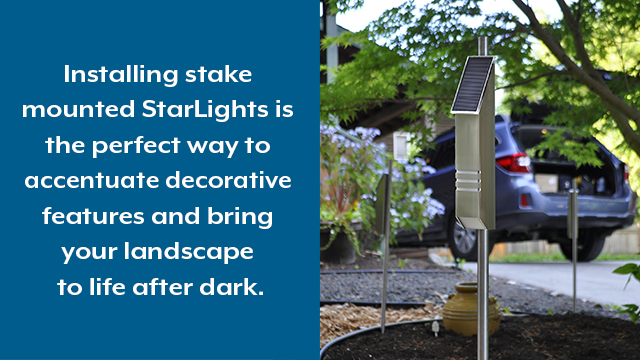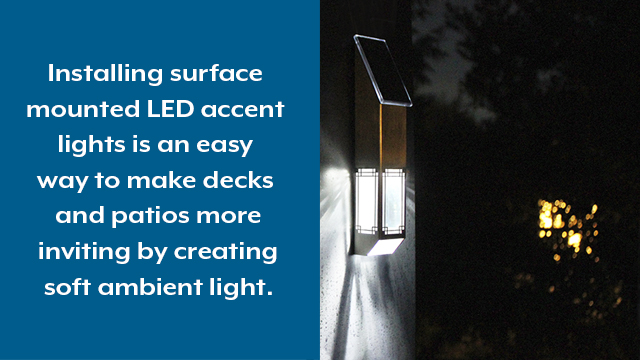 Surface Mounted LED Starlights Cast a Gentle Light That Helps Create a Relaxed Atmosphere Ideal for Social Occasions
Sitting out on your deck or balcony is a much more attractive option when soft ambient lighting lights up the night. Installing surface mounted StarLight LED lights on walls, posts, or other surfaces is convenient and easy to illuminate an outside sitting area; and significantly impacts the look and feel of the deck. Attractive StarLight LED lighting adds the finishing touch to a beautiful deck or outside space and will help you enjoy blissful summer evenings well after your guests have left.
Starlight LED Accent Lights Are an Easy and Convenient Way to Add Lighting to Steps and Stairs
StarLight solar-powered landscape lighting is ideal for adding lighting to stairs, decks, and trip hazards in areas where power is not easily accessible.
SHOP NOW
Whether you're looking for lighting to help navigate walkways, boost your home's outdoor ambiance, create more useable outside space, or for decorative effect, StarLights will enable you to create a look that's truly yours.
Specifications
Outer Shell Material: Marine grade 316 stainless steel for superior corrosion resistance.
Outer Shell Finish: Gorgeous brushed finish.
Outer Shell Dimensions: 1 1/2-in x 1 1/2-in x 8 3/34-in.
Inner Shell Material: Minimalist IP54 polycarbonate shell holds a water-resistant LED light assembly.
Battery (Included): Low-maintenance, rechargeable, AAA, NiMH, battery; powered by sunlight. Efficiently produces 5 to 6 lumens of bright LED light for up to 10 hours.
Mounting Screws (Included): Intuitive mounting screws for installation on wood and metal surfaces.
Available Options: Can be conveniently mounted on a garden stake.