Here at AGS, our balcony railing installations are essential features in trending designs for both indoor and outdoor environments. One trend that seems to only get hotter each year is planter boxes – Home Depot even named one-pot wonders as one of their top garden trends for 2018! Not to be confused with raised garden beds, planter boxes are typically smaller square or rectangular shaped containers with a bottom used to grow herbs, flowers and/or vegetables both indoors and outside. Planter boxes are the perfect solution for those looking to integrate unique design elements into their living spaces, as well as those who have limited time or space to create a traditional garden. Planters can be virtually any size, positioned horizontally or vertically, placed on a stand or hung, and fabricated in a wide variety of materials. With all the options available, it's easy to see why planters are a great choice for any lifestyle. Still, all those possibilities can make getting started a little overwhelming. But fear not–we're going to break down and help guide you through the entire decision-making and planting processes, starting with outlining the advantages of using planter boxes for your garden over traditional in-ground planting.
1. Customize Contents and Structure
One of the main reasons for using planter boxes is to combat poor soil and drainage. Within the framework of the box, you control and customize the contents and structure of the soil,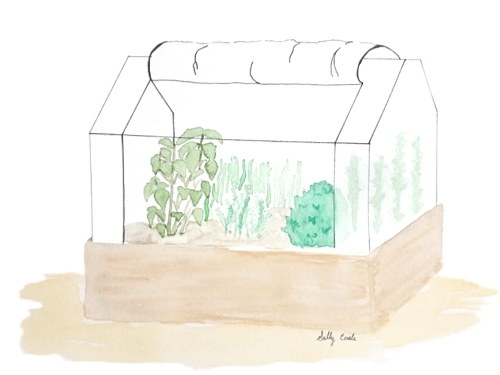 More mini-greenhouse ideas…[/caption]ensuring a nutrient rich environment for your greenery. If necessary, you can easily add compost or missing nutrients to keep the soil healthy, vibrant and productive. A well-suited soil composition also allows for enhanced root growth, improved aeration, and better water drainage which keep roots from becoming waterlogged.
2. Protect Your Plants from Weeds and Pests
Unlike plants which are grown in the ground, planter box gardens encounter relatively few problems with weeds and pests. Most garden pests crawl along the ground to reach the base of desired plants. Walls on the sides of raised containers help deter pests from making their way to the plants as they will look for plants that are more easily accessible. As a result, planter box plants tend to have fewer problems with creepy crawlies and disease.
A box is easier to weed because the soil is generally looser, so weeds can be easily pulled up. The general practice is to place plants super close to each other so when they grow and fill in the box, the plants themselves do an excellent job of suffocating weeds.
3. Increase Your Plants' Growing Season
Planter boxes will thaw much faster in spring than the frozen ground. Seedlings can be planted earlier and have a good head start. It can make a big difference to gardeners who have only a small window to grow out in the open. On the other end, you can extend the growing season by adding a few accessories such as a hoop cover to create a mini- greenhouse to allow plants to grow longer in the fall.
4. Achieve Higher Yielding Plants with Optimal Nutrients
A nutrient-rich soil, increased aeration, quality root health — it's the perfect storm that will all contribute to higher yielding plants. In containers, the general practice is to place plants closer to each other than you would in the ground so this also contributes to a higher bounty. Who doesn't love more bounty?
5. Flexibility for Anyone and Any Lifestyle
Planter boxes can be constructed at any desired height and width to accommodate any environment or gardener. Planter box gardens give the ability to grow diverse gardens in small spaces such as balconies, patios, windowsills and more. Embracing the small garden is the number one garden trend for 2018 according to Garden Design Magazine. They are a great solution for renters since they have the ability to simply move around with you. What's more, they're easily built to be customized to people with limited mobility, the elderly, and children. Yay, plants for everyone!
We've covered why planter boxes have loads of advantages over traditional in-ground gardening and now you're chomping at the bit to learn more about how you can jump start your planter box project.
References:
Mercer, Lucy & Valdes, Renee. "The Home Depot's Top 8 Gardening Trends for 2018". The Home Depot. http://gardenclub.homedepot.com/home-depots-top-gardening-trends-2018/
Carlson, Riley. "Common Garden Pests and How to Manage Them [Infographic] | Homesteading". Homesteading.https://homesteading.com/garden-pests-common/.
"2018 Trends in Garden Design". Garden Design Magazine. https://www.gardendesign.com/trends/2018.html".