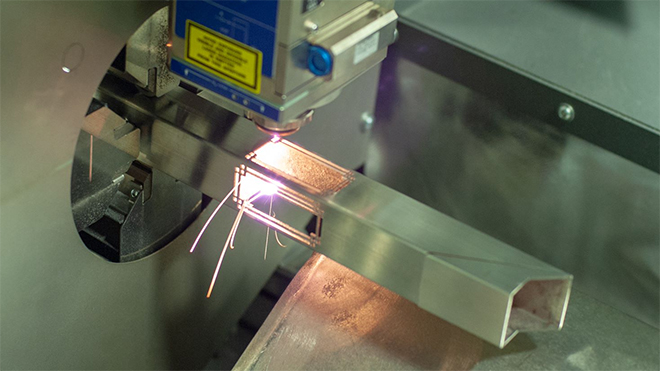 A Fiber Laser Tube Cutting Machine. A State-of-the-Art Tool used in the AGS Stainless Railing System Offsite Fabrication Process
Why Demand Offsite Fabrication for your Custom Railing System?
Because having your railing system built 100% offsite reduces product cost, dramatically improves product quality and shortens installation time.
Built Offsite Architectural Products Reduce the Need for Skilled Laborers
Traditionally, raw materials are delivered to the construction site and onsite workers process and assemble them to complete the project. This means the majority of the work is done in an open, uncontrolled environment that is subject to the elements. Offsite construction (prefabrication) on the other hand, is completed in a separate facility such as a factory or warehouse, offering a more controlled setting. Components can be fabricated to industry standards more quickly, and then shipped to the job site for assembly, requiring less onsite labor. Offsite manufactured systems range from pre-cut components all the way up to advanced modular structures and are ideal for repetitive components of houses such as walls, floors, doors, windows and railing.
Built Offsite Products Reduce Project Waste and Shorten Installation Time
Architectural products built offsite offer a number of advantages, such as improved product quality, lower cost, shorter installation time and reduced project waste. In addition to reducing onsite labor time, modular construction also allows offsite and onsite work to occur simultaneously. So, while prefabrication is being carried out in a controlled offsite environment, onsite work progresses at the same time, often resulting in project completion in just half the time required by traditional construction processes. And made-to-measure building components also minimize waste generation on the construction site.
AGS Stainless Designs Custom Railing Systems and Then Fabricates them 100% Offsite
When general contractors build railing systems onsite, they might choose off-the-shelf railing systems made of wood, composites or aluminum because they are easier materials to handle. However, stainless steel railing are considerably stronger, more durable, and offer greater visual impact than other commonly used railing materials. When contractors choose to include custom stainless steel railing on a project, they typically hire a local metal fabricator to design, manufacture, and install the railing system, often increasing the overall project cost and completion time. Having AGS Stainless fabricate the railing systems offsite can help bridge the gap. When custom railing systems are fabricated 100% offsite, there is no need for onsite cutting, welding, grinding or polishing of the components. Custom rails are shipped to the job site ready-to-be-installed with a few simple hand tools. The result is a project that benefits from customized, factory-crafted ornamental railing while reducing project waste and decreasing installation time.
For more information, visit AGSstainless.com
About AGS Stainless
Fabricated Off-Site, Custom-Made, All-Stainless Steel Railing Systems.
Why AGS?
Because whether you chose cable, glass or bar infill – having the railing system built 100% offsite reduces product cost, improves product quality and dramatically shortens installation time.
For more information, visit AGSstainless.com, watch this 1-minute video "Why AGS" or call us at (888) 842-9492.