The Top 5 Questions to Ask a Railing Manufacturer
Before You Purchase Their Product!
Thinking of buying a new railing system for your home or office? All metal railing systems will look similar from a distance. Upon close inspection however, the discerning eye will uncover huge differences in quality between products. Many of the ways manufacturers reduce the cost of a metal railing system, while maintaining their profit margin on the product - will not be recognizable to a person who is unfamiliar with metal fabrication. How can a specifier or buyer tell the difference in quality between various metal railing systems? Read this short article.
By asking the railing manufacturer/fabricator these 5 questions, you will be able to select a railing system that not only looks great, but one that installs easily, and is fabricated to a standard of quality that allows it to function well and last for decades.
Question 5: How is the mounting bracket attached to the post? Is it a welded connection or is it held in place with mechanical attachments and/or an adhesive?
Subject: The Mounting Brackets
Definition: The mounting bracket is the plate that allows the top rail to be attached to the posts.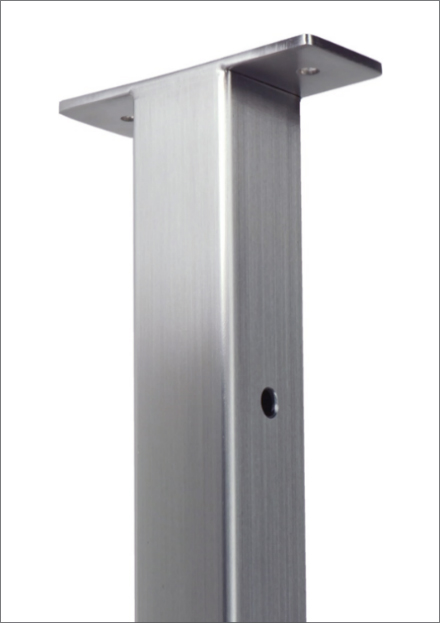 Image 1. Mounting Bracket Welded to Post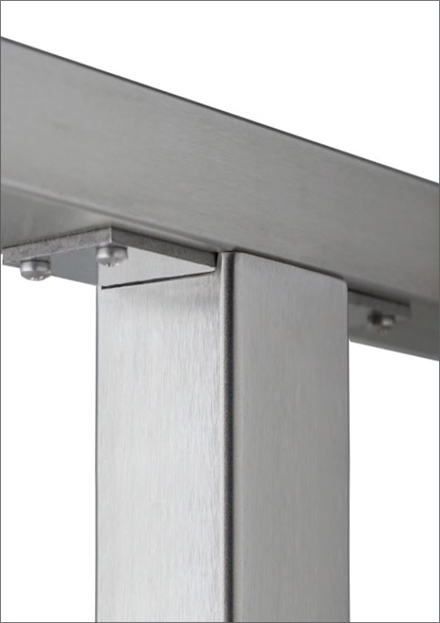 Image 2. Mounting Bracket attached mechanically to the Post
Why is it Important? Welding the mounting bracket to the post takes time. It's much faster to attach the bracket to the post with screws, or by some other mechanical method. However, mechanical connections are more likely to fail than welded connections. On a railing system fabricated to a superior level of quality, the connection between the mounting bracket and the post will be welded. If you can see inside the post from either the top or the bottom of the post, that's a bad sign. It means you have to assemble and attach some additional parts and pieces to the post before you can install it.
When fabricated to a superior level of quality, the post should come to you as one piece, finished and ready-to-be-installed. Ideally, it should also be numbered, so during the installation, your contractor can easily identify which posts go where. Numbered components simplify installation, which will, in turn, save you money!
Question 4: If the post has a stem reducer, how is it attached? Is it a welded connection? After welding, was the weld ground-down and then polished so that it is no longer a visible connection? Or, is the stem reducer attached to the post with an adhesive and an obvious visible line separating the stem reducer and the post?
Subject: Stem Reducers
Definition: A Post Stem Reducer is an optional, but very popular, design element for a railing system post. It is positioned between the mounting bracket (to which the top rail attaches) and the post. It is by definition, smaller in diameter than the post.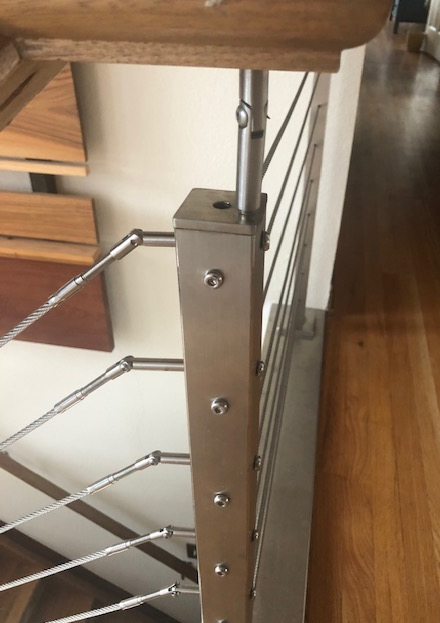 Image 3. A Post Stem Reducer which has been glued in place and has subsequently failed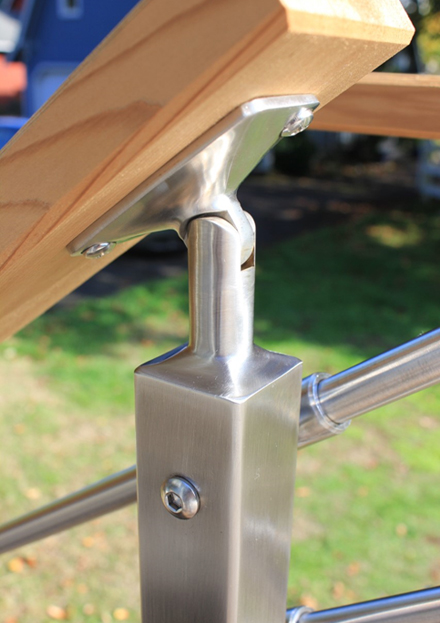 Image 4. A Post Stem Reducer that has been welded in place and then the weld was ground and polished to make the connection invisible
Why is it important? Welded connections are stronger connections. When the stem reducer is attached to the post with an adhesive, the chance that the stem reducer may fail during use and separate from the post is much greater than when the stem reducer is welded to the post.
You see, when a railing manufacturer is designing their product, they are usually trying to bring the product into the marketplace at a certain price point. This is because they have researched the market, identified the competition's products and where they are positioned (regarding price), and they have identified an opportunity in the market for something better or different relative to other railing products being offered at that price point.
Question 3: Are your fillet welds MIG or TIG welded?
Subject: Fillet Welds
Definitions: Fillet welding refers to the process of joining two pieces of metal together when they are perpendicular or at an angle. These welds are commonly referred to as tee joints, which are two pieces of metal perpendicular to each other, or lap joints, which are two pieces of metal that overlap and are welded at the edges. (source Wikipedia)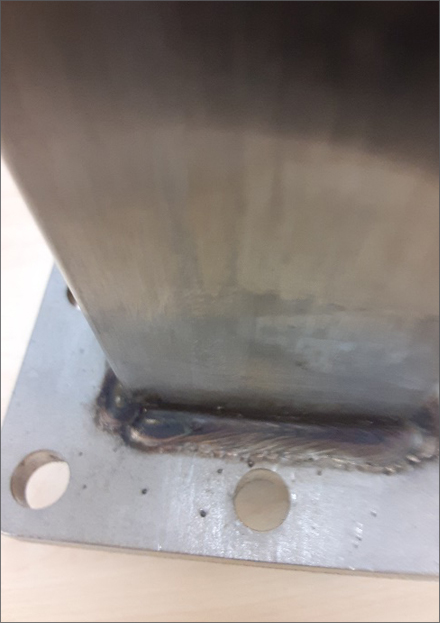 Image 5: A MIG Welded Fillet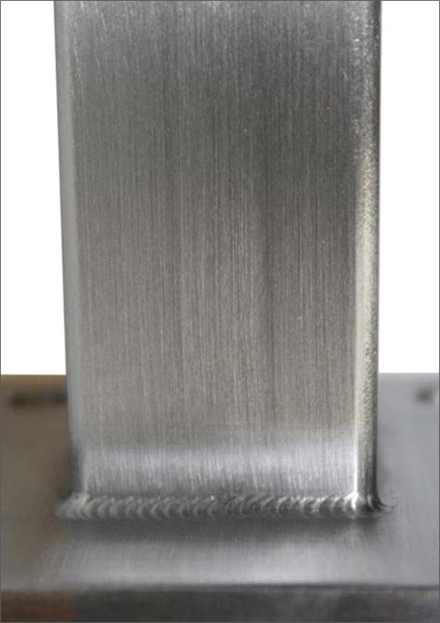 Image 6: A TIG Welded Fillet
Why is it Important? MIG welding is faster, has a hotter arc, and is not the preferable choice for high-quality, appearance-grade work. MIG welding is the commercial welding "workhorse". With MIG welding you quickly make a strong connection and then move on to make the next connection. With this type of weld, spattering happens, but as a more industrial type of solution, spattering is not treated as important. Conversely, TIG welding has a cooler arc, requires more precision, takes twice as long to execute, and does not spatter. TIG welding is the artisan metal worker's go-to choice in creating a more precise "appearance-grade" weld.
Some railing manufacturers don't even weld the connection between the post and the base plate. They use adhesives and/or mechanical fittings. Those solutions save the railing manufacturer time and money during the fabrication process, but they do not provide the same level of strength that a welded connection provides. Of the railing manufacturers who do weld the connection between the post and the base plate, many provide a complimentary base plate cover to hide the fillet weld and the spattering. The reason is that with a cover, no one will ever see this connection so why not save time and money and just provide a functional MIG weld, not a beautiful, appearance-grade, TIG weld. On a railing system fabricated to a superior level of quality, there will be no spattering, the fillet welds will be absolutely gorgeous, true works of art - and you will be proud to show off the "roll" or "stack of dimes to your guests. Those precise little puddles that are the mark of a master metal fabricator!
Once the target price point for the product has been identified, the manufacturer is now focused on balancing the cost to produce the product and maintaining a reasonable profit margin - without exceeding that target price point. To do this some manufacturers reduce the cost of creating their product by reducing the quality of the fabrication process.
Question 2: Are the corners of your base plate covers connected or is there a small space at the corners?
Subject: Base Plate Cover (for top mount posts)
Definitions: An Escutcheon Plate (base plate cover) for railing systems is a flat piece of metal that has been shaped to provide a cover over the connection between a top mount post and the base plate which connects the post to the mounting surface.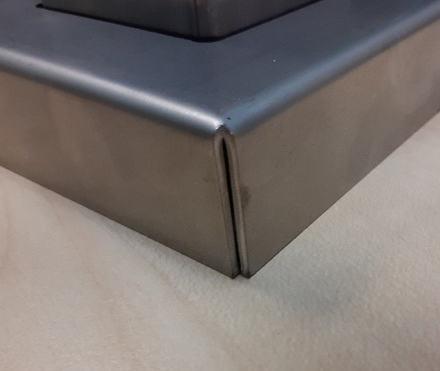 Base Plate Cover with corner gap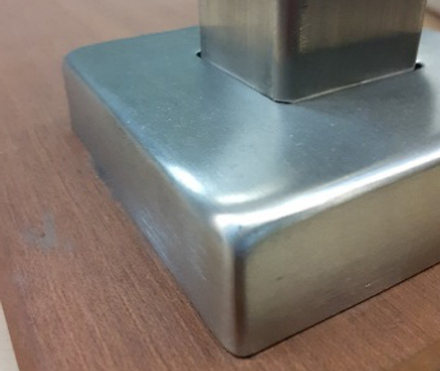 Base Plate Cover fabricated to ensure there is no gap
Why is it Important? It all comes down to quality. In determining if a metal railing system is fabricated to a superior standard of quality, the little items often speak louder than the big ones. For example, hidden surfaces and hard-to-see connections. Just because a connection in the railing system is not easily visible (like the corners on the base plate covers, which, once installed are not noticeable to most people as they walk past the posts), does not mean that the craftsmen fabricating the railing took short cuts.
For many artisan metal workers, it doesn't matter if it is difficult for your guest to easily view this connection. For them, the work they do is an expression of their craftsmanship, of their skill. An artisan craftsman takes great pride in the quality of their work. They rest in the confidence that if another metal fabricator viewed their work, they would recognize the work of a highly-skilled worker. When base plate covers are fabricated to a superior level of quality, they will be finished so that their corners will show as one continuous piece of metal. There will not be a slightly visible space at each of the corners.
Lastly - Many railing systems look similar on the internet or in the pictures you see in their brochures. However, the difference in how they are fabricated can be dramatic. This is especially true with metal railing systems. Recommendation – Have the railing manufacturer provide you with a physical sample of one of their completed posts.
Question 1: Can you send me a post sample?
Why is it Important? Because now that you have read this article, you will be able to identify a railing system fabricated to a superior level of quality with your own eyes. So as you begin to narrow your choice of railing manufacturers down to two or three, order a post sample from each of them, compare them side-by-side, and then make your choice. Think of the cost of the post samples as a small insurance policy against purchasing a poorly fabricated metal railing system that you'll regret having purchased.
About AGS Stainless
Fabricated Off-Site, Custom-Made, All-Stainless Steel Railing Systems.
Why demand prefabrication for your custom railing?
Whether you chose cable, glass, or bar infill - having the railing system built 100% offsite reduces product cost, improves product quality, and dramatically shortens installation time.
For more information, visit AGSstainless.com, watch this 1-minute video "Why AGS" or call us at (888) 842-9492.