AGS Stainless Inc. has just released a new video featuring a fun and creative approach to accentuating any glass project.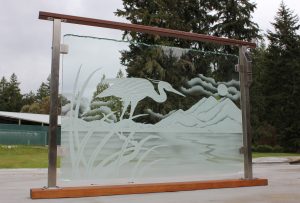 Glass etching is a process in which the glossy surface of glass is altered to create a permanent frosted finish. This effect is most commonly achieved by using either a chemical compound cream or abrasive sandblasting. Widely used in both exterior and interior applications, etched glass has developed into an important design element appropriate for commercial and professional settings as well as residential. As the chemicals in etch creams have become less toxic, etching glass has quickly become an ideal project for DIYers looking for a unique way to personalize and design small glass and mirror projects in minutes without previous experience. In recent years, the demand for etched glass has grown with increasing popularity in many different markets due to its elegant and timeless look and ease of use in a wide variety of applications and projects. The possibilities are truly endless when it comes to etched glass. The video is guided by Pacific Northwest based artisan
Lisa Stirrett
. Lisa is an award-winning multimedia glass and printmaking artist who specializes in many cast and fused glass techniques. Lisa's art commissions can be seen in multiple corporate and public venues, including but not limited to Kitsap County Public Works and Transit, Kingston Library, Bremerton Ferry Terminal and Macy's New York. In addition to exhibiting her work and maintaining her large glass studio, Lisa is passionately involved in giving back and supporting local and international charities and is committed to her vision on becoming a globally recognized art brand that empowers women of all walks of life. In partnership with
Walk In the Light International,
Lisa developed a
Pay It Forward Loan Program
which provides up-and-coming female entrepreneurs in Burkina Faso, West Africa with education, tools and training opportunities necessary to generate livable incomes, so that they can be self-sustaining and provide for their families with their chosen business.
With Lisa's guidance and expert tips, AGS is proud to debut this video as an introduction to etching glass that will help you jump start your own small glass etch project. To begin, Lisa opens with a range of simple techniques to help create and apply your own custom stencil design. Lisa touches on many artistic insights on how to select or create a stencil based on skill level and desired effect, in addition to the use of negative and positive space. She then demonstrates the use of glass etching cream. Glass etching creams are safe to use at home with the proper tools and has become the preferred way for beginners and hobbyists to decorate and personalize small items of glass and mirrors. Etching cream is available at most art supply stores.
In addition to using glass etching cream, also shown in the video is a basic tutorial on the sandblasting technique to getting the same frosted effect. Sandblasted glass is produced by spraying an abrasive material such as sand at high velocities over the surface of the glass. While the two techniques are similar in style and prepped the same way, choosing between etching creams and sandblasting depends on the size of the project and the desired effect. Etching glass by sandblasting lets you choose the level of glass opacity and gradients that best fits your needs and is versatile in many ways when it comes to more intricate designs.
No matter what technique is used, glass etching is a perfect decorative solution that adds style and function to any space and environment. Etched glass adds beauty, light, and can add a feeling of privacy to any interior or exterior of many residential and commercial applications. By pairing
AGS' Glacier® railing systems
with etched glass panels, a space is transformed completely. The artistic possibilities with etched glass panels offers endless design options whether use your own custom design, architectural elements or expanding upon a brand or commercial features. Whatever the inspiration, whatever the vision, glass can play a role in turning great design into great spaces for living, working and/or playing. With the release of this tutorial video, AGS Stainless Inc expects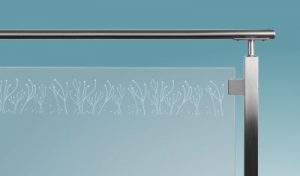 to have at least one follow-up article that offers free stencil templates for non commercial use in either glass etch technique. These freshly published templates are exclusive to AGS Stainless and the Glacier® Glass Panel Railing. AGS is in the process of reaching out to collaborate with several professional glass artists to provide even more additional free templates that will appeal to many different skill levels and interests.
About AGS Stainless: AGS Stainless Inc., (AGS) manufactures the Clearview® line of Railing Systems. For more than two decades AGS Stainless has been a factory-direct supplier of custom-made stainless steel railing systems. With an innovative component-based design and all stainless steel construction; Clearview® railings eliminate the need for any on-site welding or cutting of posts and railings. AGS' design department generates CAD (computer-aided design) documents for each railing project ensuring precise, project-specific fabrication. Each Clearview® railing system is made to order to the highest quality standards, and delivered to you ready to be installed with a few simple hand tools. We offer stainless steel components in either high-quality marine grade A316, and our infill options are: stainless steel cable, stainless steel horizontal bar or tempered glass panel. For more information, visit: AGSstainless.com or call 888.842.9492.