Glacier – Stainless Steel Glass Railing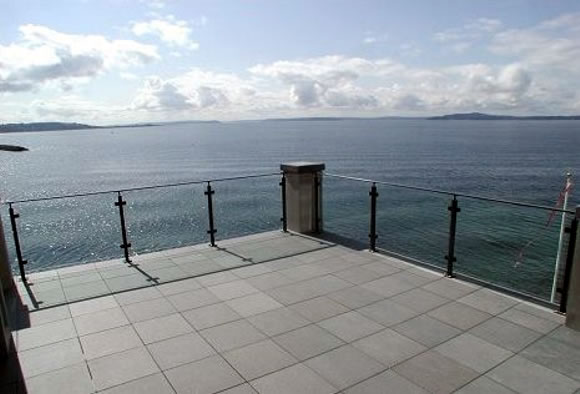 Available in the following Top Rail styles:
Flat Top Rail
Round Top
Round Top with Lighting
With Stem Reducer
Wood Top
Specifications
Made in the USA from A316 or A304 Stainless Steel.
Available in 36" and 42" with residential or commercial configurations.
Option to Powder Coat in many colors.
Perfect for indoor or outdoor applications!
Mounting Options (see detail):
Stainless Steel Glass Railing Systems - Classic Style.
When you're looking for a railing system featuring the clean, timeless look of glass - AGS' Glacier line is your perfect solution. Glass infill provides a clean refined look for those wanting a virtually-transparent railing system with the added safety and strength of tempered safety glass. Not only do glass railings look great, in exterior applications they can also provide a windbreak benefit.

The Glacier line is part of the AGS Clearview® family of stainless steel railing systems that is well-revered throughout the industry, and can be accompanied with a wide array of top rail options custom designed for your application. The design and ordering process is straightforward and simple: sketches and approximate dimensions are submitted to AGS Stainless where computer drawings (CAD) detailing your railing system are created by our design team. An AGS Stainless design expert works directly with you to ensure every detail is just right, keeping you up-to-date as your customized project progresses from design through shipping. Each railing system is custom fabricated and shipped for on-site installation direct from the AGS Stainless factory located in the Pacific Northwest to ensure prompt delivery and attentive service.