We're very honored to have received the Best of Houzz 2018 award for service!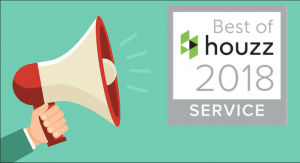 The Best Of Houzz is awarded annually in three categories: Design, Customer Service and Photography. The Customer Service Award is based on several factors, including the number and quality of reviews a professional received in 2017. Over 40 Million Monthly Unique Users Nominated Best Home Building, Remodeling and Design Professionals in North America and Around the World.
"The Houzz community selected a phenomenal group of Best of Houzz 2018 award winners, so this year's recipients should be very proud," said Liza Hausman, Vice President of Industry Marketing at Houzz. "Best of Houzz winners represent some of the most talented and customer-focused professionals in our industry, and we are extremely pleased to give them both this recognition and a platform on which to showcase their expertise."
Thank you for your support
Thank you to those who have left reviews of our company, we appreciate your business! We are so grateful to our Houzz community for supporting and voting for us! It means the world to our team. Again, many thanks to our wonderful customers and Houzz followers who helped us earn Best of Houzz 2018 for Customer Service.
About Houzz
A platform for home remodeling and design, bringing homeowners and home professionals together in a uniquely visual community. A place to browse and save beautiful home photos. A place to find the right design and construction professionals. A place to connect with others who have been there too. Houzz started as a side project but has become a community of more than 40 million homeowners, home design enthusiasts and home improvement professionals—across the country and around the world.
Whether you are starting a complete kitchen remodel or just looking for the perfect bedside table, the Houzz community of homeowners and professionals is here to help. And when you are ready to start your project, Houzz is the best way to get inspired, discover products and to find and collaborate with the perfect architect, designer or contractor.