---

---
Glass railing, also known as glass panel railing, glass rail or glass balustrade adds a truly modern and contemporary feel to any home or office. The AGS Stainless Clearview® Glacier 
Glass Railing System affords you all the luxury and beauty of a custom measured and installed glass railing at a much lower cost.
Clearview® Glacier glass rail is custom fabricated to the specifications of each project and easily installed by any DIY homeowner. The frame is all stainless steel and designed per the governing codes so you can rest assured that you will be enjoying your glass railing for years to come. AGS Stainless, Inc offers many top rail options available enabling you to create a truly unique configuration.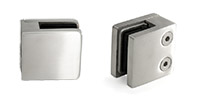 The railing consists of A316 Stainless Steel Posts used in conjunction with clamp hardware. When ordered as part of the
Glacier
system, the panel hardware will come attached to the posts and is typically used with glass panels, the "floating" panels combined with the minimally sized frame members ensure your view will be virtually unobstructed.
Alternatively, clamp hardware may be purchased individually, designed to be surface mounted on new or existing posts made of wood, plastic or composite materials. The clamps, when used with rubber inserts (included), will accommodate 1/4″, 5/16" or 3/8" panel thickness without the need for a support pin.
A larger glass clamp is available for use with 1/2 in thick glass or panel material, and can be specified as part of your Glacier railing system or used individually as DIY hardware.
Alternative Infill
Whether affixed to the posts of a custom fit and built Clearview® stainless steel railing system, surface mounted to posts of your choosing or used in a custom design for a unique project…these high quality, versatile clamps can be used in a wealth of applications.
Unique to the Glacier system, your railing becomes a solid alternative to horizontal or traditional vertical balusters or spindles. Your guardrail functions both as railing and as a windbreak, use an opaque infill and you also have a privacy screen. While AGS Stainless does not sell or provide infill for the panel rail system, there are an endless amount of compatible panel infill options available. Depending on your application, an alternative form of panel could turn your railing or balustrade into a work of art!
Resin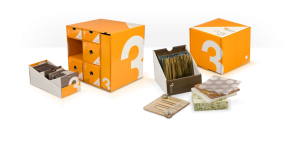 A sustainable alternative that offers a multitude of possibilities is RESIN. Many types of resin panels are available, most utilize recycled content, are recyclable and contribute toward LEED credits. In addition, resin is half the weight of glass with higher impact resistance and can be found in almost any color, pattern, or texture. With the option to print high resolution imagery directly onto the panels, it is a versatile option suitable for any aesthetic.

Glass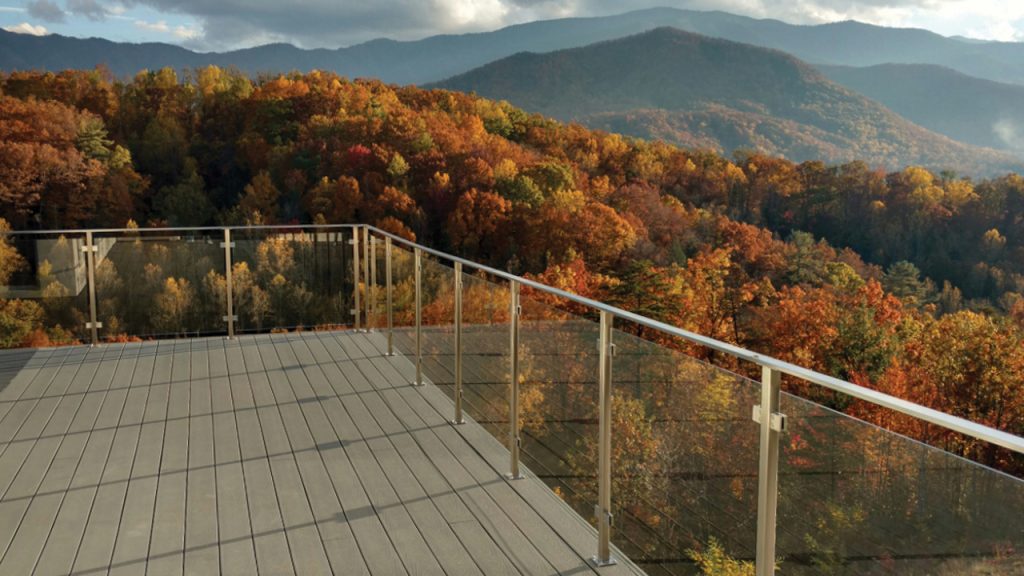 In addition to traditional glass panels, there are many architectural glass options and technologies that could be creatively applied to your project. Like resin, laminated or pressed glass can come in a wide range of colors, patterns, textures and high resolution imagery. On the artistic side, the integration of fused glass, stained glass or glass that has been modified, etched or otherwise processed could turn your railinto a bespoke focal point.


Metal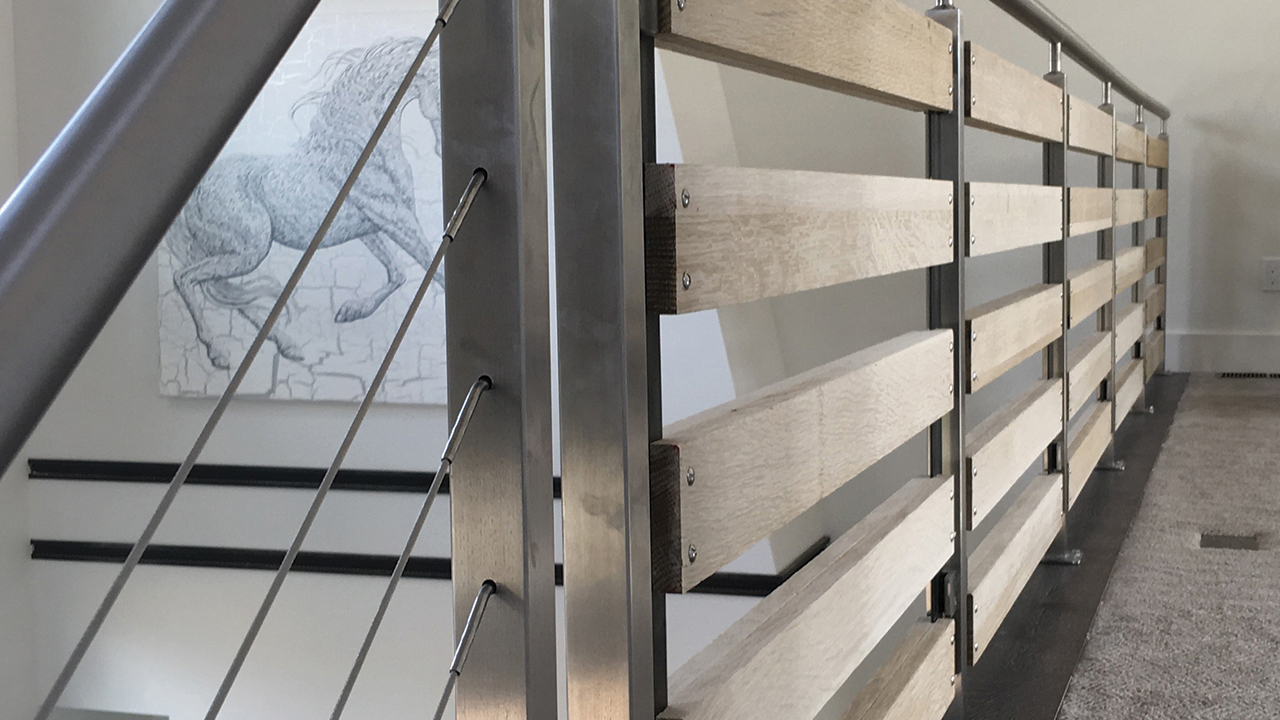 While glass is a popular and affordable choice, the Clearview Glacier system and clamp hardware will accommodate panel infill of many materials. Metal infill can be used to create a unique, contemporary railing to accent your interior or exterior space. Wood or reclaimed materials can be adapted to suit the style, function and parameters of your project.
Beyond Balustrade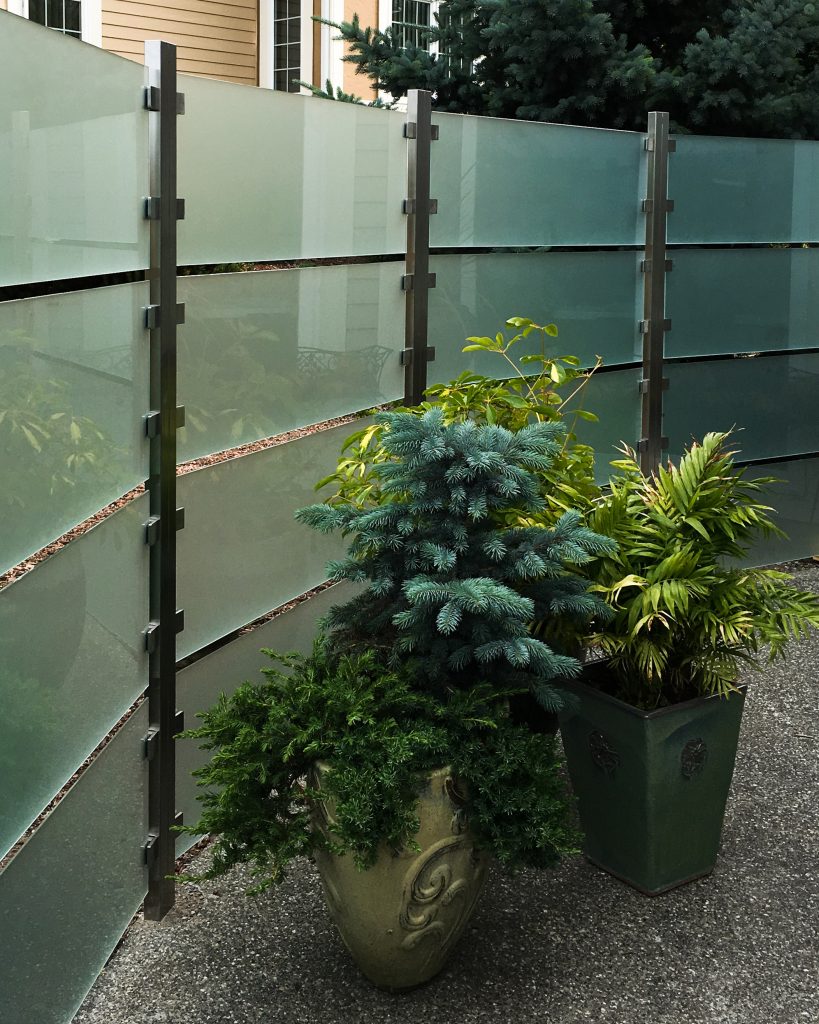 The system itself can even be customized to provide solutions above and beyond railing and balustrade applications. Custom designed solutions such as partitions, enclosures and privacy screens are a few examples of alternate application of the Clearview Glacier rail system. The versatility alone encourages creative uses that range far beyond the traditional form of glass and stainless steel balustrade.
Whether you are looking for a railing that maintains a view, one to obscure the view, or one to express your viewpoint; the quality, versatility and elegance of the Glacier Glass Railing system from AGS Stainless… pared with myriad panel infill options…makes for a clear choice for your next project.