10 Things to Know About Stairs and Stair Railing Systems that Save You Time and Money
Whether you opt for the most standard handrail choice or select a high-end elegant custom railing system, the finished installation will greatly impact the overall look of your home. To achieve optimal results, make sure you pick a railing product that will elevate the look of your dwelling, last the course, and boost the resale value.
Connect With an Expert to Discover How Offsite Railing Fabrication:
Reduces product cost Shortens installation time Improves product quality
Submit Your Measurements to Request a Free Design Consultation
Installing a railing system is a significant investment of your time and money, but you can make sure you get the best bang for your buck with a little bit of research. Talk to our award-winning team and learn more about stair railing prefabrication and installation. We'd love to hear about your stair railing applications and discuss how we could help you find everything you need, from stair railing materials to hardware and accessories.
Limitless Options Help You Find a Look That Sets Your Project Apart
Before selecting a railing system, it's essential to check out all the options. Browsing images of stair railing ideas and design trends will help you visualize your project. Exploring custom stair railing finishes, elegant stair handrails, and stair railing infill choices will help you create a personalized aesthetic that transforms your home.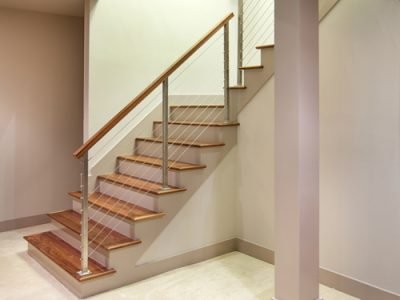 Quarter turn stairs with Rainier cable railing.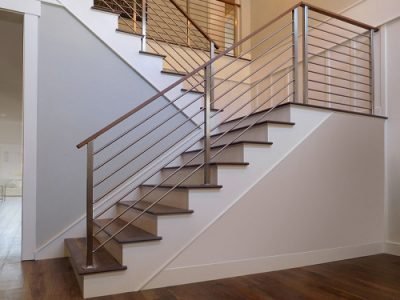 Switchback stairs with Olympus bar railing.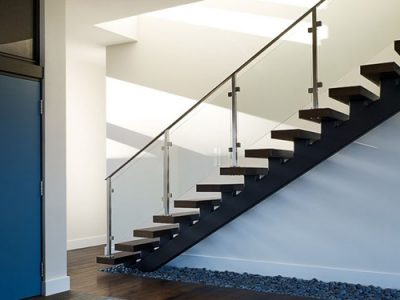 Straight stairs with Glacier glass / panel railing.
AGS Stainless designs and manufactures prefabricated stainless steel railing systems under the Clearview® brand, which include the Rainier cable railing system, the Glacier panel railing system, the Olympus bar railing system, and the Cascadia railing system.
What is a Stair Railing?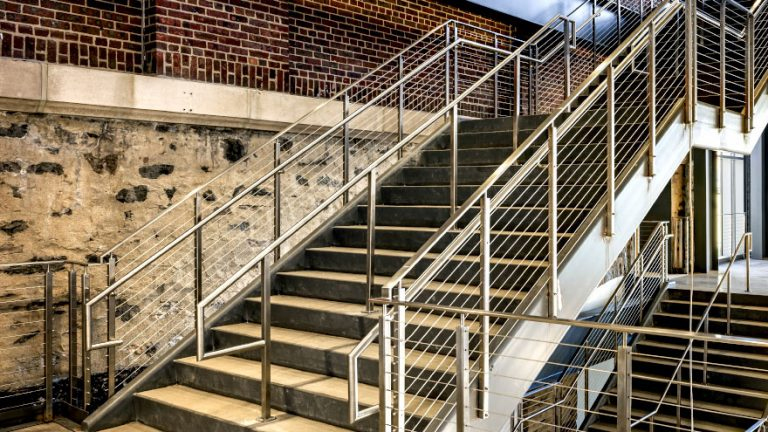 A stair railing is a railing designed for stairs, a protective barrier to prevent trips and falls. One or both sides are often exposed or open to a drop in height.
What's the difference between steps and stairs, and at what point is a railing required? According to the dictionary, a step is a tread and riser. However, describing the difference between steps and stairs is not so simple. They both refer to multiple steps, and it is not incorrect to use the words interchangeably. When stairs are outside, we're more likely to describe them as steps, for example, the 'steps of the capitol building.' For interior applications, stairs is a more popular term.
With problematic stair and railing terminology, it's not surprising that building codes are so complex. Some building codes refer to the number of risers or stairs concerning handrails, while others refer to the drop. Therefore, it's essential to consult your local building code to find up-to-date stair railing codes and regulations. Alternatively, you could talk about your project with our expert railing consultants.
Table of Contents
1. Stair and Railing Terminology
AGS custom railing systems are not just ordinary stair railings. We're here to help you achieve the look you desire, whether that's a fancy stair railing system or a design that's minimalist modern. Prefabricated ornamental stair railing systems improve safety but also simplify installation. Before starting your residential do-it-yourself stair railing project, it is helpful to understand the basic terms that all stair and railing contractors should know. We've included the correct terminology for both residential and commercial stair railing projects.
Straight Stairs

Straight stairs have no direction changes and may or may not have landings.

Olympus bar rail on straight stairs.

Switchback Stairs

Switchback stairs have a U-shaped layout and usually have a landing before a 180-degree turn.

Olympus bar rail on switchback stairs.

Dogleg Stairs

Dogleg stairs have an L-shaped layout and usually have a landing before a 90-degree turn.

Rainier cable rail on dogleg stairs.

Winder Stairs, Spiral Stairs, and Curved Stairs

Winder stairs are defined by angled steps less than 90 degrees without a landing. Spiral stairs rotate at least 360 degrees around a central point. Curved stairs often have a transition at 90 degrees with angled winder steps instead of a landing.

Rainier cable rail on winder stairs, spiral stairs and curved stairs.

FAQ Video: How is a Spiral Handrail Made?

This video demonstrates how to roll a handrail for a spiral staircase.

Staircases

The term staircase is used to describe stairs and any surrounding walls.

Rainier cable rail on staircase.

Tread, Riser, and Open Riser

A tread is a horizontal stair component upon which a person can walk. The riser refers to the vertical space between each step. Closed riser stairs use risers between each step. Open riser stairs are often known as floating steps because they have spaces where the risers would typically be.

Interior stairs with closed white risers.Wood treads on interior staircase with open risers.

How-To Video: How to Install a Stainless Steel Railing System on Open Riser Stairs

This video demonstrates how to install a stainless steel stair railing system on pre-cast concrete steps with open risers.

Nose and Stringer

A nose is a piece of a tread that overlaps another tread. Nosing is when treads extend out above risers.

The nose on these deck stairs is not flush with the riser; it extends and overlaps the stair below. Exterior painted white stringer supports the treads.

A stringer is a structural component for stairs that supports treads and risers.

Landing

A landing is a flat platform on a set of stairs that is typically present before direction changes. Landings provide stopping places for users to rest, and an outdoor stair landing railing can preserve a spectacular view.

Square landing with Rainier cable rail.

Balusters and Spindles

Balusters are vertical components mounted on a flat surface that support a horizontal handrail. Stair railing spindles are vertical components mounted on a horizontal bottom rail that supports a horizontal top handrail.

Balusters on stairs (left), spindles on stairs (right).
2. Stair Railing Applications
AGS stainless steel railing systems are perfect for interior and exterior applications. Building pros often create design continuity by installing the same railing system inside and outside the property. Think about matching railing applications on front and back porches for a high-end railing design. Create design flow between the interior and exterior of the property by pairing railing systems on patios and decks with railing applications featured in interior rooms such as kitchens and basements.
Front Porch Stair Railing

Front porch stair rail by AGS Stainless.

First impressions matter. If you want to make your home stand out, there's nothing quite like a high-quality, elegant railing system to elevate the look of the entryway to your home. Many brilliant exterior stair railing ideas start with your front porch. There are several front porch stair railing ideas for maximizing curb appeal. For example, a metal stair railing exterior upgrade would transform the look of your home.

Learning how to build a porch stair railing system is a great way to save money. AGS railing experts will ensure that your custom railing system will comply with porch stair railing height standards. Porch stair railing kits are already the right height for compliance purposes and are available in standard as well as custom heights.

You've got to spend money to make money. Initial stair railing costs are only part of the picture. The new stair railing cost should be offset by the increase in the value of your home. This factor alone makes the cost to replace stair railing systems on your front porch a worthwhile investment.

Replacing stair railing systems is a very affordable exterior renovation. The stair railing replacement cost would be relatively low compared to other options that a real estate agent might suggest, like new siding, a fresh paint job, or extensive landscaping.

A porch and stair railing with curb appeal provide more value to a prospective buyer. The bottom line is that a gorgeous metal porch stair railing could sell a home faster at a higher price.

Back Porch Stair Railing

Back porch stair rail by AGS Stainless.

A back porch provides a great space to enjoy being outside. In many instances, adding a railing to a back porch is the perfect way to upgrade your home and create the ideal spot to relax and enjoy cool summer evenings. A beautiful back porch stair railing can help blur the line between indoors and outdoors and feel more accessible. Sitting outside removes the temptation to switch on the TV, stops you from thinking about your to-do list, and allows you time to wind down and relax with family or friends.

Garden Stair Railing

Garden stair rail by AGS Stainless.

Well-maintained backyard pathways and stairs provide an attractive entrance to your home. After installing a railing all around your garden or in the areas where it is most warranted, you can enjoy better access to your entire yard. Installing DIY outdoor stair railing kits will allow you to make better use of all of your landscape. Yards that feature an elevation change are perfect for creating gorgeous landscaping. Slopes naturally create visual interest. In addition, a variety of plants can flourish in a garden that's is both well-drained and soggy in areas. Elevated pots and planter boxes look beautiful when incorporated into a multilevel garden design.

Patio Stair Railing

Patio stair rail by AGS Stainless.

A patio is a paved outdoor space ideal for entertaining. Think of a patio as an extension of your home, providing additional seating for guests, and a great place to barbecue or relax with drinks. When looking for a home to purchase, have you ever mentally committed to the purchase before even setting foot inside? Never underestimate the power of updating the exterior of your home. Many outdoor stair railing designs are simply functional but choosing a railing that doubles as an architectural feature could be the perfect upgrade to give your home a facelift that takes it to the next level.

Patios, which are composed of stone slabs, bricks, or concrete, are easier to clean than decks with wood planks. Power washing is a cost-effective and easy way to restore the elegant, clean look of concrete and spruce the entryway to your home.

A patio stair railing made from stainless steel looks beautiful with concrete or stone. Installing a railing on your patio is one of the best improvements you can make if your goal is to upgrade your home's overall look.




Deck Stair Railing

Deck stair rail by AGS Stainless.

Switchback or dogleg stair configurations are frequently installed in homes in densely populated areas or on uneven terrain. Creating a bright, uncluttered look to prevent a boxed-in feel to your deck should be prioritized when space is at a premium. A deck is an elevated outdoor structure that has been constructed from high-end wood planks. Whether you choose to paint or stain the wood, you can design a space that's ideal for relaxing with your family or enjoying alone time with a good book.

With any outdoor structure high off the ground, you will need to build deck stair railing systems that look good and keep people safe. Stair railing for deck applications should be sturdy and reliable and meet current building standards.

Your deck stair railing plans will need to be comprehensive enough to cover not only safety but also options, expectations, applications, budget, time frame, constraints, compliance, and maintenance. Deck stair railing height is important to determine. Different localities have different requirements ranging from 36" to 42" or even taller. A custom deck stair railing design will provide the most flexibility in terms of design and look. For some deck stair railing ideas, check out our gallery. See examples of stainless steel posts paired with various options, including steel and wood handrails and bar, panel, and cable infill.

Are you feeling inspired? Seeing deck stair railing pictures like this already gives you some great ideas to implement for your deck. For more simple stair railing ideas, check out these installation videos and step-by-step installation instructions that explain how to build your dream deck using a deck stair railing kit.

Starting a deck stair railing do-it-yourself project is a great way to spend more time outdoors, pick up the tools, and do something rewarding. Building deck stair railing kits will give you a sense of accomplishment while building something beautiful and getting some exercise. That metal deck stair railing DIY project will be worthwhile when you get to relax and appreciate an entirely new view.




How-To Video: How to Install Deck Stair Railing Systems

This video demonstrates several techniques for installing deck stair railing systems with stainless steel cables.

Kitchen Stair Railing

Kitchen stair rail by AGS Stainless.

The stairs that lead to your kitchen are probably highly visible either from your dining table or while you are busy in the kitchen. If so, it may be worth considering an upgrade. A beautiful kitchen stair railing will modernize your home, and a stainless steel railing system with a brushed finish will perfectly match all of your modern stainless steel appliances. Perfect for a well-lit kitchen, a stainless steel railing system will look pristine and add sparkle to your kitchen.




Basement Stair Railing

Basement stair rail by AGS Stainless.

If your basement is used to store old toys, clothes, and home movies, you may want to consider its untapped potential. Man cave, game room, exercise studio, or home office, consider the numerous possibilities for your basement and how using the space could benefit your lifestyle.

With many people working from home, finishing basements to create much-needed usable space has become popular. Installing good lighting and a dazzling basement stair railing kit is an easy way to create a safe and inviting entryway to a basement that might otherwise look dark and unwelcoming. When designing a basement, it's a good idea to create a style that works well with a windowless or low-light environment.

Choosing paint colors and metallic or reflective materials is one way to make a basement appear brighter. For this reason, one of the best basement stair railing ideas is horizontal stainless steel bars. The bars catch the light gleaming beautifully and create an attractive feature in a room that otherwise lacks character.
3. Stair Railing Design Trends
There are almost limitless possibilities when it comes to design options for stairs. Some DIY interior stair railing ideas include a half wall stair railing, an enclosed stair railing, or a stair railing gate. The stair railing design photos below cover a variety of trends, including traditional, modern, contemporary, rustic, and farmhouse. There are many decorative stair railing styles. Hopefully, these pictures of stair railing systems will give you an idea of which designs you might want to use in your own home.
Stair Railing Gate Option

Stair rail gate by AGS Stainless.

Stair railing child safety is vital if you have children. Adding a gate to the top of your deck stairs can help keep children safe in an enclosed area. For additional security, AGS Stainless gates can feature custom locks or latches. Childproof stair railing systems will give you peace of mind while outside with young children. You can build babyproof stair railing systems by adding a gate or choosing a panel or mesh infill. A baby gate for stair railing applications should have a latch that your child won't be able to access. Also, a baby gate stair railing could prevent pets from getting lost or loose.




Half Wall Stair Railing Design

Rainier cable rail next to half wall.

A half wall is one of many indoor stair railing ideas for dividing space while maintaining a feeling of openness. The construction process for a half wall will be very similar to a knee wall stair railing installation. A half wall stair railing is a form of a short wall with an attached handrail. However, a half wall doesn't support the rafters of an attic like a knee wall might. In this instance, a half wall is topped with wood trim to match the wood flooring and handrail.




Enclosed Stair Railing Design

Rainier cable rail on straight enclosed stairs.

One of the trendiest stair railing remodel ideas is to fully or partially enclose them with surrounding walls. An enclosed interior stair railing installation will make the stairs slightly less visible.




Traditional Stair Railing Interior Design

Traditional stair rail by AGS Stainless.

A traditional stair railing interior design emphasizes harmony and order. You can remodel stair railing systems while maintaining a sophisticated look and feel. This interior demonstrates how to replace stair railing infill with bar railing to achieve a classic but modern look.




Modern Stair Railing Interior Design

Modern stair rail by AGS Stainless.

Unobtrusive, subtle style defines a modern interior stair railing. A modern wood stair railing adds warmth, while a cable infill creates clean lines. Another one of the most modern stair railing ideas to consider is a sleek brushed finish.




Contemporary Stair Railing Interior Design

Contemporary stair rail by AGS Stainless.

Contemporary interior stair railing designs are continually evolving. If your goal is to achieve a contemporary railing style, consider all of the infill options and how they can complement each other to create a look that's truly yours. When remodeling stair railing systems with this style, consider bar or cable infill for creating strong lines.




Rustic Stair Railing Interior Design

Rustic stair rail by AGS Stainless.

Rustic stair railing ideas usually include using natural materials like wood. A wooden stair railing design for this type of interior might use a wood handrail with cable infill. The open risers and cable infill allow natural light to flow through the staircase and landing.




Farmhouse Stair Railing Interior Design

Farmhouse stair rail by AGS Stainless.

A modern farmhouse stair railing, in particular, should emphasize simplicity and functionality. Indoor stair railing kits serve a specific purpose in this space. This indoor stair railing kit has stainless steel cables that practically disappear into the background creating an open feel.
4. Stair Railing Materials
Material costs mostly determine stair railing prices. However, the cost of the railing system is not the only consideration. There are other additional factors to consider, like appearance and functionality. It's essential to consider the pros and cons of each stair railing material so that you can make an informed decision. The most common stair railing materials are plastic, wood, aluminum, glass, iron, and stainless steel.
Plastic

Plastic stair railing systems can be composed of vinyl (PVC), acrylic, or composite.

Vinyl stair railing kits are low-maintenance and come in many colors. Vinyl is a versatile type of plastic with applications that include roofing, siding, insulation, and frames for windows or patio doors. Although a vinyl stair railing kit would be resistant to moisture and rust, it could be susceptible to fading from weathering. Vinyl expands and contracts with fluctuating temperatures, making it brittle. Over time, cracks could form in the railing system. Installing vinyl stair railing systems may be appropriate in some settings, but they are not considered a high-quality option. Although PVC is a durable and robust material, installing a PVC stair railing kit may not be the best choice in a high-end setting. If you decide to install a vinyl railing system, you must first check that your HOA accepts it. Some HOAs do not permit vinyl fences and specify a preference for metal or wood railing systems.

Plexiglass panels use acrylic to imitate the appearance and properties of tempered glass, and you may assume it's a cheap stair railing kit option. However, that assumption is not necessarily true. Glass tends to cost less than plexiglass. Also, when you get up close and run your hand along the surface of a plexiglass product, it feels like a cheap outdoor stair railing. Therefore, an acrylic railing system might not be a good choice.

A composite deck stair railing made of plastic and wood offers the appearance benefits of solid wood at a lower price point. A composite stair railing kit is composed of two or more different materials.

Unlike other materials, the manufacturing processes for vinyl, PVC, acrylic, and composite plastics emit toxic fumes that are bad for the environment. There are many sustainable building techniques to consider that are gaining in popularity. As a result, building exterior stair railing kits and systems with plastic might not be the best option for resale value in the long term. Broken, faded, or cracked stair railing systems made of plastic will blemish the look of your home or yard. There are alternative stair railing materials that are easier to maintain.




Wood

Wood rails and elegant newel posts complement the classic architectural style of the home.

Renovation projects vary; For some properties, conserving the home's original architectural features is a desirable thing to do. Maybe you want to restore a wooden vintage stair railing. With a little bit of know-how, carpentry skills, and time, you can repair stair railing systems made of wood using a few simple tools.

To perform a DIY stair railing repair, you might need to replace some but not all of the components. Learning how to remove and replace stair railing infill takes a little research, but it isn't a highly skilled task. Removing stair railing balusters will probably involve taking off the handrail first. To upgrade the look of your home, you could replace wood stair railing parts with stainless steel cables, tempered glass panels, stainless steel mesh panels, or stainless steel bars. A modern wood and metal stair railing will give the interior of your home a fresh new look. Modifying your railing system rather than replacing it may also be a cost-effective way to update an outdated or broken railing system.

Another one of many wood stair railing ideas to consider is refinishing. By learning how to refinish stair railing systems, you could give your stairs a fresh new look and save money by completing the task yourself. However, if you are considering hiring someone else to do the refinishing, then you should know that the cost to refinish stair railing systems made of wood is high due to the intensive labor and time required. Staining stairs or restaining them is a great way to step up your style and give your staircase a whole new look.

Indoor wood stair railing kits often have a wood handrail, stainless steel bar or cable infill, and stainless steel posts.

The final result produced from refinishing a stair railing will refresh the look of your stairway. However, if you want a modern wooden stair railing, try replacing wood posts with stainless steel posts. It's a small change that makes a big difference. A wood stair railing kit might use both wood and stainless steel. When interior wood stair railing kits are entirely wood, they can lack customization options, unlike wood and metal interior stair railing kits with stainless steel components.

Exterior wood stair railing kits are typically pressure treated. A pressure treated stair railing contains a chemical preservative to resist rot. Some types of stair railing wood include softwoods like cedar, spruce, pine, fir, and hardwoods like oak or mahogany.

View of wood rail with AGS Stainless cable and hardware.
How-To Video: How to Install a Wood Railing System with Stainless Steel Cables
This video demonstrates how to use standard cable fitting hardware for wood posts so that you will be able to perform a wood stair railing installation.
Cedar

A cedar stair railing is high-quality and versatile. Cedar is a softwood with a distinctive appearance that has become a symbol of luxury around the world. It is naturally beautiful with a straight grain, tight knots, appealing texture, and deep tones that add warmth to any space. Western Red Cedar, in particular, is a defining feature for wood and cable stair railing systems in the Pacific Northwest.

Cedar is lightweight, easy to cut, and easy to install with nails or screws. It contains a natural preservative that is anti-bacterial, anti-fungal, and insect repellant. Therefore, a cedar outdoor wood stair railing resists rot on its own without chemical treatment. Cedar also resists warping and cracking when exposed to changes in temperature or moisture. Although cedar lasts much longer than alternatives, it is generally used sparingly for paneling, siding, and decks due to a slightly higher cost.




Oak

An oak stair railing is sturdy and reliable. Oak is a dense hardwood that can support a lot of weight. As a result, structural posts and beams are typical applications.

More applications are flooring and furniture because oak has a vibrant color and a beautiful grain. Wooden structural elements can be left exposed or wrapped in a lovely cladding material.




Mahogany

Mahogany indoor wood stair railing designs are exotic and alluring. Mahogany is a durable hardwood that repels water. Mahogany interior stair railing systems possess a deep color and an attractive grain that stains beautifully. Although mahogany is an expensive type of wood and not widely available, it is desirable for cabinetry, shipbuilding, and musical instruments.




Spruce/Pine/Fir (SPF)

Indoor wooden stair railing kits made of spruce, pine, or fir (SPF) are affordable and straightforward. SPF describes a category of low-density softwoods with a lighter appearance.

Applications for lower grades of SPF are framing houses and building fences because they are affordable and widely available. Higher grades with fewer knots and tighter grains have applications like trim or doors.

An interior wooden stair railing will typically be stained. Exterior wooden stair railing kits will require chemical treatments and paint.

Redwood, mahogany, and cedar create rich red tones for handrails, floor, and staircase paneling.




Aluminum

Using interior or exterior aluminum stair railing kits may seem to offer slight cost savings compared to stainless steel. However, stainless is a stronger metal. Consequently, stainless steel railing posts are narrower and provide an elegant high-quality appeal, which could potentially have a positive impact on the resale value of your home. A white or black aluminum stair railing with a coat of paint may look similar to a stainless steel one, but upon closer inspection, the posts will be much wider with a standard rather than upscale appearance.

If you're considering purchasing aluminum stair railing parts, do your research. Stainless steel is proven to be a more corrosive resistant material. Additionally, aluminum is a soft stair railing metal that often acquires scratches and dents with regular use.

When replacing an aluminum stair railing system, you may want to consider upgrading to a stainless steel one. A stair railing system is a long-term investment. An aluminum outdoor stair railing installation will not stand the test of time, as well as a corrosion-resistant stainless steel metal exterior stair railing.




Glass

Panel stair rail by AGS Stainless. Glass panel clamps hold the tempered glass in panels place.

A modern glass stair railing system can provide a completely transparent view. The clean look produced by glass stair railing systems is challenging to replicate with any other infill material. Additionally, the panels for a stair glass railing can be manufactured in custom dimensions for non-standard situations.

The glass stair railing cost will depend on the size and complexity of your design. A curved glass stair railing on a spiral staircase is an excellent example of a complicated project. Glass panel railing is versatile and can be designed to accommodate most custom designs. Feasible options include everything from a simple glass stair rail to the most elaborate glass staircase railing. Tempering stair railing glass with thermal or chemical treatments improves strength and resistance to breakage.

You can install exterior and interior glass stair railing kits with a few simple tools. Railing systems use stainless steel clamps to hold tempered glass stair railing panels. The clamps for a glass panel stair railing system have removable neoprene rubber inserts. These inserts prevent scratching and keep the panels in place.




Iron

If you are looking for wrought iron stair railing ideas, you should consider a black powder coat finish on a stainless steel railing system. A black wrought iron stair railing interior may look smart and be consistent with your design theme. However, a smart black bar railing system might be a more modern choice. Similarly, a very popular alternative to a black wrought iron and wood stair railing would be a powder coat bar railing system with a smart wood handrail. Some design themes use black iron and wood stair railing to establish a striking contrast.

A wrought iron indoor stair railing kit or black powder coat alternative could be the perfect design choice for your project. You could purchase indoor or outdoor wrought iron stair railing supplies or a stainless steel railing hardware kit for your project.

If you are considering purchasing an exterior wrought iron stair railing kit or a stainless black powder coat kit, make sure you can customize it to suit your exact specifications. Outdoor iron stair railing designs usually require several custom components. Outdoor wrought iron stair railing kits can complement a traditional or historic style garden. In particular, wrought iron pairs well with aged red brick and stone. However, they can look very dated in modern environments, matched with concrete or wood. The same can be said for interior wrought iron stair railing kits; when installed, they can make a property look old-fashioned.

A wrought iron stair railing installation will give your installation a classic aesthetic. Wrought iron stair railing systems can create an exotic Mediterranean feel matched with brightly colored paintwork and stucco-style walls. Like all architectural features, a wrought iron outdoor stair railing has its time, place.




Stainless Steel

Stainless stair rail by AGS Stainless.

A stainless steel stair railing system is elegant and built to last. The best and most durable stair railing stainless steel is marine grade 316. A stair metal railing made of stainless steel will be highly resistant to corrosion and harsh environments with salty air. Most notably, stainless steel has applications for everything from submarines to beach houses and docks. If properly maintained periodically with AGS - Stainless Steel Cleaning & Maintenance Kit, stainless steel stair railing systems will last a lifetime.

Stainless steel stair railing designs are available with additional options like a powder coat or brushed finish allowing you to create a look that's truly yours. The stainless steel stair railing price may be slightly higher, but you are paying for a high-end look and a top-quality product.

Stainless steel stair railing kits are convenient and ideal for every application. Additionally, a stainless steel stair railing kit is composed of off-the-shelf components for a perfect on-site fit.
5. Stair Railing Finishes
Stair railing options for finishes include powder coat, brushed, and stained, to name a few.
Powder Coat Finish

Black bar stair rail by AGS Stainless.

Powder coating uses a dry powder that is applied with electricity and then cured with heat to finish metal components for airplanes, automobiles, and more.

If you're wondering how to change stair railing colors, a powder coat finish might be the right style choice for your project. If you're working with wood, you can easily paint or stain stair railing systems. However, changing stair railing colors and getting a smooth, even sheen on a metal surface is best achieved with powder coating.

Powdercoat cable stair rail by AGS Stainless.

For optimal results, outdoor metal stair railing systems should be powder coated in a factory to achieve a consistent finish. However, if the product is already installed and you are looking for the best way to paint metal stair railing systems, you could try using stair railing paint or spray paint.

There are many colors available, plus, powder coat is very durable. Unlike painting or spray painting, powder coating is performed off-site in a controlled setting.

Interior black powder coat stair railing with black handrail.

Black is one of the most popular stair railing color ideas. A black stair railing will be the focal point of any interior design. If you want that black iron stair railing interior look, you can achieve it with a powder coat finish on stainless steel. Wood handrails are often used in conjunction with a black metal stair railing system to create a contrast.

White metal stair railing systems are also prevalent. A white metal stair railing with brushed stainless steel posts is another option.




Brushed Finish

Brushed interior railing by AGS Stainless.

Artisans meticulously brush stainless steel stair railing components by hand to remove tungsten inert gas (TIG) welding stains and produce a fine grain that runs in a single direction. Brushed is one of the most affordable ideas for stair railing systems.




Stained Finish

Reddish stain on stair rail by AGS Stainless.

Staining stair railing systems is another way to achieve the exact color you want for a price within your budget.
6. Stair Handrails
A handrail is a component that sits atop the railing posts and infill material. Stair railing end caps are welded to the ends of the handrail on top of stainless steel posts or wood posts to complete the railing system. Handrail options for a custom stair railing system include flat, round, wood, goosenecks, transitions, extensions, and returns.
Flat Handrail

A flat handrail provides a minimalist look with clean lines that pair well with modern interior designs.

Flat handrail by AGS Stainless on stairs.




Round Handrail

A round stair railing catches highlights and shadows to produce strong lines for contemporary exterior and interior designs. AGS Stainless steel handrail systems' flexible design allows AGS factory customization to meet the need for a uniquely shaped handrail.

Round handrail by AGS Stainless on stairs.




Wood Handrail

Handrails made from wood are versatile and attractive and complement almost any design style. Although it's more common to see smooth wood handrails in modern homes, they are often installed in rustic or farmhouse settings to create a humble charm. If you want a rustic look for the interior of your home, wood might be the ideal material. Comparatively, a simple wood handrail is one of many cheap stair railing ideas.

Modern and beautiful, a wood handrail on stairs will complement almost any design theme.




Gooseneck Handrail

A gooseneck handrail is a custom component for height and direction transitions.

Gooseneck for handrail direction change at 180 degrees.

Handrails bend at 90 degrees for dogleg stairs or 180 degrees for switchback stairs to form a continuous shape. There are numerous design options to accommodate handrail transitions.




Handrail Transitions for Direction Changes

Gooseneck for steel flat handrail at top of stairs at 90 degrees (left), and wood handrail (right).




Handrail Extensions and Returns

Handrail extension and return.

A stair railing return is when a handrail extends beyond a post and returns to a surface. Custom stair railing returns are often required to meet code for commercial projects.
7. Stair Railing Infill
Infill is the part of a stair railing system between vertical posts and below a horizontal handrail. Some infill options include stainless steel cables, glass panels, and stainless steel bars.
Cable Infill

A stainless steel cable stair railing kit is highly durable and practical. Exterior and interior cable stair railing kits have various fitting options to help you achieve the desired look and simplify installation.

Rainier horizontal cable stair rail.

The Rainier exterior or interior cable stair railing system uses vertical or horizontal uncoated 1/8-in stainless steel stair railing cables that have been electropolished for superior corrosion resistance.

Most of your DIY cable stair railing cost will depend on the materials that you choose. For example, high-end stainless steel posts are more expensive than your average wood posts. Also, a variable in the overall cost is your choice of cable fittings. A minimum of one of the fittings in each run must be adjustable to enable tensioning of the cable. Consequently, the process for how to tighten stair railing systems will vary based on the fitting hardware.

Stair Cable Railing Hardware

Stair cable railing hardware attaches an uncoated 1/8-in stainless steel Clearview® - Cable to a post.




Panel Infill

Panel infill is usually made of tempered glass or a variety of versatile materials like stainless steel mesh. There are so many unique panel infill options to choose from to make your indoor or outdoor stair railing ideas a reality.

Glacier glass panel stair rail.

Stainless steel clamps secure the panel infill in place.

Stair Panel Railing Hardware

Stair panel railing hardware holds 1/4-in, 5/16-in, or 3/8-in panels. AGS can accommodate non-standard panel infill sizes with custom posts and modifications to the railing design.

The Glacier panel railing system uses stainless steel clamps as glass stair railing hardware.

Bar Infill

A DIY horizontal stair railing with bar infill makes a statement and stands the test of time. The Olympus bar railing system connects vertical or horizontal bar infill to fit snugly inside holes cut into stainless steel posts with a laser.

Olympus horizontal bar stair rail.

For more stair railing photos with bar infill, check out this gallery.




Hybrid Infill

You can update stair railing systems by mixing and matching infill. However, before updating stair railing systems with multiple infill variations, you need to consider how they will look together. One of the most inexpensive stair railing ideas involves using only some cable infill. Doing this would leave most of the stair railing and balusters intact. Otherwise, try combining different types like glass panel infill and cable infill to create visual interest.

Rail with glass panel and cable infill.
8. Stair Railing Hardware and Accessories
The parts of a stair railing system include posts, handrails, infill, and accessories such as fittings or clamps. The AGS E-commerce store has stair railing supplies for every budget, where you can purchase individual railing parts or as many DIY metal stair railing parts as you need.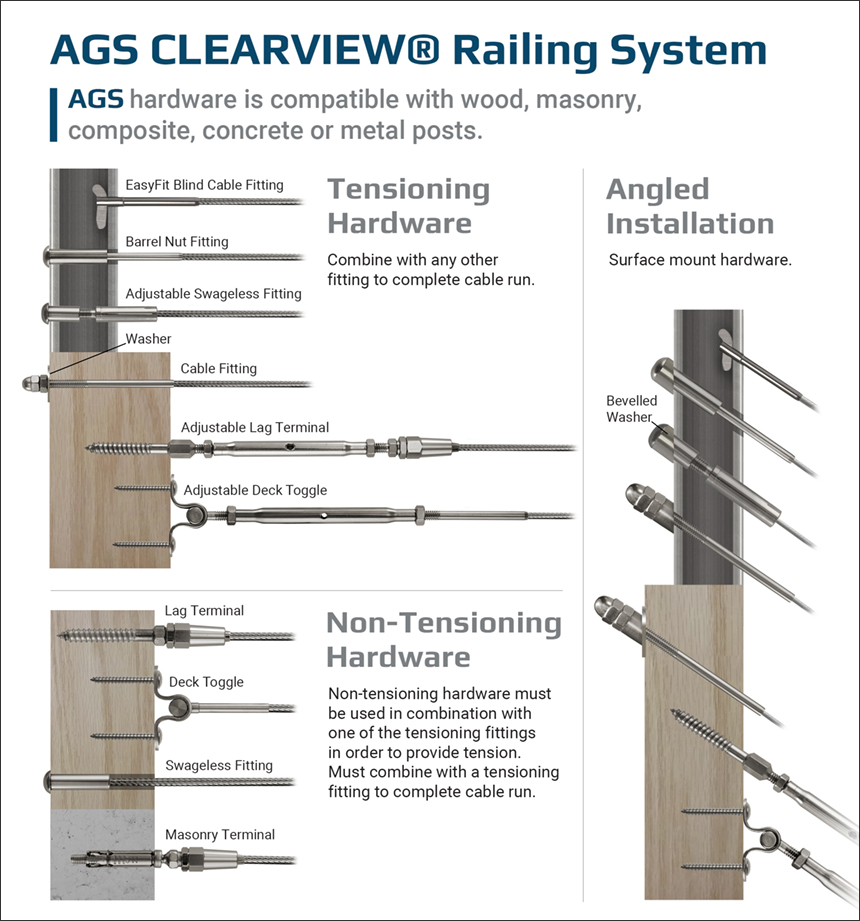 You may also be interested in this article Before and After Stair Remodel
Deck Toggle Hardware

AGS railing hardware is compatible with wood, masonry, composite, concrete, or metal posts.

Deck toggle by AGS Stainless attached to wood.

A Clearview® - Deck Toggle attaches an uncoated 1/8-in stainless steel Clearview® - Cable to a wood post. This type of stair railing hardware could also be attached to walls, floors, or ceilings when there isn't enough space for another stair railing post.

Adjustable deck toggles by AGS Stainless.




Base Plate Cover Hardware

A Clearview® - Split Base Plate Cover conceals stair railing mounting hardware like Clearview® - Lag Screws and top mount base plates for stainless steel posts.

Base plate cover by AGS Stainless.




Accent Light Accessories

Handrail lighting by AGS Stainless at night.

There are several unique stair railing ideas if you are looking for inspiration to dress up your deck. One of many great DIY stair railing ideas is to attach attractive accent lights to railing posts. Alternatively, you could purchase a custom handrail with microlights installed on the underside. To add a little bit of magic to your deck, why not consider lighting options.

StarLight by AGS Stainless during daytime.




Solar Powered LED Accent Lights

Accent lights are stair railing decorations that add visual interest. To set your project apart, you can decorate stair railing systems with StarLight LED accent lights that are powered by sunlight.
FAQ Video: How Are StarLights Made?
This video demonstrates how a fiber laser cutting machine creates a variety of designs in stainless steel outer shells for accent lights.
How-To Video: How to Install StarLights
This video demonstrates how to install outdoor stair railing accent lights.
9. Stair Railing Code and Regulations
Stair railing systems designed and manufactured by AGS Stainless are available in 36-inch or 42-inch heights to meet IBC, IRC, and ADA standards.
International Building Code (IBC)

The International Code Council (ICC) developed the IBC to set public health and safety standards. The code aims to prevent dangers and hazards from buildings, structures, and their environment. The code addresses the design and installation of building materials to ensure that they meet or exceed stringent public health and safety standards. Residential and commercial stair railing projects are required to adhere to all applicable building codes.

International Residential Code (IRC)

The international residential code states that anyone who intends to build, alter, renovate, change or demolish a building that meets specific requirements must obtain the appropriate building permit. The code is designed to protect health and safety while enabling efficient building practices and encourage technological advancement.

American Disabilities Act (ADA)

The United States Congress enacted the ADA in 1990. The act's purpose is to ensure that public buildings and facilities are as non-discriminatory as possible; for example, walking surfaces, ramps, and stairs need to be accessible to people with disabilities. Stairs were made more accessible by requiring a railing or a handrail to have a minimum height of 34 inches. Building practices such as these make buildings more accessible to people with disabilities.
10. Stair Railing Prefabrication and Installation
If you intend to upgrade your home, installing a new stair railing system is one of the best decisions that you can make. When comparing stair railing companies, it's a good idea to make a pros and cons list so that you can consider all of the factors that go into the final products.
With AGS Stainless, you can order a premade stair railing and assemble it on-site with a few simple tools. Prefabrication results in a much lower stair railing installation cost. Building stair railing systems from prefabricated components means no need to do any on-site cutting, welding, grinding, or finishing. These stair railing construction processes occur off-site in an industrial stair railing manufacturing facility.
The installation can be completed as a DIY project or with the help of a stair railing contractor. Before learning how to install a stair railing, you will need to know the difference between top mount, side mount, and core mount. You should also be familiar with DIY stair railing kits, different types of mounting surfaces, the specific hardware required for each one, and manufacturing processes for prefab stair railing systems.
Planning
Computer-Aided Design (CAD)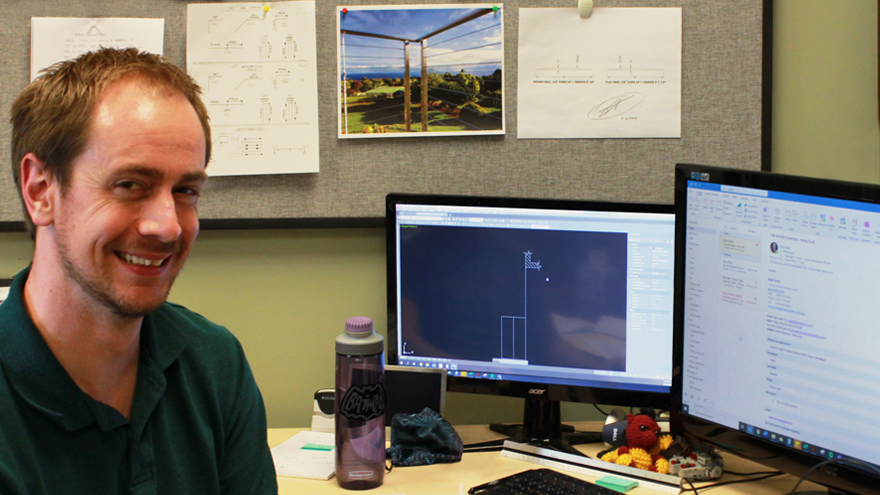 CAD drawing by AGS Stainless.
During the initial design stage, getting a CAD drawing is a smart move. A CAD design will be necessary for a custom metal stair railing system. Design consultants can explain how to measure for stair railing systems.
They can also provide recommendations for the best stair railing installation companies in your area. It is always better to get a referral if you can because stair railing contractors typically have much more experience with prefabricated components than ordinary contractors.
To get started, submit a basic sketch of your idea and any stair railing dimensions. Then you will receive a stair railing cost estimate to approve. After approving them, you will have the opportunity to go over CAD drawings that are exact down to the last stair railing detail.
Getting a CAD drawing with stair railing details is highly recommended, particularly for complex design jobs. The Rainier cable railing system, the Glacier panel railing system, and the Olympus bar railing systems require custom fabrication.
Fabrication
Fiber Laser Cutting
Ensure your railing system is fabricated to the highest standard possible. Make sure the railing company you choose uses state-of-the-art technology. A fiber laser cutting machine uses a laser for precisely cutting stainless steel components to an accuracy level of 4/1000ths of an inch. This machine ensures a higher standard of quality in a fraction of the time that it would take with a traditional computer numerical control (CNC) machine.
Tungsten Inert Gas (TIG) Welding
The welds for stair railing angle cuts will be much stronger when skilled artisans perform tungsten inert gas (TIG) welding. Metal inert gas (MIG) welding completed by robots often results in welds that aren't nearly as visually appealing for stair railing applications.
Mounting Techniques
Taking some time to learn about all the different installation techniques and infill materials will give you a good understanding of how to customize your railing system. The difference is in the details, and choosing your railing style and preferred mounting method will help you achieve the look you desire.
Top Mounting Installation Method
A top mount stair railing is secured on top of treads, floor, or mounting surface.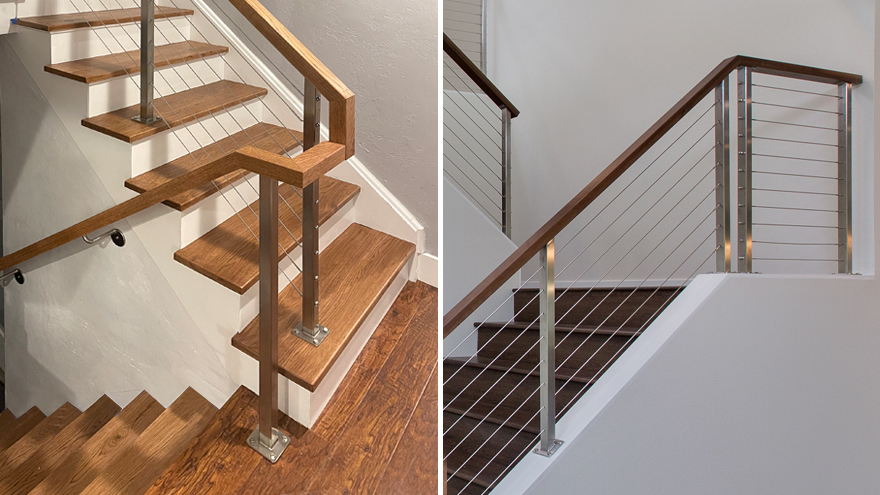 Top mount stair rail by AGS Stainless.
Side Mounting Installation Method
A side mount stair railing is attached to the sides of stringers or structure.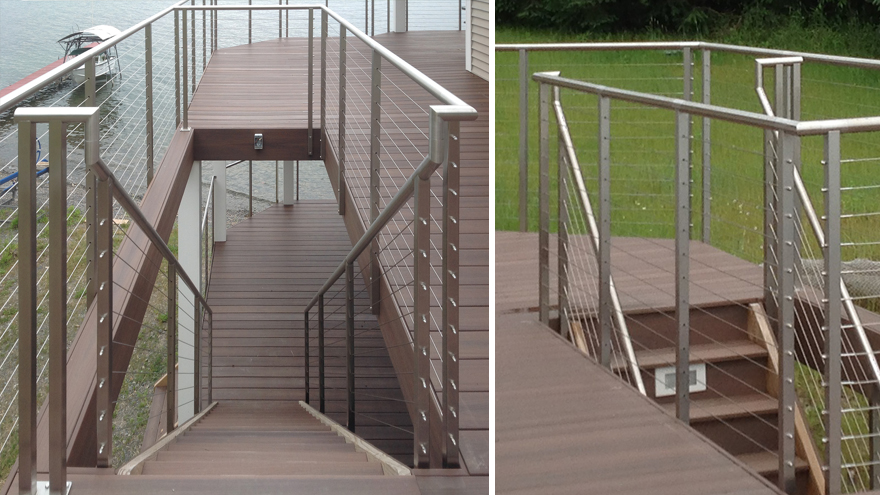 Side mount stair rail by AGS Stainless.
Post Mounting Installation Method
Post mounting uses stair railing hardware brackets to secure handrails on stairs. They are attached directly to the railing posts.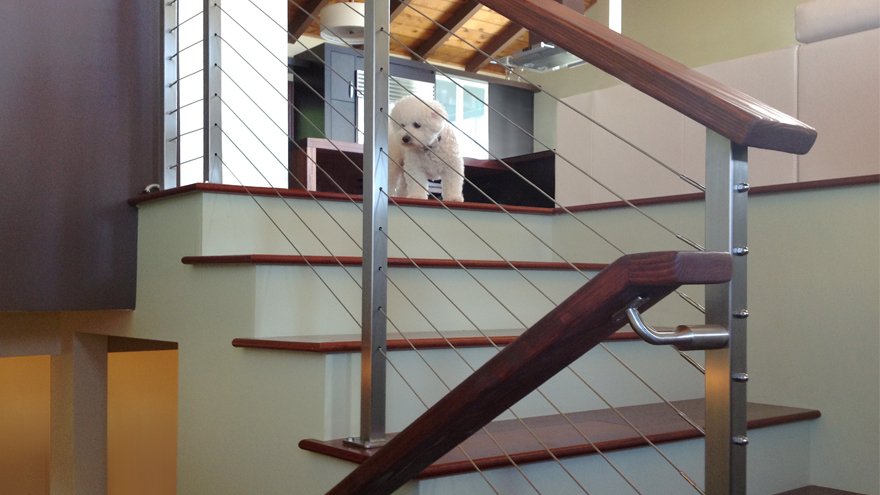 Post mounted handrail bracket.
Wall Mounting Installation Method
Wall mounting involves stair railing brackets. A stair railing bracket can be attached to a wall.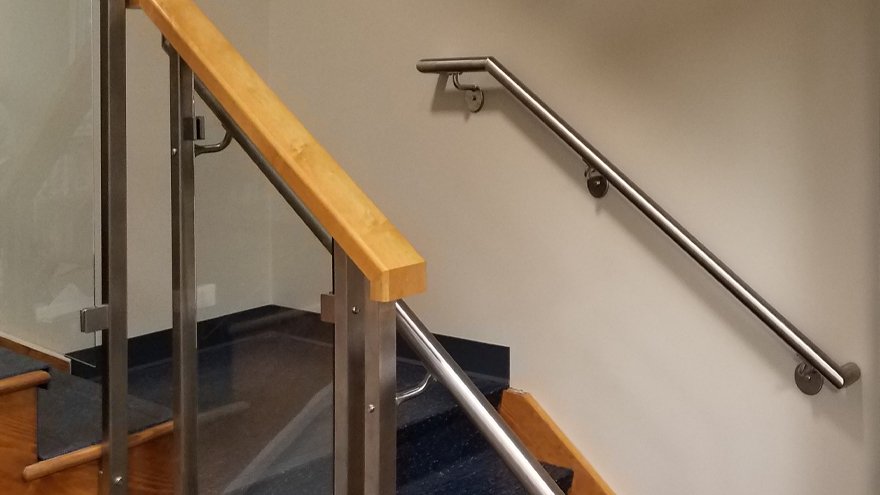 Wall mounted handrail bracket, also sometimes referred to as a wall mount bracket.
Concrete Steps Installation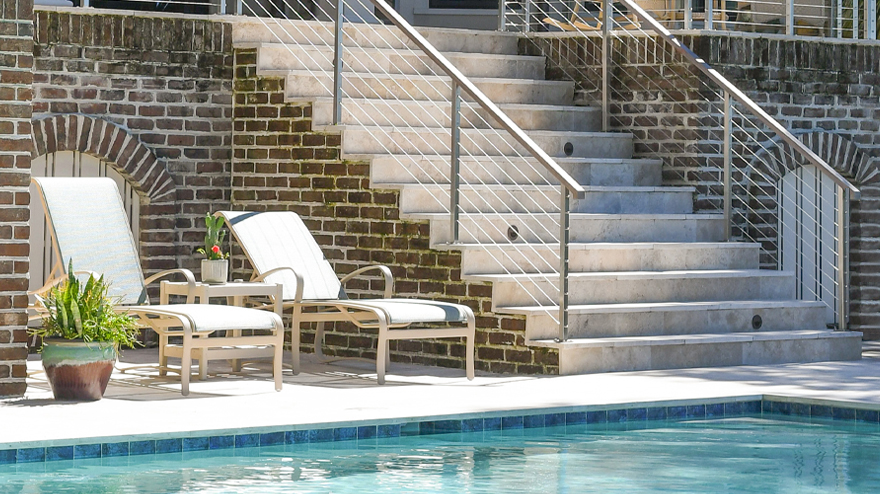 Stair rail on concrete steps.
Railing Installation and Hardware - Concrete
Concrete Mounting Surface Hardware
A Clearview® - Concrete Expansion Anchor attaches a stainless steel post to a concrete mounting surface.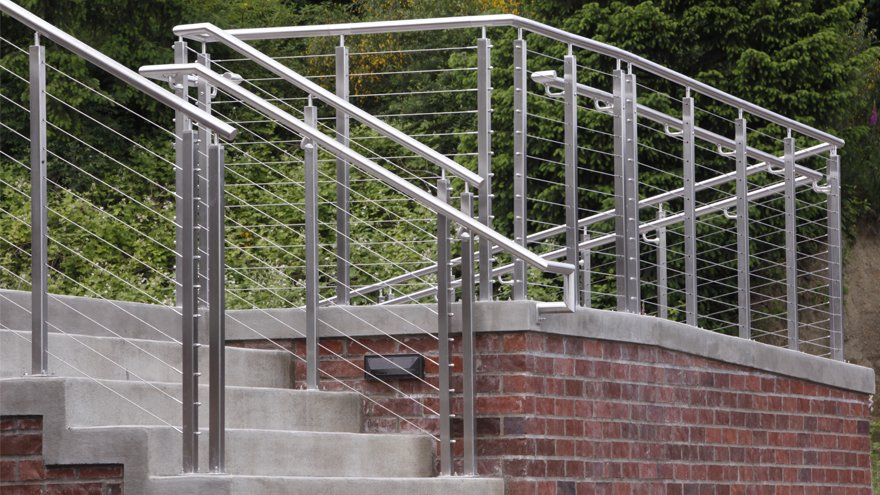 Stair rail on concrete mounting surface.
Clearview® - Concrete Expansion Anchors are necessary when installing a stair railing for concrete steps.
Clearview® 3/8-in x 5-in Concrete Expansion Anchor
Clearview® 5/16-in x 3 1/2-in Concrete Expansion Anchor
How-To Video: How to Install Concrete Mounting Hardware
This video demonstrates how to install stair railing post anchors on a concrete mounting surface.
How-To Video: How to Install Railing Systems on Concrete Steps
This video demonstrates how to build outdoor stair railing systems with cable infill and mount them on concrete steps.
Railing Installation and Hardware - Wood
Wood Steps Installation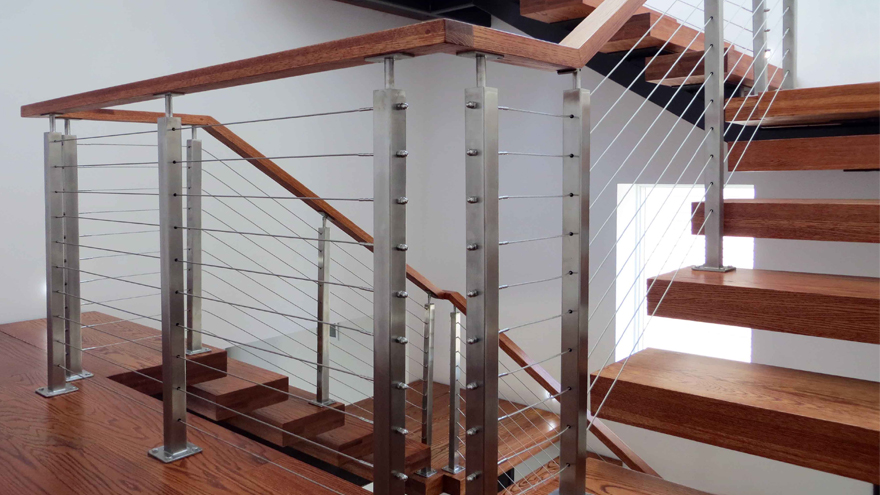 Stair rail on wood mounting surface.
Clearview® - Lag Screws are necessary for a DIY stair railing installation on wood steps.
Wood Mounting Surface Hardware
A Clearview® - Lag Screw attaches a stainless steel post to a wood mounting surface.
C

learview

® 3/8-in x 5-in Lag Screw
C

learview

® 5/16-in x 3-in Lag Screw
Installation - Cable Railing
How-To Video: How to Install a Rainier Cable Railing System
This video demonstrates how to install stair railing systems with stainless steel cables.
Installation - Glass Panel
How-To Video: How to Install a Glacier Panel Railing System
This video demonstrates how to make stair railing systems with glass panels.
Installation - Bar Railing
How-To Video: How to Install an Olympus Bar Railing System
This video demonstrates how to build stair railing systems with stainless steel bars.
Why Buy a Stair Railing from AGS Stainless?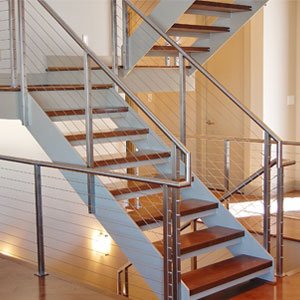 Rainier cable railing system on stairs.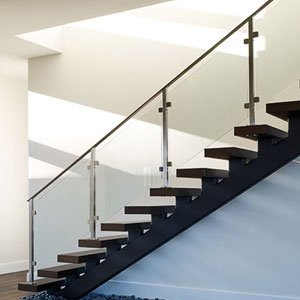 Glacier panel railing system on stairs.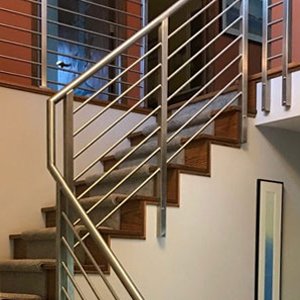 Olympus bar railing system on stairs.
After you submit a simple drawing with basic measurements and any relevant photos, a dedicated design consultant will work with you or your contractor to discuss options, expectations, applications, budget, time frame, constraints, compliance, and maintenance. Design decisions determined at this point include measurements, handrail, infill, finish, mount, and any stair specifics. Then your design consultant develops a detailed cost estimate for your consideration at no cost to you.
Once you have approved the cost estimate for your railing system, a specially trained designer establishes a working relationship with you or your contractor to go over every detail. After that, your designer creates exact computer-aided design (CAD) drawings to ensure that you receive your desired look with a perfect on-site fit.
After you've approved your final CAD drawing, the fabrication process can begin. Meticulous planning allows the components to be fabricated off-site, which improves quality and simplifies the installation process. The fabrication team at the AGS factory brings expertise built on years of experience to perform fiber laser cutting, tungsten inert gas (TIG) welding, and finishing for the components before they are carefully packaged and shipped directly to you.
Schedule a FREE DESIGN CONSULTATION to get started.