Before and After DIY Stair Remodel
Some people love nothing more than picking up the tools and getting engrossed in a fabulous new DIY project. Whether you choose to decorate, build, or remodel, giving your abode a completely new look is a great way to step up your style. Updating a bathroom or kitchen, replacing doors and windows, and ripping out features that have become dated are great ways to add resale value to your home. Installing a beautiful new railing system is no different. Doing so will modernize your home, giving it a fresh new look you can enjoy from multiple areas of the property.
Cable Railing Staircase Makeover
Earl from MD decided to spruce up his home with a modern staircase design. In addition to the stairway, the homeowner replaced two short railing sections on the landing and a wall-mounted handrail. The impressive DIY staircase makeover elevates the look of the family home.
The dog-legged stair layout with cable railing creates a thoroughly modern staircase design. The new round metal handrail and cable railing revitalize the stairway.
These before and after stair makeover pictures are truly inspiring. The homeowner transformed his home by replacing the traditional wood railing system with a chic cable railing. Earl completed the DIY stair remodel by following detailed instructions provided by AGS.
"Well, it took me a while, but I finally finished the project, and it turned out GREAT!! The craftsmanship of your products is absolutely first-rate. Once I got the first section of rails in place, the rest was a piece of cake. Well, not really, but it was not as hard as I thought, just time-consuming. The hardest part was taking out the old wooden rails and building a new base. Thanks again for all your help. I would highly recommend your company any day."
Earl, MD
Learn how to build a cable railing system by checking out these helpful resources:
Getting Started on the Railing Remodel
Earl began the building project by researching railing companies and railing products. After contacting AGS and requesting a FREE Design Consultation, he learned that AGS manufactures custom railing systems built to meet the clients' project requirements. To get a detailed estimate, first, Earl needed to provide AGS with his project measurements.


How to Measure Stairs for Railing Replacement
First, Earl photographed the old wood railing that he wanted to replace. Next, he took basic measurements and marked the dimensions on his photographs. He submitted the pictures to AGS, and from there, AGS took care of the details.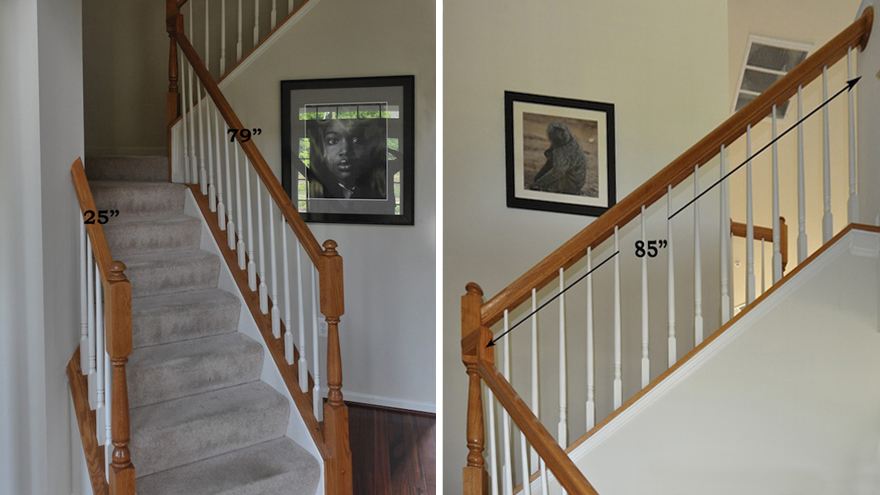 Building codes will determine the height of the railing system. The minimum height required by the IRC is 36 inches. Commercial applications require a minimum height of 42 inches. Custom sizes are available from AGS if needed.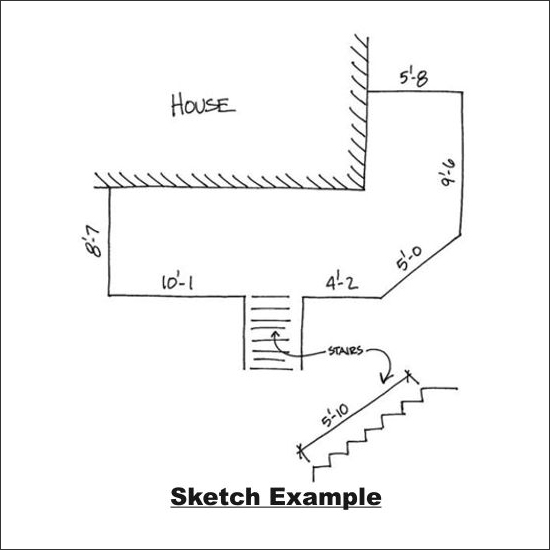 Earl used a photo editor; however, many customers make simple sketches to show their project requirements. This example sketch shows how to measure a deck to build a deck railing system.
Railing Design and Fabrication
AGS railing estimators will help you figure out the details of your railing remodel. Once the design is approved, fabrication begins, and the ready-to-install railing system will be shipped to the project location. Throughout the process, experienced railing consultants are on hand to offer advice and problem solve until the installation is complete. Perfect for a DIY enthusiast completing a residential railing remodel.
Earl's DIY Stair Railing Remodel Project Details
The Stair Landing and Balcony Railing Remodel
The railing style you choose will have a huge impact on the overall success of your project. For example, this new balcony cable railing makes a big difference to the look and feel of the landing. Cable rail is one of the best railing systems for balconies and small spaces because it doesn't create a boxed-in feel. Now, light can flow unencumbered throughout the upstairs area.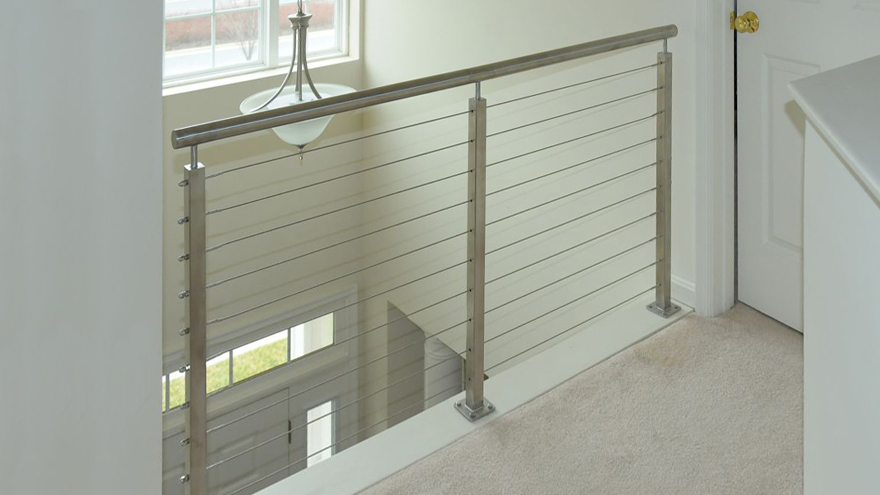 Wood balusters look heavy and enclosed compared to the open feel of cable rail. The stainless steel top rail reflects the colors and blends into the background.
When paired with wood floors, wood top rails can create an elegant design theme. However, in this instance, the wood handrail in Earl's home was not part of a cohesive theme.
Narrow Railing Sections and Short Cable Runs
The railing system on the stairs, landing, and balcony consists of several narrow sections. The short cable run at the top of the stairs demonstrates how designing custom railing parts or buying specialized railing hardware makes completing a railing project easier. In this instance, cable railing hardware, deck toggles secure the infill to the wall.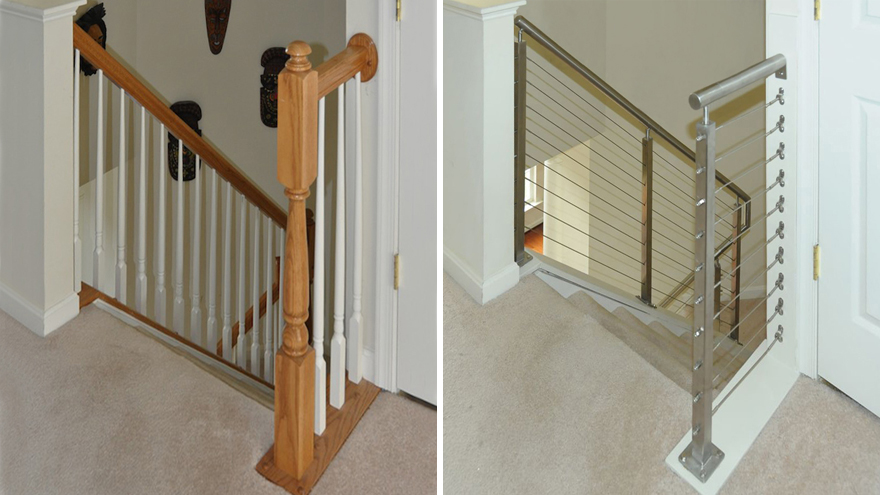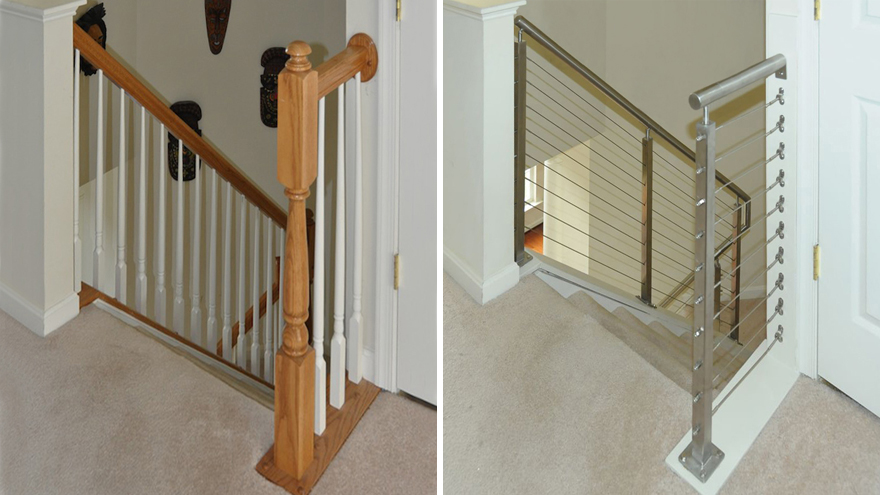 Deck toggles remove the necessity for the second post in this non-standard section or cable railing.
AGS railing experts can provide many alternative railing ideas or custom railing parts to accommodate different or troublesome scenarios. To learn more about cable railing hardware, please visit:
Custom Cable Railing Parts
Short sections of railing, pony wall railing, and railing systems with irregular layouts are typical scenarios that can make installing a new railing system challenging. AGS prefabricates the parts, so there's no need for onsite modification. When the railing system arrives, it's ready to install.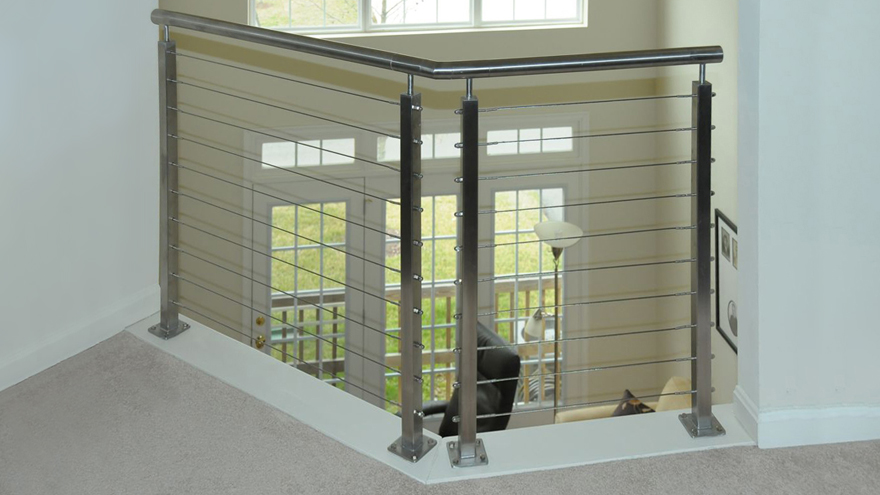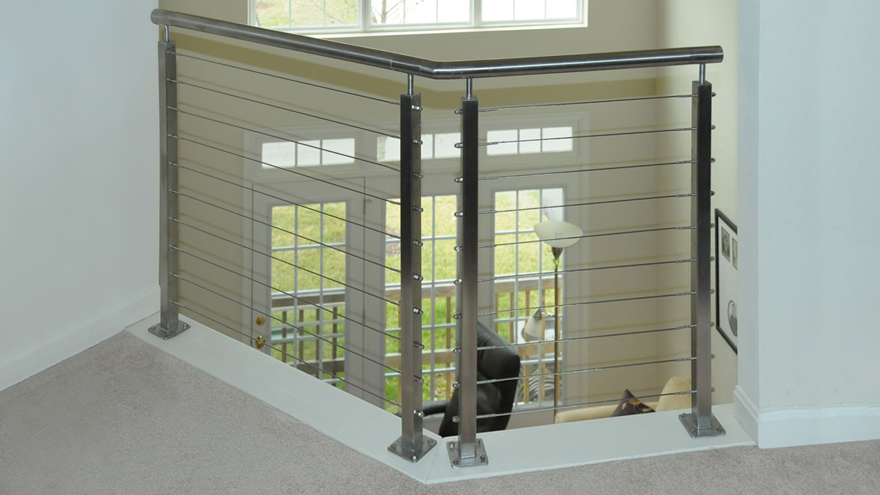 AGS railing experts will advise you about post spacing for non-standard stair configurations and irregular railing layouts.
Replacing Handrails
Sometimes a complete railing remodel isn't an option. In such instances, homeowners often choose to refurbish their existing stairs. Refinishing treads, redecorating, and replacing handrails can be an excellent way to give your home a fresh new look.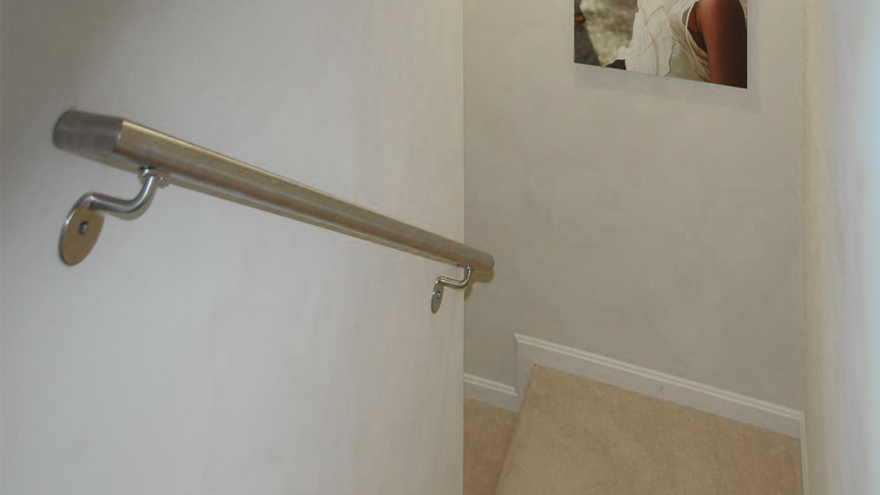 A smart wall-mounted stainless handrail completes the railing remodel.
There are many ways to update your home, and depending on the size and scale of the project, remodeling your railing system might be a very affordable way to modernize your property. There are several options when completing a staircase makeover. Purchasing cable rail hardware to replace the balusters with cable infill might also be an idea to consider.
Earl's home features a double-height entrance foyer, from where the railing system is visible. After completing the upgrade, visitors can see the beautiful new modern railing system, creating an impressive first impression. Small changes make a big difference.
For more staircase ideas, please visit:
To see hundreds of pictures of railing systems, please visit our photo galleries.