According to the U.S. Small Business Administration, the federal government uses special programs to help small businesses win at least 23 percent of all federal contracting dollars each year. If you own a small business and are bidding for government contracts, it's crucial to be confident that you have budgeted correctly and that there will be no time or cost over-runs. If your bid is successful and the contract is accepted, any cost overruns will likely eat into your profit margins and reflect poorly on your business.
Installing a railing system in a public building can be a costly endeavor. AGS Stainless specializes in custom railing systems. Highly experienced railing system designers will work with you to keep your budget and project timeline on track. Read on to discover five great reasons why partnering with AGS Stainless is a smart idea.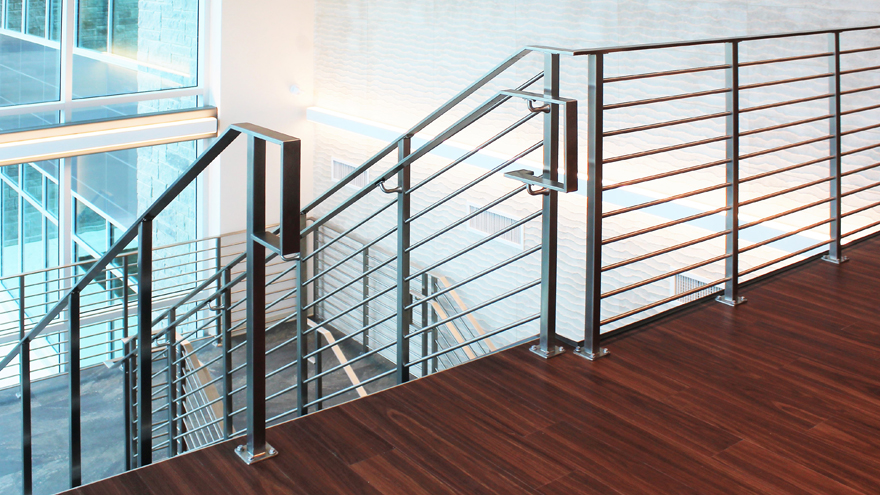 Featured Government Construction Project Olympus Horizontal Bar Railing: This modern horizontal bar railing system installed in a government building looks robust and formal. The Olympus bar railing system is available with horizontal or vertical infill tubes. The brushed stainless railing system features elegant handrail extensions and top-mounted railing posts.
1. Installing Offsite Fabricated Railing Systems Is an Effective Way to Control the Cost of Onsite Labor
Your railing system will arrive at the job site fully code-compliant and with all the necessary components ready to install. There is no need for highly skilled onsite labor because no welding or field modification is required. Utilizing offsite fabricated railing systems limits the chances of unexpected project delays and cost overruns.
2. Using High-quality Railing Systems Will Enhance the Likelihood of Securing Future Contracts
When installing AGS stainless railing systems, you can rest assured that the products are of consistently high quality. The railing posts made from 316 marine grade stainless steel are produced using our state of the art laser fiber cutting machine. You know that staying within budget and installing a high-quality product will protect and enhance your professional reputation.
3. AGS Stainless Railing Systems Are Environmentally Responsible
Marine-grade 316 stainless steel is a highly durable, environmentally friendly material as it is non-toxic, 100% recyclable, and requires little maintenance. Partnering with a highly specialized, environmentally responsible company such as AGS Stainless will reduce waste and minimize inefficiency.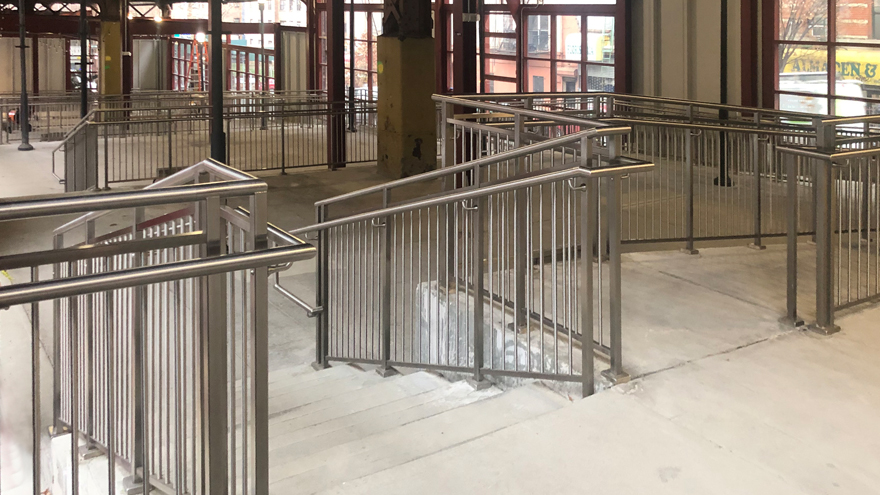 Featured Project Olympus Vertical Bar Railing: NYC Public Market and Entertainment Venue The Olympus stainless steel bar railing system has a contemporary look and is ideal for commercial, public, or municipal settings. The railing system is chic but industrial looking. The railing system is used for filtering large groups of people through a location that is usually crowded.
4. AGS Stainless Railing Systems Are Fully Customizable – Bring Your Ideas to life
AGS Stainless railing systems are very versatile in their look and application. Custom railing posts may be paired with cable railing, glass / panel railing, or horizontal bar railing. Work with AGS designers to find out how you can make a statement with AGS Stainless railing systems.
5. AGS Stainless Is Committed to Your Success!
Working with AGS Stainless designers, you can have confidence your railing system will be fully code-compliant and that AGS will meet your standards of professionalism and timeliness. AGS is a Washington based company that has a proven track record of excellence. AGS Stainless has been awarded The Best of Houzz Service Award five times in 2016, 2018, 2020, 2021 and 2022.
Cable Railing Vs. Rod Railing?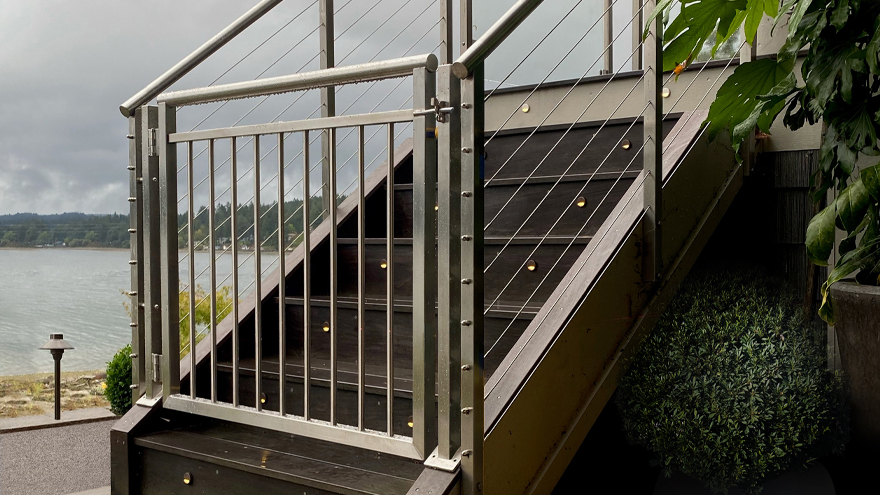 Rod and cable railing are amongst the top choices when selecting an infill style for a commercial modern metal railing system. Often architects find themselves weighing up the pros and cons of cable vs. tube railing. If you're undecided, here are our top tips when weighing the differences between tube and cable infill material.
Rod Railing
Rod railing infill is either vertical or horizontal. The Olympus rod railing system includes stainless steel laser cut tubes that slide into place. The custom railing system is designed to your specifications, so there is no need for onsite modification.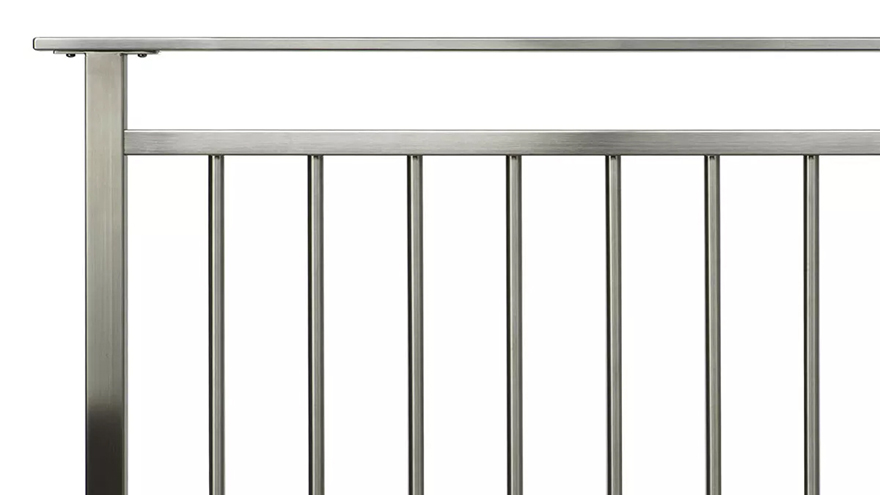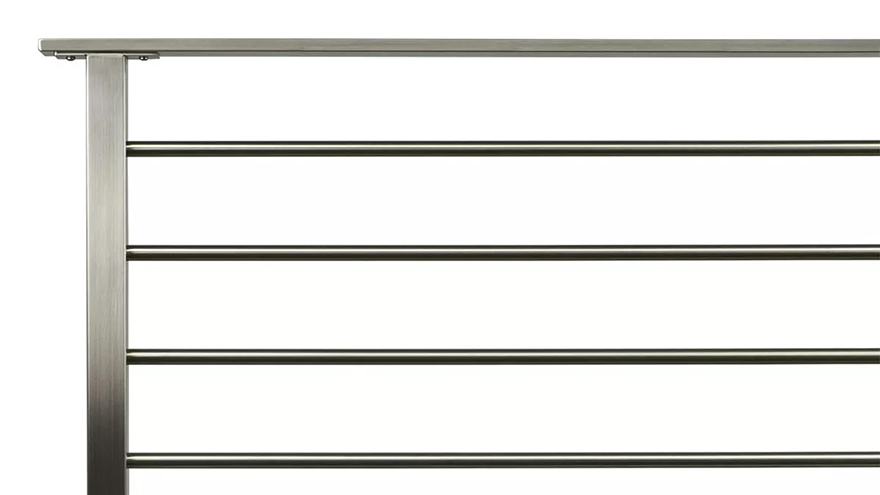 Cable Railing
Several different types of fittings can be used to install the Rainier cable railing system. AGS experts will work with you to determine the best design for your cable railing installation. If desired, a prefabricated railing system will include cables cut to length with fittings pre-attached at one end.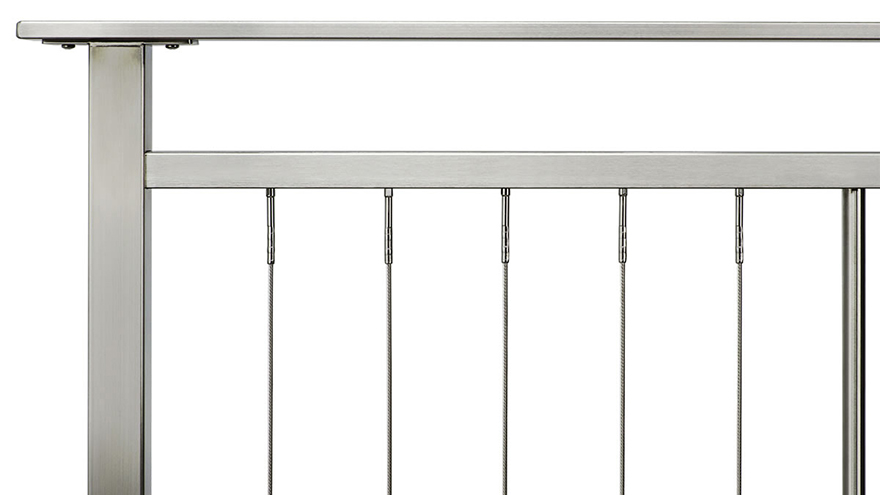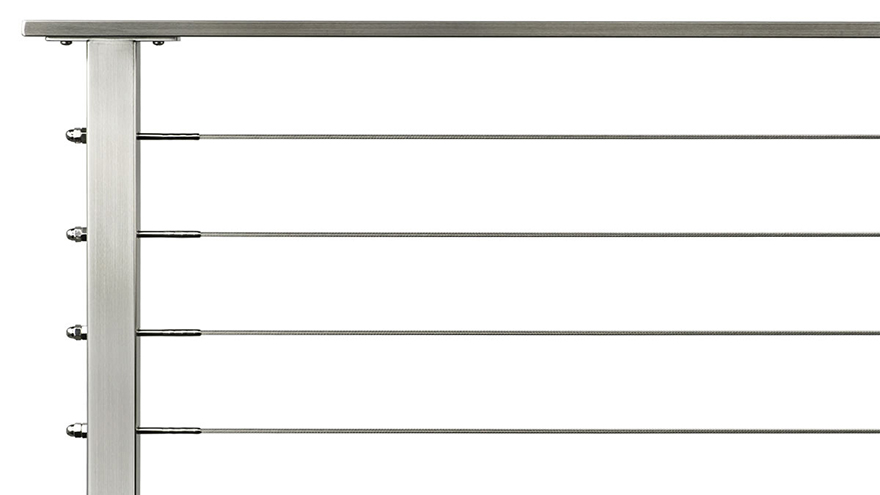 Railing Cost — Rod Vs. Cable:

When comparing the difference in cost between cable and rod railing, you should compare products of the same quality and ask for the price per linear foot. AGS cable railing infill is slightly more expensive than rod railing infill, but the difference is marginal.

AGS custom railing systems provide you with limitless railing options. For accurate pricing, please request a design consultation. There is no obligation, and all you need to do is submit a few simple measurements. You can use our sketch sheet to help you gather your information. It's easy and free.

Ease of Install — Rod Vs. Cable:

All AGS railing systems cable, glass, and rod are built to your specifications in our factory and shipped to the job site with detailed instructions ready to install. Little to no onsite modification is required. To see how easy AGS products are to install, please visit our instructions page and check out these videos.

Visual Appeal

Rod railing systems are sometimes considered a little more formal compared to cable railing systems. Commercial railing installations in government buildings and public spaces often feature stainless steel rod railing.

Commercial railing systems in public buildings often favor a more official looking asthetic.

The slightly softer look cable railing offers is frequently installed in private institutions and businesses.
If you're attempting to choose between cable and rod railing, remember that you might not have to. Many of the custom railing installations AGS has manufactured feature a combination of cable, rod, and glass. When working with a custom railing company, you can design a unique railing system entirely to your liking.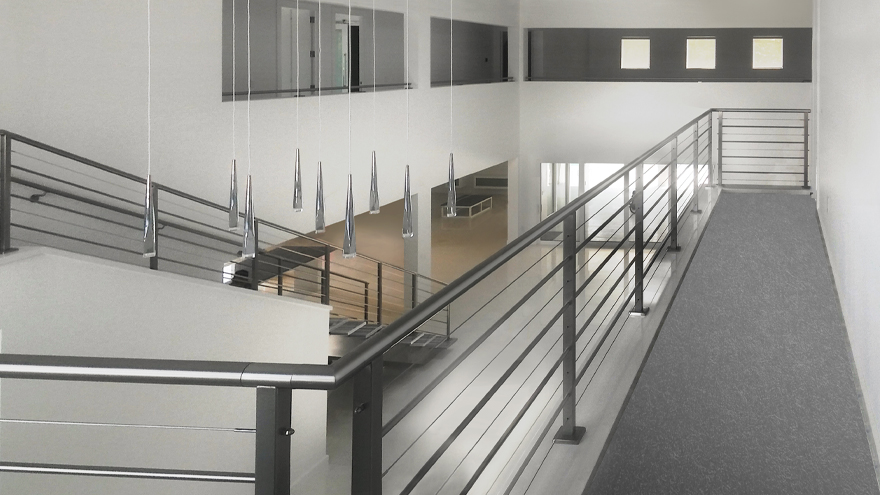 Can't decide between cable and rod railing? You're not alone; Click the link to see stunning railing installations that utilize more than one type of infill material Making a Statement by Blending Two Types of Railing Infill to see numerous examples of railing installations with combined infill materials.
Looking for Inspiration?
Visit these galleries to see other infill options