Light the way for our newest product StarLight – a mountable solar powered LED accent light. A perfect energy-saving option for your deck where electrical supply is not available.
Made up of pre-drilled 316 brushed stainless steel with three light channels, as well as an open bottom, it will provide up to 12 hours of lighting with no wiring! One rechargeable AAA NiCAD battery is included.
Create a warm lighting welcome and added safety and use for lighting walkways, balconies, garage door jambs, or further customize your Clearview® Railing System!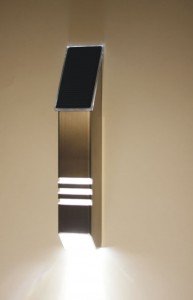 Solar Powered LED Accent Light
Up to 12 hours of light
Three light channels create a unique point of interest
Open bottom allows for a dramatic column of light
Pre-drilled for easy mounting (hardware included)
Kits for mounting to metal are available
Highly corrosion-resistant A316 (marine grade), brushed stainless steel shell
Rechargeable AAA NiCAD battery included
Path lights
Garage door jambs
Deck post accents
Many more!