Pets enjoy exploring every single inch of their living space, often ending up in unexpected places. Living in a high-rise building or even a 2-story home can be worrisome for pet owners. Open windows and high rails can pose a serious risk to any animal. Falls can result in serious injury or death, the phenomenon is known as
high-rise syndrome
.
Cats are especially prone to these falls during warm summer months. Veterinarians say they average about 2-5 cases a week of cats injured by serious falls. Many of our customers have expressed their concern about this risk when installing deck and patio railing in elevated areas.
AGS Stainless Inc. has listened, we have developed a new cable railing design, specifically designed to help prevent high-rise syndrome. We can add extra cables on the bottom section of our railing to help prevent cats, and other pets, from easily climbing through the lower cable railings. Nothing is completely pet-proof but this added safety feature definitely helps keeps pets on the right side of the railing!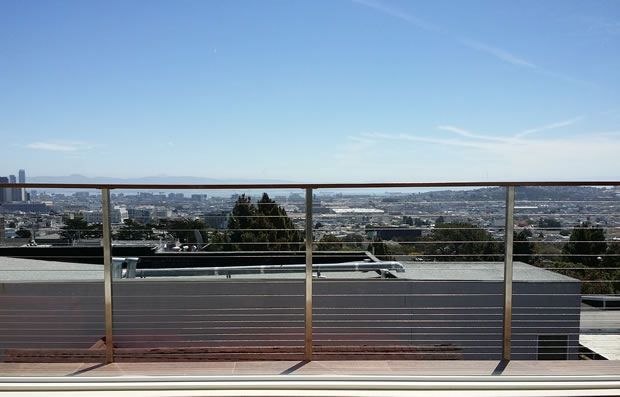 If you are interested in this optional safety feature for your pets, please speak to one of our estimators when ordering new railing. Our estimators can modify and add a few extra cables and welding holes to your order for a nominal cost, we also offer glass panel railing options.
Enjoy your time sunbathing on the rooftop or barbecuing on your deck or high-rise balcony knowing your pets are safe thanks to this new design!