Planning a short sunny getaway is particularly tempting for those of us experiencing a cold winter climate. Is there a better excuse for a brief vacation than to attend the world's largest annual light construction trade show? The International Builders' Show changes location each year, but it is normally based in the gloriously sunny states of Las Vegas or Florida. It's time to pack your sunglasses and register for your ticket! Breakfast alfresco sounds delightful and will set you up perfectly for a busy day at the show.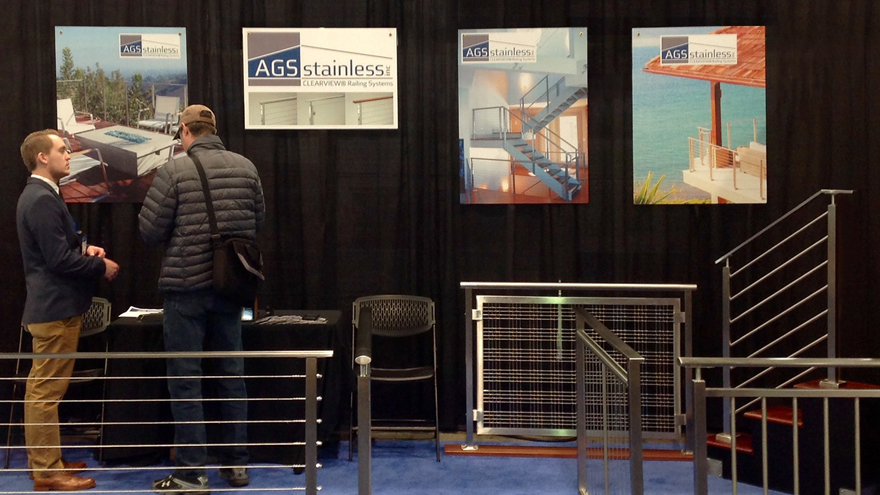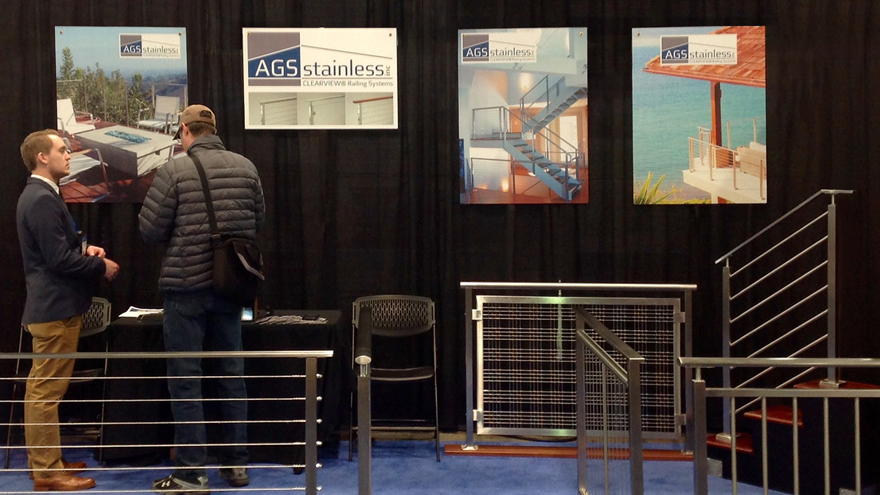 2 Ways to Connect With AGS Stainless at the International Builders' Show 2023
Visit AGS Stainless at booth #W1221 any time during show hours.
Check out the show village to meet our team of railing experts and experience firsthand the quality and beauty of an AGS Stainless railing installation. The IBS show homes are an immersive experience where you can see, touch, and examine the products up close. This year the ICC-ES-approved Cascadia railing system (ESR-4148) is on show at the ProBuilder Village. After seeing the installed railing product, you will need no convincing that AGS prefabricated railing products deliver stunning results while greatly improving onsite efficiency.
About the International Builders' Show
The IBS is the United States' premiere builders' show. See, learn and connect with industry pros to get exciting new ideas that will keep you inspired all year long. Not only will you find innovative new products and stay current with industry standards. You will also access the solutions you need to help your business grow and thrive.
See cutting-edge trends by visiting booths, learning about the latest product launches, and going to events such as construction demos.

Learn by attending some of the many educational masterclasses, workshops, and discussions led by industry thought leaders. Set yourself up for success by registering for classes and educational events available throughout the week. By the time you're ready to go home, you'll feel enriched and inspired.

Connect and Network to learn about products and solutions to help build your business. Collaborate with industry experts who will share their ideas to help you achieve your goals, improve productivity and increase your business revenue.
<!–– where ––>
Where: The International Builders' Show, Las Vegas
The International Builders' Show 2023 will be in Las Vegas, Nevada. The show occupies four distinct areas. You can visit IBS exhibits in the convention center's West Hall, South Hall, and Central Hall. To see some of the products installed, visit the IBS outdoor exhibits featured at the ProBuilder Show Village, also onsite at the convention center.
Las Vegas Convention Center
3150 Paradise Road
Las Vegas, NV 89109

<!–– when ––>
When is IBS 2023?
The International Builders' Show exhibits will be open to visitors:
Tue, Jan 31, 2023 – Thu, Feb 02, 2023
Check the International Builders' Show 2023 Schedule for dates, times, and locations. Some educational events will occur before the official opening dates.
Who Will Be Exhibiting at the International Builders' Show 2023?
With over a hundred events to attend and a multitude of businesses represented, the building expo will be packed with exciting things to see and do. Before you go, check out the following links to get the most out of your visit.
The NAHB International Builders' Show (IBS) and the National Kitchen & Bath Industry Show (KBIS) are both located at the Convention Center. Show tickets allow attendees to visit both events during Design and Construction Week. With this in mind, it's an excellent opportunity to see both shows during your visit.
The Las Vegas home expo is an incredible resource for gathering invaluable information. During the show, attendees can pursue learning goals while creating networking opportunities and learning about top new products hitting the market. The event brings together builders, general contractors, remodelers, designers, and product specifiers from around the world. Therefore, homebuilders, remodelers, or any professional involved in the construction industry will especially benefit by attending the NAHB builders' expo.
Highlights From Previous Years at the International Builders' Show
The New American Remodel (TNAR)

AGS Custom railing systems feature in not one but two remodeled showhomes, TNAR 2020 and TNAR 2022.

The Olympus horizontal rod railing looks especially beautiful, coupled with the showhome's stunning interior design.

New Product Launch at the International Builders' Show

The International Builders' Show, Las Vegas, 2020. AGS Stainless unveiled the new Cascadia off-the-shelf railing system. The event is an excellent place to see the latest product launches and immerging trends in the home building industry.
AGS Courses and Events at IBS

Over the years, the AGS team has put together many interesting educational courses for attendees to earn professional credits.
To find information about building shows near you, AGS will attend, please visit our event section.

Follow us on social media to learn about new and upcoming courses.