Planning a short sunny getaway is particularly tempting for those of us experiencing a cold winter climate. Is there a better excuse for a brief vacation than to attend the world's largest annual light construction trade show? The International Builders' Show is usually in Las Vegas or Florida. Pack your sunglasses and register for your ticket! Breakfast on the patio sounds delightful and will set you up perfectly for a busy day at the show.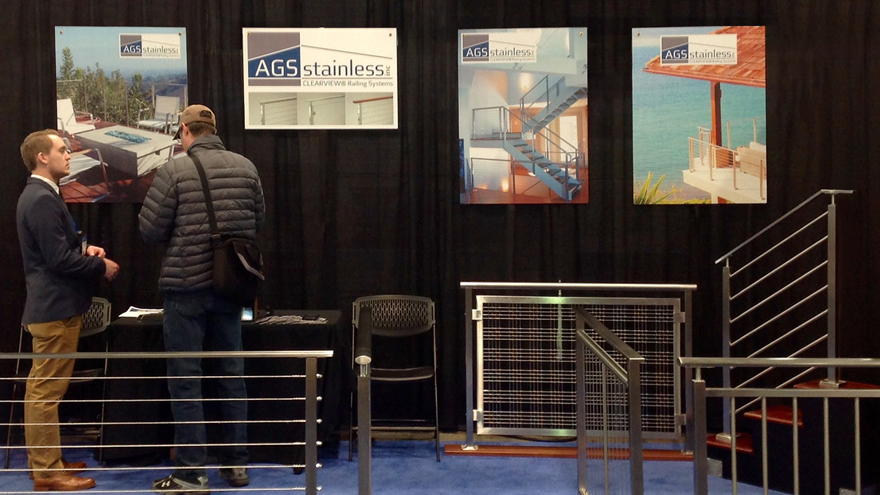 Three great ways to connect with AGS Stainless at the International Builders' Show 2022:
Visit AGS Stainless at booth #S2733 any time during show hours.
Attend Communicating the Benefits of Building High-Performance Custom Homes. Learn how custom builders and product manufacturers can help homeowners recognize the value and benefits of purchasing a high-performance home. You will get best practices for communicating the value of high-performance homes to their buyers and how simple design and construction choices can provide significant ROI. Tuesday, February 8th, 10:30 am – 11:00 am, presented by Kevin Harris.
Experience the ultimate in high-performance homes by visiting The New American Remodel. The show home features an elegant AGS Glacier glass railing system. For tickets, visit The New American Remodel booth at the West Hall C Lobby entrance at the Orange County Convention Center. Shuttle bus tickets are distributed on a first-come-first-serve basis. The booth is open from 7:30 AM-3:00 PM Tuesday-Thursday.
About the International Builders' Show
The IBS is the United States' premiere builders' show. See, learn and connect to get exciting new ideas that will undoubtedly keep you inspired all year long. Not only can you find new products and stay current with industry standards. In Addition, you can find all the solutions you need to help your business grow and thrive.
See innovative new and upcoming trends by visiting booths, learning about the latest product launches, and going to events such as construction demos.

Learn by attending some of the many educational masterclasses, workshops, and discussions led by industry thought leaders. Set yourself up for success by registering for classes and educational events available throughout the week. By the time you're ready to go home, you'll feel enriched and inspired.

Connect and Network to learn about products and solutions to help build your business. Collaborate with industry experts who will share their ideas to help you achieve your goals, improve productivity and increase your business revenue.
<!–– where ––>
Where: The International Builders' Show, Orlando
The International Builders' Show 2022 will be in Orlando, Florida. IBS exhibits are located in the West Hall, South Hall, and West Parking Lot of the Orange County Convention Center.
Orange County Convention Center
9800 International Drive
Orlando, FL 32819

<!–– when ––>
When is IBS 2022?
The International Builders' Show exhibits will be open to visitors:
Tue, Feb 8, 2022 – Thu, Feb 10, 2022
Check the International Builders' Show 2022 Schedule for dates, times, and locations. Some educational events will occur before the official opening dates.
Who Will Be Exhibiting at the International Builders' Show 2022?
With almost 350 events to attend and over 850 businesses represented, the building expo will be packed with exciting things to see and do. Before you go, check out the following links to get the most out of your visit.
The NAHB International Builders' Show (IBS) and the National Kitchen & Bath Industry Show (KBIS) are both located at the Convention Center. Show tickets allow attendees to visit both events during Design and Construction Week. With this in mind, it's an excellent opportunity to see both shows during your visit.
The Florida home expo is undoubtedly a fantastic resource. During the show, attendees can find invaluable information, pursue learning goals while creating networking opportunities. The event brings together more than 90,000 builders, general contractors, remodelers, designers, as well as product specifiers from around the world. Therefore, homebuilders, remodelers, or any professional involved in the construction industry will especially benefit by attending the NAHB builders' expo.
Highlights From the International Builders' Show
The New American Remodel (TNAR)

AGS is honored to be a part of this truly exceptional TNAR construction project. AGS Custom railing systems feature in not one but two remodeled showhomes, TNAR 2020 and TNAR 2022. Reserve your shuttle bus tickets to visit The New American Remodel 2022 and meet the AGS team.

The Olympus horizontal bar railing looks especially beautiful, coupled with the showhome's stunning interior design.

New Product Launch at the International Builders' Show

The International Builders' Show, Las Vegas, 2020. AGS Stainless unveiled the new Cascadia off-the-shelf railing system. The event is an excellent place to see the latest product launches and immerging trends in the home building industry.
AGS Courses and Events at IBS

Lunch and learn was one of many hugely popular courses hosted by AGS Stainless at the International Builders' Show and online. Attendees to the show could earn credits while also enjoying lunch and meeting the AGS team.
To find information about building shows near you, AGS will attend, please visit our event section.

Follow us on social media to learn about new and upcoming courses.