Deciding to do a railing remodel or finding a perfect railing system for a new build is an exciting project. With so many railing options available, the planning process will involve making many decisions about your railing system's look and style. Your railing project ideas might include glass railing, bar railing, or cable railing, to name a few of the custom railing options available from AGS. Often, when choosing a railing system, decisions will be made based on cost or practicality. Still, sometimes, it's just a case of deciding on the perfect railing system that will work for your unique railing project and has a look you desire. In this series of blogs, you will see lots of pictures of railings that demonstrate how top, side, and core drill railing posts look in different architectural settings—helping you to visualize your railing project ideas.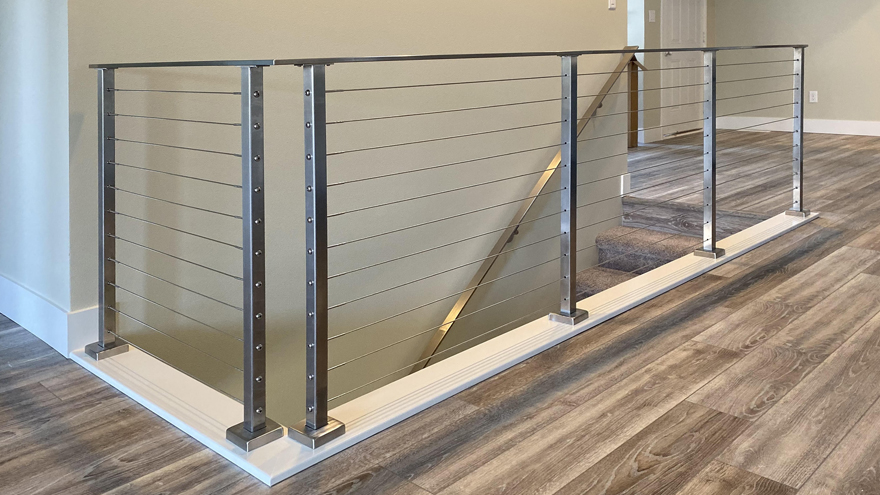 Top mount railing posts with base plate covers look very smart and modern.
How Are Railing Posts Installed?
Several different mounting techniques are used to install stainless steel railing posts on the various floor, stair, or parapet surfaces. Depending on the circumstances, railings are usually side, top, or core mount or a mix of all three. AGS can customize the mount when standard options are not viable.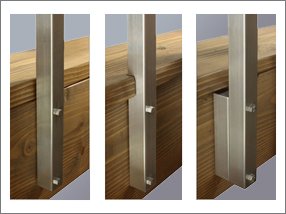 Side mount posts may sometimes include a spacer (right) or a notched decking edge (center).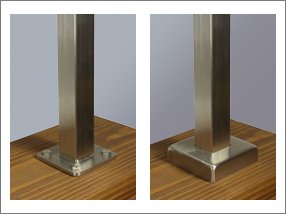 Top mount railing posts, the post on the right, has a base plate cover (optional).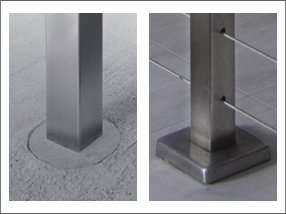 Core drill railing posts in concrete. The post on the right has a base plate cover (optional).
Installing Railing Posts – Other Posts in the Series
Custom Railing Posts for Stairs, Steps, and Ramps
Sometimes, one size does not fit all. Whether you are remodeling a railing system or designing a new building, you will know that getting the job done often involves creating work-around solutions. In certain circumstances, installing a custom railing system may be the only option.
Custom Railing Installation on Stairs

Architects looking for a unique railing system will find that AGS can provide a wide range of railing system options and choices that will look beautiful and work in any given scenario.

This cable railing system installed on a public dock looks stunning as an architectural feature and is perfect for preserving the waterfront view.

Top and Side Mount Railing Posts on Steps and Stairs

One of the many benefits of an AGS railing system is that your railing posts may include a mix of side or top mount bases. It's not uncommon for railing newell posts to be top mount and the steps in between to utilize side mount posts.

This black stair railing system in Florida is suitably smart for a high-end canal-side setting.

Custom Railing Posts With Angled Base Plates for Ramps

AGS designers will work with you or your client to get the best look and value while maintaining the highest safety and code compliance.

Ramp cable railing system with top mount posts on concrete.
Rainier, Top Mount Cable Railing Posts
Rainier cable railing with stainless steel posts looks beautiful with both contemporary and traditional styles of architecture. Cable railing, otherwise known as wire railing, is exceptionally versatile and could be described equally as a luxury, modern or traditional railing style.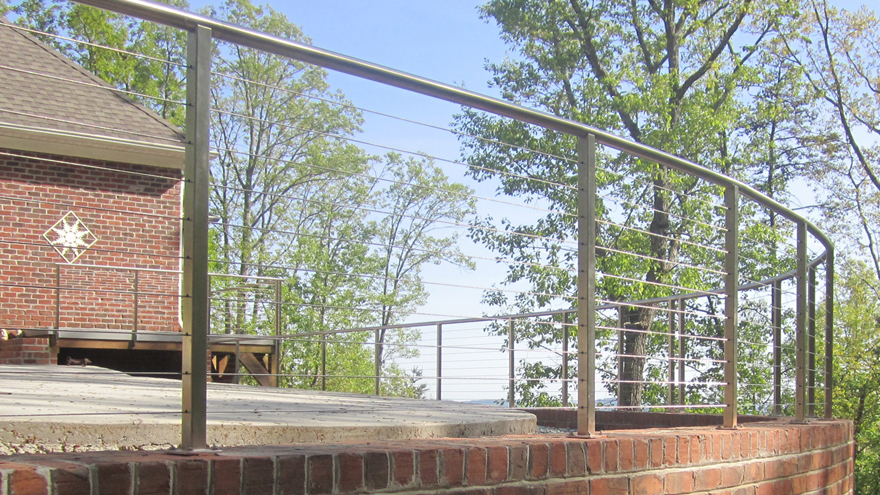 Glacier, Top Mounted Glass / Panel Railing Posts
Glacier glass / panel railing systems are the perfect railing for luxury decks and patios. Or as a railing design feature in high-end buildings. In blustery locations, the glass railing panels also act as an elegant windbreak while preserving the view. The panel infill is custom, and some clients might choose to install tempered glass railing infill, while others might choose something more unique such as mesh railing.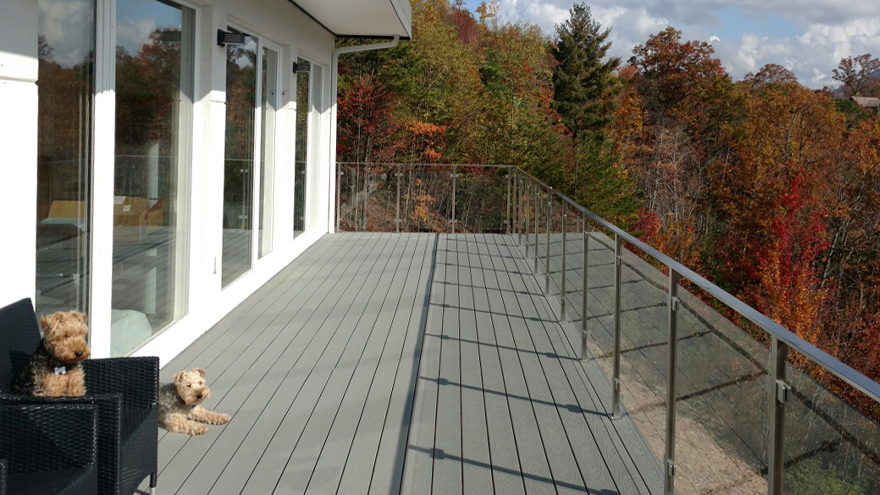 Olympus, Top Mount Bar Railing Posts
Olympus horizontal bar railing systems are elegant but robust. The stylish top mount railing posts lend a modern appeal to any building. Whether installed as an interior or exterior railing system, the stainless steel railing system complements beautifully with many other commonly used materials such as wood, stone, tile, and concrete.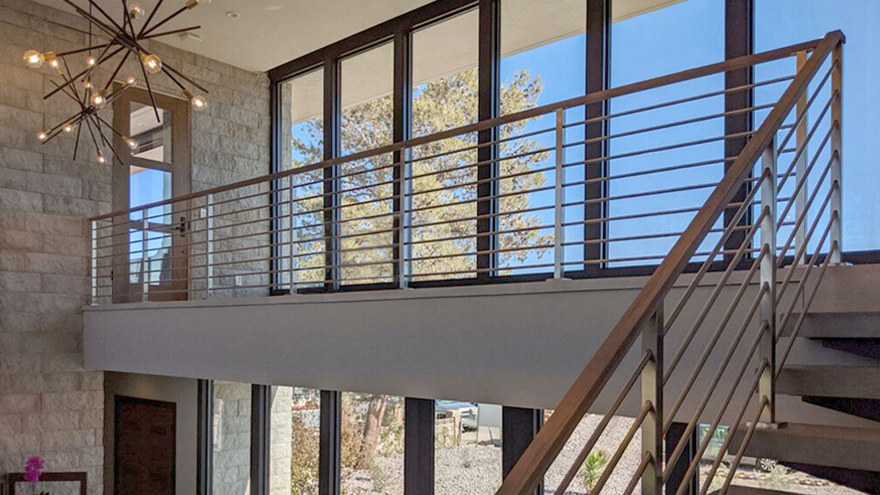 Additional Options
Parapet Top Mount Railing Posts
Posts on a parapet railing system add a grandeur feel to an already luxurious beachfront deck. Installing a rooftop railing system on a pony wall can create extra outdoor living space and add to a property's value.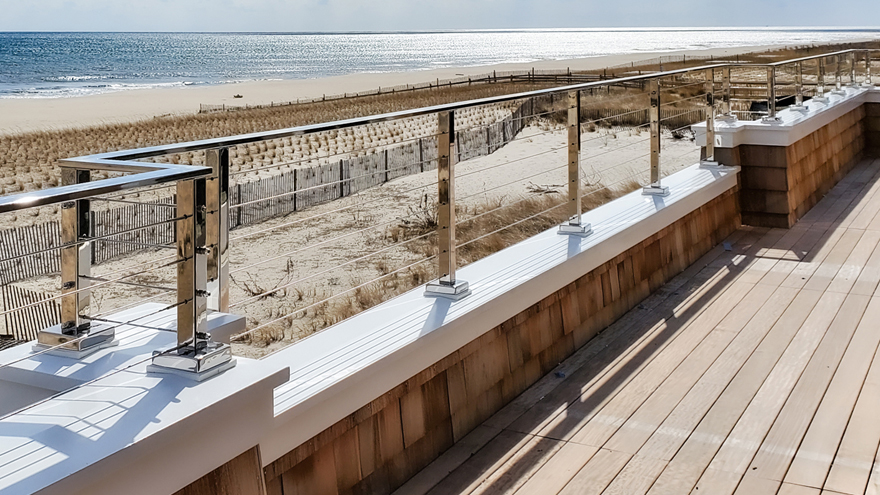 Powder Coated Top Mount Railing Posts
Powder coated railing posts can completely change the look and feel of the railing system. Traditional styles of architecture often look good with top mount railing systems. Architects often pair black railing posts with white stucco buildings or pale concrete patios; using contrast to make a statement is an established design principle.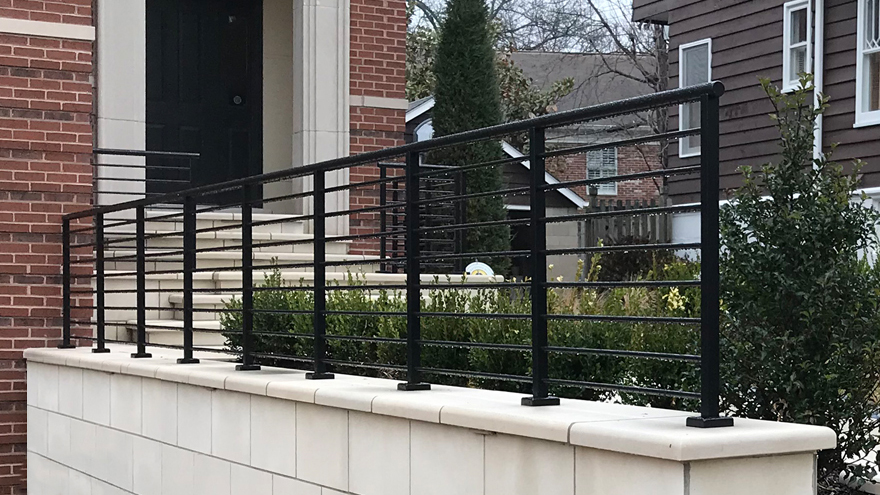 For a
FREE DESIGN CONSULTAION
don't hesitate to contact the AGS Design team.
Installing Railing Posts – Other Posts in the Series