When researching railing system ideas or completing a railing remodel, architects and building professionals will sometimes choose a unique railing system to set their building project apart. Similarly, homeowners usually want to install a distinctive railing system to reflect their sense of style. Choosing between the different railing options and railing finishes enables people to create a personalized railing look. A beautiful handrail and railing system can add the wow factor to an otherwise ordinary building.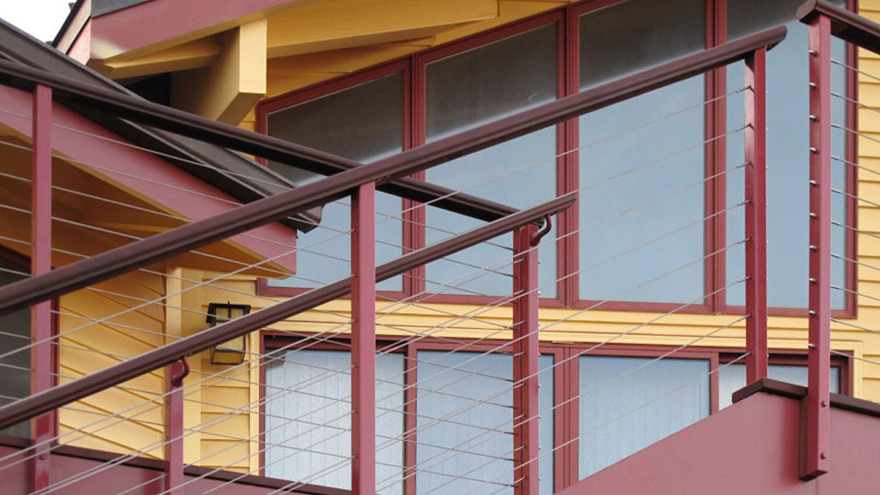 Dusky pink powder coat railing posts and a colored handrail make this unique railing system an architectural feature and an integral part of the building's design scheme.
Interior designers and architects often choose to install customized railing systems to enhance the building's aesthetic. AGS railing systems are available in an almost limitless range of colors and, if desired, textures. We've put together some railing project examples where designers, contractors, or architects have used railing systems with a powder coat finish to produce impressive results.
Distinctive Railing System Creates a One-Off Look
Below is an example of Glacier, a glass or panel railing system. The interior designer has installed a unique railing system with a custom mesh panel infill. The railing system is a unique part of the design scheme and adds to the buildings' overall look.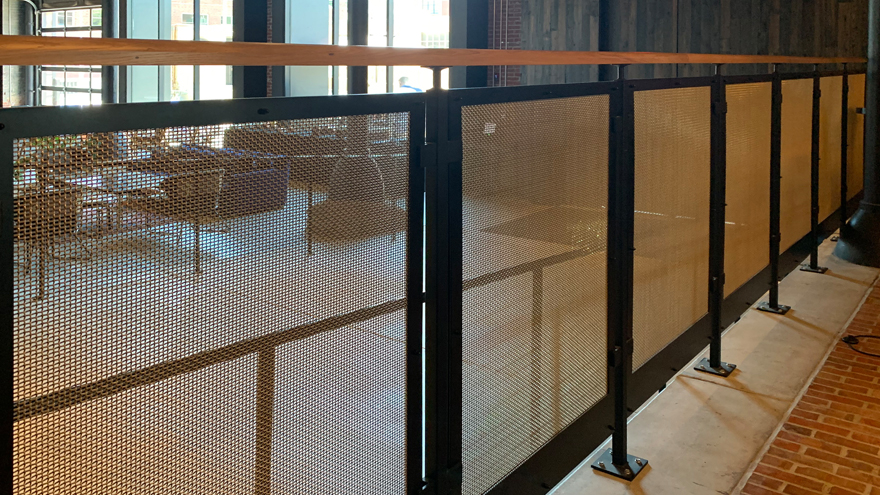 The mesh panel railing provides privacy but is also translucent, which retains a sense of space. One might expect that, to some degree, the panel railing provides some muffling of ambient noise.
Inobtrusive Railing Systems That Blend Into the Background
This railing project below shows how the architect has chosen a dark brown powder coat railing system to blend with the building's exterior. Similarly, the Rainier cable railing blends with and minimizes obstruction to the waterfront view. Combined, both these railing style choices result in optimizing the view and the building's curbside appeal. Powder coat railing systems are highly durable, require little maintenance, and are corrosion resistant.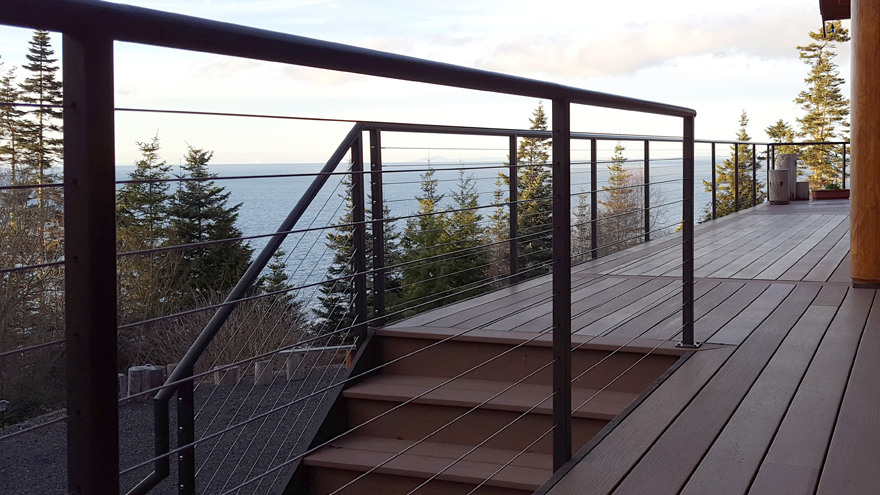 This deck cable railing system blends in with the building's design scheme. The railing posts and railing handrail have been selected to match the window and door frames.
Powder Coat Railing Systems Installed to Compliment Brand Identity
This railing system installed in a Dave and Busters entertainment venue is a vibrant powder coat green and is consistent with their fun and brightly colored brand identity. The interior designer chose to install a Glacier glass / panel custom railing system to enhance the existing design scheme.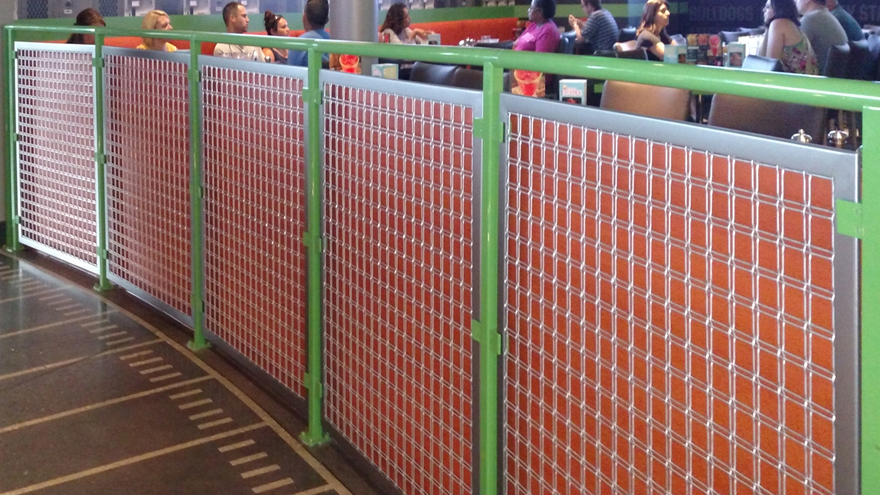 The mesh panel infill allows the color from the seating to show through, adding to the fun, brightly colored design scheme.
Modern Railing Systems With a Classic Look
Rainier Cable Railing

Sometimes railing systems are powder coated to create a smart modern look yet mimic traditional established design styles at the same time. This balcony Rainier cable railing system installed on a light-colored building shows how effective contrast can be in creating a beautiful aesthetic.

Top mount black railing posts look classic, but the cable railing infill gives the railing design a beautiful modern appearance.

Glacier Glass / Panel Railing

Not only do glass panels railing systems provide the benefit of an unobstructed view of the water, but they act as a windbreak too. Here the black powder coat posts blend beautifully with both the landscape and building. The Glacier glass panel balcony railing system with black powder coat posts provides a clear waterfront view.

The glass panel balcony railing system with black powder coat posts provides a clear waterfront view.

Olympus Bar Railing

This Olympus bar railing system has a black powder coat finish and is corrosion-resistant. Compared to other alternative railing types, AGS stainless steel railings with a powder coat finish will weather well.

This smart Olympus horizontal bar railing system with top mount posts perfectly suits the traditional but modern setting.
To see more powder coat handrails please visit our powder coat railing photo gallery.