Make the most of your summer days past sundown with deck lighting. Enjoying simple family time or entertaining friends after the sun goes down has never been easier. Outdoor lighting also provides safety and lights up dark decks, patios and other outdoor living areas. Whether you have a tiny balcony or a sprawling deck and backyard, having great lighting outdoors will really enhance your space.
String Lights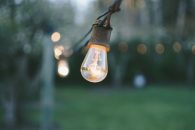 String lighting is an easy, inexpensive, and attractive option to light your outdoor space. You will need to have an accessible outlet and structures to attach the lights. Other than that, you are only limited by your imagination.
StarLight LED Light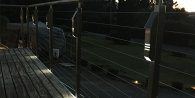 This versatile and attractive
solar light
will add a unique element of interest to any deck or outdoor area. You can place on an existing deck railing, or in conjuction with your Clearview® Railing System. We also have a
stake package
so you can place Starlight anywhere in your outdoor space!
Torch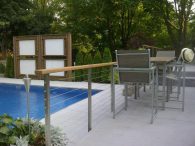 Torches are the essential accessories to a perfect summer gathering! Light up warm evenings with the beautiful ambiance of torches. Tiki torches come in many different designs that will suit any home or business. And bonus, some repel mosquitos!
Lanterns Candles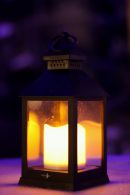 From rustic and farmhouse to contemporary and eclectic, no matter what the style of your porch or outdoor living space, there is an awesome lantern lighting fixture out there that fits in seamlessly. Decorative lanterns create an intimate and cozy vibe for your outdoor space whether you use LED or flame candles.
Landscape Lighting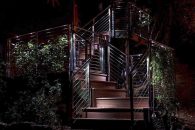 Well-planned outdoor lighting is essential to curb appeal. The right combination of outdoor lighting fixtures highlights architecture and showcases landscaping, creating an appealing and welcoming sight to both passersby and guests alike.
Fire Pits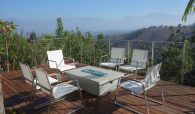 Fire pits always brings people together. Set a few Adirondack chairs around one, and you have an alternative seating area, too. A fire pit is perfect for entertaining or to have a cozy evening with family. Plan to have marshmallows, chocolate bars and graham crackers tucked away – any season is a good season for s'mores!