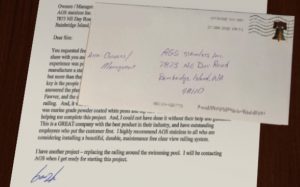 In this day in age, most of our correspondence with customers is electronic. In spite of the lost art of hand-written letters, from time to time, we do receive a mailed letter of appreciation from one of our customers. Even as a business, there is just something so special about receiving mail that isn't bills or junk.
We love receiving customer feedback, reviews and photographs
Mr. U recently purchased a white powder coated cable railing system for his home in Washington state. In good business, we ask our customers for a review. As a result, Mr. U. mailed us his review.

January 6, 2018

Owners / Management
AGS stainless Inc.
7873 NE Day Road
Bainbridge Island, WA 98110

Dear Sirs:
You requested feedback about my experience with your company. Be assured, I am pleased to share with you and anyone who may be considering in hiring you for their railing project that my experience was positive. From my perspective, AGS is a GREAT company to design and manufacture a stainless steel railing system. Obviously, the owners saw a business opportunity, but more than that – they had a vision about what is required to be a successful business, and the key is the people who work for them. I was so impressed with everyone – the receptionist who answered the phone, the lady who works in billing and accounting, to the their designer, Mr Cody Fawver, and the owners – all help me accomplish my goal of installing a "clear view" deck railing. And, it was not a simple project – this had numerous different angles and lengths, and it was marine grade powder coated white posts and top rail. Collectively, they all contributed to helping me complete this project. And, I could not have done it without their help and guidance. This is a GREAT company with the best product in their industry, and have outstanding employees who put the customer first. I highly recommend AGS stainless to all who are considering installing a beautiful, durable, maintenance free clear view railing system.
I have another project – replacing the railing around the swimming pool. I will be contacting AGS when I get ready for starting this project.
J.U.
Clarkston, WA


---
Dear Mr. U,
Thank you so very much for the letter you sent complimenting Laura, our Receptionist, Ri in billing and accounting, and Cody, your project detailer. We know that you are very busy and much appreciate the time that you took to let us know that AGS customer service is doing a great job for you.
We have passed along your kind words to our entire team. We are so thankful to have you as one of our awesome customers, and truly appreciate your positive feedback and support!
Kindest regards,
The entire AGS team

Thank you for your business
One of the greatest experiences anyone in customer service has is to know that their customer is happy.
One of AGS's top priorities is the experience our customers have. From the first phone/email to detailing your specific project to delivery and installation, we strive to consistently meet or exceed customer expectations. AGS is committed to providing outstanding customer service as well as high-quality railing systems and railing accessories throughout the world.
We appreciate every one of our customers who take the time to give us feedback, reviews and especially photos! Whether we receive it in an email, Facebook, online review or through the mail our entire team is grateful! Our customers are why we are here. Simply put, thank you for your business!