Ordering from AGS puts the industries best on your project!
Because AGS specializes in railing systems, and because we have been building nothing but railing systems for more than 20-years; when you order from us you put the skills and expertise of the industry's most talented railing fabricators to work on your project…making you in effect, a railing pro! For example, take a look at these interior stairs. First, try to imagine that instead of AGS Stainless railings the homeowner installed a solid 3' wall with an attached handrail. You know exactly what that would look like, right? The area at the stairs would be completely blocked off, walled in. Instead of going with a traditional wall and handrail solution, this homeowner ordered a stainless steel railing system from AGS. So instead of being an eyesore, the railings actually open up the entire area and add to the beauty to this living space. What a difference!
Now, imagine also that instead of allowing AGS to build this entire railing system for him, so that all he needed to do was to install the railings with a few simple hand tools, the homeowner had instead bought a bunch of bulk railing product from the local building products warehouse, came home and then set about calculating the angles for these stairs, cutting all the posts to exactly the right length, dealing with the drop-and-turn in the handrail at the corner (known in the industry as a gooseneck) accurately drilling the holes in all the posts for the cable, etc., etc… Because of what's involved, a project like this is not something a typical homeowner would undertake by themselves. To replace interior stair railings, most homeowners would have to hire a contractor, which would result in a substantial increase in project costs. However, when you order you railings from AGS, we handle all the hard parts of the project for you. It doesn't matter how difficult your stairs may be, we have been doing this for more than 20-years and there is no railing project challenge that we have not dealt with. Because we are the railing system pro's, you don't have to be!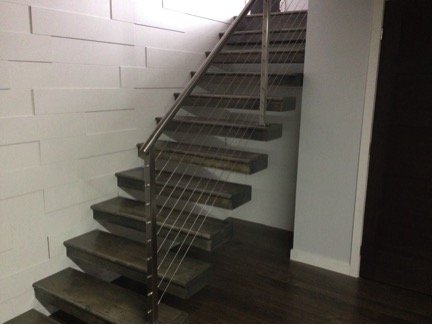 MEDIA: To download hi-resolution images of AGS Stainless products, visit: AGS Media Site (
http://agsstainless.com/press-media/
)