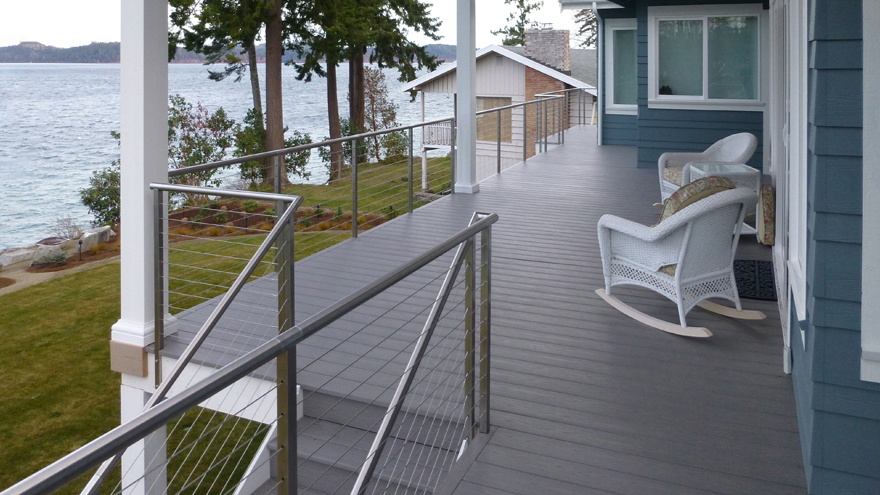 Cable deck rail by AGS Stainless.
What is a Deck Railing?
A deck railing is a railing that has been specially designed for an outdoor deck space. AGS Stainless designs and manufactures the Rainier cable deck railing, the Glacier panel deck railing, and the Olympus bar deck railing under the Clearview® brand.
Table of Contents
Schedule a
FREE DESIGN CONSULTATION
or continue reading this deck railing guide to learn more about how to utilize materials, infill, hardware, accessories, furniture, plants, and experienced professionals for creating a beautiful and distinctive look on a deck.
1. Learn About the Pros and Cons of Various Deck Railing Materials
Glass
Tempered glass panel railing systems offer unmatched elegance. Check out stainless steel and glass deck railing reviews on Google or Houzz.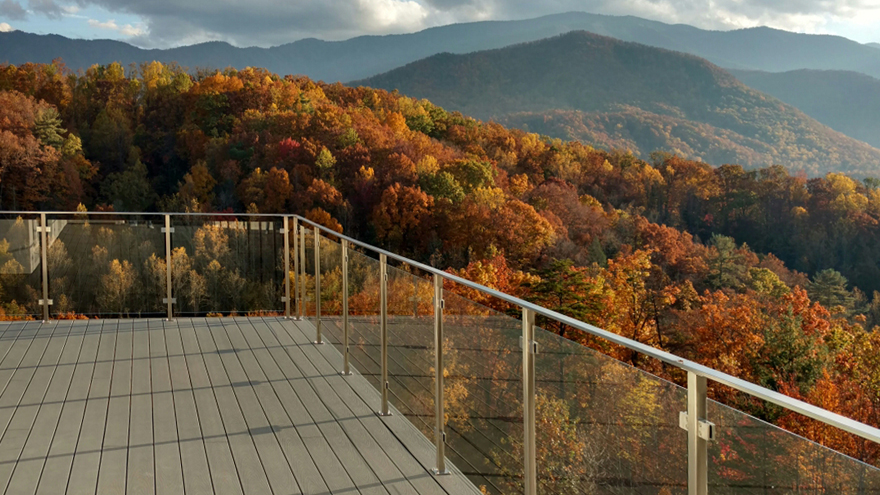 A stainless steel and glass deck railing system looks beautiful and offers a contemporary style.
Aluminum
Aluminum deck railing kits might look pretty once fully assembled. However, aluminum is a soft metal, which means that even painted alloys will chip, corrode, dent, ding, or scratch very easily. Friends don't let friends buy aluminum railings.
Wood
Wood is a common building material and completely natural. Unfortunately, a wooden deck railing tends to rot if it isn't treated. Rot should be avoided at all costs because it has the potential to create a very dangerous situation for an elevated deck by undermining the structural integrity of deck railing balusters. The best kind of wood for a deck railing is cedar because it is durable and beautiful. Spruce, pine, or fir are much cheaper options that look very similar when a colorant is applied in addition to anti-rot chemicals. A wood deck railing is a good option as long as upkeep is not a problem. It should be noted that splinters, fading, and warpage can mar the look if the surface isn't refinished periodically.
Plastic
At first look, vinyl deck railing kits may sound nice, but vinyl is really just a fancy way of saying plastic. On top of that, it has the potential to crack. Vinyl could work for a cheap deck rail, but installing a vinyl railing should be avoided if an upscale look is the goal. Composite deck railings are intended to be inexpensive alternatives to natural wood that resist rot. Composites are manufactured by combining natural wood, plastic, and colorants. Not many people would view a finished composite rail as anything near elegant. Furthermore, color changes would require completely removing and replacing the railing because many composites will not accept paint. When in doubt, remember that inexpensive often looks cheap.
Wrought Iron
Wrought iron can give a deck railing an old fashioned look that pairs well with traditional designs. A black deck railing is often made of wrought iron and covered in a coat of paint. Wrought iron is stronger than aluminum but requires more maintenance than stainless steel. This extra maintenance involves painting to resist rust. An increased cost of ownership should be taken into account before deciding on wrought iron.
Stainless Steel
A stainless steel deck railing offers a clean look with the best long-term value. Stainless steel deck railing systems are low-maintenance as the word, stainless, implies. AGS Stainless sells a variety of stainless steel deck rails under the Clearview® brand for a DIY installation or an installation with the help of a contractor.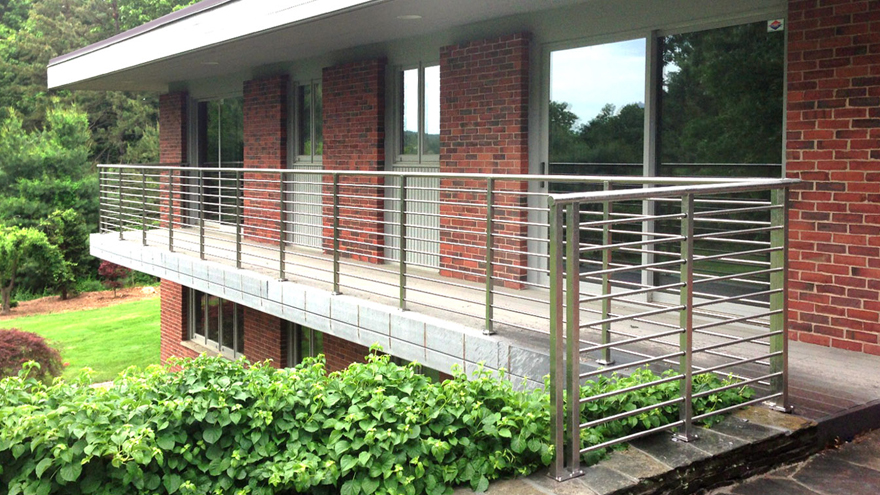 Horizontal bar stainless steel deck railing by AGS Stainless.
2. Become Familiar with the Best Deck Railing Infill Options
Cable Deck Railing
For a deck wire railing look, one should consider Rainier stainless steel cable deck railing systems by AGS Stainless. A deck railing cable system is a gorgeous and inexpensive deck railing option. Deck railing cables are well known for being able to create an illusion of space and preserve a view. A stainless steel cable deck railing is colloquially known as a wire deck railing in the construction industry.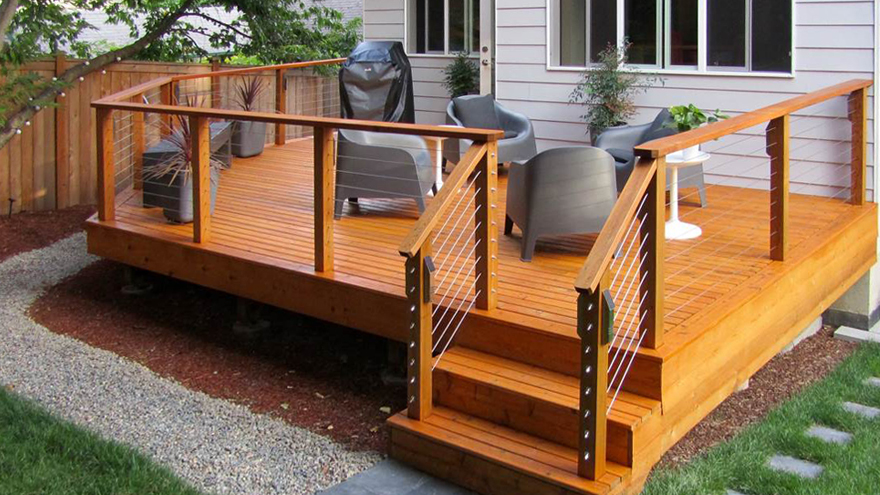 Electropolished cable railing installed with wood railing posts.
AGS Stainless uses stainless steel cables, which have gone through an electropolishing process, as infill instead of wires to provide an affordable deck railing solution without that cheap deck railing feel. A stainless cable deck railing is much more durable than alternatives because it resists corrosion and requires very little maintenance in the form of cleaning.
How-To Video: Deck Cable Railing Do-It-Yourself (DIY)
To learn more about how to build a deck railing with AGS hardware or how to install a deck railing under the Clearview® brand, watch railing installation videos by AGS Stainless. Figuring out how to build a cable deck railing is quick and easy with the following deck cable railing installation video.
Some cable deck railing ideas for infill include using vertical or horizontal cables. A stainless steel cable for a deck railing can be shipped with factory swaging or DIY swaging. DIY swaging with an AGS cable railing tool set might still be necessary if a deck includes stairs.
Pro Tip: When performing a deck railing installation, always make sure that deck railing balusters are level. In addition, deck railing posts should be aligned with the edge of a deck before attaching them with deck railing anchors like stainless steel lag screws.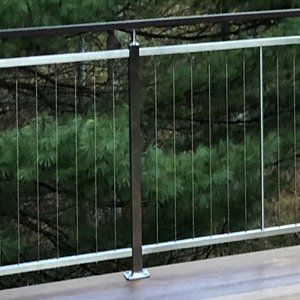 Vertical cable railing.
---
Panel Deck Railing
Glacier panel railing systems by AGS Stainless use stainless steel clamps to mount decorative deck railing panels. Clear deck railing panels are made out of elegant tempered glass to provide the perfect mix of strength and beauty without sacrificing performance.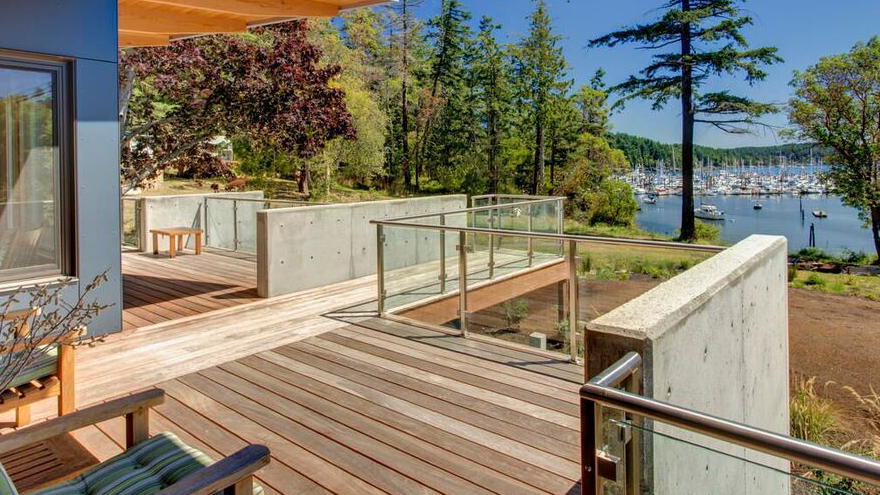 Glass panel deck railing by AGS Stainless.
Deck Railing Alternative Panel Infill Materials
Alternatively, plastic, metal, or wire mesh deck railing panels are available to maintain a decorative design that is extremely versatile and practical.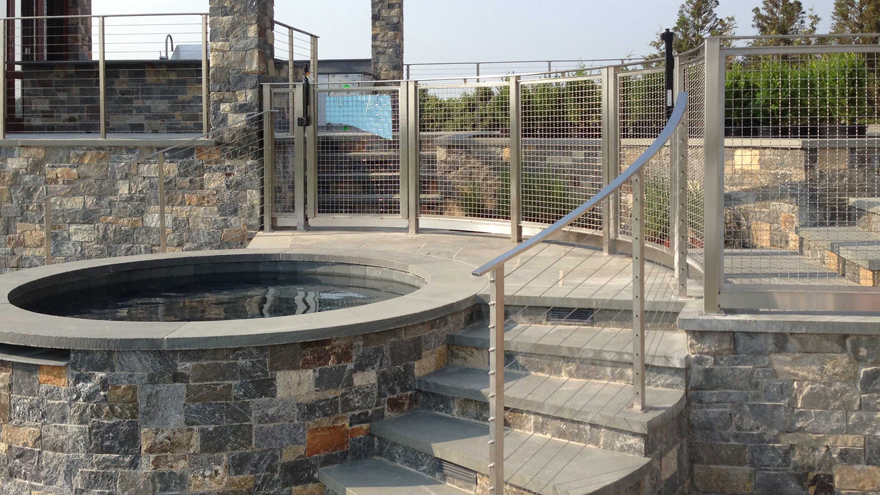 Mesh panel infill paired with stair cable railing by AGS Stainless.
How-To Video: How to Install a Glass Railing System
This video explains best practices for installing a glass railing system.
Deck Bar Railing
An Olympus bar railing system by AGS Stainless has deck railing bars that can be vertical or horizontal. Check out this metal bar railing gallery to learn more about horizontal deck railing designs and get vertical deck railing ideas. A horizontal metal deck railing is a perfect option to keep things simple. Stainless steel components with a brushed finish are the most popular. On the other hand, components like top rails and posts with a powder coating or a brushed finish are becoming much more widespread.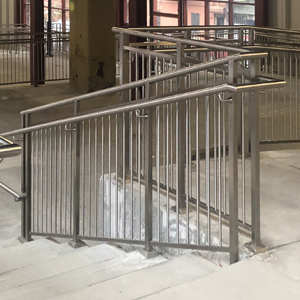 Vertical stair bar railing.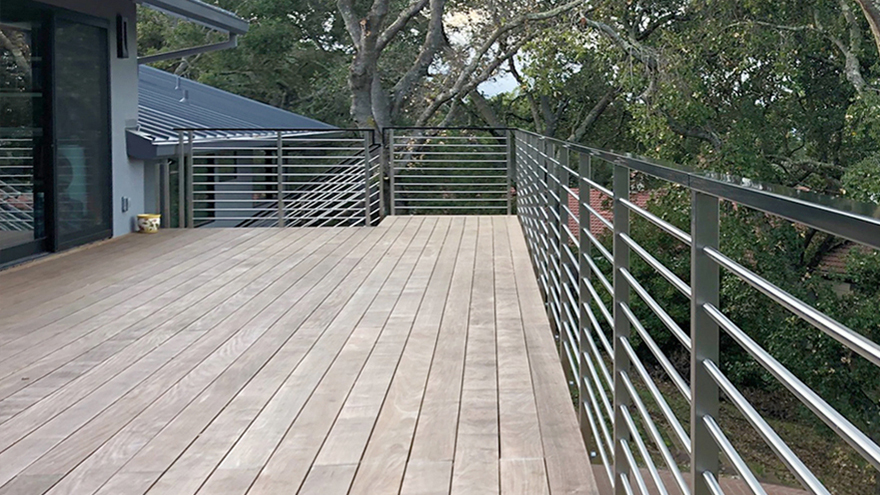 Brushed bar railing on a deck.
How-To Video: How to Install a Horizontal Bar Railing System
This video discusses the steps for installing a horizontal bar railing system.
3. Pick Out Deck Railing Hardware and Deck Railing Accessories
Always Order Directly from Trusted Manufacturers
To modify a few deck railing sections, buy deck railing components online. Make sure to exercise caution when ordering deck railing parts since those deck railing brackets that are available on Amazon.com probably won't fit any deck railing. That is why it is always better to work with a company like AGS Stainless that offers design consultations for custom projects.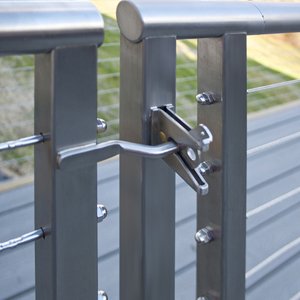 Railing system with gate.
Beware Potential Fraud from Manufacturers Based in Other Countries
Parts of a deck railing system can also be made from a grade of steel that isn't nearly as corrosion resistant as A316. Additionally, a product listing might identify the grade as A316, but that isn't always the case because fraud is so common with some sellers. There is no reason to buy gold from a random seller on Amazon.com, so why would a stainless steel railing system be any different? On the other hand, Manufacturers based in the United States of America are heavily regulated and frequently reviewed online. To obtain a deck railing replacement part, visit the AGS Stainless E-commerce store.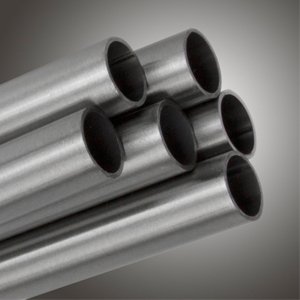 A316 stainless infill tubes.
Learn More About Deck Railing Hardware
Check out DIY videos by AGS Stainless to learn more about best practices for installing deck railing posts. Having several extra deck railing pieces can be avoided by following step-by-step installation instructions. The following photos demonstrate how to install cable deck railing hardware the right way to avoid making mistakes. On the bright side, wood is cheap and widely available. However, AGS Stainless wants to make sure that doesn't happen.
Cable Railing Hardware Infographic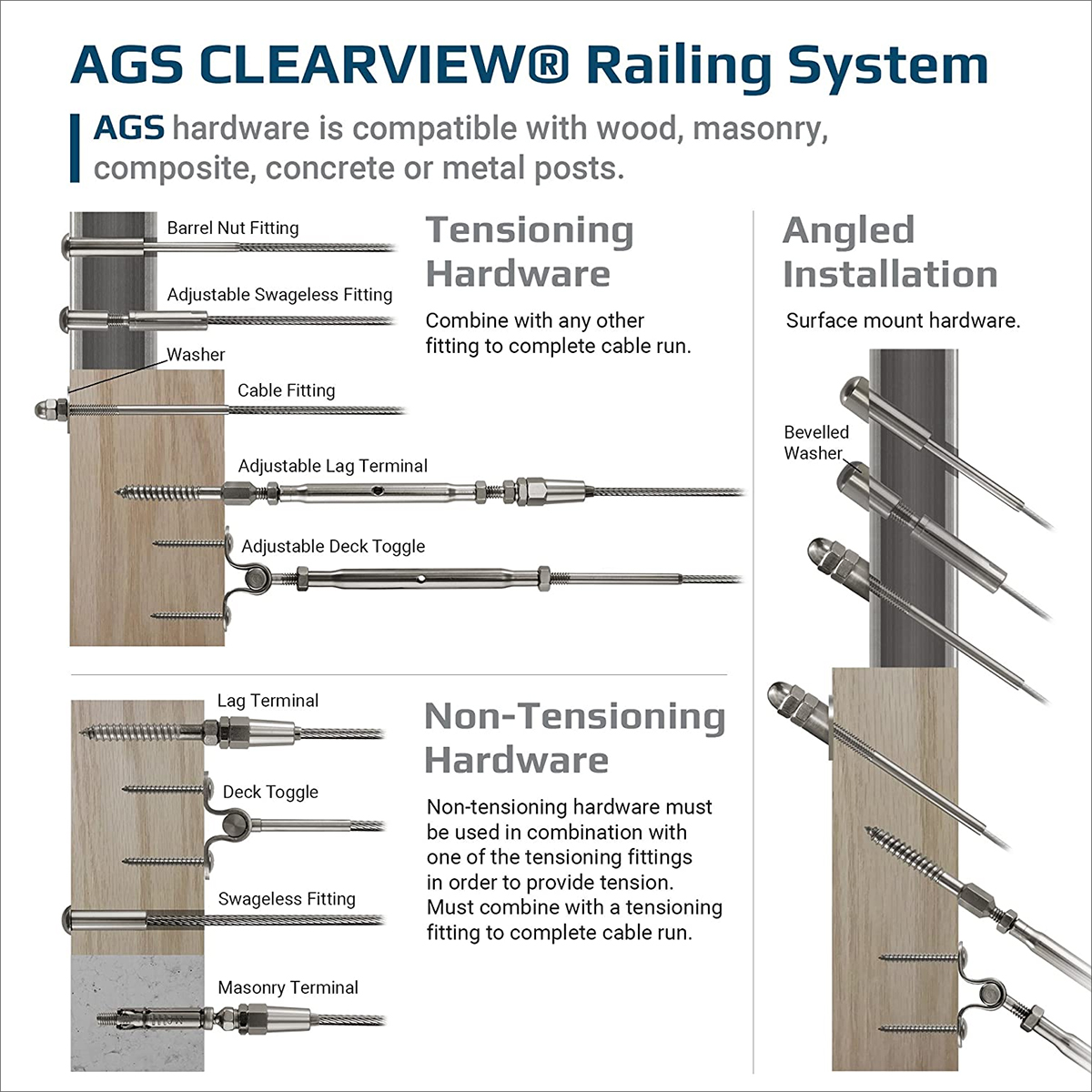 This infographic includes various types of hardware that AGS Stainless sells for cable railing systems.
---
Deck Railing Accessories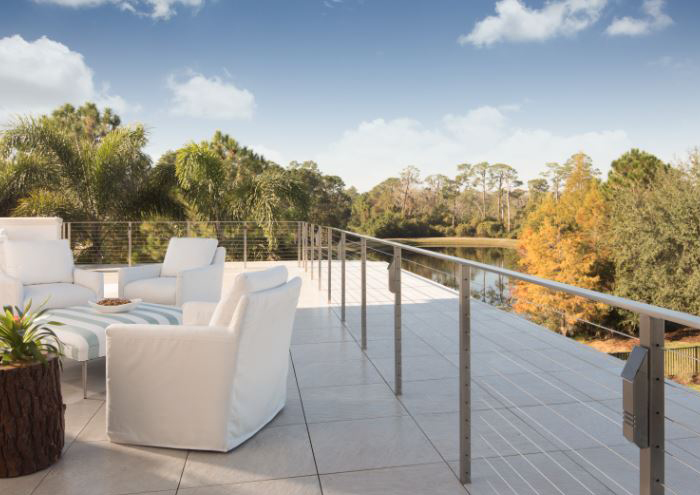 Deck railing post with LED Lighting.
Deck railing lighting is a great way to make a railing system stand out. When choosing lighting for your deck, consider the fact that StarLights by AGS Stainless will add a unique element of interest to any deck or outdoor area and "let the sun light up your night" with solar power.
StarLight solar deck railing lights can be attached by using a drill and a metal mounting kit.
Starlight LED installed on deck stair railing.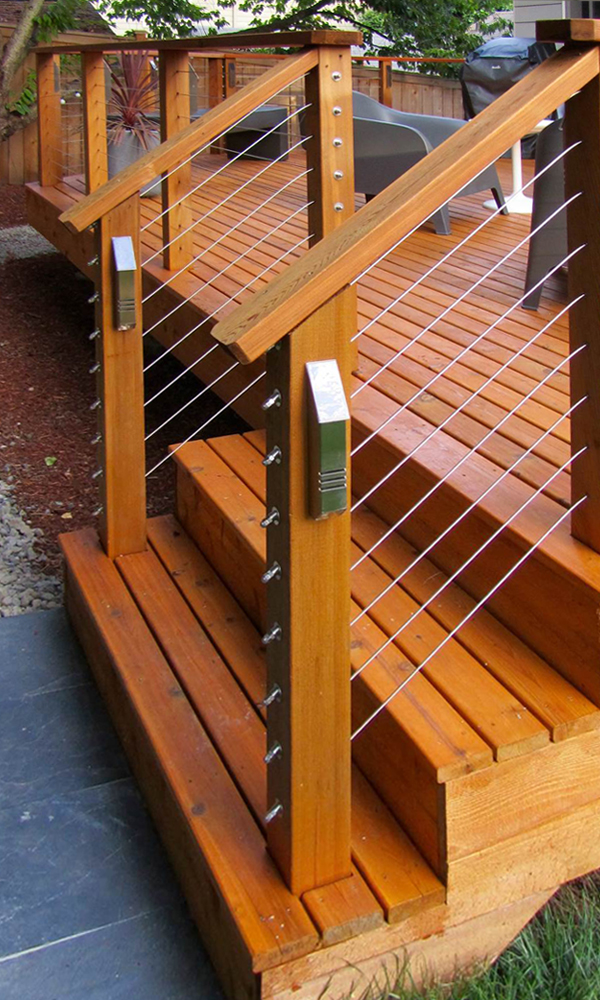 Starlight LED light mounted on wood posts.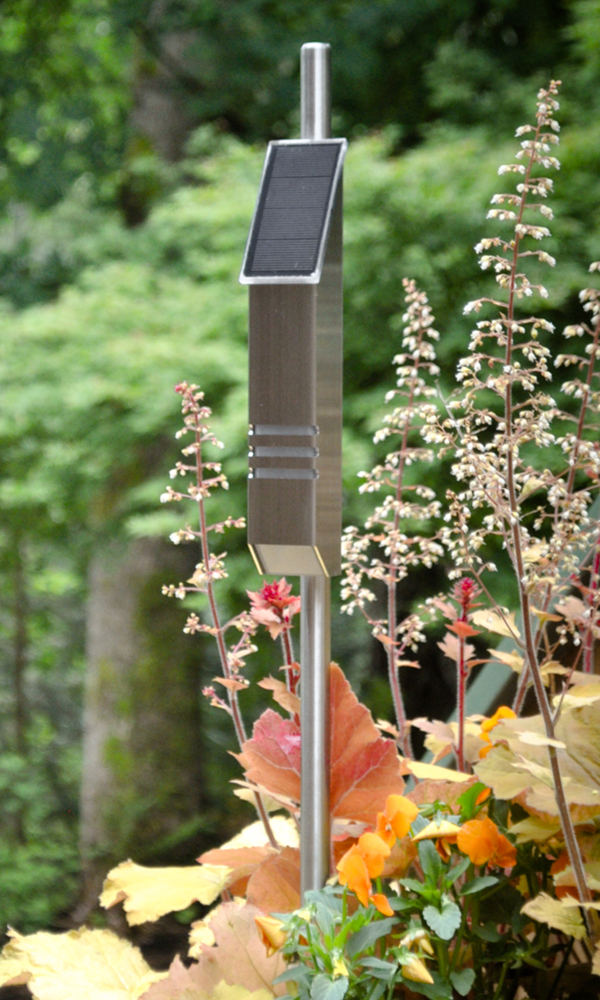 StarLight Garden Stakes.
Alternatively, you could use StarLight garden stakes by AGS Stainless to "light up the night anywhere in your yard" by integrating accent lights into an already spectacular landscape.
There is no reason to string lights on a deck railing when you can use deck railing post lights to achieve a similar effect.
Low voltage deck railing lights like StarLights use solar-rechargeable NiMH batteries as a power supply.
Additionally, a StarLight solar light for a deck railing is made up of a one-piece stainless steel outer shell that holds a water-resistant LED light assembly.
AGS Stainless can make deck railing light ideas a reality by using a precise fiber laser cutting machine to create custom outer shells for StarLights.
How-To Video: How to Install Deck Railing Accessories Like StarLights
This video covers how to install StarLights on a railing system by using wood or metal mounting screws and a power drill.
Otherwise, you could pick from a variety of popular and affordable styles like Classic, Black Classic, Bubbles, Lantern, and Orbs that are included in the Designer Series.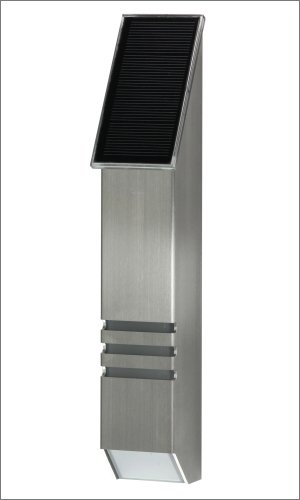 Classic Starlight.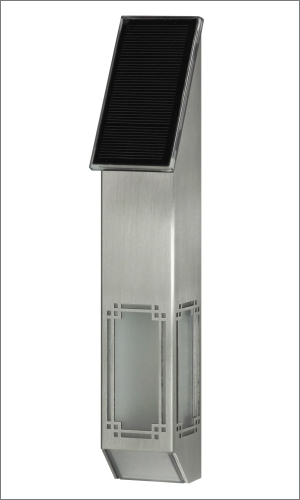 StarLight lantern design.
StarLight orbs design.
FAQ Video: What is the Laser Cutting Process for Custom StarLight Outer Shells?
This video shows how AGS Stainless cuts designs for stainless steel outer shells on StarLights. If you have an idea for a custom design that doesn't defy the laws of physics, AGS Stainless can make it happen.
4. Express Your Creativity by Choosing Deck Furniture and Plants
Deck Furniture
Selecting furniture to complement your deck railing style is a unique opportunity to express your creativity and display your sophistication. Any furnishings should match your personality and make your outdoor space feel more comfortable. Shade umbrellas, tables, lounge chairs, loveseats, and sofas are a great place to start.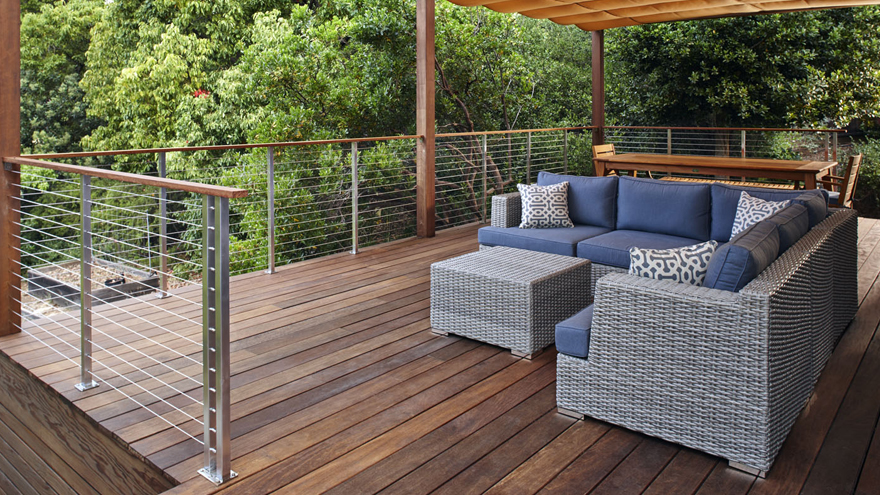 Deck cable railing with stainless railing posts.
Deck Railing Planters
One trend that seems to get hotter every year is deck railing flower planters because they give you the ability to create a gorgeous garden with limited time and space. Planters are decorative containers that can be used to grow herbs, fruits, vegetables, or flowers. A deck railing planter box is a rectangular container, but planters come in all shapes and sizes. Some DIY ideas include placing planters next to your outdoor deck railing system, using deck railing hooks to hang your planters, or buying adjustable deck railing planters that can be modified to grip the top rail of your railing system. With so many options available, it is easy to see why planters can be a great choice for any deck railing design.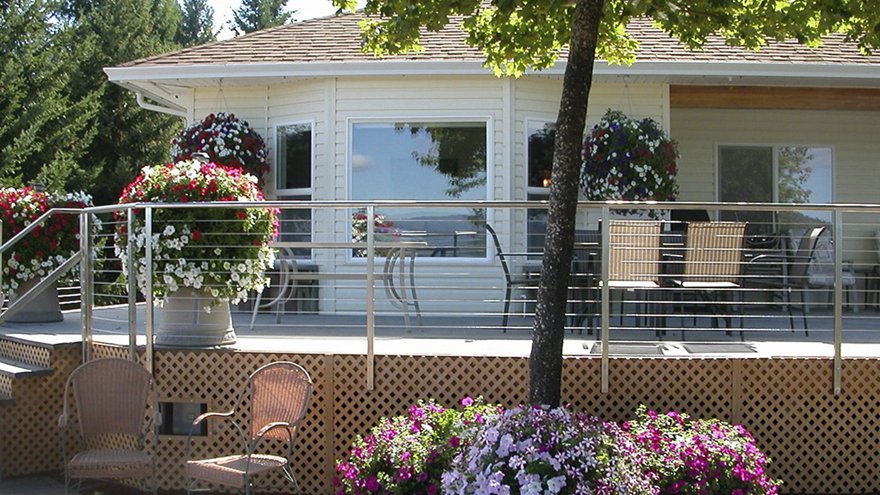 Metal deck cable railing.
5. Buy a Complete Railing System from a Company with Deck Railing Designers and Engineers
Prefabricated Deck Railing Options
A major benefit of prefabricated deck railings by AGS Stainless is that they are available in many price ranges to stay within your budget. Design consultants at AGS Stainless can recommend different metal deck railing designs based on what you are looking for in a custom prefab deck railing.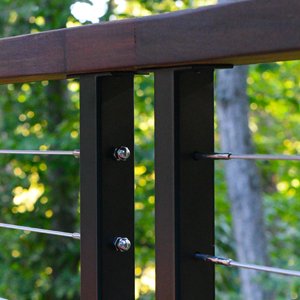 Standard cable railing fitting with powder coat railing post.
You can probably imagine how difficult it would be to install a side mount deck railing without a prefabricated kit specially designed for that purpose.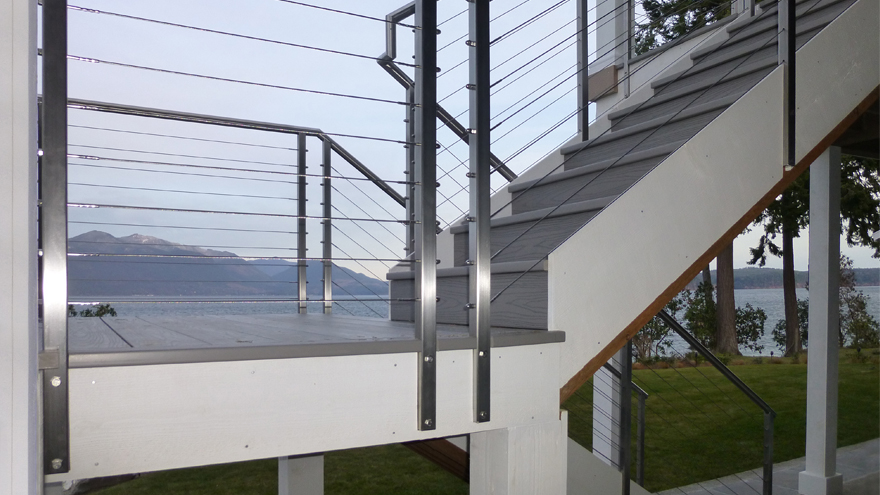 Side mounted deck railing system.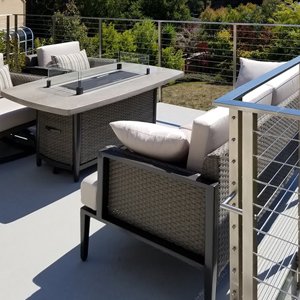 One Piece Metal Deck Post by AGS Stainless.
Some prefabricated deck railing post kits from other deck railing manufacturers have 10 or more pieces to assemble first before mounting the posts. You'll be happy to hear that a stainless steel deck railing post by AGS Stainless is cut from a single piece of metal. Since posts by AGS Stainless don't require cutting, welding, grinding, or finishing, all you have to do is take them out of the small, easy-to-handle boxes that are conveniently shipped to your address via UPS or FedEx.
FAQ Video: What is Prefabrication and Modular Construction?
This video provides an introduction to modular construction and features prefabricated railing systems by AGS Stainless for a faster and more efficient installation.
Deck Railing Regulations
Another benefit of choosing AGS Stainless is that you won't have to worry about violating deck railing code requirements with serious penalties. Designers at AGS Stainless specialize in custom deck railings and strive to meet deck railing regulations outlined in the International Building Code (IBC) or any local code in your area.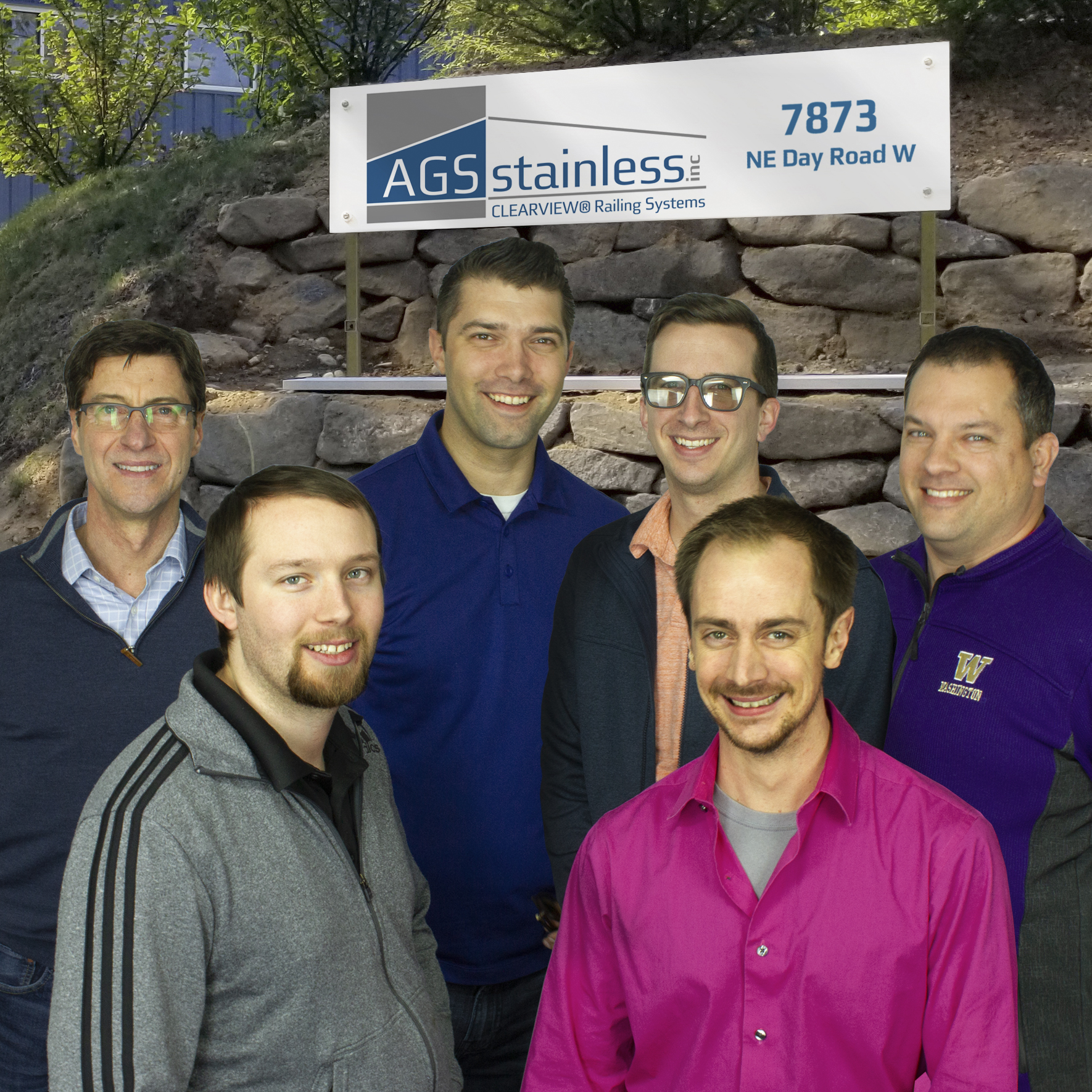 AGS Stainless designers and Estimators.
The consequences of having a railing that doesn't comply with the IBC could cost you thousands of dollars down the line. When you sell your home, a building inspector will need to approve any modifications that you made after buying it. If your railing doesn't meet code, you could have to completely tear out the railing system and pay to have it replaced with one that is compliant. The main regulation that could result in this kind of situation is the deck railing spacing code. Regulated areas include deck railing post load, vertical deck railing baluster spacing, and horizontal deck railing infill spacing. Post spacing for deck railings is regulated to ensure a minimal sideload and baluster spacing is regulated to prevent children from getting their heads stuck in railings. The majority of states in America follow the IBC and may also have a local deck railing height code that is enforced to stop people from falling over the top rail.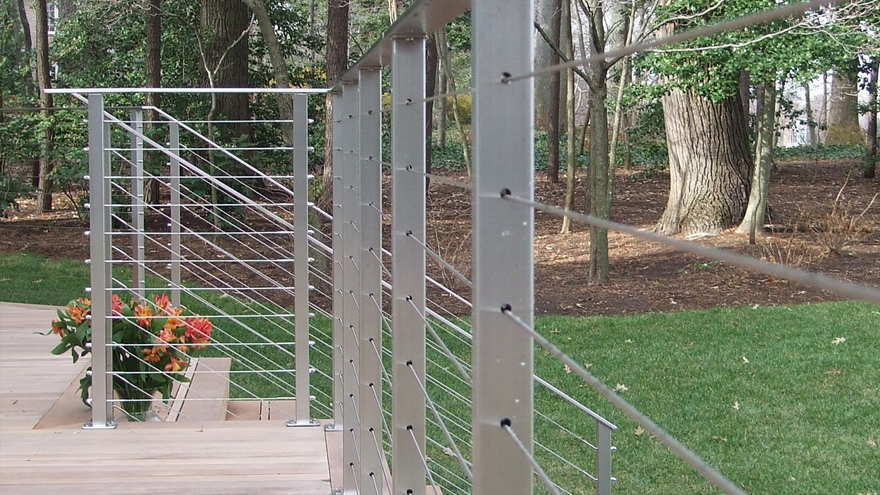 Deck railing must meet code.
A deck stair railing code might require a sturdy material like stainless steel for the handrail on your deck's steps. Additionally, the current code requires top rails and handrails to be a certain thickness for preventing bending and providing a safe grip. AGS Stainless engineering staff will ensure that your railing meets code to keep you, your friends, and your family safe.
Why Buy a Deck Railing from AGS Stainless?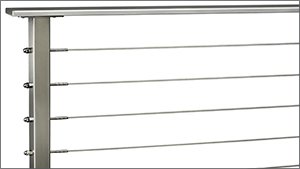 Rainier cable deck rail.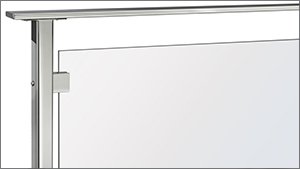 Glacier panel deck rail.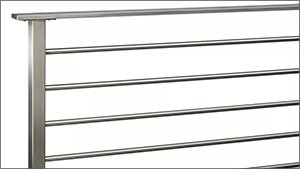 Olympus bar deck rail.
No matter the regulatory environment, we will work with you to devise simple deck railing plans and simple deck railing designs, which are easy to understand and always meet your specifications. Then we will ship everything to you in convenient, custom deck railing kits with step-by-step installation instructions. AGS Stainless offers a variety of ways to customize your railing system by letting you choose important aspects like the type of top rail, infill, finish, and mounting method. The best deck railing systems on the market today are Rainier , Glacier, and Olympus , which fall under the Clearview® brand. AGS Stainless is a leading deck railing manufacturer based in the United States of America. Contact AGS Stainless today for a FREE DESIGN CONSULTATION.