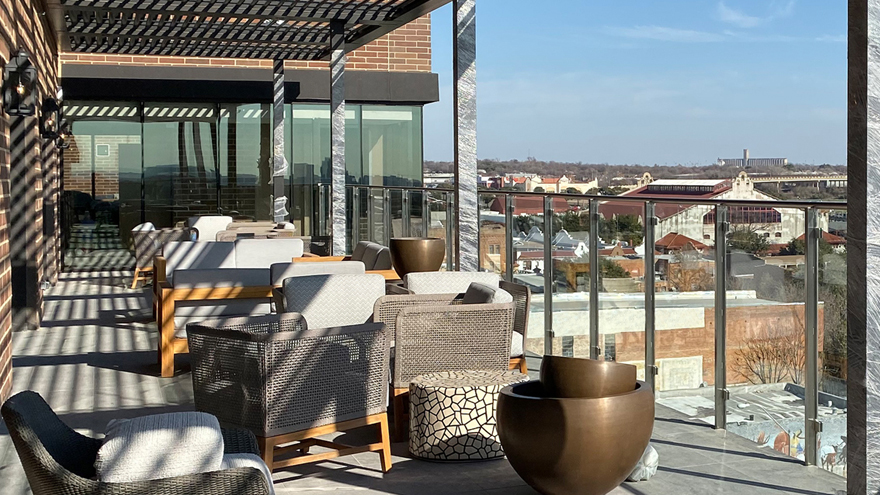 What is a Balcony Railing?
A balcony railing is a railing that has been specially designed for a balcony. AGS Stainless designs and manufactures the Rainier cable balcony railing, the Glacier panel balcony railing, and the Olympus bar balcony railing under the Clearview® brand.
Table of Contents
Schedule a FREE DESIGN CONSULTATION or continue reading to learn more about types of balcony railings, balcony railing materials, balcony railing infill, balcony railing hardware, balcony furniture, balcony grills, balcony lighting accessories, balcony privacy, balcony gardening, balcony designs, balcony railing compliance, and balcony railing kits.
1. Residential and Commercial Balcony Railings Improve Profit Margins
Two types of balcony railings include commercial balcony railings and residential balcony railings.
Commercial Balcony Railing

Commercial Balcony Rail by AGS Stainless

A commercial balcony railing is a cost-effective way to attract tenants. It is not surprising that multi-family housing developments with commercial balcony railings rent faster and for higher prices.

Residential Balcony Railing

A residential balcony railing adds a unique point of interest that will be sure to impress. This particular house balcony railing design seamlessly integrates with a contemporary exterior to display a sense of style and sophistication. Staging is very important when there is a need to sell and a home balcony railing provides more curb appeal than alternatives that might not be noticed by a prospective buyer.

Residential Balcony Rail by AGS Stainless
2. Balcony Railing Material Choices Can Increase or Decrease Project Costs
There are many balcony railing materials, which include plastic, wood, aluminum, glass, iron, and stainless steel.
Plastic

A composite or vinyl balcony railing is low maintenance and usually comes in a variety of colors. On the other hand, composite and vinyl are forms of plastic, which could be associated with a lower price. It may be impossible to hide this cheap look because paint doesn't tend to stick to plastic balcony railings.

Wood

Wood Balcony Rail by AGS Stainless

Wooden balcony railing designs with cable infill and wood posts provide a classic look at a low cost of entry. However, a wood balcony railing must be treated and painted to extend its lifespan for exterior applications. Because a balcony is a flat platform that usually extends out from below the overhanging eaves of a building, it can accumulate a lot of rainwater that might puddle around the bottom of wood posts and cause rot. Factory primed, treated, and glue-laminated wood posts can be purchased to provide a more consistent result that resists the dangers of rot and reduces installation time. Similarly, cable sleeves reinforce cables and deter rot by preventing damage to wood posts.

Aluminum

An aluminum balcony railing is lightweight, easy to install, and more durable than one made of wood or plastic. Unlike stainless steel, aluminum is subject to significant corrosion. Aluminum is also a soft metal when compared to alternatives like iron or stainless steel. If there is a dent on the surface, powder coating and paint won't offer much protection against corrosion for a balcony with a metal railing. Stainless steel is a much better material for making metal balcony railing designs a reality.

Glass

Balcony Panel Rail by AGS Stainless

A glass railing design for a balcony is used to offer a completely transparent look. Choosing a balcony with a glass railing is the best way to avoid obstructing spectacular scenery. Glass balcony railing systems also act as phenomenal wind barriers. The glass balcony railing cost will depend on what kind of glass is used as infill. Tempered glass is much stronger than normal glass and cuts costs because there is a lower chance that it will need to be replaced in the future.

Iron

Wrought iron balcony railing designs are renowned for their traditional feel. Unfortunately, the wrought iron balcony railing cost will be much higher than stainless steel after a high vulnerability to corrosion is taken into account. Iron is often powder coated or painted to make an exterior balcony railing more resistant to corrosion, but it will never be as resistant as stainless steel. Additionally, a balcony is the most defining feature on the exterior of a building, so even a glimpse of rust on a balcony with a wrought iron railing will cause people to reconsider a property.

Stainless Steel

Stainless Steel Balcony Rail by AGS Stainless

This best of both worlds is a balcony with a stainless steel railing, which is beautiful, durable, and engineered to exceed most local building codes.
3. Each Kind of Balcony Railing Infill Can Create a Distinctive Look
Infill is the part of a balcony railing between vertical posts and below a horizontal top rail. Kinds of infill for a balcony railing include cable infill, panel infill, and bar infill.
Cable Infill

Balcony Cable Rail by AGS Stainless

The infill for a cable balcony railing is practically invisible from a distance because it fades into the background. Surprisingly, the term, wire balcony railing, colloqially refers to a railing with this type of infill. Stainless steel cables sold by AGS Stainless are electropolished for superior corrosion resistance and beauty.

How-To Video: How to Install a Rainier Cable Railing System under the C

learview

® Brand

This video explains how to install a Rainier cable railing system with barrel nut assembly fittings, so that there won't be any problems when using cable infill for a balcony railing installation.

Panel Infill

Glass Panel Balcony Rail by AGS Stainless

A panel balcony railing can hold a variety of different panels as infill. Balcony railing panels are often made of glass. Plastic, metal, or wire mesh for a balcony railing can also be included in panels. Panels can be attached to posts with stainless steel clamps that feature rubber inserts to prevent damage and movement.

How-To Video: How to Install a Glacier Panel Railing System under the C

learview

® Brand

This video explains how to install a Glacier railing system with glass panel infill because deciding how to build a balcony railing with glass panels is fairly unique.

Bar Infill

Balcony Bar Rail by AGS Stainless

A bar balcony railing has an aesthetic appearance with infill that highlights its strength. Metal bars are available in horizontal or vertical configurations to suit many designs. Imagine how difficult it would be to cut, grind, weld, and finish each bar without the help of AGS Stainless. That is where modern prefabrication technology comes in to create a custom component-based kit ahead of time. AGS Stainless can then ship everything directly from a factory in the Pacific Northwest for installation at home or on any construction site.

How-To Video: How to Install an Olympus Bar Railing System under the C

learview

® Brand

This video explains how to install an Olympus railing system with bar infill because knowing how to install a balcony railing with bar infill eliminates the need for any on-site cutting, grinding, welding, and finishing.
4. Hardware Choices Determine the Cost of a Balcony Railing System
There are many balcony railing hardware options for cable infill.
5. Placing Balcony Furniture, Grills, and Lighting May Require a Degree of Creativty
Adding tables, chairs, umbrellas, bird feeders, grills, shelves, or lighting accessories could make a balcony cozier.
Balcony Furniture

Balcony Table, Chairs, and sofa

Eating outdoors on a balcony can reduce stress, improve concentration, and lead to better conversations. Balcony railing tables make these outcomes possible. A balcony railing table can also accentuate a railing system by AGS Stainless. In addition, there are several Do-It-Yourself (DIY) balcony railing ideas to choose from. One balcony railing table DIY idea is adding an umbrella to be prepared in the event of adverse weather conditions. Another DIY idea is a bird feeder for a balcony railing, which can provide an excellent opportunity to observe nature up close.

Balcony Grills

Balcony Grill with Cover

Placing a standard gas or electric barbecue next to a railing system is generally recommended since a balcony railing grill mounted on a railing system could lead to a dangerous situation. Balcony railing shelves can provide a place to put barbecue utensils. A free-standing set of shelves or a single balcony railing shelf mounted on a wood top rail for a stainless steel railing system would be ideal.

Balcony Railing Lighting

Balcony railing lights are versatile and attractive accessories that can add unique points of interest.




Each StarLight solar-powered LED accent light features a one-piece A316 stainless steel outer shell that resists corrosion.

A water-resistant LED light assembly with a solar-rechargeable NiMH battery saves time with virtually no upkeep required.

In addition, StarLights can be attached to balcony railing posts by using a metal mounting kit, which includes a drill bit and cutting tape.

How-To Video: How to Install StarLights on a Railing System under the C

learview

® Brand

This video explains how to install StarLights on a railing system by using mounting screws and a power drill.

AGS Stainless uses industry-leading manufacturing technologies like computer-aided design (CAD), three-dimensional (3-D) rendering, and fiber lasers to precisely cut stunning designs in outer shells for StarLights and create stainless steel parts for railing systems under the Clearview® brand.




A variety of popular styles for StarLights include Classic, Black Classic, Bubbles, Lantern, and Orbs from the Designer Series.

FAQ Video: How Does AGS Stainless Cut Designs in Outer Shells for StarLights?

This video demonstrates how AGS Stainless uses a laser cutting machine to cut designs in outer shells for StarLights.
6. Balcony Privacy is Important for Creating a Serene Atmosphere
Balcony railing privacy is an essential element to acknowledge for homes in busy urban or suburban areas.
Balcony Railing Privacy Screen

Balcony Privacy Screen

An option for preserving privacy involves using a balcony railing privacy screen. A privacy screen for a balcony railing is a panel that can be placed next to a railing system. Balcony railing covers are generally cheaper than privacy screens. However, achieving balcony railing cover privacy could come at the cost of covering up a beautiful finish. Alternatively, a Glacier railing system with panel infill is the best privacy railing for a balcony with no modifications required.
7. Balcony Gardening is a Great Way to Spend Time Outdoors
Balcony railing gardening or balcony gardening in general is a great way to spend time outdoors and enjoy a spectular view at the same time.
Balcony Planter Boxes and Flower Baskets.

A balcony railing planter is an ornamental container for growing plants that can be placed on or next to a balcony railing. Balcony railing planters can be made of several materials like wood, clay, stone, or metal. Balcony railing planter brackets can hang planters off a railing system. Balcony railing flower baskets usually work by gripping the top rail of a railing system. Balcony railing flower boxes and balcony railing planter boxes are also very popular even though they take up a little more space. It is hard to go wrong when picking balcony planters for a railing because there are so many good choices.

Planters Next to Balcony Rail
8. Balcony Railings Can Complement Various Exterior Designs
Decorative balcony railings can complement various exterior designs, such as contemporary, modern, and traditional. Check out the photo galleries for Rainier, Glacier, and Olympus to see popular balcony railing designs, high quality balcony railing images, and balcony railing design pictures taken by customers of AGS Stainless.
Contemporary Balcony Exterior

A contemporary balcony railing design will be based on whatever is popular at the moment. Right now, stainless steel is hot and here to stay.

Contemporary Balcony Rail Exterior

Modern Balcony Exterior

Modern Balcony Rail Exterior

On the other hand, a modern balcony railing design is the very definition of timeless because it never changes. Modern railing designs for a balcony should be simple and functional.

Traditional Balcony Exterior

A traditional balcony railing design is typically ornamental in nature, but defined by order and consistency.

Traditional Balcony Rail Exterior





Bonus: Curved Balcony Railing

Curved Balcony Rail by AGS Stainless

A curved balcony railing is one of many interesting railing designs for a balcony.
9. Building Code Compliance Can Cause Delays and Cost Overruns
Building code compliance is necessary to avoid delays and cost overruns involved with replacing railings that have already been installed.
Balcony Railing Height

Failing to meet balcony railing height requirements for an inspection of a large residential or commercial building could add thousands of dollars to project costs that have already been exacerbated by massive waste and a skilled labor shortage in the construction industry. A balcony railing guard that doesn't comply with regulations will need to be replaced in order to remain in compliance with enforceable balcony railing heights. A guard describes the height of a balcony railing that creates a safety barrier to prevent accidental falls. The International Existing Building Code (IEBC) requires new railings to be constructed in accordance with the current International Building Code (IBC). The standard balcony railing height for commercial buildings is a minimum of 42 inches from the floor to the top of the guard. As long as other code requirements are met, the railing for a balcony or outdoor space can exceed that height. A balcony railing height extension can be used to meet the IBC and effectively child proof a balcony railing that is too short.
10. Custom, Prefabricated Balcony Railing Kits Can Reduce Risk, Waste, and Inefficiency
A custom, prefabricated balcony railing kit manufactured by AGS Stainless reduces TIG welding risk along with unnecessary waste and inefficiency.
Tungsten Inert Gas (TIG) Welding

Tungsten inert gas (TIG) welding, which is also known as gas tungsten arc welding (GTAW), uses an electrode made of tungsten that is shielded by a gas nozzle like argon or helium. TIG welding can present safety hazards that include exposure to fumes, fire, and excessive light. These hazards are best managed in a controlled factory environment. In addition, improperly finished welds can adversely affect the overall appearance of a railing system.

TIG Welding at AGS Stainless

FAQ Video: What is Prefabrication and Modular Construction?

This video provides an introduction to modular construction and features prefabricated railing systems by AGS Stainless for a faster and more efficient installation.




Prefabricated Kits vs. On-Site Welding

Custom, prefabricated railing kits manufactured by AGS Stainless under the Clearview® brand completely eliminate the need for on-site TIG welding. The easiest way to identify the difference between a custom, prefabricated railing kit and a custom railing welded by a local fabricator involves looking at the connections. While a local fabricator might hastily weld connections after being pressed for time, the welds on a railing kit by AGS Stainless are a representation of craftsmanship at its finest.

One piece railing posts with perfect welds.
Why Buy a Balcony Railing from AGS Stainless?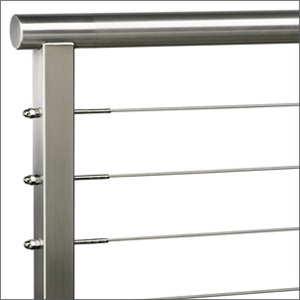 Rainier Cable Balcony Rail by AGS Stainless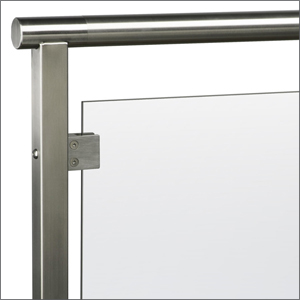 Glacier Panel Balcony Rail by AGS Stainless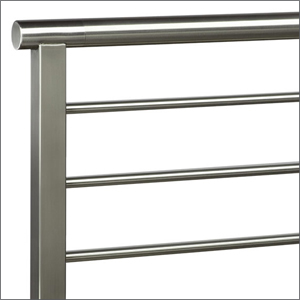 Olympus Bar Balcony Rail by AGS Stainless
After you submit a simple drawing and any relevant photos, a design consultant at AGS Stainless will work with you and/or your contractor to discuss expectations, measurements, applications, constraints, compliance, options, and maintenance. Then your dedicated design consultant will develop a cost estimate and a work plan for your consideration at no cost to you. Contact AGS Stainless today to schedule a FREE DESIGN CONSULTATION.