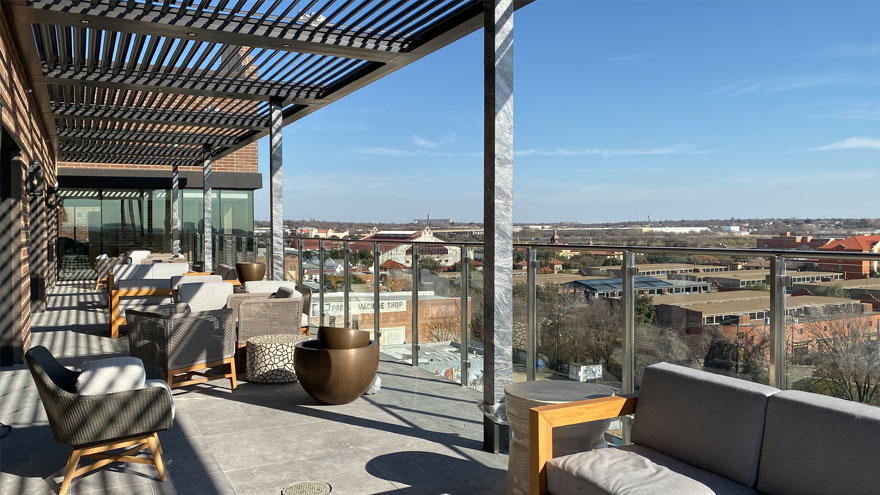 What is Texas Industrial Glass?
Texas Industrial Glass is a full-service commercial glass contractor that specializes in the design, fabrication, and installation of glass products and systems. Jason Herkes, Executive Vice President at Texas Industrial Glass is a commercial glass expert, who can work with architects or general contractors to overcome difficult engineering problems that are common with large multi-million dollar projects for the hospitality industry.
What Does It Take to Become a Commercial Construction Executive?
"I was a steel fabricator by trade in Scotland. Having an opportunity to use that stainless steel fabrication knowledge on a commercial glass project in the U.S. has been really fun." -Jason

Jason began his career journey from humble beginnings as a steel fabricator in Scotland before becoming an executive at Texas Industrial Glass in the United States of America.

"Quality is of utmost importance for high-end commercial buildings. I like using high-quality stainless steel railings to create a clean, free look that shines." -Jason

This experience is what allowed him to recognize the benefits of using railing components manufactured from high-quality building materials like marine grade 316 stainless steel. Marine grade 316 stainless steel is not only beautiful, but it also reduces future maintenance by resisting corrosion.

"I have managed up to five multi-million dollar glass projects at one time and overcoming unforeseen issues when plans change is part of the job." -Jason

As an experienced executive at Texas Industrial Glass, Jason delivers results for clients and excels at managing a team. He attributes much of his success to asking what needs to be done and effectively utilizing his employees' unique talents to the best of their abilities.
Why Does Texas Industrial Glass Partner with AGS Stainless?
"I've been very impressed with your customer service. In fact, if I had another stainless steel railing to do, I would not think twice about using AGS Stainless. It was fantastic from start to finish. The service that AGS Stainless gave us was second to none." -Jason

After a railing height addendum was issued for a luxury hotel project in the Dallas/Fort Worth metropolitan area, Jason needed to find a new company that could meet his needs. That is when he reached out to AGS Stainless for ideas regarding how he could design a railing with the new height.

"Before I contacted AGS Stainless, I watched your YouTube video that uses a laser machine to cut stainless steel posts. It really caught my attention. That's some machine! I know how hard it is to drill and cut stainless steel. When I saw that machine do it, I thought 'Wow! These are the boys that I need on my project.' I can't believe that your machine is doing it all from real detailed drawings, but you know that the end product is going to be spot on when you pull the trigger." -Jason

AGS Stainless purchased a fiber laser tube cutting machine to make stainless steel railing system fabrication more efficient and meet the highest standards of quality for commercial projects. Fiber lasers can precisely cut stainless steel tubes for railing systems to an accuracy level of 4/1000ths of an inch. A traditional computer numerical control (CNC) machine would take much longer and be significantly less accurate.

"Glass is an unforgiving material. When you're working with steel, stone, wood, sheetrock, and even concrete, you can always shave a little bit off. With glass, every detail has to be right and Glacier railings are great for that." -Jason

Glass is much less flexible than other building materials. With Glacier glass panel railing systems, Jason makes design decisions upfront and works with computer-aided design (CAD) professionals at AGS Stainless to ensure that every measurement is exact before going into the fabrication stage.

"We have guys that do drawings, but we tend to work with architects. Before moving forward with a project for a general contractor, we need an engineer to stamp it. The final decision always comes from an engineer." -Jason

With input from design consultants, CAD professionals, and engineers at AGS Stainless, Texas Industrial Glass was able to design a solution that met every specification for the project. Because AGS Stainless has an in-house engineering team, you can rest assured that your project will be structurally sound and comply with the International Building Code (IBC). AGS Stainless can also work with your team to meet local building codes, like those that apply to Texas and the Dallas/Fort Worth metropolitan area.

"AGS Stainless helped me a lot with the design of the posts and explained how to mount the posts on concrete. The fabrication was flawless. They produced the material when they said they would. It was delivered on the date that they said and the lead times were great." -Jason

AGS Stainless fabricated the glass clamps, round handrails, intermediate posts, and corner posts off-site for the final railing design. This design was unique because it used a side mounting method on concrete and double posts were required for the outside corner detail. Factory-direct shipping is available for all custom stainless steel railing system product lines or the orders can be picked up in-person. In this case, Jason chose to have his own freight company ship the carefully packaged railing components to Texas for on-site assembly with a few simple tools.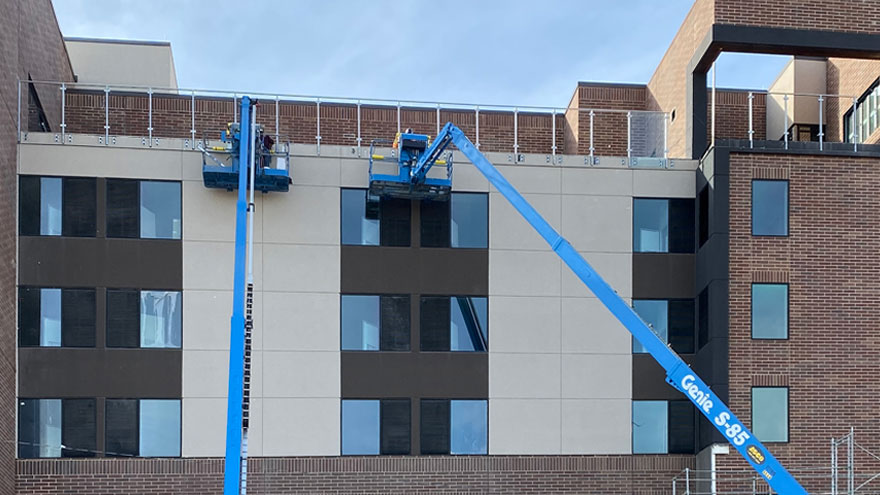 "We offer opportunities for skilled labor, unskilled labor, and apprenticeships at Texas Industrial Glass. We want young people to come and work for us. Training is a big part of that and allows these skills to be passed down." -Jason

Off-site railing fabrication cuts costs by reducing reliance on highly skilled labor. In addition, training is much easier with numbered components that can be easily installed by following step-by-step instructions. Schedule a FREE DESIGN CONSULTATION to get started.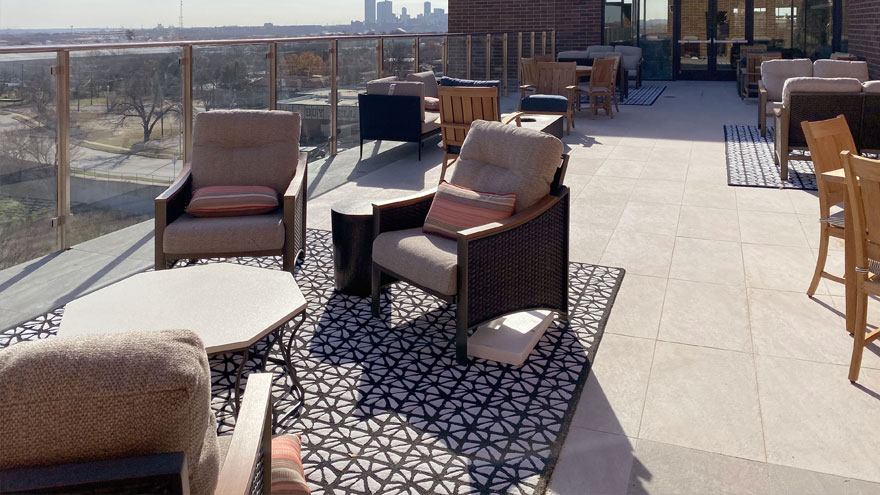 Why Choose Texas Industrial Glass for Your Next Commercial Project?
Design Services

Texas Industrial Glass provides supplementary design services that work in conjunction with your project architect or general contractor.

Glass Fabrication

Texas Industrial Glass is a home to a 50,000 square-foot fabrication and materials facility perfectly suited for projects large and small.

Glazing Services

Texas Industrial Glass has glass experts that specialize in commercial level glazing and sealant technologies for both new installations and maintenance/replacement projects.
Contact Texas Industrial Glass Now