Esposito Construction Inc. remodels and builds luxury custom homes in South Carolina's Lowcountry region. The area is renowned for being a premier location due to its abundant recreational opportunities, unique history, and arts and cultural scene. AGS Featured Professional Brian Esposito is the founder and president of ECI and has been constructing impressive properties in the exclusive enclave for many years.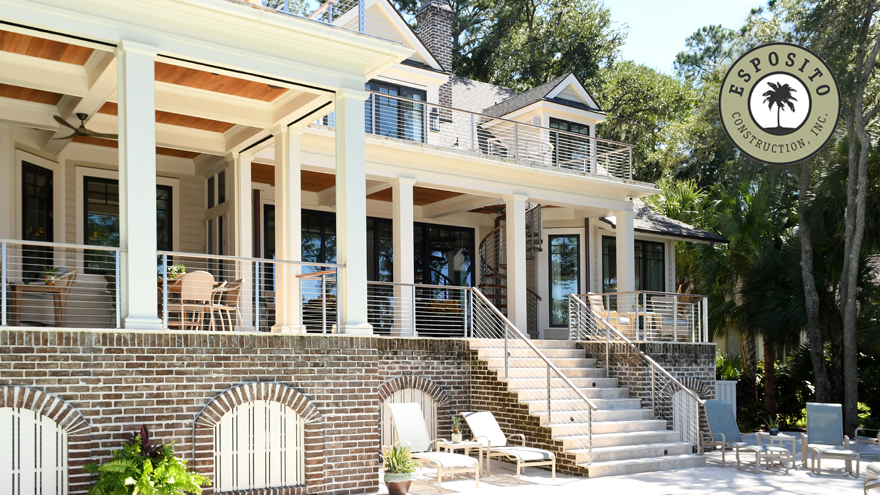 The featured project is a home renovation by ECI located in Hilton Head Island, South Carolina. The area is known for wonderful weather, a relaxed lifestyle, and 12 miles of Atlantic Ocean beach.
---
Brian has been recognized as a premier builder in the Lowcountry, receiving multiple project awards, including 2012 and 2014 builder of the year and 2016 premier builder of the year.
In addition, he has served on the National Association of Home Builders (NAHB) Custom Home Builders Committee, NAHB Remodelers Board of Trustees, and past president of the Hilton Head Area Home Builders Association.
---
This article will discuss how a combination of experienced leadership and professional collaboration combined the talents of multiple teams to transform the Hilton Head Island residence into an exquisite island dream home.
This complete remodel and deck addition designed by architects Frederick + Frederick gives this home a stunning new look and realizes the property's potential by making exceptional use of the available space. The balcony addition was engineered with structural steel columns and beams to support the additional weight of the new stone roof deck with 12" OC 2×12 floor framing.
Interior design by Patty Wetmore brings unmatched elegance and style perfectly fitting to a waterfront home. ECI was responsible for pulling it all together, remodeling the property, and transforming it into a beautifully well-crafted, luxury private residence.
Brian has worked with some of the country's finest home builders, sub-contractors, and suppliers. He states that his collaboration with industry leaders has contributed to his company's ongoing growth and success. Let's look behind the scenes and meet some of the professionals involved in the project and learn about what sets them and their work apart. In addition, we'll touch on other essential features of successful high-end property renovation, such as location and identifying a property that's worth the investment.
1. Experienced Leadership | Brian Esposito

Brian's career spans over 30 years, during which he has worked on an impressive array of large and small-scale commercial and residential construction projects. As a result, he has acquired a wealth of knowledge and developed invaluable skills and technical know-how.

Brian Esposito, President of ECI.

Where it all began, Brian began his career by serving his carpentry apprenticeship for Wallner Builders WI. This small high-end residential remodeling firm self-performed much of its work. With such diverse training, Brian gained the background necessary to see the broad view of all that goes into a construction project.

After several years working in residential remodeling, Brian branched out and began working on large commercial projects such as schools, churches, department stores, and restaurants. From this experience, he developed critical business skills, including managing budgets of multiple projects and negotiating contracts with general and sub-contractors.

To see more beautiful custom homes and remodels built by ECI, please visit Esposito Construction Inc.





2. A Great Team | Esposito Construction Inc.

ECI doesn't just have employees, we consider our team family. Mike Zook has been a Site Superintendent since 2013. Along with Alberto Chavira, who has been with Brian since day one of Esposito Construction, Inc. Both bring different skills to the job and a willingness to work together and collaborate when needed to help the team out. Both men bring invaluable assets to the ECI team.

Mike Zook, Site Superintendent ECI.

Site Superintendent Mike Zook brings a diverse skill set to our table, ranging from concierge level customer service, outstanding communications skills, whether talking to the trades, owner, architect, or designer. His impeccable craftsmanship stems from thirteen years as Production Manager and Co-Owner of Wood Creations, Inc., a family-run custom cabinet and furniture manufacturer in the Low Country. In his current role as Site Superintendent for ECI, Mike is the onsite representative. His priorities are daily project supervision, scheduling of trades, material ordering, expediting, and consistent quality control. He says his many years as a business owner guide his successful decisions. While he's committed to traditional techniques, Mike admits, "I'm always looking for ways to embrace technology and new products."

Alberto Chavira- Carpenter foreman, Long time trusted trade partner of ECI. Alberto has exceptional carpentry expertise, supervisory skills, and attention to detail. Alberto is the kind of craftsman with an impeccable eye for detail and the ability to figure out how to make the most challenging details happen. He custom fabricated a 32' long IPE handrail on the custom-built spiral staircase on this project. Most craftsmen would not have the imagination or patience to make this handrail, but Alberto tackled the challenge with his contagious smile.




3. Professional Collaboration | Successful Partnerships

When teams collaborate, there are a great many benefits. It becomes easier to implement best practices and develop unique solutions to complex challenges when you can draw on the expertise of others. The Long Cove custom remodeled home demonstrates how great outcomes result from professional collaboration, knowledge sharing, and strategy. Through successful collaboration, Brian and the ECI and design team leveraged a broad range of skills and a variety of perspectives to produce incredible results.




Architects Frederick + Frederick

While working on the Long Cove residence, Brian and the ECI team worked with esteemed architects Frederick + Frederick. The husband and wife team designed the porch addition, an outstanding two-story outdoor living space. The renovation was not limited to the external addition. The talented team redesigned the entire house, upgrading and improving every aspect of the home, adding function and fashion seamlessly. Mike Zook of ECI and Benjie Morillo, the Project Architect assigned to the project, collaborated to bring the vision of Fredericks + Fredericks talented designers to life. Mike appreciated being able to call Benjie and ask for additional information or elevation cuts that Benjie gladly provided using the rendering capabilities of the design software Revit.

Interior Design by Patty Wetmore

Patty's eye for detail and her ability to understand her clients' wishes sets her apart. She can transform any space into something truly unique and inspiring that you never want to leave. The owner and Patty had a clear vision from the start. The ECI team really enjoyed working with them. Patty made the process painless by providing clear direction of what they wanted, from labeled material samples for each room to inspirational photos. Mike and Patty also met on site regularly to work out the finest of details to ensure ECI met and exceeded the owner's and designer's design intent.





4. A Perfect Location | Hilton Head Island, South Carolina

Hilton Head Island is famous for being one of the best vacation destinations globally and was the recipient of Travel and Leisure's World's Best Award in 2021. With world-class golf courses, incredible family-friendly white sandy beaches, and intercoastal waterways, it's not surprising that the island attracts 2.5 million visitors each year. The Lowcountry has so many wonderful recreational opportunities to offer. Due to its proximity to Charleston and Savannah and a thriving cultural scene Hilton Head is a top location to live and visit.

The property is a personal residence located in the highly sought-after community, Long Cove Club.





5. A Property With Potential | Long Cove Club

In a fantastic location and with a great structure, updating the property into a luxury residence was a great idea in terms of investment potential. Working with architects Frederick + Frederick, ECI completed an extensive remodel of both the interior and exterior of the building. Frederick + Frederick has extensive experience and specializes in meeting the unique requirements of properties in the region.

Before and after view of the upscale, stunning back porch remodel completed by ECI.

The addition of the upper deck increases the square footage of useable outside space and provides a sun lover's paradise. Below, the porch serves as the perfect place to relax and take a break from the sun. The shaded covered patio is the ultimate in outdoor living! Whether you're enjoying the covered porch with the retractable screens down to keep the bugs out or watching a movie over the fireplace with full surround sound, this space has something for everyone.
6. Attention to Detail | Well-Planned and Executed Design and Construction Processes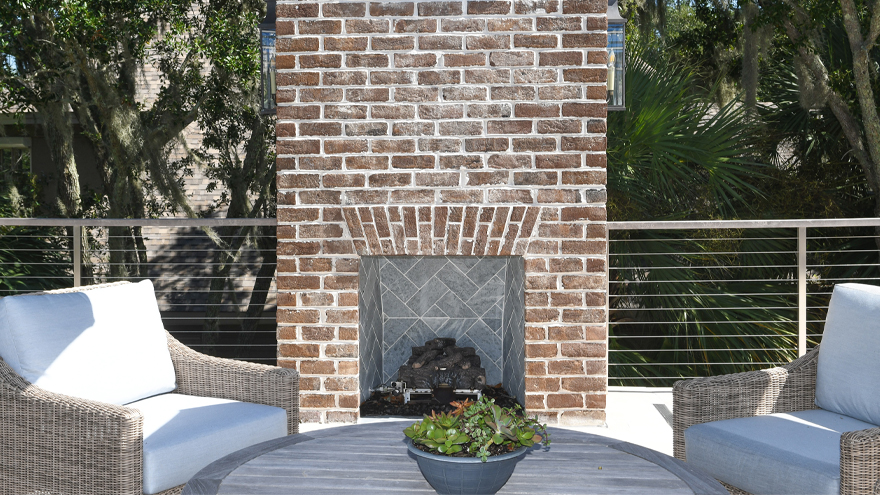 A marriage of texture and pattern creates a stunning look.
Brian's love for finish carpentry and attention to detail sets his company apart. Whether the footings are square, level, and plumb to air sealing the building envelopes, ECI's attention to detail makes all the difference. ECI focuses on every detail of the build, including the things that usually go unnoticed. For example, The things hidden behind trim or wall finishes are completed as if they would be left on display. The team takes great pride in every aspect of their work. Frederick + Frederick has worked with ECI on several projects and has always been impressed with the attention to detail of Brian and his team.
7. High-Quality Products | Partnering With AGS Stainless
Brian and his team made many upgrades to the porch during the remodel. Including installing retractable screens in the screen porch and surround sound with hidden subwoofers in the cypress ceilings. Choosing to install high-quality products and adding luxurious features distinguishes the home and makes a statement. AGS worked with ECI to supply railing systems for the property's front, back, and side. The slim posts, only possible with a stainless steel railing system, complement the design theme. Frederick + Frederick Architects specified this rail system because it is minimally obtrusive, allowing for the clients to fully engage with the magnificent view of Broad Creek.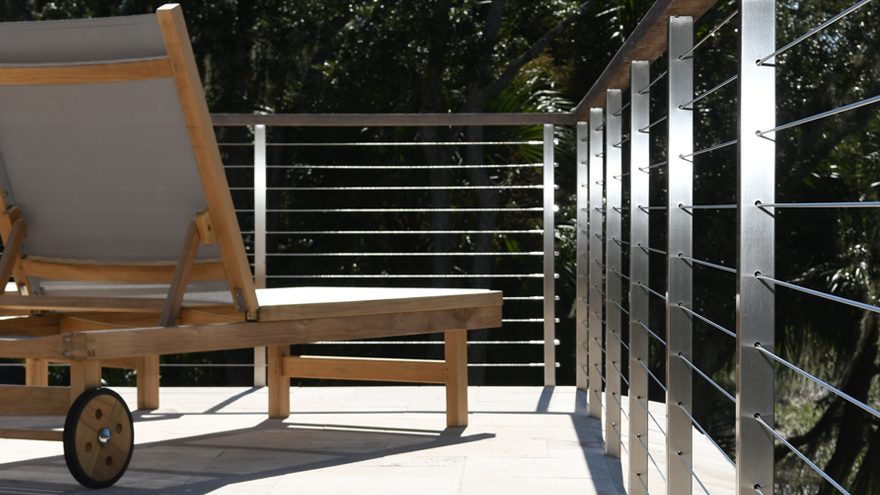 ECI installed a prefabricated, custom cable railing with wood handrail to multiple areas of the property.
AGS Stainless Railing Systems
Porch Railing Remodel
The recently remodeled porch provides a beautiful space to sit day and night. Whether it's family-friendly evenings around the fire, relaxed dining, or simply watching TV, the porch's well-planned layout makes it easy to enjoy being outside.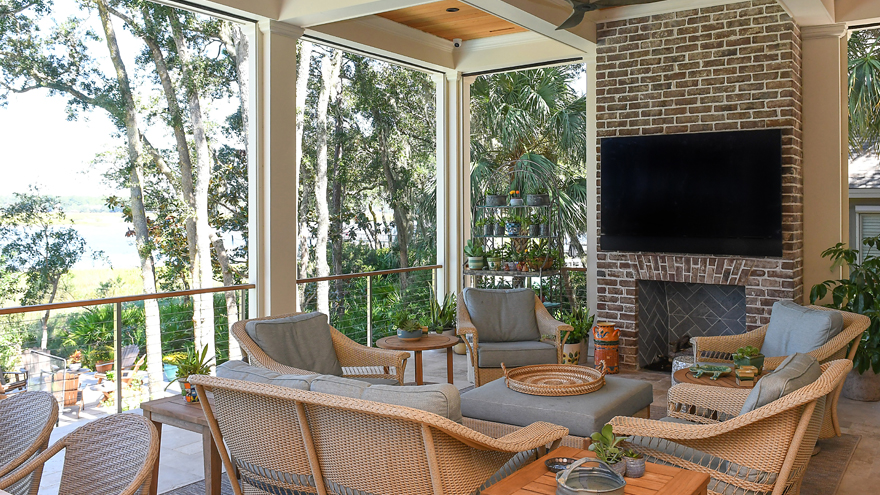 Outdoor living at its finest!
Upper Deck Cable Railing
The porch addition doubles up to provide a beautiful upper deck area. With any remodeling project, creating extra useable space offsets the building renovation costs. In such a desirable location, making the best use of the available space is a smart move.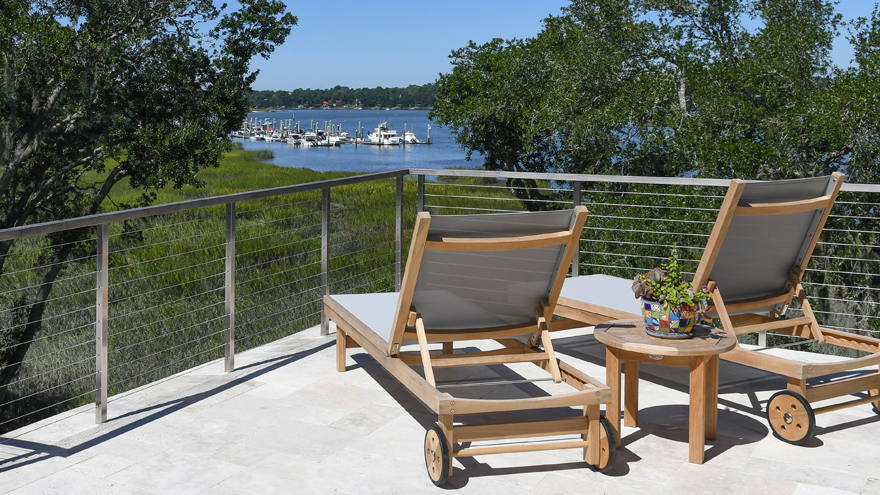 The light stone flooring reflects the light and mimics the tonal shades of white sand. Railing posts seamlessly extend from the ground to create the epitome of elegance.
Patio Railing Remodel
After a day of fun, what could be nicer than a quiet patio nook furnished with rocking chairs and a table for ice-cold beverages? Underfoot, the smooth marble slab flooring, shade from the palmetto trees, and gentle coastal breezes flowing through the patio railing make this an ideal spot to while away the afternoon.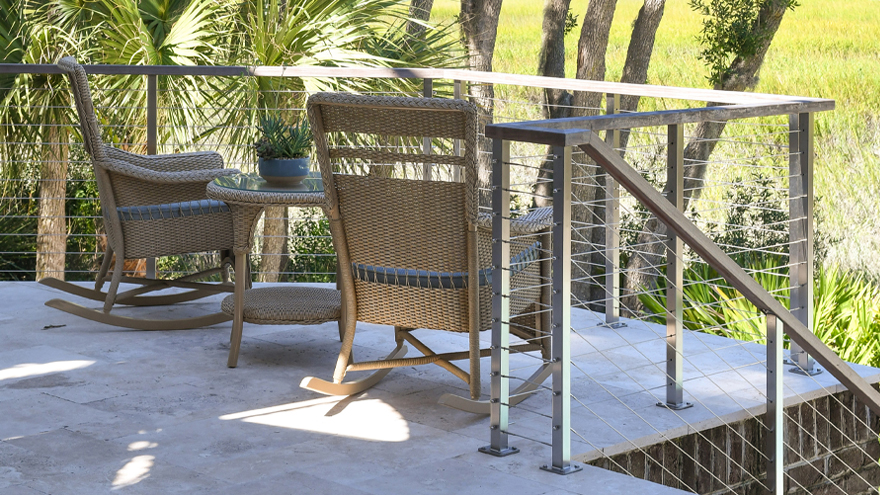 The raised patio that overlooks the pool is ideal for keeping an eye on older children as they play in or around the water.
Balcony Cable Railing
After swimming in the luxurious pool or visiting the white sandy beach, spiral stairs to the balcony enable residents to access the upper deck via the first floor without walking through the house. On chilly nights, a fire can be built on either level of the two-story fireplace.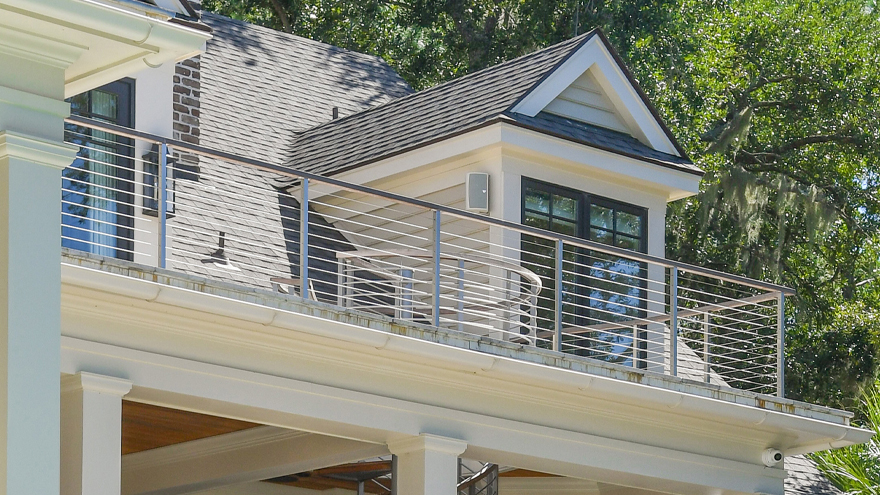 The Poolside, patio, and porch area provide three distinct areas for entertaining.
Front Porch Railing Remodel
Blending modern design elements such as cable railing and traditional architecture is a great way to revitalize a building.
Two sweeping staircases provide a grand entrance to the property.
Esposito Construction Inc. is one of Hilton Heads' premier construction businesses. President Brian Esposito states that he accepts nothing less than the best because only the best is good enough. He maintains tight control of quality, safety, and budget while concentrating on every detail.
ECI has worked on an impressive range of projects, from remodels to new builds, many of which are multi-million dollar projects. Esposito Construction's outstanding work demonstrates their commitment to quality in every aspect of their jobs. They assemble highly skilled and experienced professionals, source top-notch products, and deliver exceptional results. Esposito Construction's company motto explains the secret to their success "The Difference is in the Details."