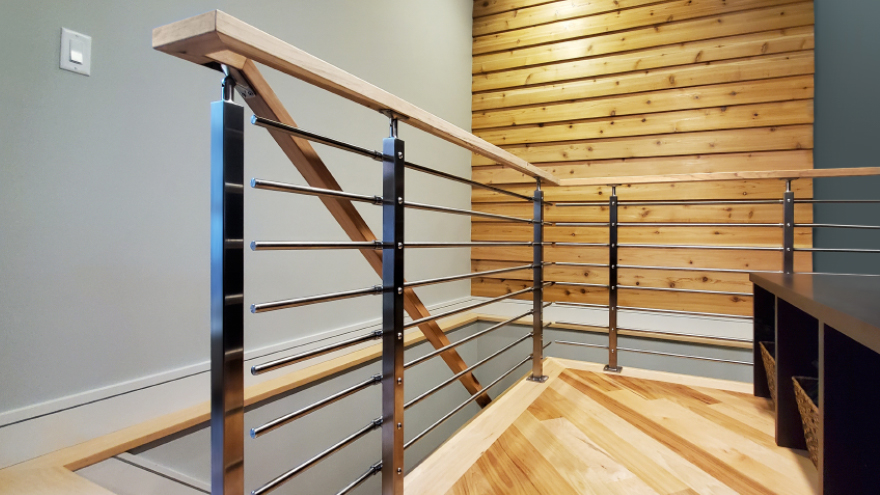 What is Scroggs Construction Services?
Scroggs Construction Services is a locally owned and operated business in North Carolina composed of licensed general contractors who specialize in remodeling and new construction.
How Did You Become a General Contractor?
By working with his father on job sites in high school and college, Nick Scroggs became familiar with the construction industry and project management at a young age. He learned essential management principles by obtaining a business management degree from Roosevelt University. After that, he earned an MBA with a finance concentration from Dominican University and developed his understanding further with experience as a property manager.
My property management experience helped me build a scalable model for this business. A lot of people learn a trade and get good at it. These people often become business owners and need a scalable model that works when they start to get bigger. I was fortunate enough to see that ahead of time before going into business with my dad. -Nick
The property management company owners mentored him in best practices for business development, managing budgets, and scheduling skilled labor. As a property manager, he usually preferred to deal with a single fixed cost for a project rather than unpredictable variable labor costs for renovation, maintenance, and repair services.
For many contractors in North Carolina, the price they give you at the start may not be what the project is going to cost. -Nick
Variable costs for skilled labor on a job site can start to add up over time for clients, and they are much harder to control than fixed costs upfront for building products from manufacturers. Since he had worked on the client-side, Nick recognized the value of doing an entire project for a fixed cost. Using this particular model, contractors take on slightly more risk, but finishing on time and under budget offers more generous rewards. Many other contractors are unwilling to take on this additional risk and choose to charge an hourly rate instead to compensate for budget overruns caused by an inability to reduce waste and inefficiency associated with the variable cost of labor.
A fixed cost model is a good sales tool because if you can make money at a fixed cost, then you are demonstrating that you know what you are doing. -Nick
Nick saw this disparity between client desires and contractor costs as an opportunity to reposition his father's business in the marketplace. He wrote and presented a proposal to his father about how a fixed cost model with a focus on high-quality leads would help them reach the next level of success. The two of them went into business together after that. They both bring unique skills to the table. For the past few years, Nick has handled sales, marketing, estimating, and accounting responsibilities. In contrast, his father has traditionally worked with skilled tradespeople on construction sites as a project manager. However, Nick took the NASCLA exam to become licensed as a general contractor and recognizes the benefits of continuing education.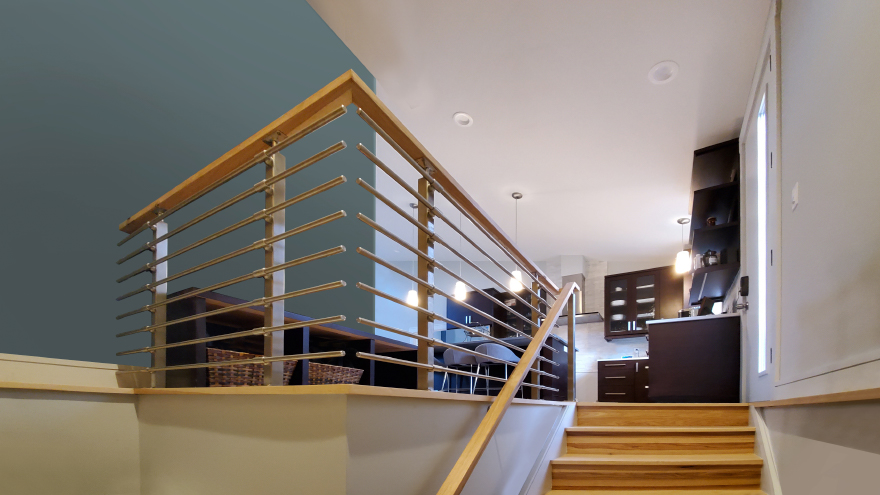 Why Does Scroggs Construction Services Partner with AGS Stainless?
I noticed the stylish railing design and checked out the booth to understand where it came from and how it gets built. Then I found out that it was not a custom product. It was something that you could buy, modify, and put together without custom design work. The speed aspect was very appealing because we were right at the end of finishing my custom home, and I hadn't settled on a design element yet. Anyway, I saw the railing, and I thought that it was cool. Then the guy at the booth told me that I could have it in a week. That met the timeline I needed to get the project done on time, and the product itself just looked amazing! Because custom products have longer lead times, anything sent out and ready to go within a short amount of time is valuable. I placed an order a week later, and the rest was history. -Nick
A significant part of this continuing education for Nick is attending events like the International Builder Show (IBS). Events like this introduce contractors to new building techniques for reducing the total amount of labor spent on projects. For a contractor with a fixed cost model, labor is everything because any waste and inefficiency directly impact overall profitability. Skilled labor is costly and in short supply, while general labor requires training. One labor-saving technique involves using off-the-shelf inventory, which is manufactured off-site and shipped directly to the job site in about a week.
Any railing I buy needs to be high-quality. Also, this isn't any home. It is my home! I also needed something to act as a showpiece for promoting my business. I want people to look at the railing whenever they walk in, and everyone loves stainless steel! I also like the stainless steel cable railing system, but this looks even better for my home. We use the cable railing system pretty frequently on other projects. In terms of price, this kit was fairly similar to what we would normally pay for a cable railing system, so I was thrilled to install it. Our commitment to quality craftsmanship is why we have won so many awards for additions and remodels. -Nick
There is no reason to bother with time-consuming field modifications like cutting, welding, grinding, and finishing when AGS Stainless can use computer-guided lasers and experienced artisans to safely perform that work for you in a controlled factory setting. Contractors choose off-site fabrication to ensure a much higher standard of quality, curb appeal, and long-term value for clients that might even win a few awards.
We use the design-build process, which means that we do our design work in-house or use vendors. The design team makes drawings. Then we price the drawings and give them to clients. A common misconception is that an architect must create drawings for a project to meet Code. -Nick
With a traditional project delivery process rather than the design-build process, an architect and a contractor have to work together and typically charge different hourly rates for their services. An architect must have a general understanding of every product that goes into a building and design a compliant solution that the contractor will implement. If the architect ever has to revise drawings after work has already begun on the job site, the contractor will have to send them back and waste valuable time.
As long as drawings meet Code, there is no need for an architect or engineer to approve them. However, we still have an engineer on staff just in case. -Nick
Alternatively, you could make one payment to a single contractor like Nick, who efficiently manages your entire project from start to finish with the design-build process. Design-build contractors might have an in-house computer-aided design (CAD) team. However, they often outsource parts of a building to manufacturers, such as AGS Stainless, that specialize in providing a particular product like the Cascadia stainless steel railing system at a fixed cost. Assuming that there are no significant changes to your specifications along the way, hiring a design-build contractor like Nick with a fixed cost model is the best way to save time and money on your next project.
Why Choose Scroggs Construction Services for Your Next Remodel or New Construction Project?
Fixed Cost Contracting

Make one payment for the entire project and never worry about getting charged for additional labor costs unless the specifications change.

Design-Build Process

Our primary focus is to provide you with the most natural and effortless process while still providing excellent customer service and a personal touch.

Award-Winning Remodels and Builds

Scroggs Construction Services achieved recognition within the community for the PACE awards. The local housing authority (Asheville Home Builders Association) presents these awards as a sign of excellence.
Contact Scroggs Construction Services Now