Kimberly had spent a long time planning and saving to remodel her home and upgrade her railing system in Summit County, Ohio. After much thought and consideration, Kimberly chose a stylish black powder coat Olympus horizontal bar railing system with a wood handrail. The results of her landing and staircase remodel project could not be more stunning! What a beautiful transformation! We were so impressed with the powder coat black bar railing system pictures that we invited her to share her story.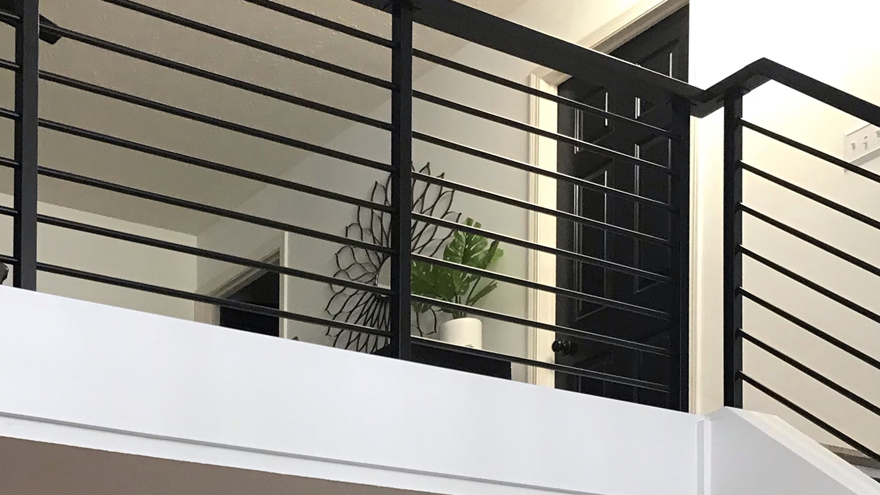 The interior design has a strong black and white color scheme that uses contrast to create a bold design theme. The aesthetic exudes such confidence and style it can't fail to impress.
Kimberly's First Railing Remodel – the Process
Upgrading a railing system involves an outlay of both time and money. However, with a remarkable transformation like this and the added value to the property, it's well worth the effort and investment. Here's how Kimberly found the inspiration and confidence to embark on her first railing remodel.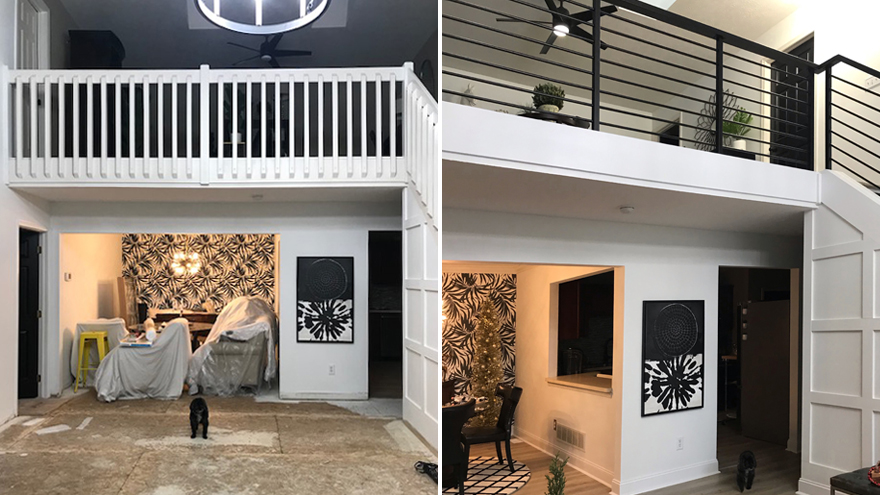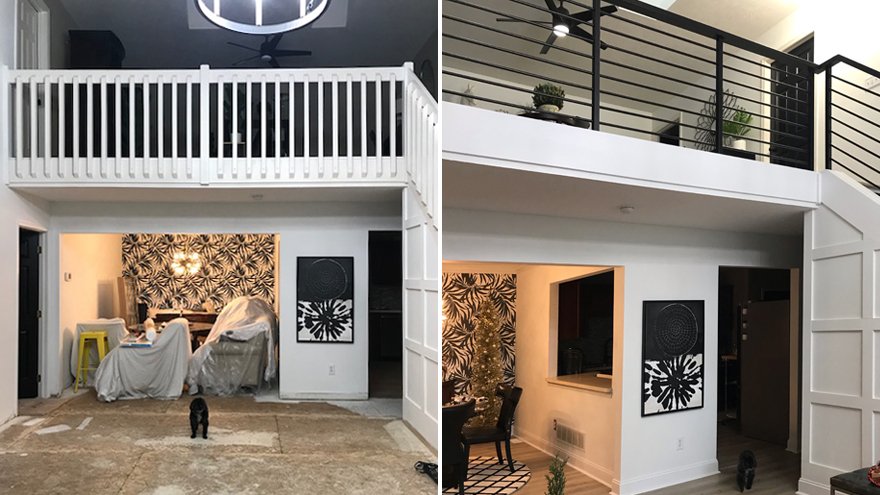 Creating a Budget and Hiring a Contractor




"I am the homeowner. The very first thing I did was to create a realistic budget. Then, I hired a fabulous contractor that I knew I could trust. I had a referral, and we ended up working very well together. I felt "safe" to collaborate with him to tweak a few things as we were going. He also kept me focused at times when I would start to venture off the trail. We were working with a deadline that could not run over. He was leaving the country — so we had to keep the project on budget and time."

Over time, powder coat railing finishes not only look great, but are more durable and require less maintenance than traditional wood railing systems.





Finding Railing Remodel Project Ideas and Railing Design Inspiration




"Next, I created a Pinterest board and would save all the stair railing ideas there. Then I would go back and look at my saved pics. I made notes of the railings I seemed to be drawn to.

Out of everything I did to the house, the stair railing was my number one area to update. Candice Olsen used to say on her HGTV show that you need a jumping-off point- something that gets you started, and everything else is designed around that one thing. My jumping-off point was the stairs. Then the rest of the house just fell into place."




The black horizontal bar railing system creates a striking feature in this beautiful family home. The stair treads and risers tie in perfectly with the black and white color scheme.





Getting a Railing System Quote




"I went to different railing company websites. Read what they needed for a quote. Then I drew it out with the measurements I took of my stairs. I submitted my photos, notes, and measurements, and Bob called me from AGS. I also got several quotes from other online railing companies. This was my very first project where I was actually hiring a contractor to destroy my house then put it back together. Remodeling my railing system had been a goal of mine for a while. It's what I saved for and envisioned for my home. I am absolutely in love with my home. I love the feeling when I walk through my door. I'm very proud of what I created but even more proud that I actually did it! Lots of people have goals. But not everyone can say that they accomplished them."




AGS Railing Estimator Bob Enjoyed Working With Kimberly

"Kimberly was delightful to work with. She was clearly passionate about her project, feeling both nervous and excited about taking on such a large renovation. We discussed her project goals and our process for designing and fabricating a custom railing for her home. Which helped build her confidence and lead to her choosing AGS."

– Bob Reed, Estimator.





Employing a Contractor to Install the Railing System




"The installation was a breeze. My contractor, Todd Price, was very excited to install the new stair treads and railing as well. It was his first install with this type of railing system."




"We ended up being a great team, working together and coming up with styles and ideas."

Todd Price, owner of AHR Affordable Home Renovations (out of Akron, Ohio), 330-608-9230.






The Finished Railing Installation Upgrade




Choosing the right railing system makes all the difference to a home remodeling project. In this instance, the railing system creates a beautiful feature; the decor and furniture are well-chosen, and the interior design pulls together beautifully. The homeowner has done a great job creating a high-end luxury look for a home that she absolutely loves.