These before and after stairway railing pictures make it easy to see why a staircase makeover should be right at the very top of your to-do list when remodeling your home. Replacing the railing system and refinishing the stairs will transform your property from dowdy to dazzling and give your home a look you love!
Gary B., a homeowner from Ontario, NY, wanted to revitalize his stairway railing system. He opted to tackle the job himself after reaching out to the AGS team for a free design consultation. Working to Gary's exact specifications, AGS custom-designed railing posts to suit the layout of his stairs. Once the cable railing system was prefabricated, it was packaged and shipped to Gary's home. All the necessary parts and detailed instructions were included. Read on for three simple tips to set yourself up for success with your staircase makeover.
1. Choose the Best Products for Your Staircase Makeover

The idea of completing a stairway remodeling project may seem challenging at first. However, in reality, it could be easier than you imagine. With numerous products on the market to simplify the task, a DIY staircase remodel is an easy and cost-effective way to upgrade your home. Products such as precut risers and treads and prefabricated railing systems minimize the need for onsite skilled labor. Rather than adapting the stair layout, homeowners often purchase modified railing components to save time and money when renovating a stairway.

The top step features a custom-designed railing post to simplify the installation process.

2. Work With Railing Experts

Working with a team of experts you can trust throughout your railing remodel will make getting the best railing products for your job easier. In addition to achieving the look you want, the AGS team will help you with code compliance, design and fabricate custom components, and provide support from start to finish. You wear multiple hats; having help on hand is a great way to ensure that your staircase makeover will be a hassle-free as possible.

3. Find Detailed How to Install a Railing System Videos and Resources

With an abundance of Do-It-Yourself Installation Resources and step-by-step guides, it isn't surprising that many homeowners choose to install AGS railing systems themselves. There's no need for specialized equipment. Everything you need is included in the order and delivered to the installation site with clear and easy-to-follow instructions.

Usually, top mount railings posts are welded to the center of the baseplate. In this instance, the bottom two railing posts have been custom-designed to connect to the edge of the plate.
Gary's staircase makeover involved refinishing the stairs and installing a new cable railing system. It's a small change that makes a huge difference. The transformation is stunning, and the update impacts multiple areas of the property. It could not look more spectacular.
"After stripping, sanding, staining, and then seven coats of poly-coating, it came out great. Thank you for all your help!"
Gary B.
Other Before and After Staircase Makeover Projects
Black Bar Staircase Railing Remodel
Depending on the layout of your home, stairs can be a very prominent architectural feature, and as such, will either blight or elevate the look of the entire property. Kimberly a homeowner, based in Ohio, worked with a contractor to complete an extensive stair remodeling project. The new black Olympus bar railing system looks stunning and undoubtedly adds considerably to the home's visual appeal and resale value.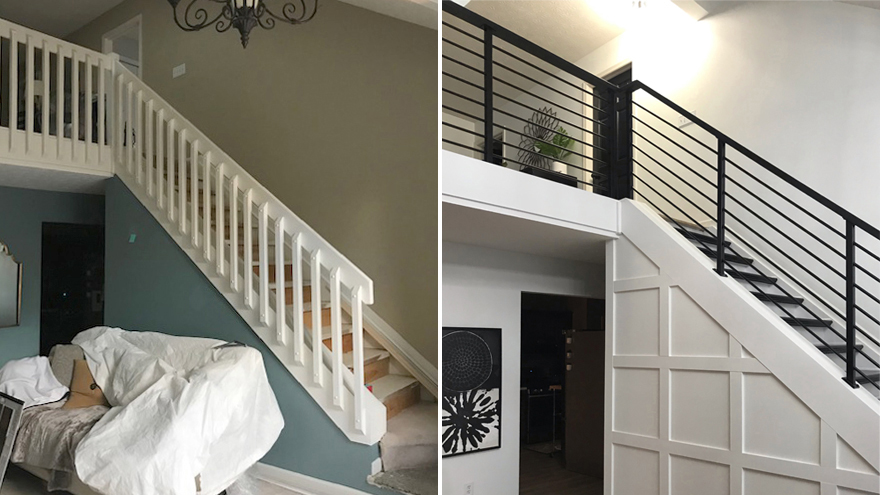 The panel wall and black powder coat horizontal bar rail create a beautiful linear design, coupled with the contrasting color theme, gives the home a high-end designer appeal.
To read Kimberly's story and see before and after staircase makeover pictures, please visit:

L-shaped Stair Railing Remodel
Switchback, winder, dog leg, or straight — stairway layouts come in numerous configurations. Therefore, it's not uncommon for homeowners to require a custom component to their railing system. This project demonstrates how a unique railing feature can be visually appealing and make a bold design statement.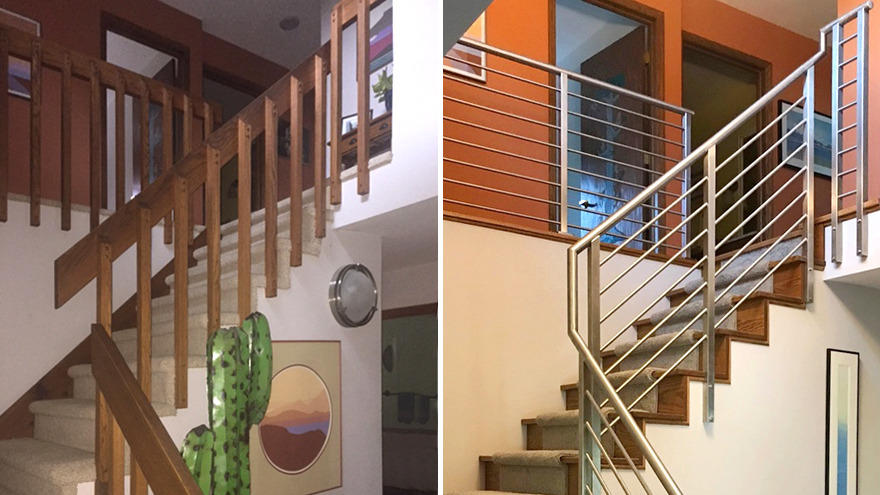 The round gooseneck handrail creates an elegant architectural feature with a sculptural appeal.
To learn more about this railing remodel, please visit: Before and After | A Wisconsinite updates Staircase with Olympus Horizontal Bar Railing System
With our award-winning customer service, we're with you every step of the way!