When Jeffrey L., a homeowner residing in Buffalo, NY, decided to remodel his deck, he upgraded his railing system to Rainier cable railing with an illuminated handrail. The soft ambient LED stair and railing lights are a beautiful addition to the deck design and give the outside space a unique and welcoming appeal that the homeowners can enjoy both day and night.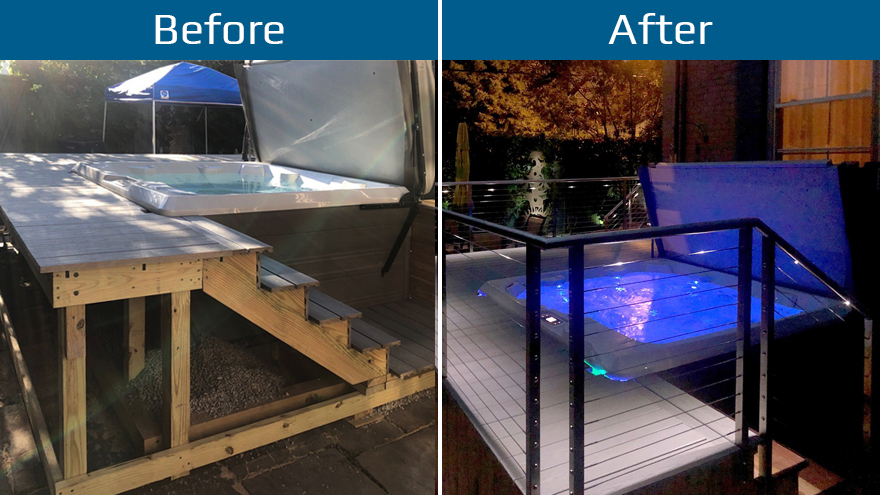 >To create an atmosphere and enhance deck safety, the homeowners chose to install a beautiful handrail with attractive LED lights — the unique custom railing system looks stunning!
For anyone looking for railing remodeling ideas, this railing project is truly inspiring. The homeowners have been hugely successful in creating a dream deck that checks all the boxes. The side mount railing posts with a notched decking edge could not look more clean and modern. In urban areas, successful railing remodels, and deck designs often need to maximize the use of space available. These NY homeowners enjoy the full view of their backyard because the elegant Rainier cable railing blends seamlessly into the background, creating a sense of openness and space. The backyard design has a unique warmth and personality that transforms a New York backyard into a place of tranquility.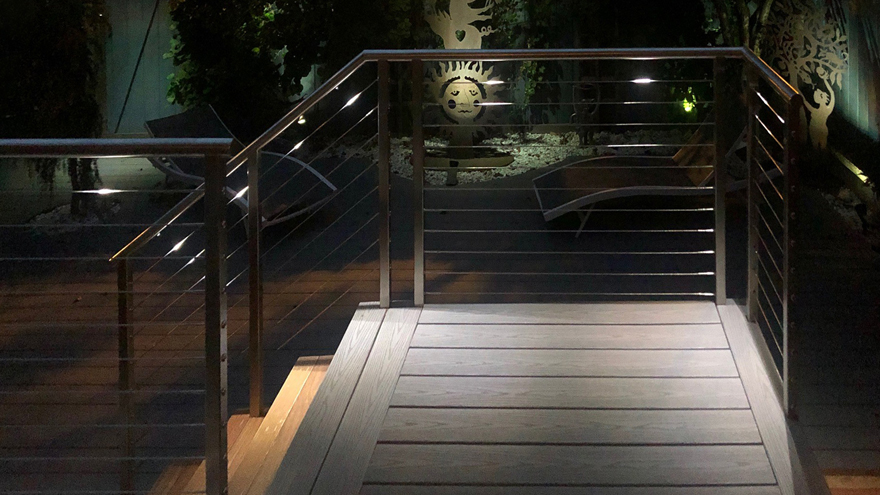 The wrap-around deck creates the homeowners' opportunity to enjoy relaxing in both sun and shade while also providing a good location with increased privacy for a jacuzzi.
The Rainier cable railing system is prefabricated using high-quality stainless steel and features slim railing posts. Compared to other materials used to manufacture railing systems, stainless steel is very strong, which means that the railing system posts are just 1.5 inches thick.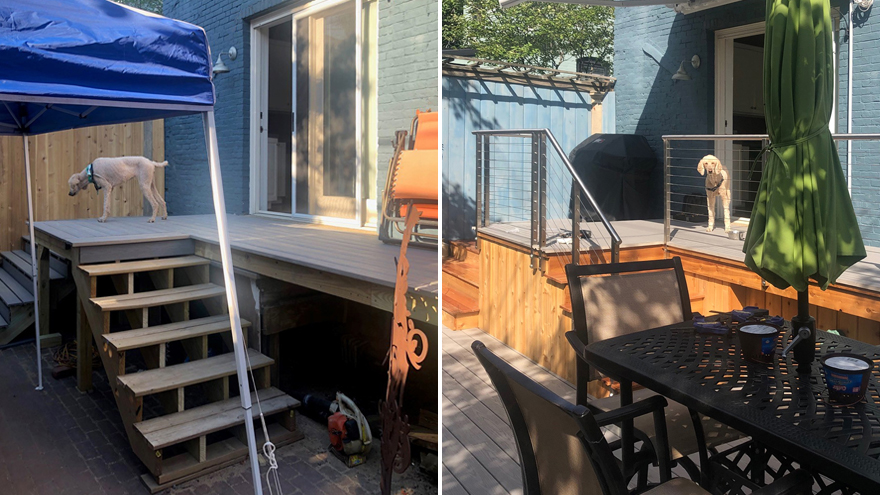 >Many AGS customers choose to install gates in their custom railing design to keep their pets safe from wandering off.
The featured railing remodel is hugely successful because it conforms to three essential rules of great deck design.
Maximize the use of space – The homeowners made excellent use of the area and resources available to them. The beautiful stainless steel cable railing makes the deck area feel open, light, and spacious.
Maximize comfort – The wrap-around deck makes excellent use of both sunlight and shade.
Maximize usefulness – Adding landscape lighting means that the deck is equally appealing during the day and night.
The homeowners thought of everything they needed to achieve a successful deck remodel and made the most of the opportunity to enhance their lives and home. Now the only thing left on their to-do list is to find their favorite bathing attire and take a soothing dip in the jacuzzi. Few things in life are as relaxing as good company, a beautiful night sky, and soft, warm bubbles to nurture the mind, body, and soul.
If you've enjoyed this story and you want to read more about this railing remodel, please visit Top 7 Must-Have Components to Transform Your Yard Into the Perfect Secret Garden.