Ryan Giffin
Lead Laser Technician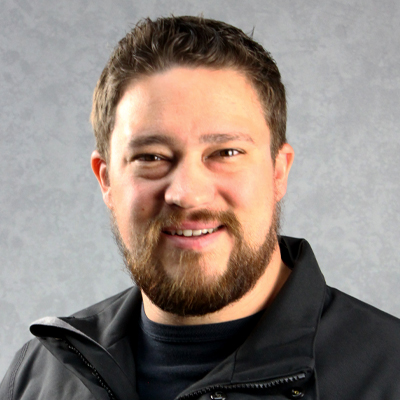 Highly specialized Lead Laser Technician Ryan Giffin loves being hands-on, solving problems, and keeping active by working in AGS' shop. Fascinated by machinery, he enjoys figuring out how things work and finding ways to improve output and efficiency. Long-term employee Ryan is the go-to expert in precision-cut railing parts for AGS' top-quality stainless railing systems.
AGS combines a wealth of experience accumulated over three decades in the railing and metal fabrication fields with the latest technologies in detailing and manufacturing to give clients the best quality prefabricated handrails and railing systems possible.
Always with one eye on the future, AGS was one of the first railing manufacturers to transition to using the Adige Fiber Tube Laser machine. Ryan is responsible for the laser department, maintaining and operating the machine to achieve optimal results with maximum efficiency.
In his early teens, Ryan joined AGS Stainless working in the shop. As a young man, he would help by doing simple tasks like sweeping floors and taking out the trash. Over time, Ryan's skillset grew to include packaging, inspection, and production. His breadth of experience and mechanical aptitude stood out as he mastered old-school fabrication such as cutting with a chop saw, drilling, grinding, parts prep, CNC machining, and finally, using the laser.
Almost two decades later, Ryan specializes in fabricating the precision-cut high-quality custom railing systems AGS is known for. We wanted to look behind the scenes and ask Ryan about his role in the company's transition from using traditional machinery to the latest cutting-edge technology.
An Interview With Ryan Giffin
What do you like most about working for AGS?
"Everybody in the shop works well together. We enjoy collaborating to figure out new railing ideas and the best way to build railing parts. Each department shares the same mindset; keeping the shop organized and fabricating custom railing parts to meet client expectations and deadlines."
The technology used to fabricate railing components has vastly changed throughout your career. How did you feel when you learned AGS planned to purchase the laser machine?
"At AGS, we're always looking for new and innovative ways to work more efficiently, improve production, and offer the client the best product possible. When I learned about BLM Group's Adige LT fiber laser, I was excited about the machine's capability and was curious to see what it could do for the company."
Being involved in such a significant change to AGS' railing manufacturing process must have been interesting. How did the company begin the process?
"I traveled to Michigan to train with the BLM Group on programming, operating, and maintaining the new machine. It was a great opportunity, and I was eager to get involved and take on the responsibility."
There must have been a steep learning curve, mastering how to program the laser to cut unique stainless railing parts. Can you tell me about that?
"When the laser first arrived, we set about creating very intricate designs so that we could learn about the machine's capabilities. The cuts took a lot of skill to program because they were one-off railing components or custom gate designs.
We also developed a range of StarLight LED accent lights with a stainless outer shell. Many of the designs we created to try to test the limits of the machine. We've got to the point where we can easily design and manufacture custom handrail and railing parts, no matter how complex. Often clients need unique stair rail components or custom stainless steel rail parts for high-end commercial railing projects. We can help them with that."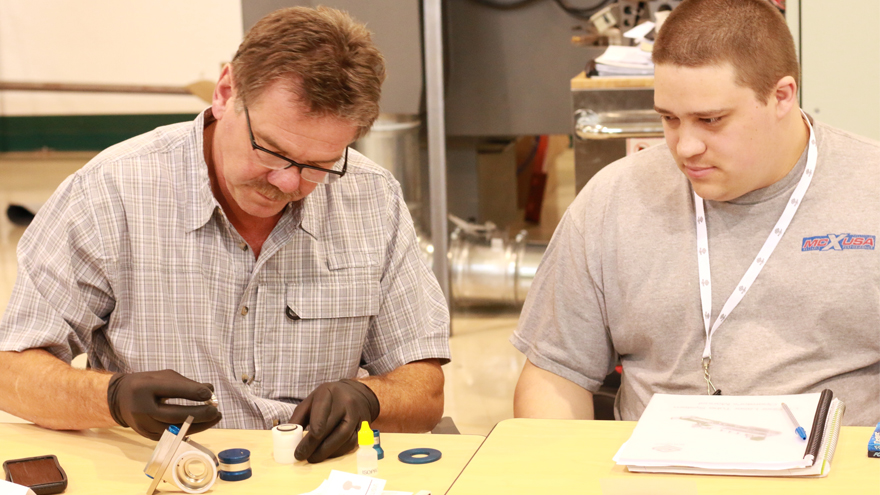 Several years later, Ryan is an expert at using the laser to fabricate one-off custom rail components to build railing systems. Shown here with Ryan is Dale from Versatile Machining, a local custom machine shop on Bainbridge Island in Kitsap County.
Purchasing the Adige Fiber Tube Laser machine to implement the latest technologies in railing detailing and manufacturing was an important milestone in AGS' 30-year history. Ryan was an essential part of the team that made the transition, increasing productivity, improving product quality, and minimizing waste.
How long does it take to fabricate parts for railings?
"Once the railing design is complete, and the machine is programmed, the laser technology makes it feasible to build one-off handrail parts quickly.
Most railing jobs that I work on require some custom rail components, but they also use many standard parts, so it's usually a mix. Many clients only need one or two individual railing parts custom-made, so it depends on the complexity and scope of the installation."
Why does AGS exclusively use 316 marine-grade stainless steel?
"The problem with other steel products is the amount of maintenance required. You have to paint lower-quality metals to keep them from rusting. Marine-grade 316 Stainless, you don't have to paint, but you do need to clean it and maintain it periodically.
Also, if you don't use stainless mounting hardware, you wind up with rust marks running down the side of your building. Those tend to be very permanent marks. That's a significant advantage to 316 stainless and stainless hardware."
How does a handrail idea become a ready-to-install railing product?
"When a client first comes to AGS, a specialized designer for railings will help the customer develop their ideas and create CAD drawings. I take the AutoCAD file and translate it to Artube. Then, with more programming, we cut all the necessary parts to build custom rail components.
Next, we weld railing parts to build railing posts and all the necessary components. Later the pieces are cleaned, polished, packed then shipped. AGS supplies all of the hardware for the railings, so everything you need to build a railing installation is included."
Cutting stainless steel railing parts is one of the many steps to produce a high-quality railing system. Do you help each other out when needed?
"Everybody has their primary task, but everyone knows that they're all here to help each other at each stage. So if we got a big job coming through and a timeline, we've got to hit. We'll pull some people from the welding department, packaging and cleaning; I'll hop off the laser. Whatever we need to get that job out in the timeframe. We hold ourselves to our word."
Who's responsible for quality control of the products?
"At each stage, we inspect the railing components for quality control as the product progresses through the manufacturing process. Each department completes an inspection from the laser to welding, cleaning, polishing, and packing.
When we pack the railing systems for delivery, we look at the quantities on the packing list to make sure everything corresponds. It's a step-by-step methodical procedure."
What do you think sets AGS apart as a metal fabricator for handrails and railing systems?
"Whenever I see other railings out there, such as 2×2 aluminum or a bolt-together system, I think it looks good, and it's not bad, but you can see the differences when you compare it to AGS.
When you start to grab or push on the rail and look at the components and fittings, you will often see offset splice joint connections. You wind up running your hand along the top rail, and your hand catches on a splice or a burr or whatever might be there on the next component.
We have splice blocks and sleeves to make that fit as smooth as possible when you run your hand down that handrail. Often, you see other manufacturers' railing components that are bolted together versus welded together. Over time, they can come loose as the deck rattles while you're walking around. Then your railing feels a little chintzy, rocking back and forth.
Also, the product's longevity, stainless steel railings look better over time and stand up better to harsh environments."
What are some advantages of using a laser to cut custom railing parts?
Precision-cut railing parts improve overall product quality.
"The machine cuts to within .004″. Techniques used by other railing manufacturers come nowhere close to that. Sometimes, there might be a noticeable gap where water can penetrate the railing system with other products. That isn't the case with AGS railing systems."
Green technology — reduce, reuse, recycle.
"Using the laser enables us to optimize our use of the material as much as possible. We keep large drops to use them for a component in the future. Anything that we can't use goes in the recycle bin, and Calbag Metals comes and collects it for recycling."
Reduced maintenance and increased productivity
"The laser machine is remarkably dependable, much more so than other technology. I'm constantly working on maximizing efficiency and maintaining the machine for optimal performance."
Ryan is keen to stress that it's the collaboration of the AGS team who work together to provide excellent customer service and a top-quality product. Each department specializes in a different aspect of railing design and manufacture. He states that the combined expertise and years of AGS experience result in railing systems that are both exceptional and beautiful.