Cody Fawver
Lead Designer
cody@agsstainless.com
888.842.9492
Lead Designer Cody has worked at AGS for over a decade and is an invaluable member of Your AGS Team. Friendly and approachable, he has an excellent problem-solving methodology and is highly efficient in establishing the customers' needs. Cody's job involves working with customers to provide industry-specific knowledge, viable solutions, and helpful advice.
AGS Stainless is honored to be a four-time award winner of the coveted Best of Houzz Service Award. Cody, a highly experienced lead designer, is an integral part of the award-winning dream team. In this interview, he shares his experience and talks about his role in providing 5-star customer service to AGS customers.
Many AGS customers are homeowners and haven't installed a railing system before. How do you help them make sure that their railing design will look beautiful, meet all building codes, and be the perfect fit for their unique layout?
"Often AGS customers have found the railing design they want, but they foresee minor snags, and they come to AGS looking for help to resolve those issues. My job is to help them develop one or many workable solutions to help them get the right look for their railing project.
Although we always start with standard railing options, the customers often have an additional request or customization that makes the job unique. I rarely find a railing system that's just cookie cutter. Resolving those challenges makes my job exciting and fun.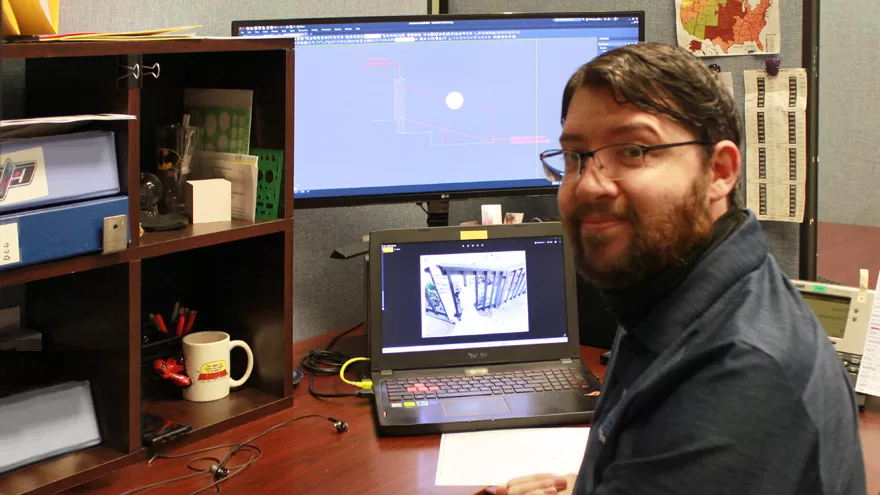 Cody is part of Your AGS Team and has the knowledge and experience to offer invaluable help and advice to AGS customers.
Many of our customers are not professional builders and have limited building experience. Occasionally homeowners call back because they are having trouble installing a product, perhaps one of their field dimension were off, or things didn't quite map out in the end how they wanted. We always find a way to modify the system and make it work with little to no changes. We're happy to help people out when they get a little stumped; It's an important part of what we do.
We're here to offer help and support throughout the installation—that's one of the things I enjoy most about my job, seeing railing projects through to their successful completion and helping customers realize their goals."
You have worked at AGS for over a decade. Have you always worked in the design department?
"Although I work in the design department, I often assist the sales team by creating estimates. I've learned the ins and outs of the railing business. When customers want to add a new section of railing to their decks or home, I'm here to help. I can create estimates, produce drawings and develop railing solutions too. Initially, I found it quite challenging, but I feel like I've mastered it now."
What do you enjoy most about your job?
"I like talking to customers and helping them. Many of our customers enjoy working with me because I'm very friendly, like AGS clients Tom and Janis. Read their story: Teamwork Makes the Dream Work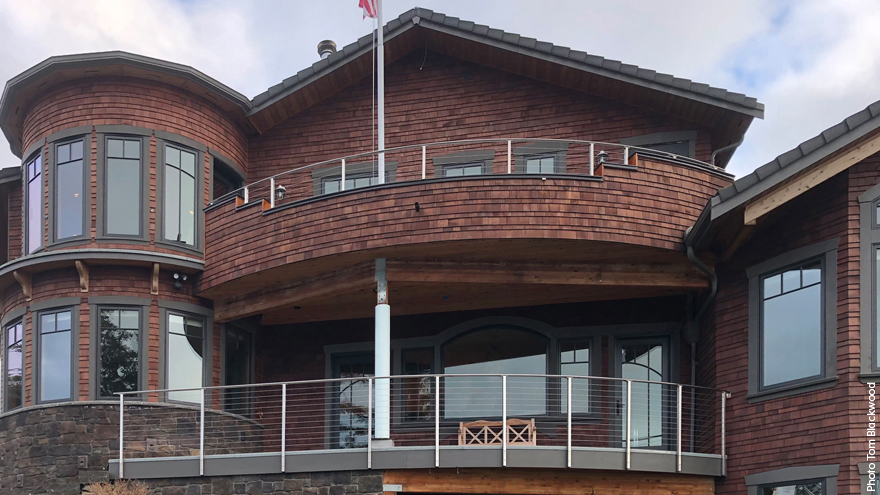 Janis and Tom's home required two custom railing installations. Cody worked with them to find the best possible options for their unique railing project.
I worked with them on their first AGS railing installation, they had a good experience, and when they came back for a second time, they requested me on the job. That's something I find very gratifying. It's rewarding to know that I did a great job for them and that they appreciated my work. I loved seeing their railing pictures. The installation looks beautiful!"
How did you develop so much experience learning to draw and designing custom railing components?
"Throughout my career, I've acquired a vast knowledge of AutoCAD. I work in both 2d and 3d drawing programs. Before joining AGS, I worked for an engineering firm where I spent a lot of time learning to understand and interpret architectural drawings, which is extremely useful at AGS.
I have also had the opportunity to learn how to program the 3d software for our laser machine. The machine enables us to efficiently make unique custom railing parts right here in the shop without incurring huge costs."
AGS manufactures one-of-a-kind railing systems. Have you worked on any of the bespoke railing designs?
"Yes, Dave & Busters, for example, that particular client often uses mesh panels. With AGS components and the clamps, we can accommodate and develop panel sizes to meet the customers' needs. AGS has expanded our railing lines beyond what we show and offer online. We have done that to be open to the customers' suggestions and to accommodate their requests. Doing so has allowed us to develop some big-name clients."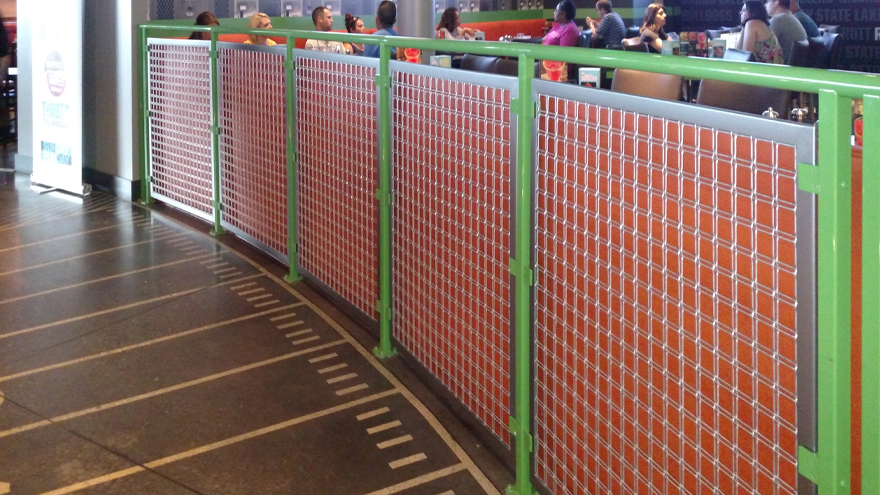 Cody and the AGS team worked together to create this unique mesh panel railing system.
While working with AGS, if you have a question, you can be assured that an actual human being will respond to your call. Our online reviews like the one below frequently mention AGS employees by name. That's because, for the duration of your project, AGS provides a working relationship with you to offer you the help and advice to make sure your railing installation is a complete success.
"I am a residential contractor designing and building custom homes in the Madison, WI area. We have been using AGS for cable railings since 2013. Each of our installations have been seamless, starting with the initial contact to the shop drawing approval process and final installation. We pay close attention to the details when building each home, and AGS offers a range of products to help us provide a high level of finish that our clients expect.
I have worked with Alan and Cody on several jobs, and they have the expertise to help facilitate all of our needs, from beginning to end result. Looking forward to having AGS fabricate more railing systems for our future projects!"
Kyle Kane, DK Design Build, LLC
To read more from our customers, please visit our testimonial pages. Or read AGS Before and After stories to see how an AGS custom railing system will transform your home.