Picture yourself taking a well-earned break and enjoying the serenity of your private personal secret garden. Imagine pampering yourself on a beautiful remodeled deck, spending time engaged in your favorite backyard summer pursuit. Perhaps you'd like to get engrossed in a good book, connect with friends over iced tea, or catch up on some rest in an oversized hammock. Creating your dream deck and garden is the ultimate indulgence and, for many, a fun project and opportunity for self-expression.
That's what these ingenious homeowners did — based in Buffalo, NY, the couple set about creating the ideal outdoor space for family, friends, and fun. With the perfect mix of creativity and ideas, the pair designed a beautiful backyard that has it all.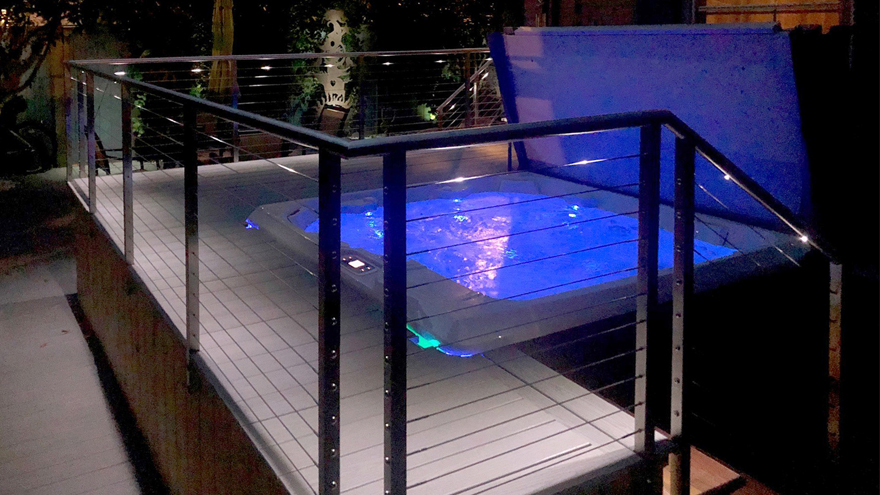 The illuminated handrail adds gentle accent light that makes the jacuzzi look so inviting for a nighttime dip.
Creating the perfect deck or outdoor area does not require acres of land or a vast outlay of cash. Quite the contrary sometimes less is more. A good design makes the best use of the space and resources you have. When designing your outside space, a few well-chosen features such as a stunning cable railing system or cozy landscape lighting can create the perfect foundation upon which you can elaborate your design. Read on to discover the seven essential components of a magical and unique backyard or deck design.
If you would like to learn more about this railing installation, please visit: Before and After NY Deck Remodel That Checks All the Boxes.
A Welcoming Atmosphere – Create a retreat where you can relax and calm your senses that equally serves as a place where family and friends can come together and have fun. The beautiful Rainier cable railing system has a clean look and creates a lovely sense of space, opening up the area and making it feel spacious and inviting.

Fun – For kids, splashing around in the jacuzzi is a lot of fun. For adults, it's a great way to relax and unwind. Consider what activities make you happy and, if possible, find a way to make those dreams a reality.

The deck cable railing system makes the deck feel open, allowing the residents to see and enjoy the plants and beautiful garden sculptures.

Ambient Lighting – Try to create layers of soft ambient lighting that will add to the atmosphere and enhance safety. Here the homeowners have added a delightful illuminated handrail to the stairs and deck of their custom cable railing system, which adds a touch of magic or fairytale to the deck. Alternatively, LED StarLights might be an easy and effective way to create a pleasant mood or feel for an evening soiree.

Personality – Lush plants and garden sculptures bring this yard to life with a great personality and abundant warmth. The outdoor space is infused with character and creates an ideal space for summer entertaining.

A well-positioned table enables watchful adults to see older children near or in the jacuzzi.

Privacy – Consider adding trellises and growing plants in problem areas where neighboring buildings might overlook your yard.

When designing a deck's layout, it's essential to consider both the sun exposure and shade availability for people and pets.

Safety – Having an enclosed, safe area for children and pets adds to the quality of life for everyone involved. If your backyard is not enclosed, you may want to think about customizing your cable railing system to add a gate to keep your pet safe from wandering off.

Comfort – Design seating areas where you can eat and relax in the shade's comfort or soak up the sun as you desire. The steps lined with cable railing leading to the jacuzzi make it easier to enter and exit the pool.

The side mounted stainless steel railing system looks elegant and modern.
There are many aspects to think about when developing ideas for a great deck design, such as the layout, railing design, furniture, and lighting. But remember, ultimately, your backyard design doesn't have to be perfect for anyone except you.
This couple transformed their outdoor space into something special and uniquely theirs. The space they created checks all the boxes in their goal to achieve a quality of life to which most of us only aspire.