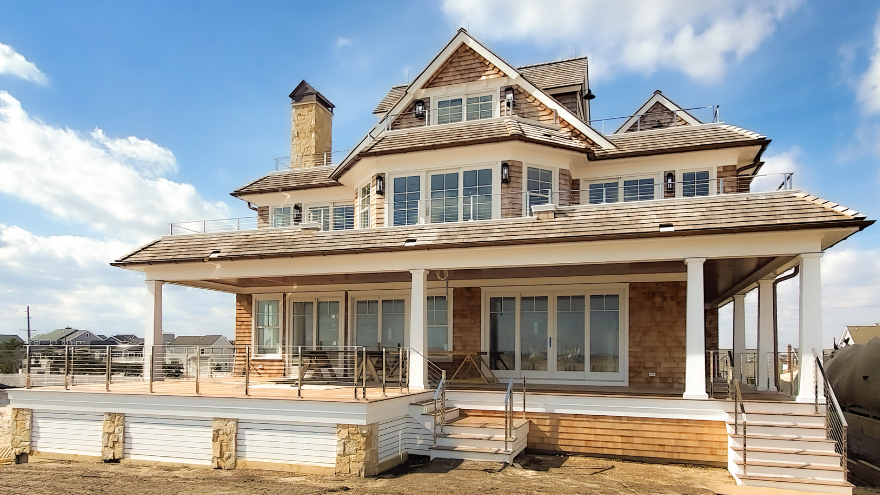 The Scenario
May is officially Deck Safety Month® and it is when many homeowners start thinking about how they would like to enjoy their rooftop decks over the summer. The owner of this gorgeous beach house wanted to observe a spectacular view of the water on a brand-new rooftop deck with her husband. However, after learning that her current parapet wasn't sufficient to meet Code, she needed a company to design a taller guard that would be visually appealing and minimize obstruction.
Rooftop Deck Safety Options Can Be Beautiful
That is when she reached out to AGS Stainless for a solution to her problem. After discussing various options with a design consultant, she decided to supplement the rooftop deck parapet with a cable railing system that would bring the total to 36 inches tall. Ornamental cable railing systems like Rainier act as functional artwork because they can be installed on existing structures to improve safety and create visual impact. A minimalist flat top rail and 1/8-in uncoated stainless steel Clearview® – Cables were used to create clean lines. In this case, a top mount was more practical because the sides of the parapet were artfully concealed with vibrant cedar siding. The cable railing system was mounted on top of brilliant white trim with Clearview® – Lag Screws, which were inserted through the holes in the base plates welded to the bottom of the posts. Clearview® – Base Plate Covers were placed on top of the partially exposed screws to complete the aesthetic, while a sleek finish shimmers in the natural sunlight.
The Result
This homeowner was happy with the outcome and will now be able to enjoy a magnificent view from her rooftop deck with an elegant cable railing system that disappears into the background.
Company Description
AGS Stainless designs and manufactures prefabricated stainless steel railing systems under the Clearview® brand, which include the Rainier cable railing system, the Glacier panel railing system, the Olympus bar railing system, and the Cascadia railing system. Schedule a FREE DESIGN CONSULTATION to get started.