There's nothing more exciting when it comes to home improvement than planning and completing a new construction or remodeling project. Designing your dream deck and upgrading your outside space is a gratifying task to undertake. In addition to the benefits of a beautiful new deck, completing a home remodeling project brings a huge sense of satisfaction and accomplishment.
When Tom and Janis B. decided to remodel their railing system and design a deck where they could enjoy spending time together, they worked together as a team, sharing tasks in their goal to make their dream deck a reality. Janis worked with AGS handling the order and managing the project, while Tom took care of other jobs required to complete their deck upgrade.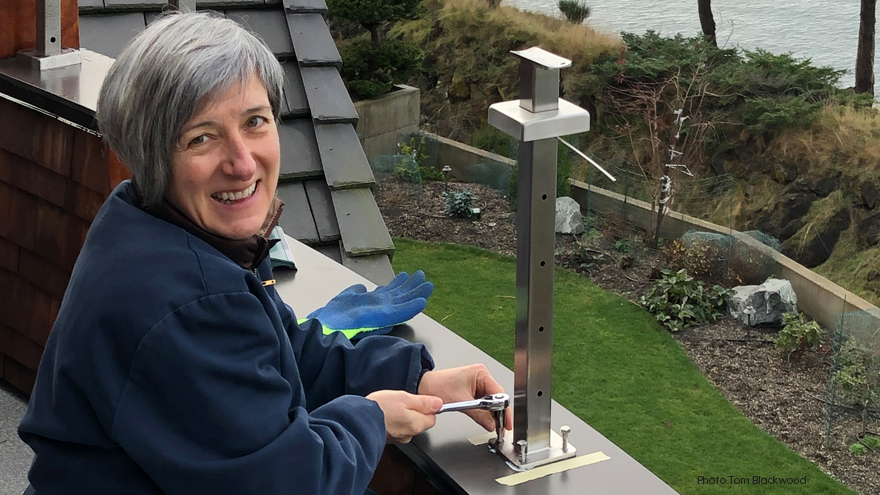 Janis makes installing a railing system look effortless.
Before Tom and Janis decided to install two new railing systems on both balconies of their beautiful waterfront home, they knew that their construction job might not be entirely straightforward. With the shape of both decks being curved and irregular and the upper deck requiring railing posts of various lengths, the couple realized they needed to find a company that could offer specialized expert railing help. That's when they reached out to AGS, a company capable of providing not just custom railing systems but seamless customer support too.
Janis and Tom Join Teams With AGS
After supplying the dimensions and details of the project to Chuck, an AGS estimator, and receiving their initial free estimate, the couple had the confidence to proceed with their railing remodel. They paid the deposit, and the project moved to the design and fabrication stage.
"Our decks were circular and not of a consistent radius. We knew it would be tricky getting the correct dimensions to AGS, but they had a flawless system for measurement. We filled in the requested dimensions, and they provided a stainless rail that fit the deck perfectly."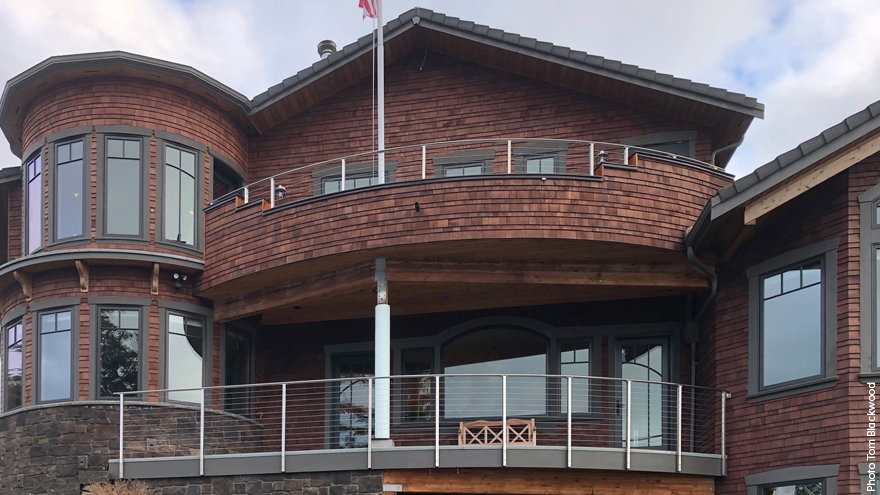 The stylish balcony pony wall, rounded deck, and flagpole all allude to an onboard ocean adventure.
Next, working with AGS designers, the pair worked through the final details of the railing design, and Cody, an AGS designer, produced CAD fabrication drawings. Once the design was complete, Matt and Ryan prefabricated the railing system, and it was carefully packaged and shipped to the installation site. The AGS team was available to answer any railing-related questions throughout the entire process.
"Each person we worked with, from the initial estimator to the final guys on the shipping dock, were professional, happy in their workplace, and most of all – proud of the product. We highly recommend AGS stainless for railings. Exceptional! The whole process was positive."
Janis and Tom's Stunning Railing Installation
Upper Balcony – The pony wall with a custom Rainier cable railing system has a charm all of its own.
The upper balcony features short custom railing posts and cable railing. With the curved deck and old glory rippling in the wind, the overall aesthetic gives an on-deck nautical appeal, a look and feel that could not be more perfect for their beautiful home located in Anacortes, WA.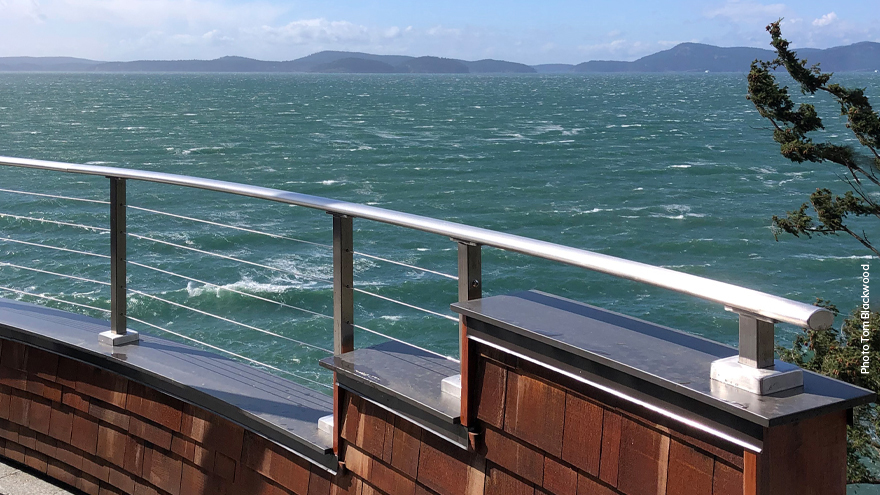 Gleaming stainless steel railing posts with elegant baseplate covers and slim cable railing adorn the pony wall and look thoroughly luxurious.
Lower Balcony -The side mount custom Rainier cable railing system is perfect for the smart modern home.
Side mount stainless steel railing posts give a clean, modern look to the deck and the beautiful smooth geometric lines are visually pleasing. The slim railing posts and flat handrail make the lower deck feel open, spacious, and connected with the gorgeous setting.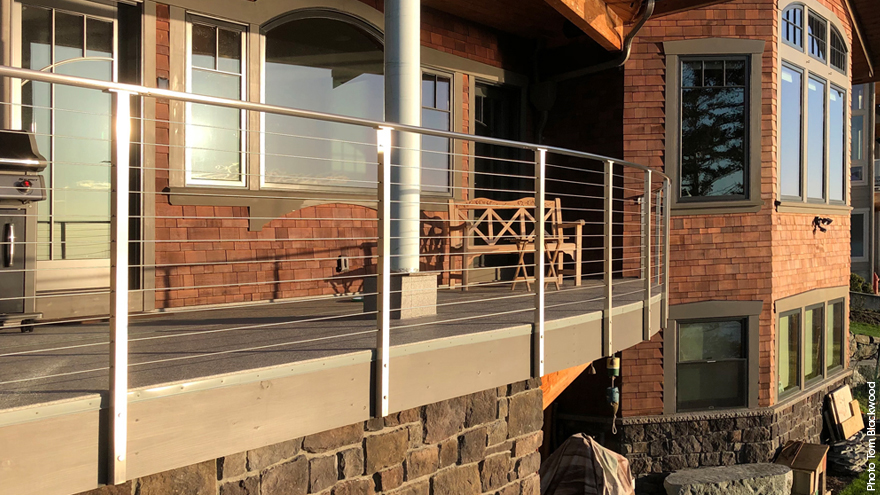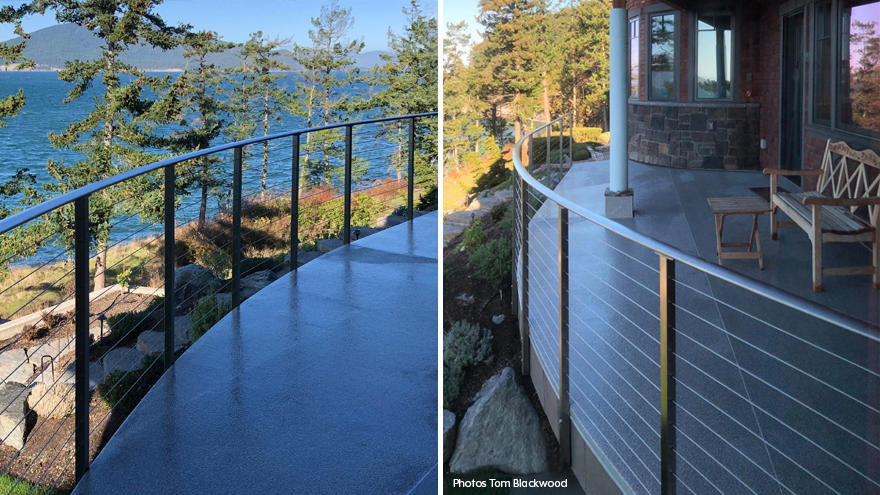 Side mount railing systems look beautiful from both the deck looking out and the exterior view looking towards the home.
When installing their custom railing system, Janis and Tom found it reassuring to know that they could depend on the expertise and support of AGS staff throughout the process of their railing installation. Building projects rarely go 100% according to plan — which is why the industry-specific knowledge and expertise AGS staff provide is so invaluable. AGS manufactures custom railing systems to help people like Janis and Tom beautify their homes and create living spaces that are a delight to experience. They do so by endeavoring to provide the best railing products and customer services possible.
Thank you, Janis and Tom, for choosing AGS Stainless and writing such a lovely testimonial!
Other links that may interest you include: