Most of us can only imagine what it's like to live in Alaska, the US' most sparsely populated state. Living in or close to the arctic circle means that residents at the last frontier need a strong sense of adventure and a can-do attitude. There's a lot to love about the Alaskan lifestyle, including the untamed wilderness, abundant wildlife, and desolate beauty. However, residing in such a remote area is not without its challenges. For example, routine home maintenance and construction work become much more complicated when you call America's Icebox home. Arnie T., a homeowner who lives in Kodiak, AK, understands the difficulties all too well. Nevertheless, like many Alaskans, he doesn't let a challenge stand in his way.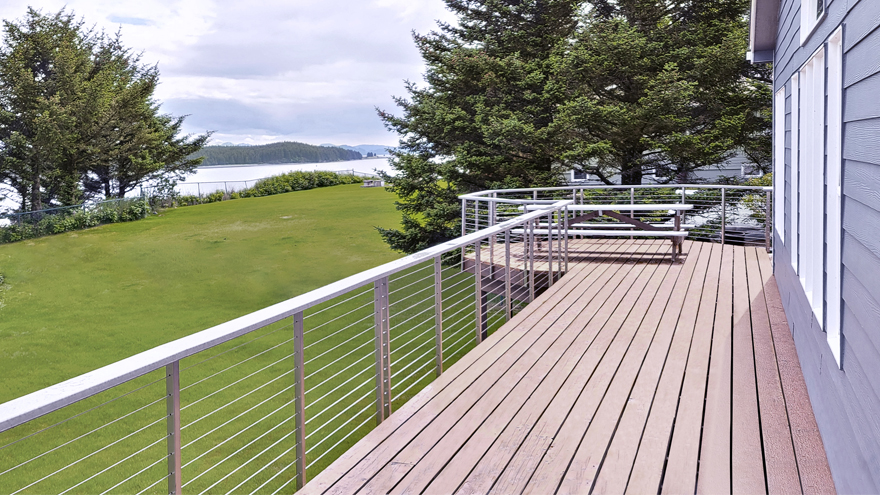 This summer, Arnie completed an impressive DIY deck makeover. The new Rainier cable railing system in Kodiak, Alaska, is perfect for the setting. In addition to the side mount railing posts, the neutral stainless steel tones look sleek and modern.
Everything You Need For a DIY Deck Railing Makeover
Surrounded by natural beauty, Arnie wanted to renovate his outside space to build his Alaskan dream deck. Due to his location, he knew that finding labor, tools, and equipment could be an ambitious task. Seeking a solution, Arnie went online and discovered AGS Stainless prefabricated railing systems. Included in the purchase were all the railing posts, railing parts, and railing components. AGS conveniently ships all the railing hardware to the job site. Consequently, the ready-to-install railing system had everything he needed, including detailed instructions.
Top Tips on How to Install a DIY Cable Railing System From a Team You Can Trust
Once Arnie had chosen the Rainier cable railing system, he placed an order. He planned thoughtfully and requested a delivery date a few months ahead of time. Consequently, he had everything ready to complete the project during the light summer months. Like many AGS customers, Arnie had not completed a DIY deck railing project before. That's why from the start of the project to the finished railing installation, AGS provides helpful support as needed. We're the experts, so you don't have to be. Not only will AGS's award-winning team answer your questions, but they'll also help you problem-solve too.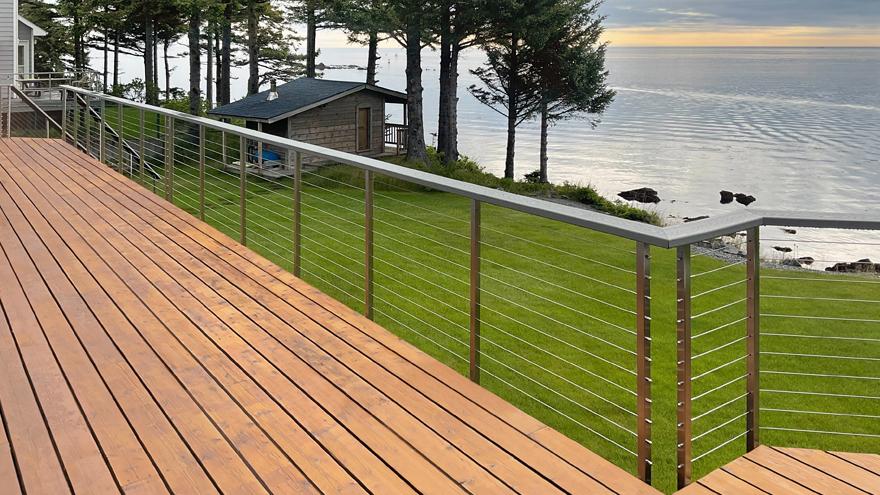 Despite appearances, living on the last frontier is not for the faint-hearted. Whether planning for the winter or completing a railing remodel, residents need to be resilient, resourceful, and prepared.
What You Should Look For in a Quality Railing System
When choosing a railing system for a deck in a harsh environment such as Alaska, selecting a high-quality product is crucial to the project's success. All AGS products are manufactured from 316 marine-grade stainless steel. As a result, the railing systems offer superior corrosion resistance.
Living the Alaskan Dream isn't supposed to be easy; quite the contrary. Getting outdoors and living well in Alaska often involves healthy challenges. Adventures, especially in the arctic, require the best equipment, careful planning, and always having a backup plan. Building a dream deck is no different. When you equip yourself with top-quality products, a great deck design, and a team you can trust, you know you're setting yourself up for success.
Now, all Arnie has left to do, is kick back and enjoy the aurora borealis and other abundant rewards! Thank you, Arnie, for allowing AGS to feature your stunning home and story!
Other pages you might enjoy