Custom Stair Railing Parts Make a Complete Success of Partially Enclosed Stair Remodel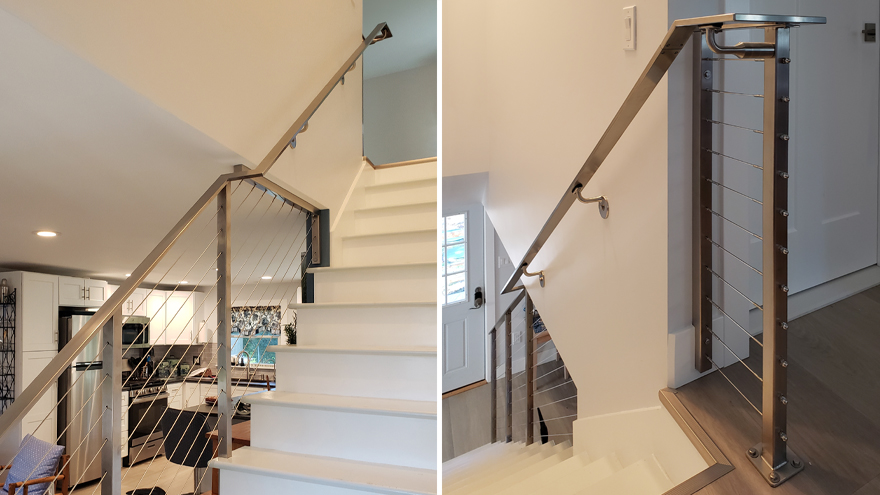 East coast resident Jon W. decided to upgrade the stair railing system in his home to a modern cable rail. Due to Jon's home's partially enclosed staircase design, some of the cable runs would need to terminate in the studs behind the drywall, or Jon had to devise an alternative method. Although this is not an uncommon scenario, the railing installation required customization.
Custom Cable Railing Parts
Cable fittings are concealed inside a wall-mounted railing post that has a 90-degree bend.
AGS Stainless specializes in manufacturing custom railing systems. Often, that involves designing unique cable railing parts to overcome problems created by unusual stair layouts. In this instance, AGS manufactured an angled railing post to house the cable fittings and to fit perfectly in the desired location.
Custom Designed Continuous Handrail
The custom-made AGS stainless steel handrail transitions smoothly.
Jon's installation demonstrates the main three methods used to install a stair handrail. Although the design features different techniques, the overall aesthetic is seamless.
Post-mount bracket – The handrail attaches to the side of the post
Wall-mounted handrail bracket – The handrail mounts to the wall
Conventional – Handrail sits on top of the railing posts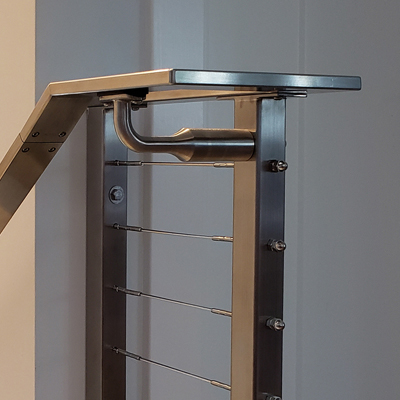 Post mounted handrail bracket.
Wall-mounted handrail bracket.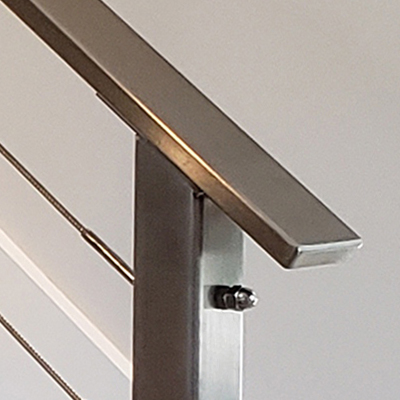 Rail atop the railing post.
Customized Railing Mounting Methods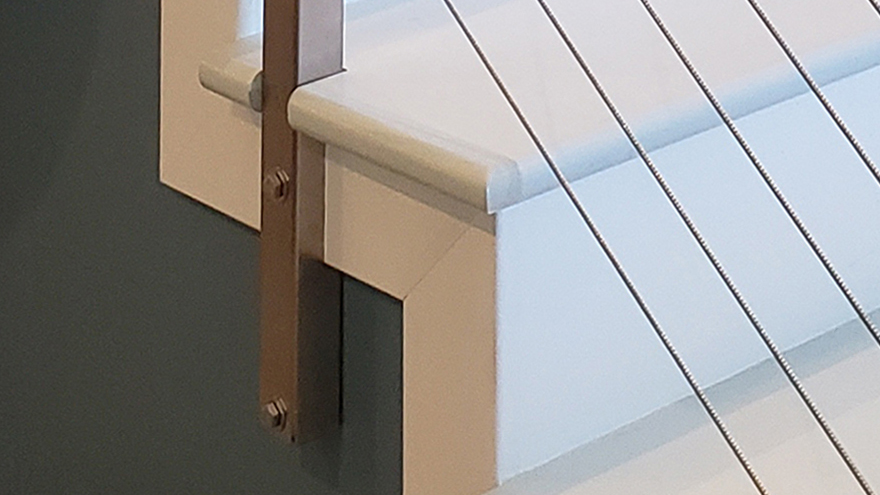 Side mount railing posts fit neatly into the notched decking edge.
A custom railing system allows you to make small changes to your railing installation while maintaining a cohesive design. This application shows that the installed railing system employs three different post mounting methods. Installing a custom railing design means that there are no compromises. In addition, customized railing parts can make the railing system easier to install and provide a beautiful high-end look.
Top Mount — Railing post sit on top of the mounting surface
Side Mount — Railing mounts to the side of the step or deck
Custom mount — Modified railing posts provide a range of options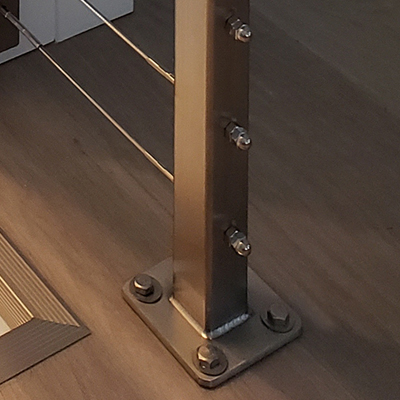 Top mount railing post.
Custom angled railing post.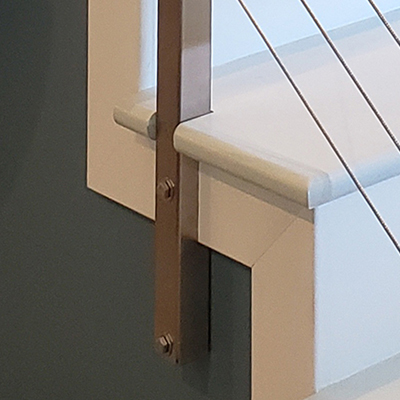 Side mount railing post.
Customer Testimonial
"The team at AGS was very helpful in my design as I had a stair railing project that had one end of the wire infill anchored to a wall/ceiling corner and then the top rail offset to continue up the stairs. When the materials arrived, my first impression was how sturdy and heavy gauge the posts were. The welds were all smooth and clean.
The design drawings and instructions were spot on and were easy to follow for installation. I dry-fitted the railing on the posts to check all the alignments and marked the wall supports, and everything lined up perfectly for final installation.
I have received many compliments on the look and feel of the railing and have shared AGS info with my friends. My next project will be the decks on the house."
Jon W.
A Team You Can Trust
For a FREE Design Consultation, all you need to do is fill out the form and provide a few measurements. We'll help you identify and work through feasible railing design ideas to get you started on your railing project.
AGS has been in business for over 30 years. During that time, the company has amassed a wealth of experience in assisting customers in developing creative railing solutions. Whether you require custom height railing posts, innovative ideas for handrails, stair parts, or hardware, we're here to help.
Not only will AGS experts provide you with helpful advice when designing your project, but we'll also provide detailed instructions on how to install your unique railing system. To learn how to install cable railing, check out our instructions and video resources.
If you are beginning a staircase makeover project, you might like to start by visiting AGS' staircase photo gallery. We've put together hundreds of stair railing ideas and designs to inspire your next home improvement project.