When Megan V. and her husband decided to upgrade their deck, they set about creating an idyllic family-friendly outside space for summer fun and total relaxation. The recently remodeled deck and cable railing system could not be more beautiful. The deck has everything a family needs to make precious memories of glorious sunfilled days, infused with the delicious aroma of backyard barbecues.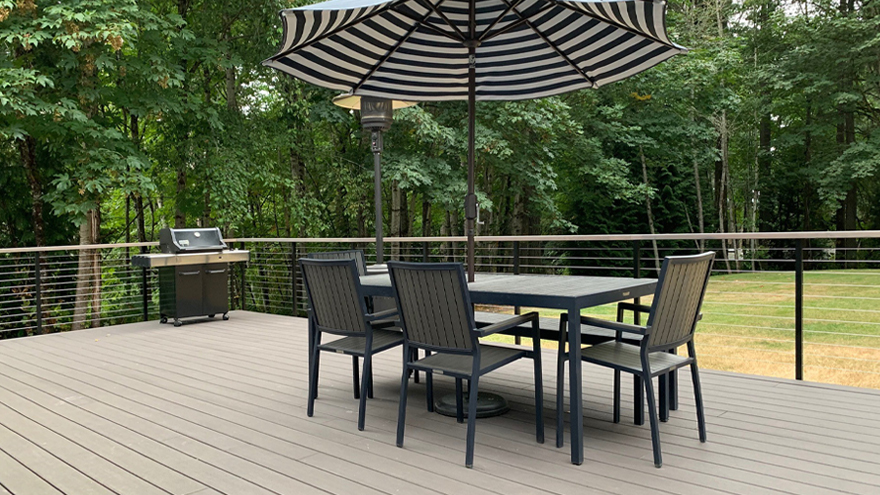 The powder coat black railing system topped with a light wood handrail is a perfect choice for the wooded Washington State setting. The black powder coat railing posts visually blend with the lush landscape of maple and alder trees, and the soft tone of the wooded handrail complements the overall natural aesthetic.
"We are beyond impressed with the railing. The attention to detail is impeccable, and the installation was simple and straightforward — So thrilled with the outcome."
Megan V.
The couple chose a sleek AGS Stainless Rainier cable railing system which was prefabricated and then shipped to their home ready to install. The side mount railing posts were precision laser-cut to enable easy installation. No onsite fabrication is required, and installing the railing system does not require highly skilled labor.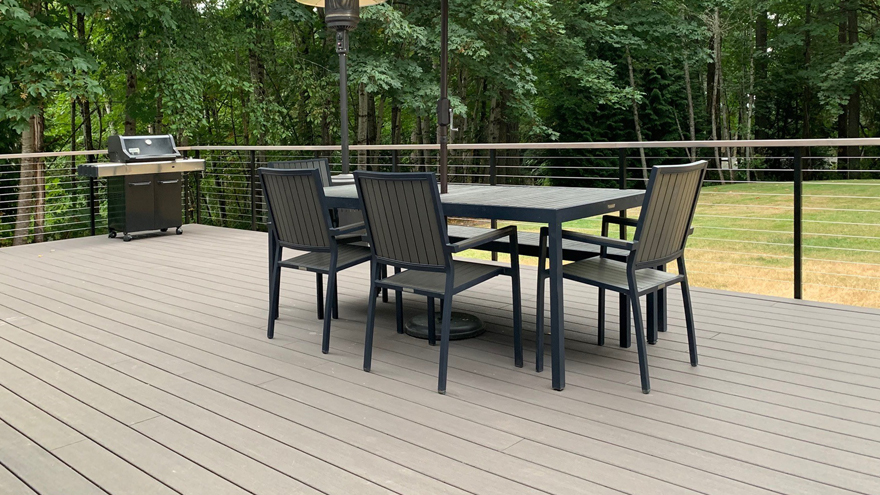 The new outdoor space is designed to be versatile and includes lots of room for entertaining. The addition of an outside space heater makes the deck an attractive place to relax to the mesmerizing soundscape of the dense forest and tree frogs' chatter on cool summer evenings.
Great railing design involves choosing a railing system that meets your specifications and needs precisely. Finding a railing system that enhances your home and maximizes the surrounding environment's benefits is key to designing a successful railing project.
AGS Stainless custom railing systems are available with various railing infill styles and an array of powder coat colors. To see more examples of powder coat railing systems, please visit, Powder Coat Railing Systems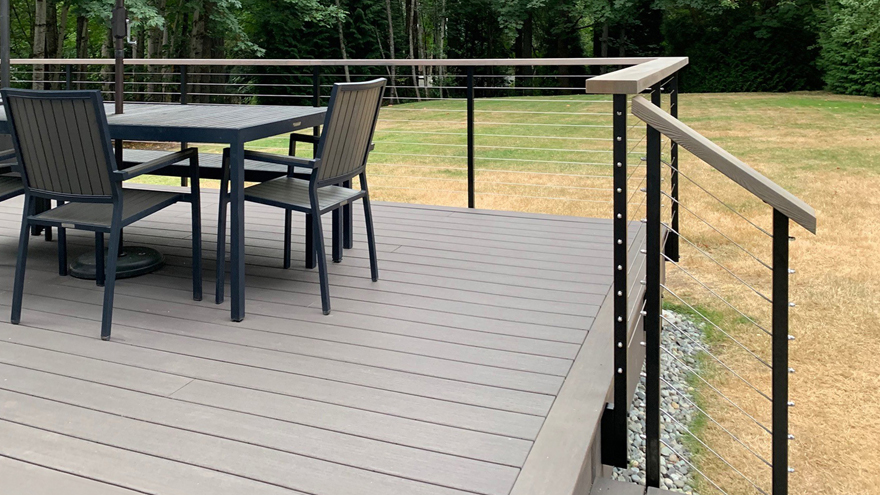 The railing posts were installed using the side mount with a spacer method on the steps and deck area, giving a lovely clean, modern look to the deck.
The ultimate deck design includes sun, shade, and space to host fun-filled summer gatherings. Megan and her husband will get to enjoy their lovely new outdoor living area and railing system for years to come. The beautiful deck and railing system will enhance the couple's home and quality of life — Not to mention the resale value!