Slava, a homeowner living in Washington state, completed this impressive remodel that transformed his deck and the view from inside his beautiful home. These before and after deck cable railing remodel photos demonstrate how the railing upgrade makes the deck appear much more modern, spacious, and open.
"From the start of the project, Bryan and the whole team did a fabulous job manufacturing our railing system. Professional handling of paperwork, prompt response to the calls and emails. I'm recommending them to my friends and family and will use them for the next railing project."
Slava, WA
The Cable Deck Railing Installation
Slava, who likes to complete construction projects around his home, decided to remodel his deck with a new DIY cable railing. The DIY enthusiast purchased a Rainier cable railing and completed the installation by himself.
The stainless steel deck top rail and posts look clean and modern.
Slava's work is immaculate, and the deck cable railing with side mount posts is the perfect choice for his PNW home. In wet climates, stainless steel is the best material for deck railings due to its superior corrosion resistance, so not only does it look beautiful, it's a smart choice too.
How to Build a Deck Railing — And Make It Look Easy
Slava set himself up for success. He built a deck and stair railing using AGS prefabricated custom railing parts, tools, and instructions. Rainier's excellent design makes it an easy to install cable railing. Therefore it's a top-rated railing product with contractors and homeowners alike.
Choose a DIY Railing Built to YOUR Specifications. AGS manufactures deck railings and supplies all the deck railing hardware needed to complete your installation. Systems are designed and built to your exact project specifications.

Use the Best Cable Railing Tools. Customers can hire or purchase cable cutters and cable crimpers necessary to install cable railing.

Learn How to Build a Deck Railing From the Experts. In addition to detailed instructions and helpful video resources, friendly AGS staff are available to help problem-solve and ensure your project goes as smoothly as possible.
Ready to Talk to a Railing Expert?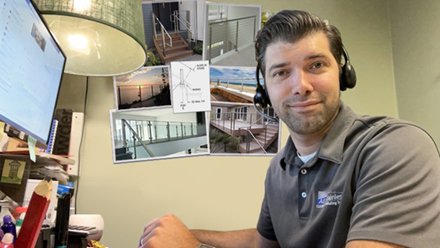 For More DIY Deck Railing Ideas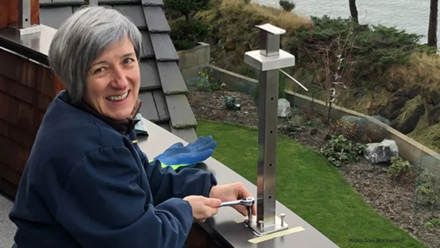 Teamwork Makes the Dream Work
Husband and wife team remodel two railing systems as they learn how to install a cable deck railing and a balcony cable railing.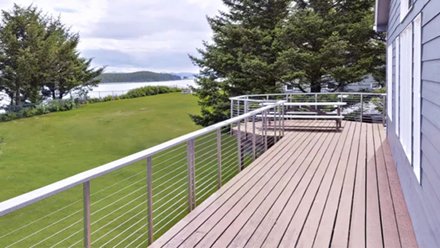 DIY Cable Railing | Deck and Stair Remodel – AK
See deck railing with cable photos. Cable railing parts were shipped to Alaska and installed by the homeowner.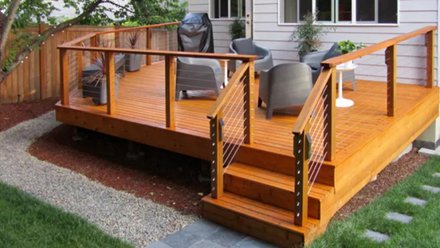 How to Install Cable Railing Fittings Into Wood Posts
Learn how to install a cable railing with wood posts to build a DIY wood deck railing for your home.