The Ultimate in Custom Railing Systems!
Whether you're installing a gate to the railing system on your home or business, first impressions matter; as guests arrive, the gate leading to the entrance of your home or business provides not just the first impression but the first interaction too. Your visitors will experience the high-quality feel of the custom stainless steel gate and railing system as they arrive at the property and pass through a beautiful exclusive private gated entrance.
Installing an elegant custom gate to your railing system is a great way to inform passersby that the path or driveway is private while still maintaining a welcoming aesthetic to guests and visitors.
A beautiful property in a stunning location demands nothing less than the best in custom railing systems. Pairing a custom vertical bar gate with an elegant cable railing system creates a sophisticated contemporary aesthetic fitting to the high-end location. Elegantly designed, side mount railing posts nestle alongside top mount gate posts resulting in a beautiful architectural railing feature.
Architectural decorative details on the stair entrance and railing installation give this unique railing project a flair that exudes style and luxury.
Luxury buildings often feature railing systems with mixed infill types. This stunning railing installation features three railing infill types — a Glacier glass panel infill on the landing, Rainier cable infill on the stairs, and Olympus bar infill on the gate. The stainless steel round handrail used throughout gives the railing system an elegant, unified look. AGS custom prefabricated railing systems make it easy to create a symphony of style and blend railing infill types to create an aesthetic that makes your custom railing project unmatched for elegance.
Cable Railing Vs. Rod Railing?
When choosing a stainless steel railing system, you will want to explore all the possibilities. There are many beautiful railing ideas, so narrowing options by selecting an infill material is helpful when deciding on a railing design. Often people find themselves weighing up the pros and cons of rod vs. cable railing in an attempt to establish a preference. When comparing cable and rod railing, you should consider the difference in cost, ease of installation, and visual appeal.
To see more examples of railing installations designed by architects using AGS custom railing systems with mixed infill, please visit Making a Statement by Blending Two Types of Railing Infill
Versatile Glass or Panel Railing Infill With Gates
Construct a Safe Area by Adding a Gate to Your Railing System

When sunshine abounds during the warm weather months, there's nothing more wonderful than the joy-filled sound of children at play. While kids, pets, and half the contents of your home rove in and out of the house, it's reassuring to know that the backyard perimeter is secure. Installing a Glacier railing system with a panel infill and gate creates a safer environment and can help keep pets and children safe from wandering off.

Top mount railing posts beautifully complement the soft greys of the stone patio.

AGS Stainless prefabricate railing systems with mesh infill panels in an abundance of styles. Attractive mesh panels are an ideal railing choice for luxury environments. In addition to being beautiful, they also enhance safety and increase privacy.

Bright and Welcoming, Glass Panel Railing Adds an Open Feel to the Entryway of This Home

Perfect for small areas, a gated railing system with a glass panel infill allows light to flood the home's entryway, creating a spacious feel and a sheltered space where plants can flourish. When space is at a premium, designing a patio garden to grow herbs and flowers can improve your quality of life and brighten your porch or balcony. Imagine coming home to the scent of lavender and an array of colorful blooms. Now that's how to make an entrance!

The dog, thwarted in his attempts to break free, remains safely contained in his outdoor play area.

If you're interested in reading more about installing a railing system for pet safety, please visit Decks for Dogs! Perfect Railing Systems for Dog Lovers!
Elegant Rainier Gated Cable Railing Systems
Adding Gates to a Cable Railing System for Water Access

Rainier stainless steel cable railing is the perfect choice for waterfront settings. In addition to being corrosion resistant, the thin cable railings virtually blend into the background and preserve the view beautifully. Adding a gate to the cable railing is an unobtrusive way to provide water access while maintaining the railing system's elegant geometric architectural lines.

The gate with cable railing infill allows people to access and exit the water in a safe location.

To see more photos of AGS cable railing systems installed in waterfront settings, please visit AGS Showcase | Waterfront Cable Railing

Surface Mounted Stand Alone Cable Railing Gate

Custom AGS railing systems are exactly that, custom. Gates and railing systems are manufactured according to your specifications and then shipped to the job site ready to be installed. AGS designers are here to help you find the best solution to suit your project needs.

This gate with vertical cable railing infill was custom-fabricated to fit the pathway perfectly. AGS stainless manufactures gates in standard and custom widths.
Classic Olympus Horizontal Bar Railing System With Gate
Designing a Railing System for a Family-Friendly Deck

When completing a railing remodel, the deck's homeowner chose to add an Olympus horizontal bar gate to create an enclosed area for the family to relax. The deck leads to an unfenced yard. Installing an Olympus bar gate at the stairs' entrance proved to be an easy and economical way to create an enclosed area for the entire family to enjoy.

All AGS stainless steel railing systems are available in various finishes and powder coat colors. Brushed stainless or black powder coat horizontal bar railings paired with a wood top handrail are classic railing design style choices.
Railing Systems With Double Gates for Wide Access and Entry Points
AGS Custom-designed gates are prefabricated to meet your specific requirements. AGS designers are committed to your success and are here to help you find the best solution for your unique railing project.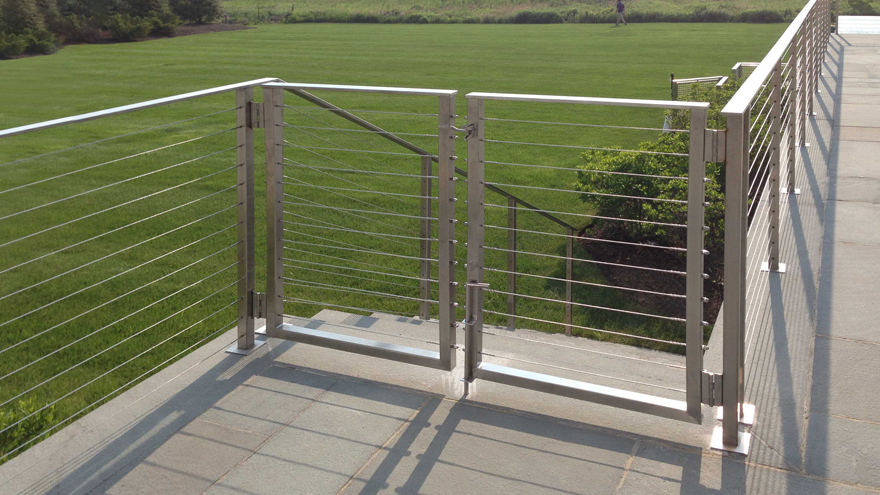 Custom Fabricated Gates Designed to Meet Your Requirements
Powder Coat Colors All AGS railing systems and gates are available in a wide array of powder coat color choices.

Custom Dimensions All stainless construction gates are designed according to your specification, including code-compliant dimensions.

Latches and Hinges Several hinge styles are available. Customer-supplied hardware can be used if possible or desired.
Custom-Designed Gates Image Gallery
Please browse the varied photo collection of installed custom-designed gates and railing systems to get inspired for your next railing project.
To see more gallery pictures of AGS custom railing systems, please visit the following pages.